In December, B'nai B'rith held its annual Leadership Forum that provides a platform to hear from experts in the field on issues important to the Jewish community. During the course of the two-day conference, several speakers talked about anti-Semitism, noting that each year, the world loses more Holocaust survivors and how this impacts future generations who will never hear the firsthand experiences from these heroes. This disheartening statistic piqued my interest, and I started looking into how many survivors remain in the United States. Unfortunately, during the course of my research, I uncovered an even more depressing statistic. According to The Washington Post, around 33% of survivors in the United States live in poverty. It's hard to fathom that there are people who survived the Holocaust and are now impoverished.
According to the Conference on Jewish Material Claims Against Germany Executive Vice President Gregory Schneider, survivors lost family wealth during the Holocaust that was never returned. An overwhelming number of survivors after the war were impoverished and lost family, not affording them the luxury to save for retirement or inherit wealth. In addition, Schneider indicated that too many survivors have been unable to overcome other crippling hardships from the war, in particular the lost educational opportunities.
Additionally Masha Pearl, executive director of The Blue Card, a nonprofit Holocaust survivor organization, told Tribune Media Wire, "They tend to be very isolated, losing their families during the war and then either did not or could not have children." Pearl said, "Many started working in menial jobs because they did not have the language skills. Today, they are in their 80s and 90s, and it is beyond difficult to make ends meet."
Hanan Simhon, vice president of Holocaust Survivor Services at Selfhelp, pointed out that 80% of former Soviet Union survivors live in poverty because they came to the United States older in life, unable to benefit from Social Security and pensions. Furthermore, many survivors were victims of medical experiments conducted in the concentration camps that have elevated their risks for diseases, such as cancer.
Given this problem, what is being done to change the trajectory?  First, the Claims Conference, a nonprofit organization that engages with Germany to provide survivors with compensation for suffering and losses as a result of the Holocaust, has secured about $90 billion since its inception in 1951. B'nai B'rith was a founding member organization of the Claims Conference and is pleased to have a seat on the board today. Currently, the Claims Conference's financial resources are used to compensate survivors in the form of pensions or one-time payments and give organizations like Jewish Family Services (JFS) the funds they need to offer comprehensive social welfare services programs.
For example, in New York, services like emergency financial assistance, home care and community-based programming, food deliveries, social events, minor home repairs and short-term counseling are provided by Selfhelp and/or Met Council, two nonprofit organizations serving vulnerable populations, including survivors that receive significant financial assistance from the Claims Conference for their activities to benefit survivors. During the pandemic, Met Council supplied grocery deliveries to survivors and other seniors, such as the residents of the B'nai B'rith Senior Housing building B'nai B'rith of Queens.
In Tampa, Florida, Gulf Coast Jewish Family and Community Services (GCJFCS) uses money given by the Claims Conference to assist survivors with home health care. The Tampa Bay Times reported this money allows people like Betty Goldberg, who spent the Holocaust hiding in the French countryside, to receive costly homecare. However, Marlene Wain, a case manager at GCJFCS, said it can be difficult ensuring survivors are aware of these resources. Consequently, Wain indicated they promote these opportunities in the Jewish press and synagogues.
In 2022, the Claims Conference expects to allocate $282 million for social welfare services in the United States. Schneider said, "There is nothing more important to the Claims Conference than the care and wellbeing of Holocaust survivors – we continue to push for more year over year to provide the dignity for survivors that was stripped from them in their youth. The $282 million in funds for agencies in the U.S. this year is just one step, the care provided by caregivers through the agencies we support completes that circle and these agency partnerships are a critical part of our day-to-day work."
It's not just organizations connected to the Claims Conference that serve the survivor population. In Colorado, KAVOD (dignity in Hebrew) was created by John and Amy Israel Pregulman to help survivors with groceries, prescription drugs, home repairs, transportation and other emergency needs. John Pregulman told the Washington Post they started the nonprofit after he met a 94-year-old survivor who had minimal food in the fridge. "She wanted to give me something to eat, but when she opened her fridge, I could see that this lady didn't have much of anything," he said. "She told me her air conditioner had broken and she had to use her money for the month to fix it," he recalled. "'I'm used to being hungry,' she said. 'I'll wait until my next (Social Security) check to buy groceries.'"
At B'nai B'rith, Project H.O.P.E. (Help Our People Everywhere) was created during the 1960s to provide food packages to low-income seniors, including survivors, during Passover. This was especially true during the 1960s and 70s, when there was a much larger survivor population. Rhonda Love, vice president of Programing at B'nai B'rith, said, "Providing Passover packages to Holocaust survivors has been an important part of Project H.O.P.E.'s history, and we are always pleased to help a group of people which has unfortunately endured so much tragedy."
Learning about survivors living in poverty is heart breaking; the idea that we have elderly people who survived the Holocaust and are currently living in poverty is impossible to imagine. Sadly, the truth paints a different picture. Nonprofits have become a lifeline for the survivor community; I don't even want to think about where this population would be without their invaluable efforts.
---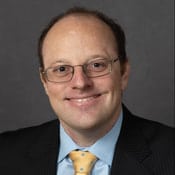 Evan Carmen, Esq. is the Legislative Director for Aging Policy at the B'nai B'rith International Center for Senior Services. Click here to read more from Evan Carmen.