Although the figure of Moses appears in a frieze at the Supreme Court and at the House of House of Representatives along with Moses Maimonides, Oscar Straus is still the only Jewish person whose achievements have been honored with a public sculpture in Washington, D.C.
A Bavarian immigrant, Straus was one of three brothers who all impacted American life. Music, poems and even a beautiful park on upper Broadway memorializes the love and devotion of entrepreneur Isidor (b. 1845) and his wife, Ida, who perished together on board the ill-fated Titanic in 1912. The great philanthropist and B'nai B'rith member, Nathan (1848-1931), was a visionary who transformed Macy's into the world's greatest retail establishment.
Oscar (1850-1926) followed another path as a diplomat, judge and historian. Committed to Judaism, he believed that his own religion taught that all people have the inherent right to practice their own faith. He protected minority rights as the United States ambassador to Turkey (1887-89 and 1909-10) and lent his support to charities that fought prejudice. As the first Jewish cabinet member, he served as secretary of labor and commerce from 1906-09, a time when many reforms were put into place. Straus was championed by President Theodore Roosevelt, who proudly said, "I want to show Russia and other countries what we think of the Jews…"
After his death, sufficient funds to build a proposed monument were raised by 1929, but the Depression and World War II would delay its planning and construction for 18 years. At its October 1947 dedication, President Harry S. Truman praised Straus as a "…great man [who] stood for tolerance and reason."
The tri-part Oscar Straus Memorial Fountain can be seen in its original location at the Federal Triangle near the White House. Rendered in a neoclassic style, old fashioned even at its unveiling, it often goes unnoticed by passersby, despite taking up a large amount of space on the plaza.
Yet even a cursory glance at this work will motivate many to want to understand its underlying meanings. An allegory which reveals Straus' innate decency and ideals, the memorial's iconography was directly influenced by "Religious Liberty," B'nai B'rith's white marble statue honoring the principles for which Straus, the man, was respected. That sculpture, depicting a female warrior figure and a child or child-like figure, was commissioned and dedicated in Philadelphia, its present home, as the organization's gift to the nation during the 1876 American centennial celebration.
Mounted on a tiered platform, the striking Straus fountain is inscribed: "To the memory of Oscar Straus Statesman Author Diplomat." It's set between two figurative sculptural groups, designed by the German American bronze artist Alexander Weinman (1870-1952). To one side, the female "Liberty of Worship" gazes upward, perhaps in prayer, personifying the message carved on her pedestal: "Our Liberty of worship is not a concession nor a privilege but an inherent right," the same sentiment conveyed by B'nai B'rith's statue, with its female symbol of Freedom of Religion. And, as in Philadelphia, she protects a child—here, holding open a generic "Book of Religion"—who represents faith.
Across the fountain, "The Voice of Reason" portrays a semi-draped male figure, who is also paired with a child leaning on a hammer, holding a purse and a set of keys. These attributes reference the many agreements between capital and labor that Straus negotiated; the keys may also stand for his ability to "unlock" equitable solutions to problems taking center stage in America at the time. The pedestal inscription is a hefty one: "The voice of reason is more to be regarded than the bent of any present inclination."
Two embedded bronze plaques at the fountain include information about Oscar Straus and the monument's history.
The memorial remained on view until 1991, the year it was dismantled and stored until the nearby Ronald Reagan Building was finished in 1998, when The Straus Memorial Fountain was reinstalled in the original site.
In "The American Spirit," a book containing his speeches and essays, Straus observed: "The spirit that guided the work of the founders of our government was not one that was crushed and screwed into sectarian molds by the decrees of intolerant councils—it recognizes the value of every creed by rising above them all…This is the development of civil as well as religious liberties in the United States."
---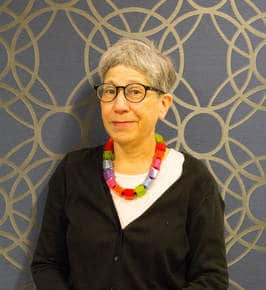 Cheryl Kempler is an art and music specialist who works in the B'nai B'rith International Curatorial Office and writes about history and Jewish culture for B'nai B'rith Magazine. To view some of her additional content, click here.