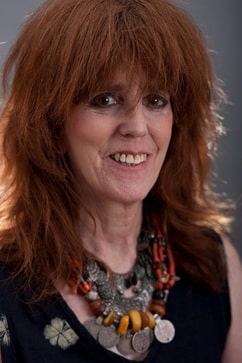 Elizabeth Swados
Image via Facebook
Elizabeth Swados is among the long line of Jewish writers and musicians whose innovations radically impacted the course of the American musical during the last 100 years. She emerged as a fully developed talent while still attending Bennington College, winning acclaim in the early 1970s for her collaborations with the group of eminent playwrights, directors and producers associated with the East Village's legendary experimental theater, LaMaMa. Her creativity spawned a number of brilliantly conceived and original musical theater works, in which she drew on a wide range of literary sources ranging from the sonnets of Sylvia Plath, to the disjointed monologues of the street people with whom she connected, to passages from the bible and other sacred books, as well as her own prose and poetry.
Swados, who was 64 when she died last month, was influenced by both the world of theater and the world around her. The religious rituals she witnessed during her visits to Asia and Africa, the acrobatic dances which figured so prominently in the street theater that flourished in New York City during the 1970s and 1980s, as well as subversive art forms like graffiti painting became the basis of her own style and efforts to generate a form of theater that would be both relevant and life changing for those who were exposed to it, regardless of their background or economic condition. Education, and the interactive participation of those children and adolescent with whom she worked, was a very important aspect of her work, which changed many lives for the better.
Although she was not an observant Jew, she honored Jewish traditions through her desire to improve the condition of the poor and marginalized, and to raise the consciousness of her audience about mental illness, which had certainly affected her own life, through the suffering and ultimately, the suicides of her schizophrenic mother and brother. With a nod to the concept of tikun olam, she observed, "My version of being an observant Jew is to try to bring good to other people, and to work hard and to argue over justice."
---
Credited as composer, lyricist, choreographer, director and guitar soloist, Swados was only 28 when she received four Tony nominations for New York's Public Theatre production of "Runaways," a revue which featured a cast of non-professionals—the homeless adolescents whose experiences and challenges were explored in the show. It was for this show that she invented a variation of sung speech, cited as an early manifestation of rap. Among her subsequent music theater works and operas, many of which were written for children, are some with Jewish subjects, including "From the Fire," focusing on the 1913 Triangle Shirtwaist factory blaze, and Jerusalem, set to the poetry of Amichai.

"My version of being an observant Jew is to try to bring good to other people, and to work hard and to argue over justice." ​

-Elizabeth Swados​
She treated Old Testament themes in many works, including "Jonah," for which both actors and audience felt immersed in a space that suggested the belly of the whale. She also created a circus-like interpretation of "The Story of Job," as well as the Passover oratorio, "Haggadah," and the musical setting of her own poems, the song cycle "Bible Women." Tackling race, prejudice and anti-Semitism, Swados cast the young residents of Covenant House shelter, and other teens for her Off Broadway musical, "The Hating Pot," seen by thousands of students during its tour in the New York schools. Publishing several volumes of memoirs, Swados wrote novels including, "Walking the Dog" to be published this summer. A revival of "Runaways" will soon be produced at Manhattan's City Center.
Today, another generation of gifted composers and lyricists has taken up Swados' mantle, and are elevating music theater to a new level. Stacey Luftig, a lyricist and recent winner of the Kleban prize for promising music theater writers, has written "My Heart is the Drum," focusing on a young African woman's quest for an education, to premiere this year at New York's Village Theatre. "Unknown Soldier," a story about World War I, with book and lyrics by another prize recipient, Daniel Goldstein, with music by Michael Friedman, was in repertory last summer at the Williamstown Theater Festival.
---
| | |
| --- | --- |
| | ​Cheryl Kempler is an art and music specialist who works in the B'nai B'rith International Curatorial Office and writes about history and Jewish culture for B'nai B'rith Magazine. To view some of her additional content, Click Here. |