Last summer the Washington Post published an article entitled, "Never seen it this bad: America faces catastrophic teacher shortage." You often hear about our country's lack of teachers, but this article provided eye-popping statistics and information. For instance, last year, the Illinois Association of Regional School Superintendents reported 88% of the state's school districts had "problems with teacher shortages." These shortages accounted for 2,040 openings that were either vacant or filled by a less than qualified applicant. What's going on in Illinois is emblematic for the rest of the country, with serious consequences. In Texas, some school districts have instituted a four-day school week, Florida hires veterans without teaching experience and Arizona is employing college kids as teachers.  
So why is there a teacher shortage? According to the Washington Post article, COVID induced fatigue, low salaries, lack of respect and being placed in the middle of education culture wars are reasons people are leaving the profession.  According to the National Education Association (NEA), in January 2022, there were 389,300 less teachers than two years prior. 
A teacher shortage of this magnitude has caused states to scramble. Consequently, schools have turned to retired teachers to help solve the problem. However, the hiring process is not as simple as you might think. There are laws that govern salaries if teachers return to work and collect a pension. Many states have responded by passing legislation, making it easier to rehire retired teachers. In New Jersey, a new law makes it more favorable for school districts, on a temporary basis, to hire former teachers. In October, the Newark school district rehired 36 teachers, though there were still 62 outstanding positions. However, despite a more favorable financial picture, it can be difficult to hire retired teachers because of health concerns stemming from the pandemic.  
In Tennessee, last summer there were about 2,000 teaching vacancies. In response, the state passed a law that temporarily allows retired teachers to return, while keeping their retirement benefits. Prior to this law, retired teachers could only work up to 120 days a year. Executive Director JC Bowman from the Professional Educators of Tennessee said to WVLT tv, "This is something that is going on across the nation. We're struggling in the shortage area to get teachers into the classroom. Who better than the people who have already proven that they're capable of teaching?"  
Last year, New Mexico Governor Michelle Lujan Grisham signed a bill making it easier for retired teachers to be rehired, without losing retirement benefits. Lujan Grisham said, "This is a win-win for New Mexico teachers and New Mexico students, as retired educators can now go back into classrooms without losing their hard-earned retirement benefits." 
Last year the NEA published an article entitled, "Retired Educators Step Up to Fill Staff Shortages," that details stories of retirees going back to work. For example, Perry Stio, a former elementary school principal in Piscataway, New Jersey, returned to the classroom because he noticed the desperate need for substitute teachers. Stio told the NEA, "People wondered why I'd want to go back into schools – why I wouldn't want to just relax and enjoy retirement. But I think if you really love what you did and were good at it, why not put those skills to use, especially now." 
Ensuring every child gets a quality education is critical, and teacher shortages are certainly the antithesis to the mission. While retired teachers can't solve the teacher shortage, they can help fix the problem. It's great retired educators are providing needed help in the classroom and allowing students to benefit from their skills. Because, as Lujan Grisham said, "This is a win-win." 

---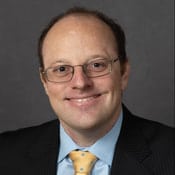 Evan Carmen, Esq. is the Legislative Director for Aging Policy at the B'nai B'rith International Center for Senior Services. Click here to read more from Evan Carmen.