Unfortunately, suicide is a significant problem in this country, with the Center for Disease Control and Prevention (CDC) reporting in 2020 it was the 12th leading cause of death. Furthermore, this issue severely impacts older Americans. The CDC stated, "Adults aged 75 and older account for fewer than 10% of all suicides but have the highest suicide rate (19.1 per 100,000)." Loneliness, depression, grieving, illness, financial troubles and cognitive impairments are contributing factors. In addition, for a variety of reasons, seniors are significantly more likely to pass away from a suicide attempt than a young person.
In 2020, the Department of Health and Human Services reported in Michigan that seniors (75 and up) died by suicide at the highest rate of any age group, and that number was the highest recorded since 1991. Furthermore, the Michigan Suicide Prevention Commission Initial Report disclosed that over fifty percent of suicide deaths resulted from firearms.
In 2019, Kaiser Health News (KHN) published an article, "Lethal Plans: When Seniors Turn to Suicide in Long-Term Care" outlining a six-month investigation it conducted with Public Broadcasting Service (PBS) regarding suicide in nursing homes, assisted living centers and adult care homes. KHN, using data from the University of Michigan, estimates that about one older adult dies by suicide a day in a long-term care facility. The article states, "Each suicide results from a unique blend of factors, of course. But the fact that frail older Americans are managing to kill themselves in what are supposed to be safe, supervised havens raises questions about whether these facilities pay enough attention to risk factors like mental health, physical decline and disconnectedness — and events such as losing a spouse or leaving one's home."
In response to the investigation, Dr. David Glifford from the American Health Care Association contended that facilities provide "a very supervised environment" and ones that receive Medicare or Medicaid funding must supervise and assess patients for suicidal behavior. However, KHN investigated 500 suicide attempts in long-term care facilities between 2012 and 2017 and discovered concerning findings. For instance, people used firearms in facilities that did not allow guns or where guns were not properly stored. Also, seniors have died by suicide through hangings, overdosing on pills, jumping out of windows and suffocating themselves.
When discussing suicide it's important to recognize concerning behavior. The National Suicide Prevention Lifeline reports the warning signs are:
• Talking about wanting to die or to kill themselves
• Looking for a way to kill themselves, like searching online or buying a gun
• Talking about feeling hopeless or having no reason to live
• Talking about feeling trapped or in unbearable pain
• Talking about being a burden to others
• Increasing the use of alcohol or drugs
• Acting anxious or agitated; behaving recklessly
• Sleeping too little or too much
• Withdrawing or isolating themselves
• Showing rage or talking about seeking revenge
• Extreme mood swings
Fortunately, people are taking notice. During the pandemic, the Administration for Community Living (ACL) partnered with Georgia State University and Virginia Tech research teams to combat social isolation and suicide relating to older adults who are enrolled in Home and Community Based Services (HCBS). The program trained volunteers to place weekly "warm calling" to participating older adults. Data on these calls was collected from volunteers and participants. While making these calls volunteers assisted older adults on life threatening medical issues, loss, suicidal intervention and the stresses from daily life that are often associated with isolation. ACL reported, "'You have no idea the blessing,; one participant said about the program. Another said, '[I] feel like someone is thinking about me,' and '[I] matter.' One participant reported that she started implementing the calls within her own social network — she wanted her peers to feel the same sense of connection that she had with her volunteer."
The Substance Abuse and Mental Health Services Administration (SAMHSA) advises the public on guidance for helping people at risk of suicide:
• Call 911, if danger for self-harm seems imminent.
• Ask them if they are thinking about killing themselves. This will not put the idea into their head or make it more likely that they will attempt suicide.
• Listen without judging and show you care.
• Stay with the person or make sure the person is in a private, secure place with another caring person until you can get further help.
• Remove any objects that could be used in a suicide attempt.
• Call the National Suicide Prevention Lifeline at 1-800-273-TALK (8255) to talk to their professionals and follow their guidance.
Suicide is a problem for all age groups, with seniors being no exception. Sadly, the rate of suicide in the older Americans is a cause for concern. Clearly, as people age they face their own unique set of challenges, which cause them to experience suicidal thoughts. Hopefully, through greater awareness and intervention, we can be better able to meet the challenges associated with this terrible problem.
---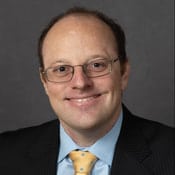 Evan Carmen, Esq. is the Legislative Director for Aging Policy at the B'nai B'rith International Center for Senior Services. Click here to read more from Evan Carmen.