By Sandra Gurvis
It's almost 7 p.m. on a Friday night in April and nearly 100 degrees, excessive even for the "Indian summer" which goes through June. A small but dedicated band of worshipers gather at Judah Hyam Hall synagogue, waiting to be led in services by their energetic leader, Ezekiel Isaac Malekar, informally known as Rabbi Ezekial. Since 1980, the unordained but highly regarded scholar and Indian Jew has voluntarily taken care of the synagogue, adjacent library and interfaith study center.
Built in 1956, in a neighborhood that retains its colonial British poshness, Judah Hyam is by contrast plain, boxy, with an unassuming interior. It has chairs as opposed to benches and no separate seating for women, unlike most other Indian synagogues. "There aren't many of us left," says congregant Elizabeth Daniel, one of the few remaining Jews in New Delhi; estimates vary from seven to 10 families, or about 50 people. Those present this evening range from an elderly German expatriate to a young professional woman from Mumbai.
There are no denominational designations here, and services are entirely in Hebrew, lasting 45 minutes. Throughout the country, even Passover Seders are shorter, with an emphasis on grape juice rather than wine.
Along with the regular members, "we get diplomats and their families as well as visitors from abroad," Daniel says, so attendance fluctuates from 15 to 50 or more, especially on High Holidays. Sometimes minyans include women, a concept that Malekar vocally supports.
Unconventional? Most definitely. But there are 1.25 billion people in India—almost 18 million live in Delhi/New Delhi alone. That number includes only about 5,000 Jews in the entire country. The Jewish presence, however small, impresses in this vital, seemingly wildly unorganized country with its ancient temples, mosques and forts amid 21st century skyscrapers and Victorian-era government buildings left over from when sun finally set on the British Empire.
---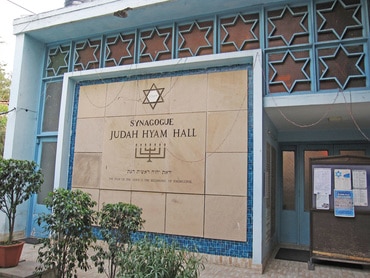 Judah Hyam Hall, in New Delhi, has about 50 congregants.
The Bene Israel:
Threads of Chance
Jews have been in India for well over 2,000 years and have played a crucial role in its development, working in government, in the military and serving as businesspeople, industrialists, professionals, even advisors to royalty. And mostly they've been treated well.
They comprise three distinct groups. The Bene Israel (sons of Israel), the largest and possibly the oldest, were either exiled from their capital, Samaria, by the Assyrian King Shalmaneser V and others from the year 722 B.C.E. on or came from the Galilee because of persecutions by Antiochus IV Epiphanes (175–163 B.C.E.). Predecessors of the second group, the Cochin Jews, are believed to have immigrated from the Balearic Island of Majorca to Cranganore (now Kodungallur), off the Malabar coast in southwest India, around the middle of the 9th century B.C.E. And the third, the Baghdadi Jews, escaping persecution from modern-day Iraq, Basra, Aleppo and Yemen, arrived in what were formerly called Bombay and Calcutta in the early 1800s.
Most historians, including Benjamin Israel in his definitive "Jews of India," believe the original Bene Israel refugees found themselves shipwrecked off the Konkan coast in the second century B.C.E., near what is now the village of Alibaug, about an hour's boat ride from Mumbai, home to 90 percent of India's remaining Jews.
The survivors "were welcomed by the inhabitants and assimilated into Indian society, becoming indistinguishable from the average Indian," says Jewish tour guide Avniel Jhirad, who is a Bene Israel living in Mumbai. They Hinduized their names, learned the local language and adopted the regional occupation of oil pressing. However, continues Jhirad, "While some of their traditions were lost, they continued to celebrate the Sabbath and the major festivals." Yet, the Alibaug Jews remained isolated from mainstream Judaism for centuries, until teachers such as David Ezekiel Rahabi, of the Dutch East India Company, rediscovered them and helped revive forgotten traditions around the mid-1700s.
---
Magen David is the largest synagogue in Mumbai, built by Baghdadi entrepreneur David Sassoon in 1864.
During the late 18th and early 19th centuries, many Bene Israel migrated to Mumbai, Pune, Ahmedabad and elsewhere, lured by opportunities in the army, and eventually became carpenters, clerks, mechanics and teachers. The largest group of Indian Jews, they reached their peak of 20,000 in 1951.
Two synagogues in the region remain open on a limited basis. Built in 1910, Magen Aboth in Alibaug is painted pink with Romanesque and Baroque accents. Just as fuchsia is the adobe-style Beth El in nearby Revdanda, a humble village where women still balance loads of laundry on their heads, men use steam-powered engines, and walking is a major mode of transportation. Built in 1848, Beth El's interior boasts ornamental rugs and old-style blue velvet-covered chairs. Services are held on high holidays "and on Sabbath, if they can get together a minyan," adds Jhirad.
Mumbai: Tangled Up in Terrorism
As with everywhere in India, it's best to arrange synagogue visits through an English-speaking guide, because many caretakers understand little English. Many synagogues, especially in larger cities, now have an armed guard or other police presence, unheard of before November 2008, when Pakistani terrorists stormed several prominent Mumbai sites, including the Nariman (Chabad) House, where American Rabbi Gavriel Noach Holtzberg, his pregnant, Israeli-born wife Rivka and four others were among the approximately 170 killed in the attack. The Holtzbergs' two-year-old son Moshe survived, smuggled out by his Indian nanny.
Thanks to a 2014 renovation, Nariman's five-floor complex, popular among religious leaders as well as Israeli backpackers, remains active. The top two floors, still bearing damage from bullets and grenades, are to become a $2.5 million museum.
---
The busy "Jew Street" in "Jew Town."
Among the remaining 11 Mumbai synagogues, the largest is the Magen David, built by Baghdadi entrepreneur David Sassoon in 1864. The Victorian-inspired compound includes two formerly all-Jewish schools and a free clinic. Painted a soothing light blue, its spacious interior offers a three-sided second floor balcony and a rococo-domed enclosure for the ark. Twenty years later, the Sassoon family also constructed the much grander Keneseth (also spelled Knesset) Eliyahoo. Boasting stained glass windows, Burmese teakwood furnishings and English Minton tile floors, it is within Shabbat walking distance from the Taj Mahal Palace hotel, which provides kosher meals and other amenities to observant visitors.
Tucked away on a busy street and only discernible by a white Star of David on its blue door, the Gate of Mercy Synogogue is the city's oldest. Built in 1796, its simple bimah is accented by gleaming wooden benches and old-fashioned lamps.
Established in 1886, the sometimes overlooked Tiphereth Israel's synagogue's treasures are hidden in plain sight in the hand-carved wooden ark, containing nine silver-scrolled Torahs. Tiphereth Israel also has the city's only functioning mikvah, constructed in 2011 to honor its 125th anniversary.
Yet, decades before the terrorist attacks, Jews left India in droves. Many worried that in a Hindu-led government "they might no longer have the opportunities afforded to them by the British, who promoted Jews over natives," thanks to their fluency in English and high level of education, observes Ralphy Jhirad, of the International Visitors Centre in Mumbai and Avniel Jhirad's father. For decades, Ralphy and his wife Yael, Bene Israel Jews and very active in the community, have arranged Jewish heritage tours and brought in Jewish musicians, entertainers and other artists from abroad.
Israel's statehood in 1948 sowed the seeds for migration, especially among the more prosperous who could afford the move, although the Israeli government also helped subsidize the relocation of the less well-to-do. "Many made aliyah to Israel in the early 1950s and again after the Six Day War," Ralphy Jhirad adds. Others immigrated to Britain, the United States, Canada and Australia. He and his family, who, like nearly all of Mumbai's some 1,000 remaining Jews, are Bene Israel—the rest, about 50 or so, are mostly Baghdadi—believe that India could be the next great financial and technological powerhouse, "although not necessarily for Jews, unless we can encourage more to stay or move here."
---
The home of Sarah Cohen, who sells embroidered Judaica in "Jew Town," a neighborhood in the city of Cochin.
Weaving Together a Community: Cochin and "Jew Town"
The Cochin Jews, the second group of Jews in India, are named after the town to which they eventually migrated. Their origins are widely debated, although many accounts have them originally hailing from Yemen or other Arab countries as early as the middle of the 9th century B.C.E. There were two types of Jews in Cochin: the original Malabar or "Black" Jews and the Paradesis ("foreigners," in the local language) or "White" Jews, who mainly emigrated in the mid-1500s from Spain, Portugal and Holland to escape the Inquisition.
While both groups maintained similar social and religious traditions, observing the same holidays, even speaking the native language of Malayalam, immense economic disparities created tension. Unlike the generally darker Malabar, who also retained local dress and occupations, Sephardic Paradesis followed European customs and kept up their international contacts, dominating the highly profitable pepper trade.
Thanks to protection from the local Rajah in exchange for the rights to the spice trade, Cochin became known as "Jew Town." Along with land, the Rajah gave them a site for a synagogue next to his palace. The oldest in India, it was built in 1568 and was reconstructed with support from the Dutch in the late 1660s, after the Portuguese had partially burned it down.
The three-story Paradesi synagogue is dominated by a clock tower, added in the 18th century. Tucked away in a corner on Synagogue Lane, its opulent Old World interior includes Belgian glass chandeliers, a brass-railed pulpit and a hand-painted blue and white Chinese tile floor. But the real show stoppers are priceless engraved copper plates given to Cranganore Jewish leader Joseph Rabban by a Hindu ruler at some point before 1000 C.E. Brought by Rabban's descendants to Cochin, they list 70-some economic and ceremonial privileges, including exemption from paying taxes, the right to collect tolls and permission to use certain items (lamps, drums) for rituals.
Jew Town is a curious anomaly. Along with signs leading to a Jew Synagogue, a Jew Cemetery and Jew Town Road, "only a handful of actual Jews remain and many of them are elderly," explains non-Jewish guide Deepak Kanamkote, who conducts a number of tours here and to nearby Ernakulam, which has its own synagogue and "Jew Street."
Among them is Jew Town resident Sarah Cohen, who sells hand-embroidered Judaica. Located on a narrow cobblestone street dominated by Hindu and Muslim-owned shops, her colorfully decorated home boasts Jewish star windows and a Hebrew nameplate. Like many Indian Jews (and, in fact, most middle-class Indians), she employs a servant and, when needed, a driver. "I've stayed here my whole life and never left," says Cohen, who is in her 90s. "This is my home."
But the Cochin Jewish presence faded long before the emergence of modern Israel, due to the British "who used them very seldom in their dealings" after the departure of the Dutch in the late 18th century, according to "The Jews of India." Cochin "became a backwater" and many of the original Cochini migrated to Bombay and Calcutta, eventually assimilating with the Baghdadis.
---
T
he Baghdadi: Adding a Layer of Opulence
Among the first Baghdadi settlers was entrepreneur Shalom Ha-Kohen, who moved to Bombay from Syria in 1790. He and others from the Middle East became import/export powerhouses. Chief among them was David Sassoon, a former banker who fled from Baghdad to Bombay in 1832. He established a Rothschild-like dynasty, building a trade empire by strategically placing his three sons in England, China and Japan. The charitable imprint of the Sassoon family throughout modern Mumbai includes gardens, hospitals, schools, colleges and Baghdadi synagogues.
Many second-generation Baghdadis were quick to adopt westernized habits, education and dress, while maintaining religious customs of their homelands. This set the stage for a culture clash with the Bene Israel, resulting in a caste-like avoidance and segregation in schools and social settings, as the wealthier Baghdadi allied themselves with the ruling Brits. However, as the years progressed and numbers dwindled, "the various communities have come together and the distinctions have practically vanished," observes Ralphy Jhirad. "Everyone is welcome everywhere."

Kolkata: A Brocade of Old and New
Such tolerance has always been the norm in Kolkata, formerly Calcutta. The Baghdadis were the only Jews who settled there. They included Moses Duek Cohen "regarded as the real founder of the Calcutta Jewish community," states "The Jews of India."
There the Baghdadi thrived, establishing three large synagogues, two schools and a cemetery. "They were doctors, lawyers, businessmen and entrepreneurs who not only traded in goods but made extensive investments in real estate," states Aline "Jo" Cohen, a Baghdadi and president of Jewish affairs in Kolkata. They constructed mansions, office buildings and streets, some of which still bear names like Ezra and Cohen. In 1902, the Nahoum family started what is now the only Jewish bakery left in India, operated today by the sole surviving descendant, the founder's elderly grandson Isaac.
From New Town, an information and technology hub bearing a resemblance to parts of Silicon Valley, to the fragrant confusion of Mullik Ghat Flower Market, where Bangladeshi refugees sell their wares from makeshift shacks, Kolkata offers surprises around almost every corner. The two remaining synagogues, the Magen David and Beth-El, both constructed in the 19th century, are undergoing renovation. Magen David's 140-foot clock tower dominates the city's skyline. The typically ornate Beth-El contains Baghdadi elements of a wraparound balcony, stained glass windows and decorated tile floors. A third synagogue, Neveh Shalome, was the first to be established, in 1825, but is nonfunctional.
Today only 25 Baghdadi Jews remain in Kolkata, down from its mid-20th century peak of almost 5,000. Even Cohen's office at the Jewish Girl's School, where she is on the board, seems to be a misnomer. "Most of the students are Muslim," she sighs. "I think the last Jewish girl who matriculated was in the late '70s or so."
And yet, she and the others stay in India, where synagogues are often confused with churches.
Laments Malekar, a Bene Israel and head of New Delhi's Judah Hyam synagogue, "Many people don't even know what a Jew is."
The Bnei Menashe: A Fourth Migration?
Located in Manipur is an outpost of some 7,000 who believe they are the fourth migration of Indian Jews. Known as the Bnei Menashe, they claim to descend from one of ancient Israel's Ten Lost Tribes, beginning a long and winding journey some 2,700 years ago to escape from slavery, eventually ending up in northeast India.
But it wasn't until the 1950s, when their religious leaders learned of the establishment of Israel as an independent state, that they fully identified as Jewish. Although Christian missionaries tried to convert them at the end of the 19th century, many eventually felt their religious practices more closely resembled Judaism, a belief nurtured by Israeli lost-tribe enthusiast Rabbi Eliyahu Avichail, who visited them in the 1970s. Avichail unsuccessfully attempted to interest the Israeli government in their aliyah.
Fast forward several decades. Shavei Israel, an Israel-based organization that assists in relocating those claiming distant Jewish or Israelite heritage, has, since its founding in 2002, helped with the emigration of 3,000 Bnei Menashe. Now the Israeli government has allocated about $2 million to bring another 700 Bnei Menashe back to the Jewish state they maintain is their homeland.
---