"We were excited enough …about the idea of… a Yiddish theatre 'dream team:' a group of perhaps 10-12 people with complementary skills and experience who could pool their talents and work together… While many things could be accomplished by individuals, [the site] would benefit from collaborative efforts. The research team would collectively command all or most of the languages most useful for researching Yiddish theatre history—besides English, particularly Yiddish, Hebrew, Polish, Russian, German, Spanish, and French—and possess a range of skills and training in various complementary areas, such as theatre history, Jewish history, Jewish literature, library and information studies, and Jewish library and archival research…"
So writes Joel Berkowitz, an English and Jewish Studies professor at the University of Wisconsin-Milwaukee (UWM) and co-founder of The Digital Yiddish Theatre Project (DYTP), hosted by his school. In the decades since World War II, a general audience—people who appreciated Jewish heritage and culture possessing a general knowledge of iconic personalities and classic plays such as Avrom Goldfadn, the Father of Yiddish Theatre and his operettas "The Dybbuk" and "The Green Fields," Molly Picon, recent revivals of "The Golden Bride" and "God of Vengeance"—might have sensed a lot of undiscovered treasure existed. It was difficult to learn more about the shows and the individuals who wrote and performed them, as well as the legendary theaters where Yiddish speakers from all economic strata would gather to watch them.
With sources encompassing everything from Purim plays and folk narratives to Italian opera and commedia dell'arte traditions, Yiddish theater emerged in the mid-19th century in Rumania, flourished throughout Eastern Europe and later became a popular attraction wherever Jews immigrated. From that time, many of these plays and operettas continued to be characterized by stylized acting and gestures, emphasized further by expressionistic settings and costumes. During the modern era, narrative and dialogue was influenced by non-Jewish playwrights like Anton Chekov, Maurice Maeterlinck, Frank Wedekind and Henrik Ibsen. Synopsizes of these plays written available on the site are very dark indeed. As immigrants arrived, Yiddish plays in genres both high and low experienced a heyday in the United States, not only on Second Avenue, where Boris Thomashefsky, Maurice Schwartz and Jacob Adler and their companies of actors garnered thousands of followers, but in other American cities as well. Hollywood's often melodramatic Yiddish films featured names and faces familiar to their audiences from Second Avenue. Mainstream movie stars like Paul Muni and Edward G. Robinson got their start acting on Second Avenue before going on to Broadway.
Outlined in the pages of the DYTP, brief historical surveys set the scene for an ever-expanding number of posts, including essays, reproductions of primary source documents, lists of obscure dramas and materials focusing on the lives and careers of Yiddish actors and actresses here and abroad. Visitors are offered what might be considered "one stop shopping" that both fills in historical gaps and provides news about upcoming and recently premiered shows, covering themes like gender fluidity and other contemporary issues, which, in fact, were addressed in Yiddish dramas of the past.
Those wanting more can access DYTP's terrific Facebook page, which contains more articles, essays and editorials, and reviews and interviews excerpted from a variety of vintage periodicals. All of this is punctuated with images housed in institutions like the YIVO archives and the New York Public Library: photo portraits, production shots and pictures of theaters and the neighborhoods in which they were located.
Much of DYTP's offerings focus on the women connected to Yiddish theatre and the contributions they made to its history. Among the material I have read, two posts deserve special mention. The first is an article that contains excerpts from Shoshana Kahan's autobiography "In Fire and Flames, Memoirs of a Yiddish Actress." Living in Poland, the actress describes her harrowing experiences after the bombing of Warsaw in 1939. Translated and introduced by Sheva Zucker and edited by Amanda (Miryem-Khaye) Seigel for their Women on Stage Project, these passages underscore with great immediacy Kahan's traumatic odyssey, as she escaped from the city, traveling on foot or in a horse cart seeking help from friends and colleagues whose compulsion to survive rendered them incapable of compassionate or altruistic gestures.
In the second post, scholar Sonia Gollance contributes an essay about Tea Arciszewska, a beautiful artist model and actress who became muse to the famed poet Y.L. Peretz, and the positive and negative criticism her life and her performances received during her lifetime. In Paris, she went on to pen an award-winning post-Holocaust drama, "Miryemel," whose narrative is redolent of late 19th century Symbolist drama, but which also suggests the works of playwrights like by Samuel Beckett.
---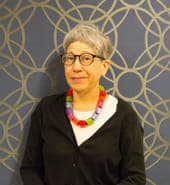 Cheryl Kempler is an art and music specialist who works in the B'nai B'rith International Curatorial Office and writes about history and Jewish culture for B'nai B'rith Magazine. To view some of her additional content, click here.