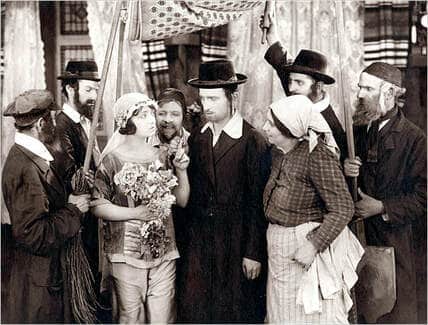 "East and West"/Photo Credit: Itzhak Andres/Wikimedia
Ongoing since late February, "Migrations: The Making of America" celebrates the all-encompassing transformation of New York City's cultural landscape through the vibrant heritage of those foreign to its shores. Its organizers at Carnegie Hall reached out to forge partnerships in all five boroughs, including theater and music venues, museums, libraries and arts centers. Almost 100 events — concerts, some of which were broadcast locally, and virtual and on-site museum exhibitions augmented by courses, tours, lectures and panel discussions– mainly focus on how the city's cultural milieu was defined by a wide-ranging panoply of ethnic groups and how this process continues in our own time. Later this year, the opening night concert of Irish, Scottish and American folk music featuring award-winning composer and banjo great Béla Fleck will be heard on public radio stations across the country.
Unsurprisingly, the creative legacies of Jewish composers, performers and even a choreographer or two supplied the content of a good proportion of festival offerings. Many events were held at the Center for Jewish History on West 16th Street. It was there, on March 3rd, that silent film aficionados reveled in Molly Picon's sprightly portrayal of a Jazz Age flapper who falls for a yeshiva student in "East and West," with live orchestral accompaniment. Rarely or never-heard Yiddish songs from radio, film and theater were performed by members of the National Yiddish Theatre Folksbiene during a March 10th concert at the Museum of Jewish Heritage.
On March 27th, America's premier interpreter of The Great American Song Book, Michael Feinstein, was onstage at Carnegie Hall for his one-man show of standards by the composers that he knows so well, including Irving Berlin, Jerome Kern, George Gershwin and Harold Arlen.
While the festival continues, there's still time to enjoy some of its programs. One of the most opulent, to take place on April 15th at Carnegie Hall, might be described as a multi-generational, star-studded survey of repertory spanning klezmer to classical, all of which emanated from the Jewish presence in New York, and which continue to transform the city today. "From Shtetl to Stage: A Celebration of Yiddish Music and Culture," a gallimaufry of theatrical sketches, production numbers, instrumental music and song will showcase violin virtuoso Gil Shaham, Klezmer clarinetist David Krakauer, pianist Evgeny Kissin and vocalists, including Katrina Lenk, the Tony Award–winning actress from the hit Israeli musical, "The Band's Visit," and Yiddish theater veterans Mike Burstyn and Eleanor Reissa, (the latter is also the show's director).
​
A Yiddish and Ladino recital will be performed by Sephardic artist Sarah Aroeste and Ashkenazic specialist Anthony Mordechai Tzvi Russell with piano and accordion accompaniment at the West Side's Marlene Meyerson Manhattan JCC on March 31st. On April 1st, the King Juan Carlos I Center of Spain will screen "A Brivele Der Mamen (A Letter to Mother)," one of the last Yiddish movies made in Poland. On April 7th, Staten Island's Snug Harbor Cultural Center will present "Music in Color," a St. Luke's Chamber Ensemble concert devoted to music by Gabriela Lena Franks, a contemporary Lithuanian-Peruvian-Jewish-Chinese composer. At an April 10th lecture at the YIVO Institute for Jewish Research, Professor Mark Slobin will trace the roots and manifestations of Eastern European Jewish musical culture, and an ongoing exhibit of art by Israeli-American sculptor Boaz Vaadia in Chelsea runs through April 15th.

++++
Yaniv Dinur, the Israeli-born conductor of the New Bedford, Massachusetts, and Milwaukee Symphonies and the previous recipient of three grants from the Solti Foundation in Evanston, Illinois, has been awarded the Foundation's 2019 $30,000 Sir Georg Solti Conducting Award, given to musicians under the age of 38. The money can be spent for travel, study or the purchase of scores.
Considered one of the world's greatest Wagnerian conductors, and esteemed for his interpretation of composers including Elgar, Verdi and Beethoven, the distinguished Maestro Solti (1912-1997), was a student of Bela Bartok, who had established a career in his native Hungary before increasing anti-Semitism forced him to emigrate in 1938, one year before the Nazi advent. Enjoying an international reputation, he was best known for his remarkable recordings made with the Chicago Symphony, where he served as music director for 22 years.
++++
Those who heard the National Gallery's Diamonstein-Spielvogel Lecture on Saturday, March 9th, delighted in the feisty commentary and quips of 91-year-old Alex Katz, an iconic artist whose career took off in the late 1950s and who is still painting gorgeous large-scale canvases today. The son of a Yiddish theater actress, Katz recounted his years as a struggling student and painter who learned the importance of acquiring a command of drawing in contrast to his intuitive approach to color, all adding up to the masterpieces of portraiture and landscape so loved by museum-goers and collectors. The audience had a good time, but many of them (me) coveted the artworks and lamented (again, me) not having an Alex Katz hanging in their own living room.
---
---
​​
Cheryl Kempler is an art and music specialist who works in the B'nai B'rith International Curatorial Office and writes about history and Jewish culture for B'nai B'rith Magazine. To view some of her additional content, click here.
---