Read the op-ed by B'nai B'rith CEO Daniel S. Mariaschin and Director of U.N. and Intercommunal Affairs David Michaels in Newsweek.
For decades, the United Nations Relief and Works Agency for Palestine Refugees in the Near East has been the subject of controversy.
Established almost 74 years ago, UNRWA is one of the oldest U.N. agencies, and among the costliest. It has continued to exist long after Jewish refugees from Arab lands—comparable in number to Palestinian refugees—were resettled and shed their refugee status.
UNRWA's budget now exceeds $1 billion every year. The "regular," or general, U.N. budget is just $3 billion—and now the General Assembly has agreed to consider contributing directly to UNRWA from it, at the expense of countless acute global priorities.
UNRWA is the only U.N. refugee agency dedicated to a population of just one origin. It caters exclusively to Palestinians—while all the world's other refugees are served by the United Nations High Commissioner for Refugees, or UNHCR.
Although more than 100 million people have been displaced in today's world—including tens of millions from Eritrea, the Central African Republic, Somalia, Sudan, the Democratic Republic of the Congo, Myanmar, Afghanistan, Syria, and now Ukraine—UNRWA's staff is roughly double the size of UNHCR's. Relative to UNHCR, UNRWA has a dramatically higher budget per person it is supposed to serve.
Critically, while UNHCR's work emphasizes efforts to successfully absorb and integrate refugees in countries where they have resettled, UNRWA's agenda is focused on returning even the descendants of Palestinians displaced during the Arab-Israeli conflict to the Levant.
In fact, UNRWA has parroted a maximalist Palestinian insistence on a "right of return" not just to Palestinian Authority territories that could have formed a first-ever Palestinian state—if Palestinian leaders had not spurned every sweeping Israeli peace offer—but to Israel proper.
Israel's status as a democratic Jewish state would thus be overrun by demographic means, even as Jews repeatedly exiled from their ancestral heartland in Judea and Samaria, more recently called the West Bank, have been stigmatized by the U.N. as "illegal settlers." As it is, two million, or 20 percent, of Israel's citizens are Arab—while the Palestinian Authority is devoid of Jews, and threatens death for any sale of property to them.
Meanwhile, UNRWA educational institutions have too often been exposed for utilizing materials—simply the curricula in local use, the agency says—that further guide young Palestinians to see Israelis as an illegitimate presence in the land, or as worthy targets of "resistance."
At times of intensified hostilities between Israel and the violent extremists whose doctrine calls for the Jewish state's destruction entirely, UNRWA spokespeople also routinely amplify a narrative in which Palestinians alone are victims whose humanitarian plight and human rights require urgent international attention.
And repeatedly, staff members employed by UNRWA—with most of its funding coming from the United States and other democracies—have been found to have personal affiliations to Palestinian extremist groups, sometimes with a record of rhetoric praising terrorism or dehumanizing Jews.
And this is in addition to chronic questions of proper management at UNRWA—and the serial discovery of Palestinian combatants' activity in, under or surrounding UNRWA facilities.
If only the global response to such exploitation of Palestinian civilians as cover would be as strong as U.N. condemnations of Israel's efforts to defend its civilians of all backgrounds.
While concurring with the need for reform and oversight at UNRWA, the U.S. has restored previously suspended funding to the agency. Despite American opposition, though, Palestinian leaders have sought to erode UNRWA dependence on voluntary direct contributions, as has been the norm, with an unprecedented push to syphon funds directly from the U.N.'s general budget. This comes as the General Assembly has also referred Israeli actions alone for scrutiny by the International Court of Justice.
Last month, the GA—in which Palestinians enjoy an automatic majority owing to nearly 60 Muslim and Arab governments—agreed to consider, during the body's new session beginning later this year, covering the costs of the agency's international staff and "administrative management functions."
To be clear, we do not oppose the provision of necessary services for Palestinians. On the contrary, we believe strongly in working for progress on the ground, in the need for stability—and, not least, in educating for peace.
But the move to increasingly fund UNRWA from the U.N.'s general budget would only serve to inure the agency to well-founded, wide-ranging criticism. At a time of so many profound needs, emergencies and atrocities globally—by one key estimate, far more people have died in less than a year of war in Ukraine than in 75 years of the Arab-Israeli conflict—this step would further entrench politicization and discrimination at the U.N.
Rather than heavily prioritize the descendants of some who fled warfare in 1948 over all those fleeing warfare globally today, the U.N. should tackle the policies that have allowed the Palestinian issue to fester—including host countries' refusal to integrate longtime residents, Palestinian leaders' refusal of pragmatic compromise and UNRWA's encouragement of a maximalism that is no recipe for a better future.
Daniel S. Mariaschin is the CEO, and David J. Michaels is director of U.N. and Intercommunal Affairs, at B'nai B'rith International.
---
Daniel S. Mariaschin is CEO of B'nai B'rith International. He directs and supervises its programs, activities and staff around the world. He also serves as director of B'nai B'rith's International Center for Human Rights and Public Policy, coordinating its programs and policies on issues of concern to the Jewish community. He has been involved in seeking restitution for Holocaust survivors and their families for almost three decades. Mr. Mariaschin meets with world leaders, seeking to advance human rights, protect the rights of Jewish communities worldwide and promote better relations with the state of Israel.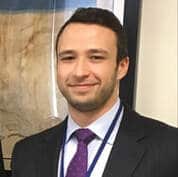 David J. Michaels is Director of United Nations and Intercommunal Affairs at B'nai B'rith International. He previously trained at the Foreign Ministry of Germany, the Conference of Presidents of Major American Jewish Organizations, the Embassy of Israel in Washington, Ha'aretz and the International Fellowship of Christians and Jews. A Wexner Fellow/Davidson Scholar, and winner of the Young Professional Award of the Jewish Communal Service Association of North America, he holds degrees from Yale and Yeshiva University.
---