Working at B'nai B'rith over the past five years has been a very rewarding experience. In particular, my advocacy on legislative issues impacting older Americans, such as affordable housing and healthcare. Congress the past six years has taken a more proactive approach by appropriating money for the construction of additional senior housing, after taking a hiatus for several years. Despite these appropriations, a large percentage of my work has been advocating to either keep or maintain government programs that benefit older Americans like existing affordable housing units and the Affordable Care Act (ACA). Unfortunately, playing defense, more often than not has been the necessary strategy we've had to employ. Consequently, it was a breath of fresh air last year, when President Biden's original Build Back Better agenda was introduced into Congress. Finally, since I started working at B'nai B'rith, big legislation with a realistic chance of becoming a law was introduced that would make dramatic positive changes in the lives of older Americans.
The original legislation appropriated $500 million for the Department of Housing and Urban Development (HUD) senior housing program. These resources could provide new housing for thousands of people. In addition, the financial investment is justified by the demand. According to projections from the Joint Center for Housing Studies of Harvard University, the number of low-income older adult households will increase from 5.3 million in 2018 to 7.9 million in 2038. They also report that by 2038, 2.4 million more seniors will be very low-income and without affordable housing. Clearly, new housing units are badly needed!
While money for more senior housing is not new, the size of the pot is certainly greater than previous appropriations during the past decade. As the largest national Jewish sponsor of low-income, nonsectarian housing for seniors in the United States, B'nai B'rith knows firsthand the importance of affordable housing!
Additionally, the House passed legislation that makes critical improvements to Medicare that will provide seniors with lower healthcare costs. For example, the Build Back Better Act places a $2,000 cap on prescription drug spending and permits Medicare to negotiate with pharmaceutical companies on the price of certain drugs. In addition, Medicare was expanded to cover hearing care, including hearing aids, a badly needed benefit for seniors. The National Institute on Deafness and Other Communication Disorders reports that, "Among adults aged 70 and older with hearing loss who could benefit from hearing aids, fewer than one in three (30 percent) has ever used them." This legislation could go a long way to help solve this problem.
B'nai B'rith was encouraged last year that the House of Representatives passed the president's Build Back Better agenda, though it's been disappointing the bill has not passed the Senate. With Congress focusing on other matters, this bill has been dormant since the beginning of the year. However, there are signs the Senate is working on the legislation again. While we can expect a potential final bill to look vastly different than the original legislation, provisions that assist seniors MUST remain. The statistics I referenced above don't lie.
Seniors need a legislative fix to their housing and health care costs.
In the office, my boss recalls his legislative work on behalf of B'nai B'rith during the 1980s and 90s. He recounts working on legislation like tying service coordination to the HUD senior housing program. Obviously, times have changed, and big legislative opportunities are few and far between. Though there is an opportunity now to pass big legislation. Thus, Congress and the White House MUST use this moment to pass legislation that makes the lives of older Americans, just a little easier.
---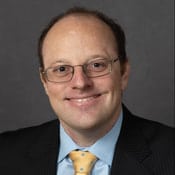 Evan Carmen, Esq. is the Legislative Director for Aging Policy at the B'nai B'rith International Center for Senior Services. Click here to read more from Evan Carmen.