Read the op-ed by B'nai B'rith Director of Latin American Affairs Eduardo Kohn in Semanario Hebreo Jai (in Spanish). This op-ed has been translated for your convenience.
Three months after Russia invaded Ukraine, on May 1, 2022, in an interview with an Italian television network, Russian Minister of Foreign Affairs Sergey Lavrov was asked why Russia claimed that it needed to "denazify" Ukraine, considering that the Ukrainian president himself was Jewish. Lavrov responded by suggesting that Hitler, like Zelensky, had Jewish heritage, and saying: "as for Zelensky's argument, what kind of nazification can we have if I am Jewish, if I remember correctly, and I may be wrong, Hitler also had Jewish blood." Lavrov did not stop with that and added: "for some time we have heard from the Jewish people that the greatest anti-Semitic were Jews." Putin apologized to the then-Prime Minister of Israel Benett; Israel accepted those apologies and Lavrov remained, obviously in office.
A few days ago, Lavrov said at a press conference in Russia that "the United States has organized a coalition with Western countries to resolve the Russian issue in a similar way to Adolf Hitler's final solution to exterminate the Jews." But Lavrov's stubbornness is such that he did not hesitate to add: "Just as Napoleon mobilized almost all of Europe against the Russian Empire and just as Hitler mobilized and captured, raising the weapons of most European countries against the Soviet Union. The United States has organized a coalition with almost all European countries, not just members of NATO, for a war against our country through Ukraine. The objective is the same: the final solution of the Russian question to get Russia to suffer a strategic defeat. Today in Kiev there is a Nazi police state with a blessing from the West."
This time there is no apology. When the limits of rationality are passed and the stupidity is entered, some adjectives fit to define this cunning attack by Lavrov. His statements are despicable, and a few days after the International Holocaust Remembrance Day established by the U.N. General Assembly in 2005 to be observed every January 27, Lavrov returns less than a year after he had already vilified the Jewish people, to trample on the memory of the six million Jews killed in the Shoah. There is no possible parallel between the brutal Russian invasion of Ukraine and the Holocaust. Lavrov has once again perpetrated an anti-Semitic act while trying with his false story, to justify an aggression that has been going on for more than a year and in which Russia has committed war crimes.
There are those who insist on defining January 27 as the date on which Auschwitz was "liberated" by Russian troops. False. In Auschwitz there were corpses and dead alive when the Russians arrived. Nobody released anything. It could have been done two years earlier, but it wasn't wanted. What we must remember on January 27 is all that the Shoah meant to change the history of man for the worse and how the species is capable of exterminating itself. What we must remember is that there are characters with power like the Russian Chancellor who is able to distort and lie and deceive about what happened if it serves their imperialist and rapacious interests. What we do have to remember is that it is forbidden to forget what happened because we already see how, 80 years later, there are those who want to repeat it and others, misrepresent it.
---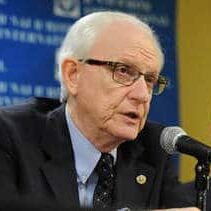 Eduardo Kohn, Ph.D., is the B'nai B'rith International Director of Latin American Affairs. Click here to read more of his expert analysis.