Read the op-ed by our Director of U.N. and Intercommunal Affairs David Michaels in Real Clear Religion.
Last month, the World Council of Churches elected the Rev. Dr. Jerry Pillay as its next general secretary, and his record of bigoted rhetoric on Israel and Jews threatens to further deepen the WCC's already troubled history on these themes. The response by the council and its leader to the resultant controversy – modeling not reflection or regret but denial and dismissal – do not provide much cause for optimism.
A 2012 statement to which Rev. Pillay was a signatory commended campaigns targeting Israeli Jews with economic warfare and isolation, saying "maximum pressure must be put on Israel to abide by international law." The text did not suggest any such pressure on Palestinians or others.
The statement likened Palestinians, who it said "live in open-air prisons," to the victims of South Africa's racial apartheid, calling an Israeli security barrier "the Apartheid Wall." No similar sympathy was expressed for victims of Palestinian suicide bombings, from which Israel's defensive partition – neither mostly a wall nor motivated by some ideology of racial superiority – saved countless lives.
The statement parroted Palestinians' description of Israel's founding, and the creation of Palestinian refugees, as a "Nakba," or "catastrophe." There was no attention to the comparable number of Jewish refugees from Arab lands – or to the calamity of Israelis suffering nearly a century of Arab violence, threats and discrimination.
In a later article, Rev. Pillay wrote of "the exclusionary and violent character of the Israeli Zionist project."
He offered no similar criticism of Palestinians guilty of dehumanizing Israelis, glorifying terrorism, and imposing a death penalty for selling land to Jews. He also made clear that his opposition was to the very existence of the "Zionist project," the world's only Jewish state.
Discussing misdeeds committed against "the indigenous people of the land," he made blatant a black-and-white view of indigeneity, agency, and wrongdoing between Israelis and Palestinians, saying "the value judgment that determines the good is the value judgment of the (powerful) Israeli Jews."
Finally, he called outright for Christians to "resist the empirical ambition of Israeli Jews." Indeed, the 2012 statement shamelessly branded "resistance to Israel's occupation as an act of love."
For too long, the WCC has engaged in demonization, delegitimization, and double standards targeting Israel, the Middle East's only pluralistic democracy. Such sentiment is a motivator for horrific violence against innocent Israelis and Jews.
At the United Nations, WCC representatives lambaste Israel, but not the world's most abhorrent regimes. Innocuous-sounding WCC programs like the "Ecumenical Accompaniment Programme in Palestine and Israel" and the "World Week for Peace in Palestine and Israel" heap scorn on Israel, but not Palestinians. Explicitly, all four "core actions" of the "Palestine Israel Ecumenical Forum," meant to catalyze "church advocacy for peace," focus on challenging Israel and supporting Palestinians. In WCC documents such as "The Amman Call," Jewish returnees to Jews' historic heartland are stigmatized as "illegal," but Palestinians are afforded a "right of return" to anywhere in Israel. "Kairos Palestine," an even more unabashed polemic promoted by the WCC, peddles a narrative that "[t]he West sought to make amends" for Nazism by giving Jews a land to which it implies they were unconnected.
A decade ago, I could not but gasp at an otherwise uplifting interfaith summit called by Pope Benedict XVI, when the WCC's leader used his speech to say that, in Pakistan, he "was reminded how other peoples are suffering under clashes of interests as a consequence of the fact that the conflicts around Jerusalem are not solved." Not only was the Israeli-Palestinian dispute the only conflict mentioned, mindbogglingly, the conflict was blamed for faraway, unrelated problems too.
Now, Rev. Pillay is dismissing Jews' criticism of his record as "mischievous" – saying "right-wing Jewish media" have wrongly tried to paint him as "anti-Jews." He accused "a Zionist Christian, a conservative Christian" of doing likewise, even as he will soon lead an ecumenical grouping that includes plenty of doctrinally conservative churches. And while insisting "I am not a politician," he and the WCC are repeatedly invoking the United Nations, a decidedly political body, home to nearly 60 Arab and Muslim member states, that has condemned Israel more than all other countries combined.
Disingenuously, he told Religion News Service the incendiary 2012 anti-Israel statement he signed followed a trip by church leaders, during which they "went to the Israeli side and the Palestinian side." But the headline and text of that same statement touted the delegation's visit only to "the occupied state of Palestine."
In yet another tactic, Rev. Pillay is deflecting, saying he approves of Jews' "preserving their identity and practicing their religious beliefs."
But he has not said he believes in Israel's legitimacy or Israelis' need for self-defense. He has certainly not indicated which other countries, in the Middle East and beyond, may warrant the "apartheid" label and "boycott, divestment and sanctions" warfare.
It's time that the WCC recognized that Jewish rights are human rights too.
---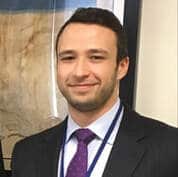 David J. Michaels is Director of United Nations and Intercommunal Affairs at B'nai B'rith International. He previously trained at the Foreign Ministry of Germany, the Conference of Presidents of Major American Jewish Organizations, the Embassy of Israel in Washington, Ha'aretz and the International Fellowship of Christians and Jews. A Wexner Fellow/Davidson Scholar, and winner of the Young Professional Award of the Jewish Communal Service Association of North America, he holds degrees from Yale and Yeshiva University.