Read the op-ed by our Director of U.N. and Intercommunal Affairs in the Times of Israel.
Fifteen international Jewish organizations have written to the United Nations Human Rights Council president, Federico Villegas, demanding that he remove members of a "Commission of Inquiry" on Israel guilty of bigoted statements on Jews and the Jewish state. One of the commissioners, Miloon Kothari, today expressed "regret" over his own antisemitic comments – but continued to single out Israel for criticism and to claim that he and his colleagues are victims of "personal attacks." His apology is inadequate.
In a letter last week to the Commission of Inquiry's chairperson, Navi Pillay, Villegas acknowledged that public comments by Kothari "could reasonably be interpreted as stigmatization of the Jewish people, which," he said, "is at the heart of any expression of antisemitism."
However, the Jewish groups wrote in their letter that Villegas's "suggestion that Mr. Kothari 'consider the possibility of publicly clarifying his unfortunate comments' is sorely insufficient." The letter, coordinated by B'nai B'rith International, also included the American Jewish International Relations Institute-BBI, the Combat Antisemitism Movement, the Conference of European Rabbis, the European Union of Jewish Students, Hadassah: the Women's Zionist Organization of America, the International Council of Jewish Women, Jewish Women International, Jews Indigenous to the Middle East and North Africa, NGO Monitor, OneFamily, the Rabbinical Council of America, the Women's International Zionist Organization, the World Jewish Congress North America and the World Union of Jewish Students.
The Jewish groups' letter was also sent to U.N. Secretary-General Antonio Guterres, U.N. focal point on anti-Semitism Miguel Moratinos and U.N. High Commissioner for Human Rights Michelle Bachelet – who have not yet condemned the commissioners' prejudiced remarks.
Excerpts from the letter follow:
"Miloon Kothari amplified multiple anti-Jewish tropes in an interview publicized last week. Disparaging a frequently marginalized community in a way that would not be tolerated if directed toward others, he not only invoked a so-called 'Jewish lobby' – saying it is dispensing 'a lot of money' to undermine the Commission's work in support of human rights – but absurdly attributed to it control over 'social media.' Of all the 193 member states of the United Nations, he also singled out Israel, the subject of his Commission's work, for implication as unworthy of UN membership.
While the United Nations itself, and especially a Commission of Inquiry established by the Human Rights Council, is charged to operate according to the principles of non-selectivity, impartiality and objectivity – and without even the appearance of bias – each of the three individuals appointed to the aforementioned Commission has been characterized by public, preexisting positions against Israel on issues they have been tasked with investigating. Not least disturbingly, each of the Commission members has already been tied to sentiment singling out Israel, the Middle East's only democratic state, for association with racial 'apartheid,' an inflammatory charge that the Commission is expected to explore. Nonetheless, Ms. Pillay and her fellow Commission members have professed impartiality.
Now, Ms. Pillay has responded to well-founded criticism of the Commission's members – including by the United States, the United Kingdom, Canada, Germany, France, the Netherlands, the Czech Republic, Austria and other member states – by falsely characterizing that criticism as 'personal attacks' based on statements that have 'deliberately been taken out of context.' The objectionable statements include Commission member Christopher Sidoti's having said – again, in a manner that would not be accepted if applied to another form of prevalent and often violent bigotry – that 'accusations of antisemitism are thrown around like rice at a wedding.' Ms. Pillay has completely failed to substantiate her claim of decontextualization or of ad hominem attacks.
Leaders of the United Nations, including Secretary-General António Guterres, have recognized the pervasive, ongoing problem of global antisemitism – and successive secretaries-general have also recognized the challenge of unequal, disproportionate treatment of one member state, Israel, within the UN system. Like a growing number of international authorities, your country, Argentina, is among the many that have adopted the intergovernmental International Holocaust Remembrance Alliance (IHRA) working definition of antisemitism, which encompasses myths and conspiracy theories such as Jewish control of the media. At a time when the Secretary-General and his appointed focal point to monitor antisemitism, High Representative for the UN Alliance of Civilizations Miguel Moratinos, have committed to actively opposing antisemitism, the retaining of Commission of Inquiry members compromised by prejudice toward the Jewish community, and toward a member state being examined by it, is profoundly damaging.
Indeed, in its first report released on May 9, the Commission of Inquiry only confirmed fears that its members harbor bias against Israel – and do not extend equal concern to the human rights of Israeli civilians as they do to the rights of Palestinian civilians. Among other signs of fundamental partisanship, the Commission's report referred to hostilities that took place not only in the Gaza Strip but across much of Israel – upending the lives of millions of Israel's citizens – only as 'Gaza conflicts.' Additionally, the report dedicated focus to harm allegedly done by Israel to Palestinian women and girls, including unsupported insinuation of violence on the basis of gender, but none to Palestinian harm done to Israeli women and girls. Similarly, the report dedicated focus to harm done to Palestinian children, but none to harm done to Israeli children. This explicit dereliction simply cannot be reconciled with the Commissioners' profession of impartiality.
Finally, it must be urgently emphasized that even with a mandate of unprecedented scope and duration, the Commission of Inquiry has already expressly exceeded that mandate with repeated consideration in its first report of the 'occupied Syrian Golan,' including stated intention to continue addressing that subject. Since the Golan, in United Nations resolutions, is not recognized as included in 'the Occupied Palestinian Territory, including East Jerusalem, and Israel' – which is the sole authorized focus of the Commission of Inquiry – this breach of the Human Rights Council's instructions is patently unacceptable.
For these serious, multiple infractions – in violation of the terms of members' service on a United Nations 'Commission of Inquiry' – Ms. Pillay, Mr. Kothari and Mr. Sidoti must immediately be removed from their positions."
---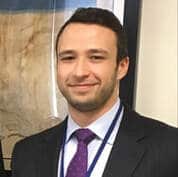 David J. Michaels is Director of United Nations and Intercommunal Affairs at B'nai B'rith International. He previously trained at the Foreign Ministry of Germany, the Conference of Presidents of Major American Jewish Organizations, the Embassy of Israel in Washington, Ha'aretz and the International Fellowship of Christians and Jews. A Wexner Fellow/Davidson Scholar, and winner of the Young Professional Award of the Jewish Communal Service Association of North America, he holds degrees from Yale and Yeshiva University.