The new Israeli government—the country's 37th since independence, the sixth led by Prime Minister Benjamin Netanyahu—has been controversial since it was elected on Nov. 1 and was sworn in at a festive Knesset session on Dec. 29. The policies it plans to pursue regarding Judea and Samaria, the judicial system, civil liberties and law and order have already brought public debate to a fever pitch and drawn thousands into the streets for demonstrations. While policy changes in these areas will undoubtedly have indirect effects on Diaspora Jewry, some proposed amendments—for example, the proposal to delete the "grandchild clause" from the Law of Return and revert to the 1970 version under which only children of Jews were granted immediate Israeli citizenship—will have direct and profound impact on Progressive Jewish movements and on individuals whose Jewish lineage does not meet Orthodox standards.
This unease was reflected in a joint Jan. 1 letter of congratulations to Netanyahu signed by heads of the National Institutions (World Zionist Organization, Jewish Agency for Israel and Keren Hayesod) and the Jewish Federations of North America. In a cautionary paragraph, they noted that "It is our duty to share with you our deep concern regarding voices in the government on issues that could undermine the long-standing status quo on religious affairs that could affect the Diaspora. Any change in the delicate and sensitive status quo on issues such as the Law of Return or conversion, could threaten to unravel the ties between us and keep us away from each other." While this sentiment is not held unanimously, even among some constituents of those umbrella organizations (the WZO Eretz Hakodesh ultra-Orthodox faction responded with its own letter to Netanyahu: "The movement, which represents thousands of Jews in the Diaspora, share[s] with you the true stance of many of the members of the Jewish communities in the U.S. and over the world, who share in the joy of the establishment of a strong national government."), concerns around Israel-Diaspora relations continue.
One of the figures In Netanyahu's new government who will undoubtedly affect the fraying Israel-Diaspora relationship is Amichai Chikli, minister of Diaspora Affairs and minister for Social Equality and Pensioners, who gained notoriety as former Prime Minister Naftali Bennett's first and most vociferous renegade during his brief premiership. Together with then Yamina MKs Nir Orbach and Idit Silman (currently minister for Environmental Protection), Chikli—who entered the 24th Knesset in 2021 in Bennett's small seven-member Yamina faction—brought down the Bennett-Lapid government and paved the way for new elections that transported Netanyahu back to power. Reelected now on the Likud ticket, Chikli, a field combat officer in reserves, was a charismatic founder and director of gap-year preparatory IDF leadership programs when he was tapped by Bennett to join the Yamina ticket. He describes himself as "an expert in the history of Zionism and Israel's security" who "promotes a philosophy that espouses an integration of Jewish and Israeli identity, and he works to deepen young people's connection and understanding of Jewish and Zionist heritage, which he views as critical to the continuation of the Jewish people and to the strengthening of Israel's social resilience. He holds a liberal–nationalist political philosophy, which seeks to bring together clearly nationalist positions based on Zionist values with liberal economic and social stances." (from his Knesset website). In his short stint in the 24th Knesset, Chikli chose to join and/or chair numerous caucuses that reflect his policy priorities: Caucus for the Land of Israel, Caucus for Strengthening and Preserving Jewish Identity in Israel, Caucus for Jerusalem, Caucus for the Security of the Negev and the Galil, Caucus for Combatting Anti-Semitism and the Delegitimization of the State of Israel and Caucus for Those Serving in the IDF Reserves.
Since being appointed minister, the bareheaded Chikli has tried to distance himself from the Conservative Movement (his father, originally from Tunisia, is a Conservative Rabbi who is President of the Jewish University in Mexico) and is quoted as saying "I do not come from a Conservative background…There is no such thing as a Conservative Tunisian, but I have a deep acquaintance with Conservative Judaism." Giving a hint of his future priorities in office, Chikli said, "studies of the Land of Israel of Hebrew and the Bible will preserve the connection between the Jews of the world and Judaism." At the Jan. 2 handing-over ceremony from outgoing Diaspora Affairs Minister Nachman Shai, Chikli announced that the ministry will be renamed "Diaspora Affairs and Combat Antisemitism Ministry," under which various government agencies dealing with anti-Semitism and the fight against the delegitimization of Israel will be assembled. He added that under his leadership, the ministry's vision will reflect section 6 of Israel's Nation State Basic Law: to ensure the safety of the members of the Jewish people, to strengthen the affinity between the state and members of the Jewish people and to preserve the cultural, historical, and religious heritage of the Jewish people among Jews in the Diaspora.
In the most extensive interview since his appointment as diaspora minister, Chikli, who has not yet had major exposure to Diaspora communities, shared with two-time B'nai B'rith Award for Journalism winner Zvika Kline some early observations on pressing issues on the Israel-Diaspora priority list: On Jewish students on American university campuses: "It is heart-breaking to see Jewish young people who concede their connections to their people and their heritage in order to connect to the latest fashionable movement that they are calling woke."
On the Kotel arrangement, Chikli said "It's important to do it in coordination with the haredim and not behind their backs…I respect haredim, and haredim should respect secular people, too."
On the Conservative Movement, he said he believes it has been unfairly maligned. He said those who belong to the movement are bound by Halacha and it is sad that there are those who respond to their views and beliefs with violence.
Chikli was highly critical of the Reform and progressive Jewish movements, for what he has called "anti-Zionism."
In his first address to a diaspora audience, Chilki told participants in the European Jewish Leadership Conference that ensuring the Jewish identity of the young generation is a challenge not only in the Diaspora, but in Israel as well, and this was his goal during the decade he ran pre-army programs. Even speaking Hebrew does not necessarily assure a serious connection to Jewish identity. "I don't care if they are Reform, Conservative, secular – but serious Jews who will know something about their legacy, past and tradition." He vowed not to adopt policy until he completes a learning curve about the needs of Diaspora communities but said that his natural intuition is to invest in strengthening Jewish identity because that is what creates the bridge between Jewish communities around the world, including Israel. He promised that European Jewry would not be abandoned by his ministry and that it will endeavor especially to bring Jewish education to the Jewish children of Europe. Chikli ended his presentation by rging the audience to give the government a chance and measure it not by the headlines but by its actions. "I am proud to represent this government. I see myself as a political moderate and an extreme Zionist."
As the new government takes its first steps and deals with overriding security issues, Netanyahu and Chikli will have to devote time to explaining their plans to Diaspora leadership and bringing them on board to ensure that, despite differences and policy shifts, the Israel-Diaspora relationship remains strong at its core. Anything less will weaken both.
---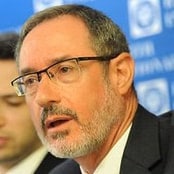 Alan Schneider is the director of B'nai B'rith World Center in Jerusalem, which serves as the hub of B'nai B'rith International activities in Israel. The World Center is the key link between Israel and B'nai B'rith members and supporters around the world. To view some of his additional content, click here.