Read the op-ed by past B'nai B'rith President Charles Kaufman in the Jerusalem Post.
Can the technology that gave the world "auto-reply" messages and "chatbots" deliver an antidote to antisemitic and anti-Israel social media posts? Round-the-clock monitoring doesn't seem to curb the appetite for Jew-hatred.
School courses or field trips to Holocaust (human rights/genocide) museums fail to tame new generations of social media propagandists. No one seems to care enough that the keyboard is mightier than the sword.
The bottom line is this: Social media may be marvelous technology but used recklessly by haters and nefarious groups or regimes, it is a weapon, a very dangerous one.
If only tech-driven media could respond immediately like the Iron Dome, so that when a social media post denies the Holocaust or attributes COVID to Jews, or that Jews, a mere slice of a sliver of the world's population, seek to dominate and control the world – the list of tropes are endless – social media platforms could deliver an immediate, automatic and factual response.
The uninformed might learn that at least six million Jews and five million others were systematically murdered by Nazis in work and death camps during World War II or that Jews did not cause COVID nor invent it as part of a profiteering mission – ah the money trope.
And while Jews number perhaps 15 million people on a planet of eight billion, 22% of Nobel recipients from 1901 to 2021, have Jewish ancestry. And New World Wealth, a nonpartisan wealth research firm reports that of the world's 13.1 million millionaires, only 1.7% are Jewish (56.2% are Christian, 31.7% are not religious and 5.8% are Muslim).
When it comes to Israel, similar responses are much-needed to address such favorite rage-baiting claims, as:
• Zionism equals racism.• The West Bank is occupied.• Israel is an apartheid state.• The IDF operates like Nazis.• And this doozy: The Jews have no connection to the Temple Mount.
When such propaganda hits social media, automatic replies are essential in curbing the appetite of Jew-haters. We once could dismiss or ignore these claims as ridiculous, but digital users have more muscle memory in their fingers than in their brains. Digital dexterity is much better than intellectual acuity.
anti-Zionism is antisemitism
By the way, Zionism is a movement that calls for the reestablishment of security and sovereignty of its ancestral homeland, which is so central to Judaism that, in fact, anti-Zionism is antisemitism.
The West Bank, once Judea and Samaria in biblical times, was occupied by Jordan until the Six Day War, in 1967. Under the Oslo Accords of 1995, it has been separated into Areas A, B and C. Area A is administered by the Palestinian Authority, Area B is under joint control and Area C is controlled by Israel.
The Gaza Strip is currently under the control of Hamas. Many of the claims revert to Arab denial of the UN partition plan of 1947, which carved up the modern state of Israel and established Jerusalem as an international city. Wars against Israel since 1948 have led to the current map.
The world needs a digital iron dome – a Digital Dome – to neutralize verbal missiles. Israel may be able to handle incendiary devices and missiles from Gaza and even drones from Hezbollah in Lebanon, but the countless impressions from right–wing and left-wing extremists, and Islamists are beyond anyone's control.
One year ago, a nonpartisan group called the Center to Counter Digital Hate (CCDH) reported that social media spaces have been unable or unwilling to take action against antisemitic posts. Perhaps they are able to take action against antisemitic posts, they just choose not to, the CCDH stated.
Imran Ahmed, CEO of the CCDH, told National Public Radio last year, "The study of antisemitism has taught us a lot of things… if you allow it space to grow, it will metastasize. It is a phenomenally resilient cancer in our society."
The NGO studied posts on Facebook, Twitter, Instagram, YouTube and TikTok, all with billions of users, reported that of the posts demonizing Jews regarding 9/11, COVID and world control, 89% remained on line. The platforms took no action on 80% of the posts denying the Holocaust and 70% of posts showing neo-Nazi and white supremacist images. They were indifferent.
Antisemitism reared its head even with hashtags. Could there be any mistaking the meaning behind a hashtag that reads #killthejews?
Beyond social media and conventional media are hardly guilt-free in their coverage of the Middle East. Most images of Israel show either orthodox Jews – side curls, fringes and black hats shuckling (Yiddish: the ritual swaying of worshippers during Jewish prayer) at the Western Wall or IDF soldiers in full armor, chasing rock-throwing Palestinian teens and young adults, usually referred to as children.
Natan Sharansky, the refusenik hero who endured great persecution in Soviet prisons, recently reminded Jewish leaders how the millions of Jews in Russia would be viewed as "someone with a disease."
Yet, on most days and times in Israel, the media seldom, if ever, finds it newsworthy that Jewish and Muslim children ride a carousel together at the Old Ottoman First Station or the glitzy Mamilla mall in Jerusalem. They mix freely with parents who playfully dote over their children. Of course, there's no news in watching these people living together or navigating crowded airports.
At a recent Jewish Agency for Israel meeting, the audience saluted the inspirational work of Boy Scouts that brought Arabs and Jews together. They do what Scouts do, from camping and leadership development to tying knots. Again, there is no conflict, so no news.
Devastation and political discord are certainly more salacious than feel-good stories that may foster relations. After all, there's no denying the politics of the Middle East and the desire for a Palestinian state, a hope that is evaporating into dust as fast as Israel is changing air into water.
Facebook's Mark Zuckerberg pledged to ban Holocaust denial material toward the end of 2020. It's not going well. Platforms can maintain free speech with false narratives and modern-day blood libels, but at least they would be met with immediate responses.
---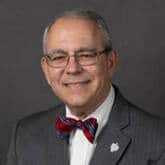 Charles O. Kaufman is a past president of B'nai B'rith International.