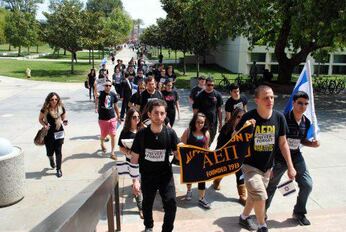 Cal State Northridge participates in the B'nai B'rith and AEPi Walk to Remember and Unto Every Person reading on Yom HaShoah
Lists of names, sorted by country of origin. Columns that provide ages and places of birth and death. Last names listed alphabetically, first names that you can find on a typical Hebrew school roster. Entire families follow, line by line. A grandparent, Mark, age 75; his child, Emanuel, age 40; and then the grandchild, Benjamin, age 7. An entire family, murdered by the Nazis.
These names became a program with the goal of remembering the victims of the Holocaust by reading their names aloud and in public spaces. This is the tribute to the six million Jews, one and a half million of them children, who were murdered. As the names of victims are read aloud, they are remembered. For many on these lists, it is the only time their name will be said aloud, as their entire family was murdered or there is no one left to remember them.
The program was inspired by the poem "Unto Every Person There is a Name" by Zelda, which begins "Unto Every Person there is a Name bestowed upon him by God and given him by his father and mother". The program is held each year on Yom Hashoah, which is observed on the 27th of Nissan. The date was chosen by the Israeli Knesset to serve as Holocaust Remembrance Day. This year, the commemoration will be on May 2nd.
The program was created to remind us that the victims were not just a number. Every individual had a name. They loved, worked and enjoyed their lives until they were murdered by the Nazis.
How do we remember each year? How do you bring more information to the participants who are part of the remembrance ceremonies? As survivors are passing away, the second and third generations of their descendants have committed themselves to bear witness. It is up to the Jewish community to support them in this task. B'nai B'rith became the North American coordinator of this program in 1989 and has brought the program to the community and campus for 30 years. Those who participate share stories of their experiences. Dignitaries and schoolchildren from public and parochial schools attend as readers. Passersby stop to listen and then ask if they can read as well. The readings take place in public places such as parks, in front of Holocaust monuments, the US Capitol (before 9/11), courthouse steps and shopping malls. It has also been held in cooperation with community events with synagogues, JCCs and Holocaust museums.
I remember when Congressman Jerome Nadler came to the District One ceremony in New York City in 1994. The program chair that year, Charles Friedman, president of the Leo Baeck Unit, shared a story about his family's experiences during Kristallnacht. At another ceremony, B'nai B'rith leader Margarete Goldberger, who was saved as a child by the Kindertransport, was randomly given a list to read that included the name of a school friend in Germany who had not been able to flee the country in time. There are many memories that span the program's 30-year history. Please share your own experiences at a program with us so that we can include these personal stories in our commemorations.
Names are also read on campus in conjunction with our partner, the Alpha Epsilon Pi Fraternity. This year, over 130 campus programs were scheduled on campuses as part of their "We Walk to Remember" program. The brothers of AEPi wore stickers that said "Never Forget" and passed out information about the Holocaust as they walked silently through their campus. They proudly recognize their duty to be part of the remembrance, and we are grateful for their commitment to make this a part of their campus activity.
An international committee convened in Israel develops a theme and includes readings that relate to the topic. Alan Schneider, director of the B'nai B'rith World Center-Jerusalem, represents B'nai B'rith on this committee. The program is also under the auspices of the of President of Israel Reuven Rivlin, who sends a message of thanks to the communities that take on this important activity. This year, the theme is "The War Within the War: The Struggle of the Jews to Survive during the Holocaust".
The names are available via a database. In many communities, the printed pages become part of an "Unto Every Person There is a Name" binder and are saved from year to year, as the lists take on a special significance to those who gather to remember them. Treated as a sacred object, the pages are brought out for special commemorations.
There is an ongoing project to collect as many names as can be found as part of the "Pages of Testimony Project". In accordance with the Yad Vashem Law passed by the Israeli Knesset in 1953, Yad Vashem established a Hall of Names and maintains a database of information about victims of the Holocaust. To date, there have been 4.8 million names of Shoah victims documented in the Central Database of Shoah Victims.
​
B'nai B'rith International is grateful to Kurt and Tessye Simon (of blessed memory) for their support of the Unto programming. You can find information about the Unto Every Person There is a Name program at this link: https://www.bnaibrith.org/unto-every-person.html.
---
---
​Rhonda Love is the Vice President of Programming for B'nai B'rith International. She is Director of the Center of Community Action and Center of Jewish Identity. She served as the Program Director of the former District One of B'nai B'rith. In 2002 she received recognition by B'nai B'rith with the Julius Bisno Professional Excellence Award. Rhonda has served on the B'nai B'rith International staff for 41 years. To view some of her additional content, click here.
---