At this year's State of the Union Address, Holocaust survivor Ruth Cohen sat in the audience as a guest of Second Gentleman Doug Emhoff. Cohen is 92 years old and spent time in multiple concentration camps, including Auschwitz. Emhoff has made combating anti-Semitism a focal piece of his work, and it was nice to see him highlight Holocaust remembrance through Cohen.
Throughout childhood I remember learning about the Holocaust, whether it was at Hebrew school, sleep away camp or from my parents. My mom told stories about when my parents lived in Queens, New York, going to the supermarket and seeing people with numbered tattoos on their arms. To this day, these interactions have stayed with my mom. While you can learn about the Holocaust through books and movies, standing next to a survivor who is displaying a numbered tattoo brings a new meaning to the phrase "Holocaust education."
Currently, only about 50,000 survivors live in the United States. As the number of survivors decreases you must wonder who will tell their stories once they are gone? How will future generations learn about the Holocaust?
One way Holocaust education will survive is through film. Countless movies have been produced that address this topic. I remember my experience in school watching the movie "Schindler's List." As a young teenager watching the movie for the first time, I admittedly was not too familiar with the heroic acts of Oskar Schindler. Not a surprise, the movie changed that for me and for countless other students. I feel confident movies like "Schindler's List" will be viewed by high school students well into the future, even when all the survivors are gone.
Furthermore, survivors' stories will be memorialized through recorded interviews. Recently, I spoke with Bill Benson who hosts First Person Conversations with Holocaust Survivors at the U.S. Holocaust Memorial Museum. These video interviews have been preserved on the internet on YouTube (through the Holocaust Memorial Museum) and CSPAN. Benson does a monthly program where he interviews survivors about their experiences, with each person having their own story to tell. These extensive interviews will be preserved for future generations, when first person stories are no longer possible.
Fortunately, memorializing survivor stories is extending beyond interviews. At the Shoah Foundation at the University of Southern California (USC) and the Illinois Holocaust Museum, exhibits have been created with the help of artificial intelligence (AI). Artificial intelligence has allowed visitors to get a unique experience at the museums by allowing them to hold conversations with holograms of survivors. According to the Illinois Holocaust Museum:
Imagine sitting in a theater listening to Auschwitz survivor Fritzie Fritzshall as she recounts her harrowing story of the Holocaust, in which she, as a 13-year-old, was ripped from her home and transported to the notorious concentration camp where most of her family was murdered. Imagine asking her questions about life during the Holocaust, about those Upstanders who risked their lives to save her, about her messages for our world today.

After watching a short intro film, you too will be able to ask questions to the holograms of Fritzie Fritzshall, Aaron Elster, and other Survivors in this award-winning innovative exhibition.

High-definition holographic interview recordings paired with voice recognition technology enables Survivors to tell their deeply moving personal stories and respond to questions from the audience, inviting visitors to have a personalized, one-on-one 'conversation.'
While talking to Benson, he spoke about his own visit to the museum and experiencing these new exhibits. Benson said, "It was mindboggling that technology allowed me to have a two-way conversation with a hologram of a survivor. While future generations will not be able to have a conversation with survivors, innovations like artificial intelligence will allow people the next best thing, ensuring enhanced holocaust education well into the future."
In January, B'nai B'rith International CEO, Dan Mariaschin conducted interviews to commemorate International Holocaust Remembrance Day with keynote speaker Professor Ivan Lefkovits, a Holocaust survivor from Prešov, Czechoslovakia (now Slovakia). Lefkovits shared his personal testimony, having survived both Ravensbrück and Bergen-Belsen Nazi concentration camps. Then, Kelley Szany, Senior Vice President of the Illinois Holocaust Museum and Education Center, explored the future of Holocaust remembrance and the museum's efforts making sure the experiences of Shoah survivors can live on forever through interaction with future generations, including conversations with holograms, as referenced above.
When discussing survivors, it's also important to focus on their current wellbeing. At B'nai B'rith International, we are proud to be a founding member of the Claims Conference and are pleased to currently have a seat on the board. The Claims Conference is a nonprofit organization that engages with Germany to provide survivors with compensation for suffering and losses because of the Holocaust, that has secured about $90 billion since its inception in 1951. Currently, the Claims Conference's financial resources are used to compensate survivors in the form of pensions or one-time payments and give organizations like Jewish Family Services (JFS) the funds they need to offer comprehensive social welfare services programs.
Holocaust education is more important now than ever, as deniers are becoming more and more prevalent. Education and awareness are important tools to ensure the atrocities of the past are never repeated. While first person accounts of the Holocaust are the most impactful, sadly, that won't be an option forever.
Thankfully, videos, books and new technology will keep Holocaust survivors' stories alive forever, ensuring that nobody will ever forget.
---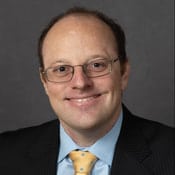 Evan Carmen, Esq. is the Legislative Director for Aging Policy at the B'nai B'rith International Center for Senior Services. Click here to read more from Evan Carmen.