Read the op-ed by B'nai B'rith Director of Latin American Affairs Eduardo Kohn in El País Uruguay (in Spanish). This op-ed has been translated for your convenience.
As Vinicius is a great soccer player, and also displays his art in one of the most important clubs in the world, the constant racism of which he is a victim is universal and permanent news. But the disease of racism does not begin or end with the news about one of the most famous. Sergio Cortina, a journalist for the Spanish sports newspaper AS, has written after the last scandal against the Madrid player that "the insults that Vinicius continues to receive, again and again, put us in front of a mirror that reflects a despicable image of ourselves. They show us how much things should change around here.
First, there are those who think that calling a black soccer player a monkey is just a way to annoy a provocative rival or an offense compared to wishing him the relegation on the contrary. Those who insult, those who justify and those who are dedicated to balancing after each infamous episode, do not deserve to be in the same boat as the others. You have to point them out and send them far away. With racism, as with other crimes, things don't happen only when someone denounces."
"On the contrary, when someone denounces it, it is because he or she has already had a full glass of holding so much garbage."
That garbage that Cortina refers to is repeated on courts in several countries and not only in Europe, obviously. Indonesia's hatred of Israel means that the U-20 World Cup is being played today in Argentina, because Indonesia prefers to be sanctioned rather than letting young Israelis participate in a contest in their country. Last year, as a result of racist insults against an African player in our country (Uruguay), several media showed that it seems sickly naturalized by these parts to attack athletes for their skin color or other reasons. In the summer of 2022, before a friendly match between Peñarol and Nacional in Maldonado, the great athlete Deborah Rodríguez was insulted with thick racist epithets, while running on the campus track.
No one said anything, no one did anything, no one took any subsequent action, and the athlete had to withdraw in the face of so much violence.
During the finals of the Uruguayan Basketball League that Nacional and Hebraica Macabi are playing, the anti-Semitic grievances on the networks have increased exponentially to the unfortunately usual. From "I hate Jews more if they are from Hebrew" to "Hitler wasn't so wrong" through swear words and threats.
They have also increased the chants from the stands. And no referee did anything despite the fact that the hate choirs were there from the first game and minute. The authorities? Interesting question. Until, in the fifth final, the players who demonstrated poor professionalism generated a brawl and left an embarrassment recorded for the world. Immediately, the networks exploded even more. The anti-Semitic poison spread and spread without containment.
But this poison is not local, it is universal. This week, at the Mercedes Benz Arena in Berlin, the anti-Semitic artist and defender of Russia's war crimes against Ukraine, Roger Waters returned to Nazism with absolute impunity. There, where Hitler's Reich had its capital, Waters dressed in the SS uniform and desecrated the Holocaust and spat on the ashes of 6 million murdered Jews. There in Berlin Munich returned in 1933 and the crowd howling while Waters made a pig fly with a Star of David and a legend about the Jews of "who throw the piolas of the world." There Goebbels came back. But it didn't reach him. He denowed Anne Frank by making a mockery of one and a half million children killed by the Nazis.
Waters incited. Eighty-five years after the Night of Broken Glass, he wanted to make another pogrom. The crowd this time joined in his howls and the tacit complacency he had to perpetrate the sum of all hatreds in a single act. Freedom of expression? Absurd. Making an apology for the Shoah is a crime. Inciting hatred is a crime. The right to freedom of expression has nothing to do with the commission of crimes, one after the other.
The Berlin police said 48 hours later that they are going to investigate. Sometimes, it's better to shut up than to make a fool of yourself and seriously offend again.
Waters will arrive in Uruguay in November. He will bring his hatred and he will remember that the government of Montevideo already designated him an illustrious citizen a few years ago.
As the Spanish chronicler has written, cited the principle in relation to Vinicius, racist, xenophobic, anti-Semitic violence, puts us all as a society in front of a mirror. Do we see through him, sports and criminal sanctions? Did we see them when it happened with African players or with Deborah Rodríguez? Do you see each other with Waters? What is done about it defines us, that is, if we do what is right, it defines us as most of us would like to be in terms of a society of empathy, respect and tolerance. But if it is minimized, it is ignored, it is omitted, obviously, then that also defines us. We have laws to live together in peace and regulations so that competitions and shows are not stained. Let's look back in the mirror to see what we're still seeing.
---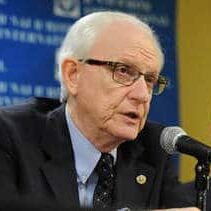 Eduardo Kohn, Ph.D., is the B'nai B'rith International Director of Latin American Affairs. Click here to read more of his expert analysis.