B'NAI B'RITH IN YOUR COMMUNITY AND AROUND THE GLOBE​​
Celebrating B'nai B'rith at
180
Welcome to the fall issue of IMPACT: your chance to read all about B'nai B'rith's influence in your community and around the world.
Our internationality is truly on display in this issue, with remarkable events and achievements from across the United States and Latin America to Israel, Australia, Poland, Lithuania and beyond. You will also read about our vital work at the United Nations. Volunteers are active in their communities, highlighting B'nai B'rith's 18-decade commitment to service and advocacy.
Now just weeks away from our 180th anniversary, we are deep in reflection mode. This issue presents B'nai B'rith in a way that the 12 founders—who saw (and filled!) a desperate need to help indigent widows—would recognize. At the same time, the events and activities you will read about in the pages ahead also demonstrate ways that we continue to evolve, to ensure that while we remain compassionate, our impact is innovative to meet the challenges of today.
We hope you will take great pride, as we do, in all that is being done in the name of B'nai B'rith.
–Best wishes from the IMPACT team
For 180 Years: Wherever There is a Need, There Is B'nai B'rith
A message from B'nai B'rith President Seth J. Riklin and CEO Daniel S. Mariaschin
180 years ago, B'nai B'rith was born in the heart of New York's Lower East Side with a noble purpose: to support Jewish immigrants in their journey to a new life in America. From its inception, our organization became a symbol of people helping people, and we proudly became America's first Jewish service organization.
Throughout our rich history, B'nai B'rith has grown into an international force, tirelessly advocating for the Jewish community and the broader society. We have left an indelible mark by founding hospitals, libraries, community centers and orphanages. These institutions have become beacons of care, education and achievement. Our legacy is rooted in recognizing societal needs and taking action to improve the lives of the less fortunate—from our inception just as we do now.
Since 1843, we have stood firm in our commitment to unite and care for others. Through our national network of senior housing communities and our unwavering dedication to providing humanitarian aid, B'nai B'rith continues to extend a helping hand wherever and whenever it is needed.
As we celebrate our accomplishments, we are reminded of the vital work that lies ahead. The alarming rise of anti-Semitic acts has reached unprecedented levels, with hateful rhetoric seeping into mainstream discourse. Israel, too, faces constant defamation and vilification at international forums, where its very right to exist is challenged daily.
While we remain hopeful for a future where safety and security prevail, it is our duty to shine a light on these injustices and combat hate in all its forms. Today, we must ensure that B'nai B'rith's essential work endures.
We are asking you to take a moment right now and make a gift to the B'nai B'rith Founders Fund in honor of 180 years of service.
Through this gift, you are demonstrating your unwavering commitment to stand with us. Together, we reaffirm our shared dedication to a stronger, more secure Jewish future.
Just as our visionary founders recognized in 1843, it is our responsibility to come together to uplift our people. We need your support to continue our vital work.
Join us in making a difference. We can ensure that B'nai B'rith's legacy of compassion and advocacy endures, paving the way for a brighter future for generations to come.
Wherever there is a need, there is B'nai B'rith.
Seth J. Riklin,  President, B'nai B'rith International
Daniel S. Mariaschin, CEO, B'nai B'rith International
Leadership Mission Celebrates B'nai B'rith Centenary, Jewish Culture and History in Poland and Lithuania
B'nai B'rith CEO Daniel S. Mariaschin led a groundbreaking study and advocacy mission to Lithuania and Poland during the last week of June. Excursions to historical Jewish sites, museums, archives and special meetings with Lithuanian Vice Chancellor Rolandas Krisciunas and Vice Foreign Minister Egidijus Meilūnas, and American and Israeli ambassadors highlighted the trip.
Mariaschin, along with immediate past President Charles O. Kaufman; Vonne Kaufman; Senior Vice President Dr. Sandra Horowitz; and Dr. Steven Horowitz were joined for part of the mission by Vice President of Development and Strategic Initiatives Andrea Cure and World Center-Jerusalem Director Alan Schneider.
Active since 2007, Warsaw's Polin Lodge organized a two-day seminar featuring eminent historians and experts who explored topics ranging from B'nai B'rith's Polish history and the Jewish interwar narrative in Poland to the surge in anti-Semitism in our own time. 
During his remarks, Mariaschin underscored the erudition of the Polish brothers: "Living and working in cities throughout the country, affluent businessmen—merchants, factory owners, banking executives—were in sympathy with the educational goals propagated by their fellow members—scholars, clergy, professors and authors. With a love of learning on both sides, these two groups, whose numbers totaled between 900 and 1,000 during the 1920s and 30s, shared a common goal." 
Delegates toured Lithuania's Vilna Ghetto, and Poland's Warsaw Ghetto, where they talked with Ringelblum Archives staff at the Warsaw Jewish Historical Institute. The group also visited the Auschwitz and Treblinka extermination camps. 
The mission's final stop was at the annual Jewish Festival in Kraków.
Assistance extended to Ukrainian immigrants in Poland
The group met with Ukrainian Jewish refugee families in Warsaw, where some of the children who attend the Lauder-Morasha School receive B'nai B'rith scholarship funds and other support.
New award thanks Polish individuals and organizations
The inaugural presentation of the Wdzięczność-Gratitude-הכרת הטוב award (named in Polish, English and Hebrew) was bestowed by B'nai B'rith to Urszula Antosz-Rekucka (Shtetl Mszana Dolna, a preservation group) and the Jewish-Polish Forum for Dialogue (Andrzej Folwarczny, founder) during a June 27 ceremony at the POLIN Museum of the History of Polish Jews in Warsaw. It honors those committed to protecting Jewish heritage and advancing Jewish-Polish relations.
Celebrating 180 Years of B'nai B'rith: Service, Advocacy, Impact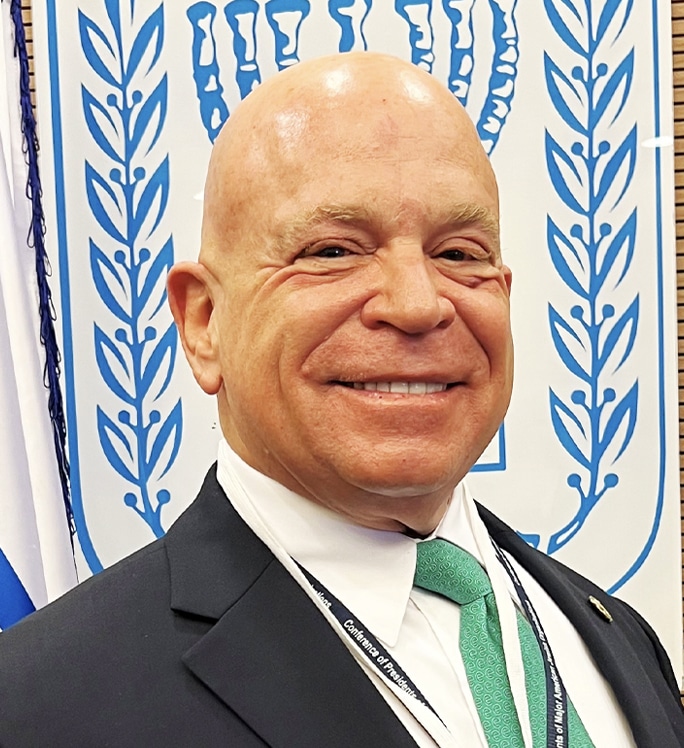 Ten times chai. Ten times life. That's the way I think of B'nai B'rith's 180th anniversary year. I am deeply honored to preside over an organization with 18 decades of service to the world.
B'nai B'rith was founded in October of 1843. But we don't celebrate this remarkable milestone merely for having reached 180 years. We celebrate it for our deep history of achievement and for our "now" story of accomplishment.
For nearly two centuries, B'nai B'rith has been at the forefront of philanthropy, advocacy and community building, leaving an indelible mark on Jewish history and the world.
As a devoted member for more than 30 years, and current leader of this esteemed organization, I am compelled to reflect on the profound impact it has had on my life and the lives of countless others.
My connection to B'nai B'rith comes through our incredibly important and innovative senior housing program. I started my volunteer work with the Goldberg B'nai B'rith Towers in Houston. That's where I saw the deep effect a global organization can have at the personal level. Honoring our parents is at the core of Judaism and one of the core tenants of our work. Our senior housing provides safe and affordable residences for seniors of modest means.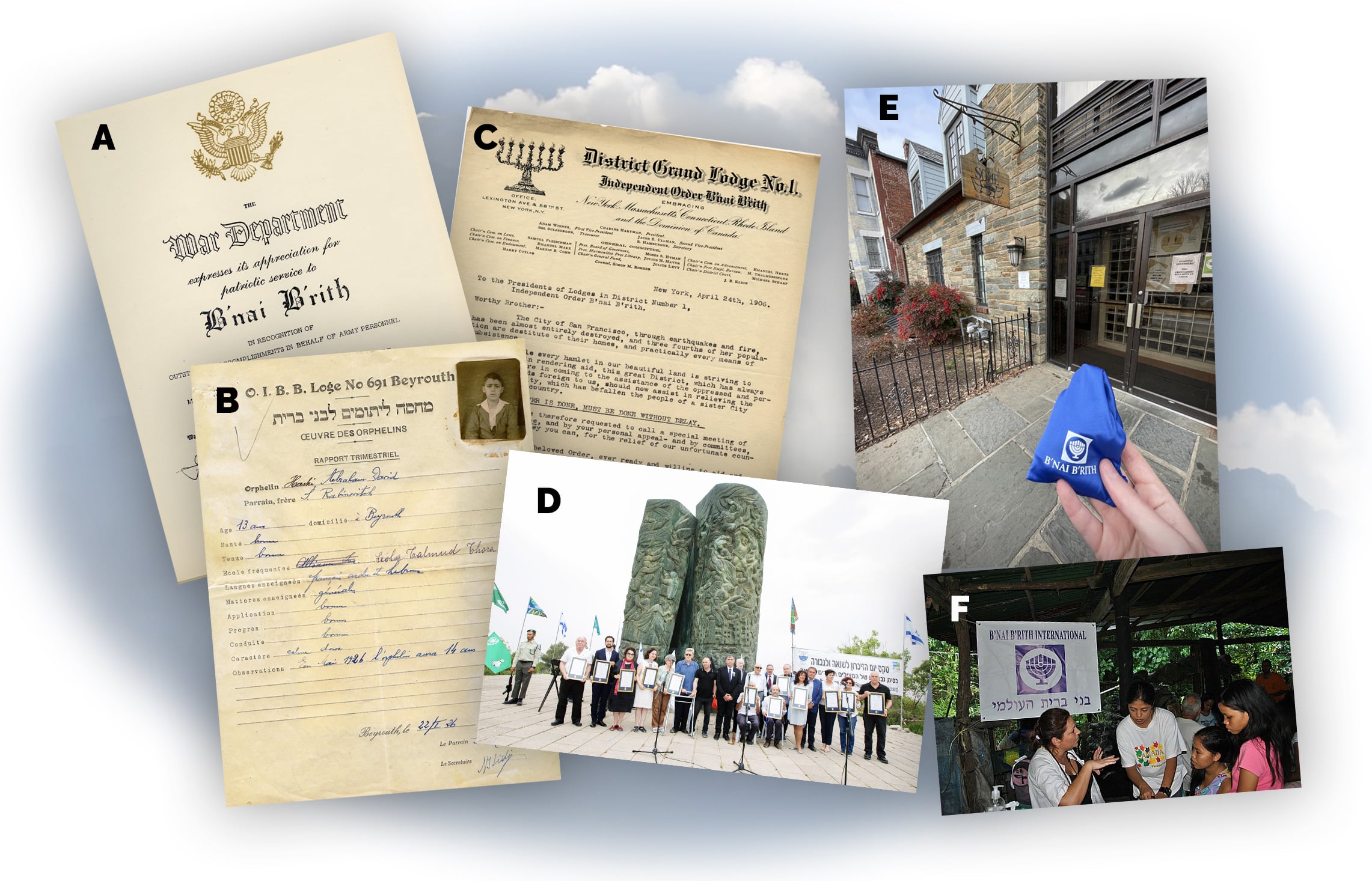 Seeing the community B'nai B'rith created for my aunt and her neighbors moved me to devote my spare time and energy to this amazing organization.
Since its inception, B'nai B'rith has remained committed to the principles of Judaism, actively engaging in benevolent deeds and promoting the welfare of our community. From its earliest days, B'nai B'rith sought to combat discrimination and champion the rights of all individuals, regardless of their background or faith. This enduring dedication to inclusivity has shaped my own worldview and, in turn, helped create a more equitable and compassionate society.
One of the most remarkable accomplishments of B'nai B'rith has been its unwavering commitment to humanitarian efforts. Throughout its long history, the organization has extended a helping hand to those in need, both within the Jewish community and beyond. B'nai B'rith has provided essential aid during times of crisis. Our humanitarian initiatives have touched the lives of innumerable individuals, providing vital resources, support and hope in times of despair. From B'nai B'rith teddy bears, which provide comfort to children experiencing trauma, to rebuilding homes, our disaster and emergency relief efforts are a long-standing pillar of our work.
Developing young Jewish thinkers and leaders is a cornerstone of B'nai B'rith's mission, empowering future generations with knowledge, skills and a strong moral compass. Our None Shall Be Afraid essay contest for college students—which you can read more about in this issue—is a critical way for us to engage the next generation of leaders. I live by the mantra that when you are a leader, you must always be looking for someone to replace you. B'nai B'rith's foresight and commitment to empowering the next generation motivates all we do.
B'nai B'rith's dedication to Israel and combating anti-Semitism has been an inspiration and priority for me as a volunteer and now as president. The organization has been at the forefront of efforts combating the resurfacing blight of anti-Semitism and anti-Israel animus. It's a monumental task. One of the keys to this is our promotion of global acceptance and knowledge of the International Holocaust Remembrance Alliance (IHRA) working definition of anti-Semitism. In May, we led the way in an alliance of Jewish organizations urging the United Nations to accept the IHRA definition, which will help focus attention on what constitutes anti-Semitism. Identifying the problem through common language and understanding is invaluable in launching solutions.
From the beginning, B'nai B'rith has been an unwavering and staunch defender of human rights, standing up for the oppressed. As one of the first Jewish organizations to fight for civil rights, B'nai B'rith has consistently exemplified the Jewish value of tikkun olam, repairing the world.
As we celebrate this landmark anniversary year, we acknowledge with immense pride B'nai B'rith's past achievements, of course, but we also recommit ourselves to its enduring mission. B'nai B'rith's legacy serves as a reminder of our collective responsibility to repair the world and build a brighter future.
For me, B'nai B'rith's 180 years of service, advocacy and impact embody the essence of Jewish values and the power of community. For me, B'nai B'rith is a source of inspiration, guiding my actions, both as president of this organization and in my personal work. As B'nai B'rith's president, I am especially humbled during this milestone anniversary by the opportunity to contribute to its noble mission and work alongside dedicated individuals—our volunteers and our staff—who share a vision of a better world, including fairness and security for Israel, safety for Jews, comfort for seniors and aid for those in need.
As I think about B'nai B'rith this year, I take great pride in our yesterdays, and I eagerly anticipate our todays and tomorrows. It's my goal for B'nai B'rith to contribute an even greater impact to the lives we touch, the communities we serve and the world at large.
L'Chaim to 180 years of B'nai B'rith.
Celebrating Our Anniversary, in a Year of Anniversaries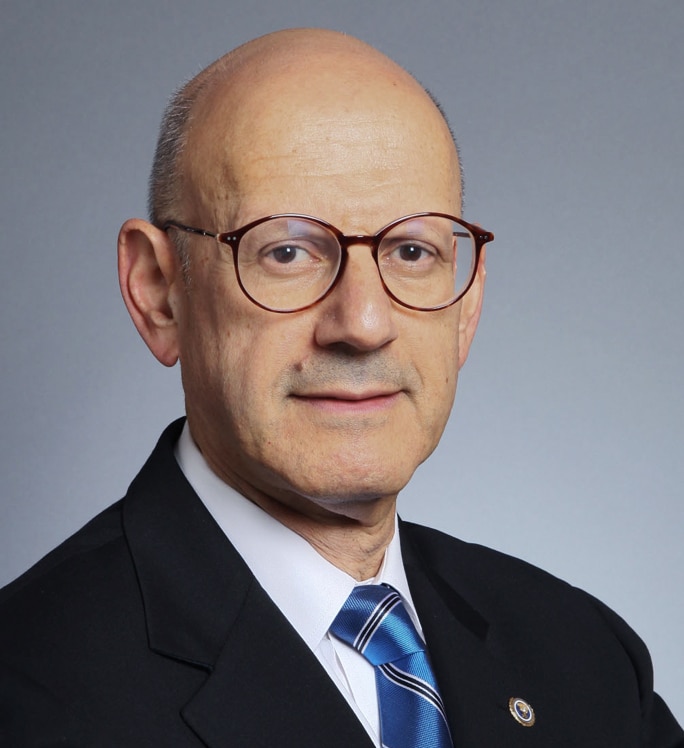 This year marks B'nai B'rith's 180th anniversary, which we will celebrate on into 2024 with commemorative meetings, missions, special articles, podcasts and other programs noting this singular milestone.
Who knew that the gathering of 12 German Jewish immigrants at Sinsheimer's Cafe on Essex Street on New York's Lower East Side in October 1843, called to assist an indigent widow, would spawn an international organization with members in dozens of countries, serving Jewish communities and beyond, on six continents?
In the process of that institutional growth, we planted our flag in many places, several of which are marking their own anniversaries this year. In 2023 we also are celebrating the 135th anniversary of the Jerusalem Lodge, whose recording secretary was none other than the father of the modern Hebrew language, Eliezer Ben-Yehuda. And 2023 marks the 95th anniversary of the first convention of our lodges in pre-state Israel. The first lodge in Romania, founded as "Zion Fraternity," was established 150 years ago.
I write this after having just returned from Warsaw, where B'nai B'rith's Polin Lodge celebrated the 100th anniversary of B'nai B'rith in Poland. Over two days, some 100 attendees participated in panel sessions on the startling growth of anti-Semitism and online hatred in Europe, the Holocaust in Poland, the war in Ukraine and a range of other topics on the minds of all Jews today. The sessions were held in Warsaw's impressive POLIN Museum of the History of Polish Jews.
The conference was capped by the presentation of "Gratitude" awards, which were presented to Urszula Antosz-Rekucka (Shtetl Mszana Dolna) in the Individual category and Forum for Dialogue (founder Andrzej Folwarczny) in the Institutional category, for their devoted efforts to preserve Jewish heritage in Poland.
Of special interest was an opening lecture by Professor Edyta Gawron of the Institute of Jewish Studies at Jagiellonian University in Kraków, focusing on the beginnings of B'nai B'rith in Poland.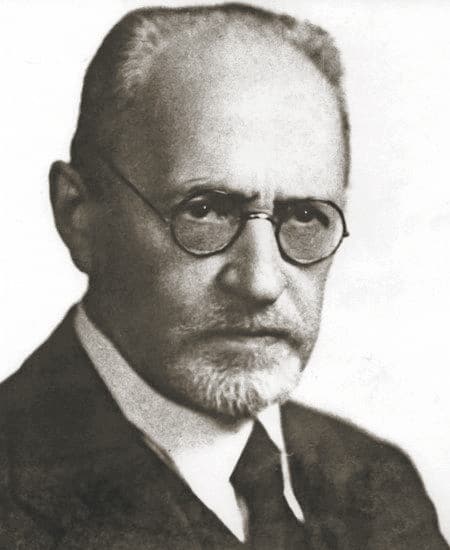 Gawron's talk was accompanied by an exhibition of documents, photographs and historical narrative prepared by Poland's Professor Moses Schorr Foundation, named after the highly respected rabbinical leader and scholar who played a central role in the growth of B'nai B'rith in the country.
The leadership of the pre-World War II Polish lodges included industrialists, teachers, doctors, members of parliament, engineers, academics, lawyers, merchants and others, who themselves were deeply active in Jewish communal life, including Sebastian Bergman, the president of the Great Synagogue in Warsaw, and Maurice Mayzel, who served as president of the Warsaw Jewish community from 1937 to 1939.
The Polish lodges, like their counterparts elsewhere in the B'nai B'rith global community, were committed to modern education, funding schools and awarding scholarships, as well as providing aid for the poor and the disabled.
Dark clouds began to gather over Poland's 3.3 million Jews even before the Nazi invasion on Sept. 1, 1939. Calls for boycotts of Jewish merchants were already being pressed by Poland's National Party and others in the late 1930s. In September 1938, the Kraków, B'nai B'rith headquarters was bombed. On Nov. 23, 1938, the Polish president issued a decree that dissolved all "Masonic institutions," which in the government's interpretation included B'nai B'rith. Article 3 of that decree stated that "whoever participates in the secret activity of an association…or supports such activity is subject to up to five years in prison and a fine." B'nai B'rith leader Maurice Bisgyer met with the Polish ambassador in Washington, D.C., to explain that the lodges had no connection to the Masons, to no avail.
With that, B'nai B'rith in Poland was forced to cease activity. An auction of furnishings, tableware, a number of antique pieces and Judaica was held, producing, according to reports at the time, proceeds of only 5% of their value.
A public notice following the auction said it all: "Due to the decree of dissolution of Masonic associations, police authorities have, on the order of the Government Commissariat, secured on the 26th of this month [November 1938] the property of the 'Humanitarian Association Brotherhood—B'nai B'rith.'"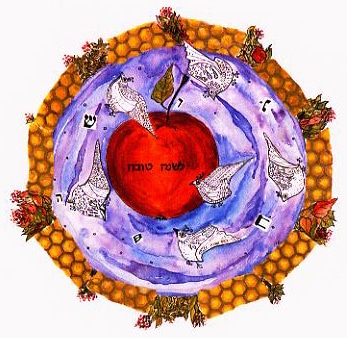 B'nai B'rith continued to send support to Jews suffering in Poland through the Red Cross. In 1940, B'nai B'rith was providing monthly $100 stipends to 50 B'nai B'rith members, some of whom had been former members of the Polish Parliament, who had escaped to Lithuania.
Some 90% of Polish Jewry were killed during the Holocaust, including most of the brothers and sisters in the nine lodges in the country. In 1956, a new lodge comprising Polish Jewish survivors who had made their way to Israel was inaugurated in Tel Aviv, named after Rabbi Moses Schorr.
B'nai B'rith returned to Poland's small and active Jewish population of approximately 10,000 in 2007, establishing Polin Lodge in Warsaw. The first president was Dr. Andrzej Friedman, who holds that office today and who, along with his fellow lodge members, organized the 100th anniversary commemoration.
The story of B'nai B'rith in Poland is one of triumph, tragedy—and rebirth.
Each country where B'nai B'rith has had—or has—a presence has its own story to tell. A story of promoting Jewish values, helping those in need, looking after seniors and supporting young members of the community with scholarships and organized activities. A story of community leadership, advocating for a strong and secure Israel, remembering the victims of the Holocaust and fighting the growing menace of anti-Semitism.
The mission set down by the 12 founders of B'nai B'rith hasn't changed over these 180 years, touching on three separate centuries. We should all feel a sense of pride in our accomplishments, while at the same time reminding ourselves that this important work is not done. New challenges to our community arrive with increasing frequency. Along with the new challenges, the need to ensure Jewish continuity and Jewish literacy must be high up on our institutional and community agenda. And with the speed of the internet and social media, we're reminded, in real time, about those in need or who are victims of natural disasters.
We are so fortunate to be the inheritors of this cherished legacy. And to be positioned to continue this important work for the next 180 years—and beyond.
B'nai B'rith Magazine Wins Major Awards for Excellence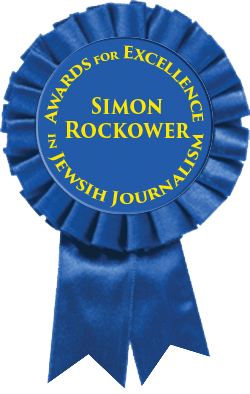 The 2022 issue of B'nai B'rith Magazine won THREE Simon Rockower Awards for Excellence in Jewish Journalism, honoring achievements in Jewish media, given by the American Jewish Press Association—including for BEST MAGAZINE!
These prestigious awards continue a long line of recognition for excellence in B'nai B'rith Magazine.
On July 11, 2023, B'nai B'rith Magazine won the following top prizes for the 2022 issue:
1st Place: Award for General Excellence — Best Magazine
Eugene L. Meyer, Editor
Judges comment: Excellent diversity of stories and content. Readable stories and nice features.
1st Place: The Boris Smolar Award for Excellence in Enterprise or Investigative Reporting
"Stolen silver: Nazi plunder and the unfinished quest for restitution" by Dina Gold
Judges comment: Excellent research and compelling storytelling.
2nd Place: Award for Excellence in Single Commentary
"Students tackle issue of modern anti-Semitism with 2022 None Shall Be Afraid Essay Contest" by Adrian Weiss
Judges comment: The writer makes good points about people's blindness to anti-Semitism and the need to do better.
Read B'nai B'rith Magazine Winter 2022 here.
2023 Israel-Hellenic Forum Convenes in Nicosia
B'nai B'rith World Center-Jerusalem founded the Israel-Hellenic Forum in November 2019, to advance the continually strengthening regional partnerships that have benefitted the populations of Israel, Cyprus and Greece. Forum meetings were in Athens in 2022.
The University of Nicosia was the location for the June 19 to June 21, 2023, sessions, produced in cooperation with the university, Cyprus Center for European and International Affairs and Athen's Institute of International Relations. More than 40 experts and high-ranking government leaders, including keynote speaker, Cypriot President Nikos Christodoulides, participated.
Hailing trilateral cooperation, B'nai B'rith CEO Daniel S. Mariaschin observed: "There is another noteworthy initiative that has grown out of our close cooperation. In the important category of "people-to-people": The Israel-Hellenic Forum, organized at the initiative of my colleague Alan Schneider, World Center-Jerusalem director, has provided an important outlet for discussion of issues that affect Israelis, Greeks and Cypriots. Bringing together journalists, academics, diplomats, think tank scholars, researchers and so many others to grapple with common threats and challenges is fostering, in real time, even stronger ties."
Schneider noted: "The Israel-Hellenic Forum Nicosia Plenary is undoubtedly a watershed event, coming shortly after the general elections in Israel, Cyprus and Greece. Together we advance relationships between leading public figures and the public at large in the three liberal democracies of the Eastern Mediterranean."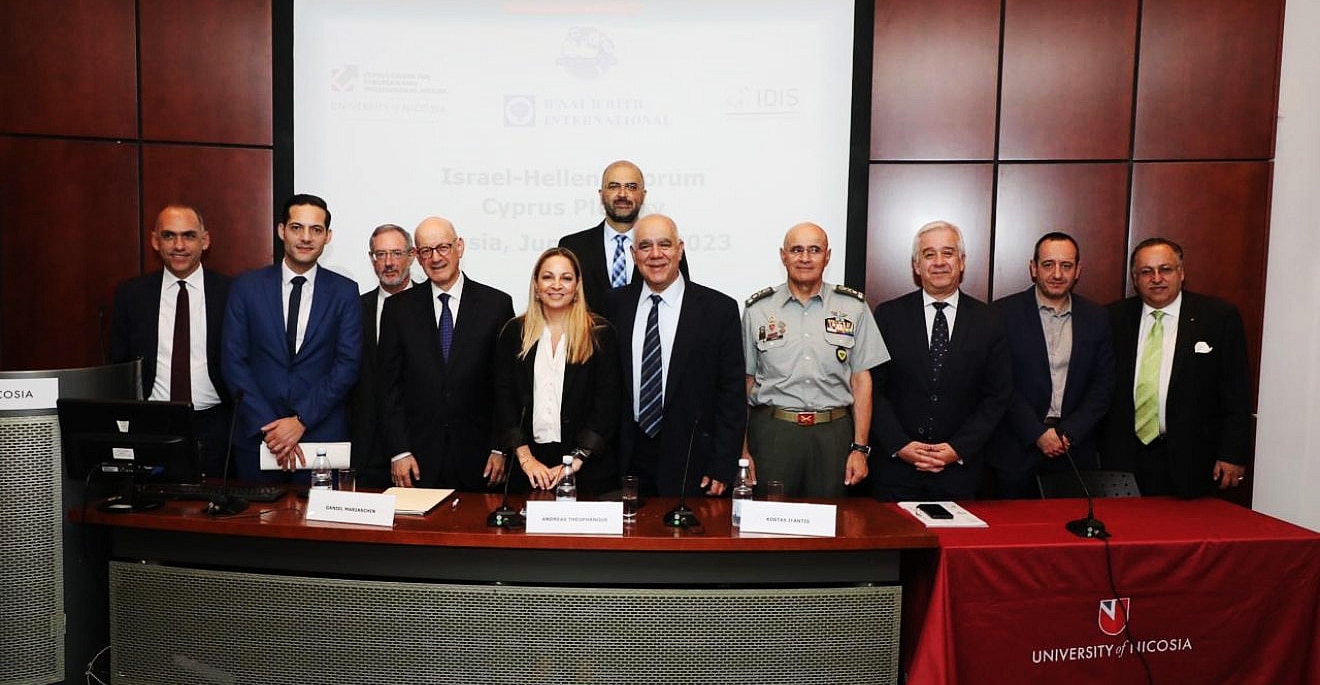 Speakers from Greece, Cyprus and Israel included: Tzachi Hanegbi, Israel National Security advisor; Israeli Ambassador to Cyprus Oren Anolik; Ioannis Papameletiou, ambassador of Greece to Cyprus; Kornelios Korneliou, ambassador designated to Israel, Republic of Cyprus; Michalis Giorgallas, minister of defense, Republic of Cyprus; Lt. Gen. Dimokritos Zervakis, chief of the National Guard of the Republic of Cyprus; Marilena Raouna, director, Diplomatic Office of the President of Cyprus; and Professor Kostas Ifantis, scientific director of the Centre for Foreign Policy Planning at the Greek Ministry of Foreign Affairs.

Panels included: "The Cyprus Question, the Greco-Turkish Relations and the Prospect of Energy Cooperation in the Eastern Mediterranean"; "Perspectives on the Network of Cooperation between Israel, Cyprus and Greece"; "Recent Developments in Israel, Greece and Cyprus"; and "The New Emerging European and International Order: Challenges and Opportunities."
World Center-Jerusalem Honors the Best in Diaspora Reporting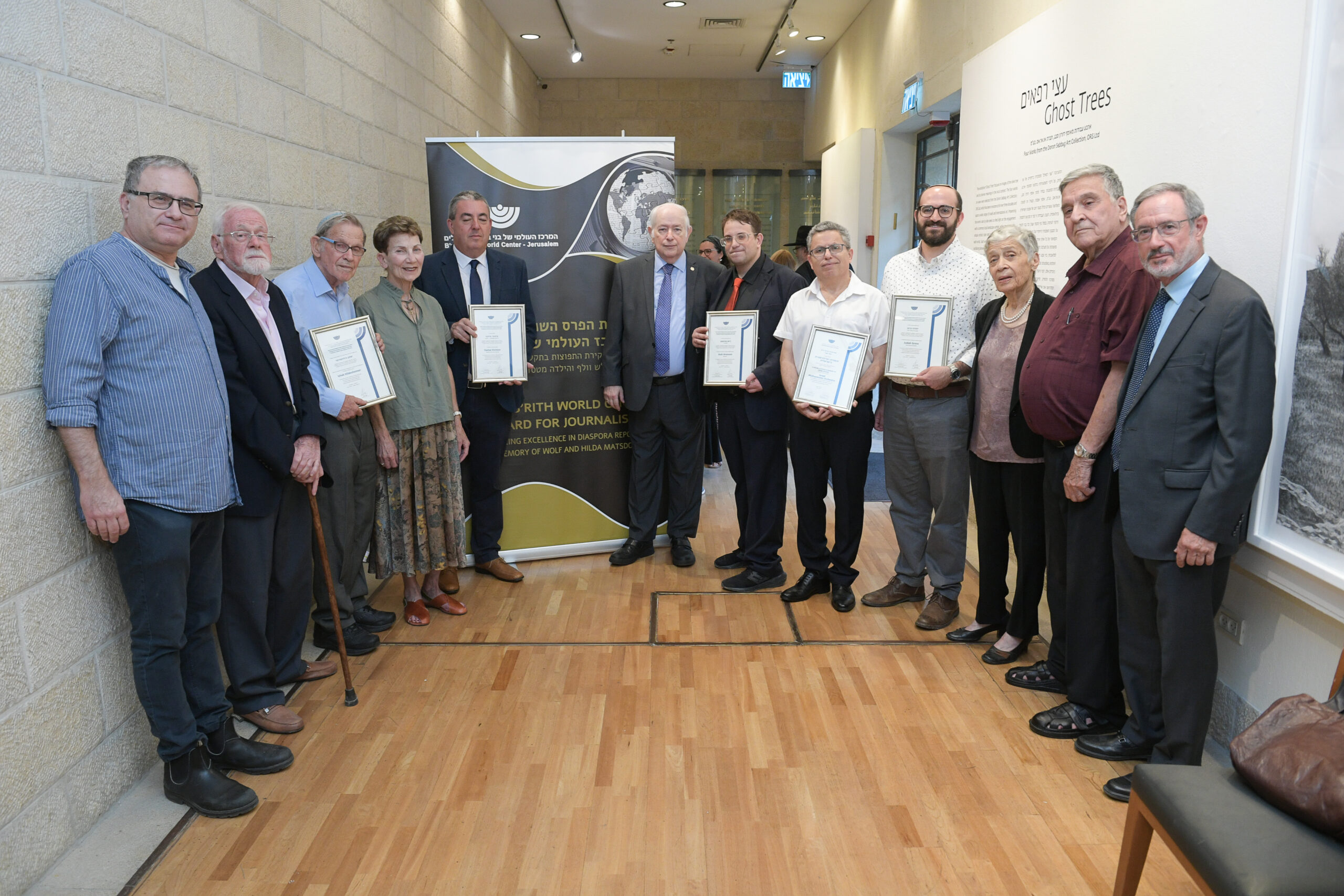 Itamar Eichner, diplomatic correspondent for ynet and Yedioth Ahronoth; Josh Aronson, a reporter at Maariv; and Judah Gross, a writer for the Times of Israel, were the 2023 recipients of the B'nai B'rith World Center Award for Journalism. At the July 4 ceremonies, veteran reporter Izhak Hildesheimer received the Lifetime Achievement Award in Memory of Luis and Trudy Schydlowsky and the Israel Philharmonic was cited for Fostering Israel-Diaspora Relations Through the Arts in Memory of Naomi Shemer.
The World Center journalism award honors the memories of Wolf Matsdorf, editor of the World Center's periodical "Leadership Briefing" and a journalist in Israel and Australia, and his wife Hilda, a pioneer in social work in both countries.
The ceremony began with a speech by Avi Mayer, the Jerusalem Post's new Editor-in-Chief, who touched on major issues like the Law of Return, and a recorded message by Israel President Isaac Herzog, acknowledging that:
"All Jews are responsible for—and intertwined with—one another. Preservation of this delicate string—the Gordian knot—of the Jewish People is critical in our generation. B'nai B'rith has become synonymous with taking responsibility and being a guarantor of Jewish life in Israel and the world. The scope of its contribution to fostering Israel-Diaspora relations and revival of Jewish life in the Land of Israel is too great to detail here. I want to thank you for your great contribution to the State of Israel, the People of Israel and Israeli society."
Established in 1992 to foster excellence in reporting, the B'nai B'rith World Center Award for Journalism has honored coverage devoted to contemporary Diaspora communities and Israel-Diaspora relations. It's considered the most prestigious prize given for reportage on these issues.
The award jury includes: Ya'akov Ahimeir, former editor and anchor, Israel Public Broadcasting Corporation and Lifetime Achievement Award winner for 2016; Yehudith Auerbach, former head of the Department of Journalism and Communication Studies, Bar-Ilan University; Sergio DellaPergola, professor emeritus, The Institute of Contemporary Jewry, Hebrew University; Gabriela Shalev, former Israeli ambassador to the United Nations; journalist Yair Sheleg; and Asher Weill, publisher and editor of "Ariel: The Israel Review of Arts and Letters" (1981-2003).
Citation Awarded to Jewish Rescuers Isidor and Rosa Marx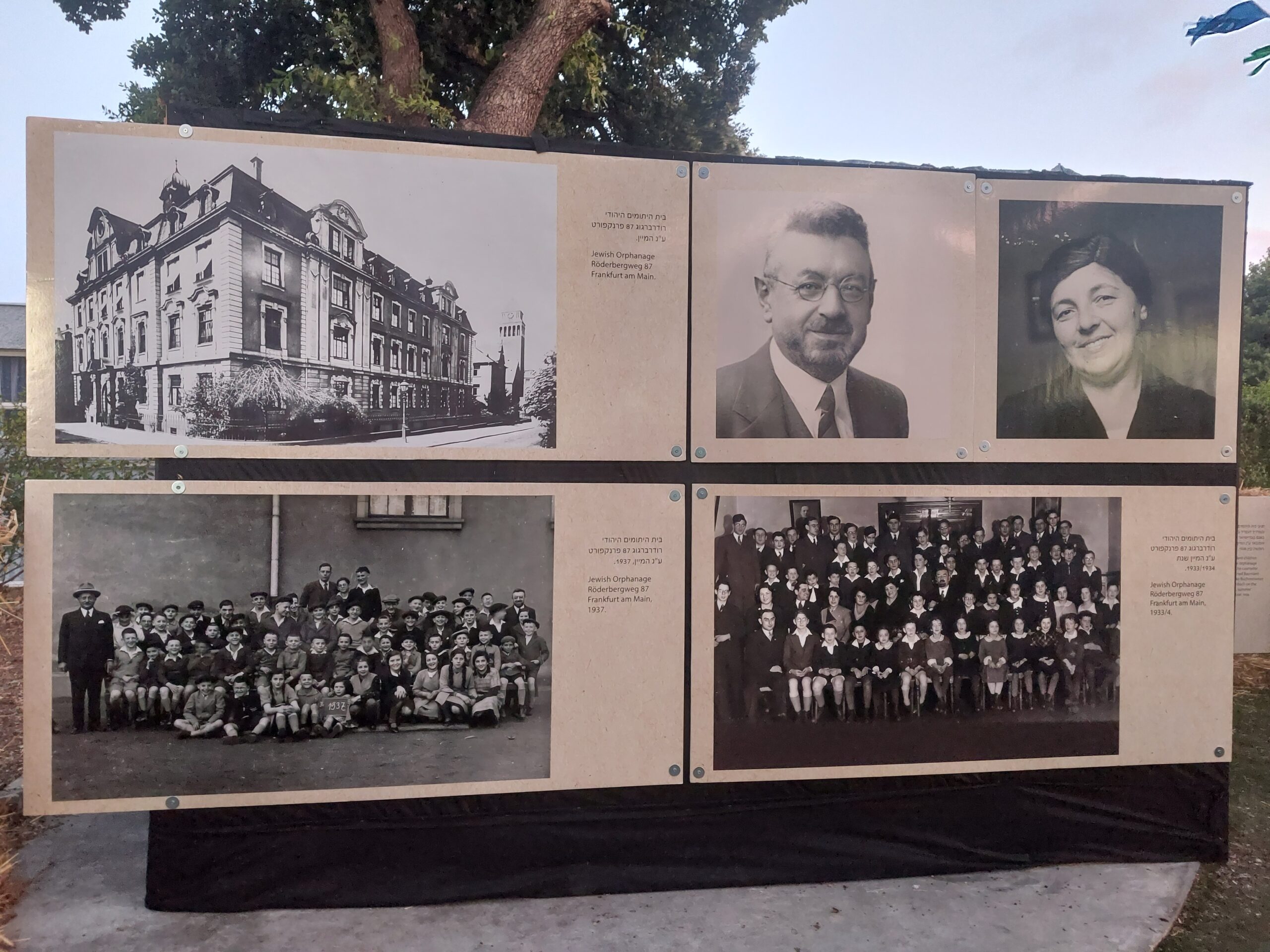 Rosa and Isidor Marx were posthumously awarded the B'nai B'rith World Center-Jerusalem and Keren Kayemeth LeIsrael (KKL-JNF) Jewish Rescuers Citation on June 6. The award was accepted by the Marxes' granddaughter, Ruth Cousin from Australia, before an audience of more than 300 family members, spanning four generations.
Administrators at the Waisenhaus Orphanage in Frankfurt, Rosa and Isidor Marx saved about 1,000 children, who were sent to England, Holland, Switzerland and Israel to escape the Holocaust. Isidor Marx, who escorted the evacuated children out of Germany via the Kindertransport program, survived the war in England; Rosa Marx stayed behind in Frankfurt with the remaining 160 orphans and was murdered with them.
About 100 orphans were resettled at Kfar Hasidim Youth Village near Haifa, where the event took place.
B'nai B'rith World Center-Jerusalem Director Alan Schneider noted: "The moving and tragic story of Isidor and Rosa Marx and the children to whom they were dedicated should serve as an instructive lesson for the world and every generation."
Schneider continued: "Mr. and Mrs. Marx, cited by The Committee to Recognize the Heroism of Jewish Rescuers During the Holocaust, are now among the 617 rescuers acknowledged to date. The dramatic narratives of these men and women could be subjects for film, theater, literature. Their actions represent humanity at its highest, as they altruistically put aside their own need to survive to save others."
Established in 2011, The Jewish Rescuers Citation is a joint project of the B'nai B'rith World Center-Jerusalem and the Committee to Recognize the Heroism of Jewish Rescuers During the Holocaust. 
Center for Senior Services Holds Annual Training Session
B'nai B'rith Center for Senior Services (CSS) conducted its annual Housing Network Managers and Service Coordinators Training session in Fort Myers, Florida, June 14-June 16.
The conference included two days of training with local representatives from the U.S. Department of Housing and Urban Development, industry specialists and CSS experts.
Allyson Rae, chief meteorologist from the local NBC affiliate spoke about the ways in which residents and property managers prepare for extreme weather conditions.
Attendees spent the first day doing grounds work and preparing emergency preparedness kits at Villa Vincente, a Section 202 senior housing residence that was impacted by Hurricane Ian in September 2022. The project was arranged in conjunction with the B'nai B'rith Disaster and Emergency Relief Committee.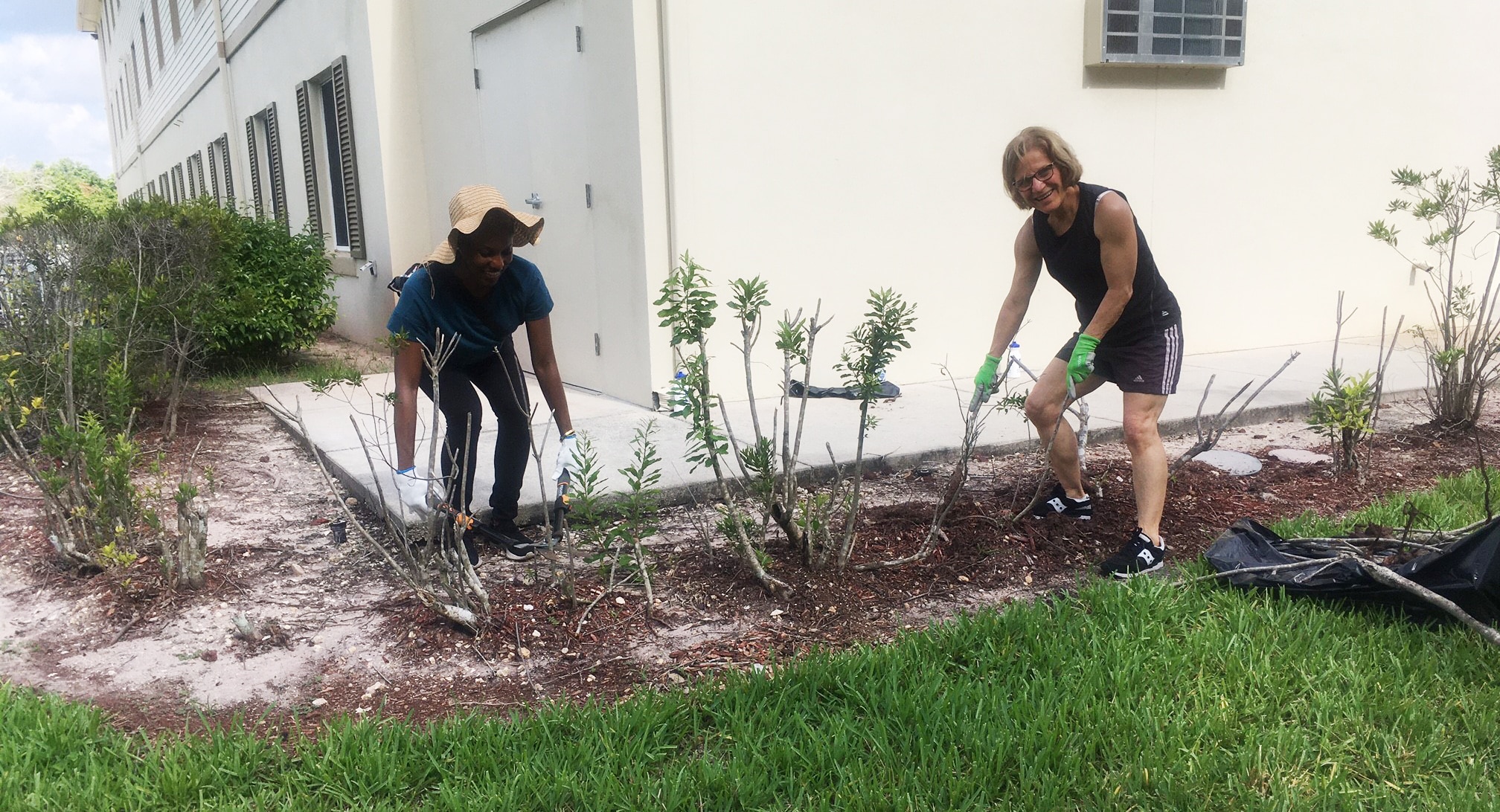 In addition to taking part in the service project, attendees heard about issues connected with residents' psychological wellbeing. Vacharee Howard, executive vice president of National Alliance for Mental Illness Lee County, spoke about senior mental health. Amanda Atkins, president, Atkins Consulting Professionals and B'nai B'rith Center for Senior Services Associate Director Janel Doughten, along with Director of Aging Policy Evan Carmen, advised the group on "How to Create Harmony Among the Residents."
Legislative Staff Members Visit Homecrest House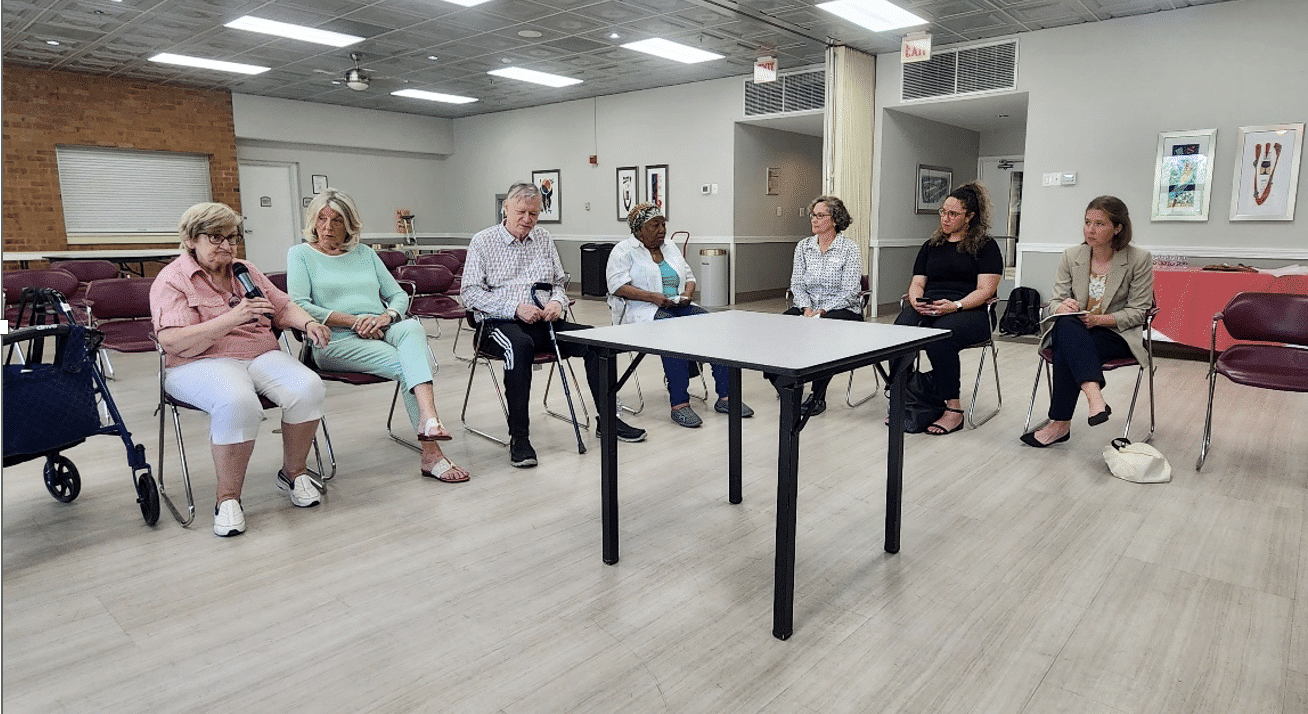 Before the pandemic, the B'nai B'rith International Center for Senior Services (CSS) regularly organized tours of its U.S. Department of Housing and Urban Development (HUD) senior housing properties around the country. The visits provided an opportunity for members of Congress, their staff members and others to directly observe the importance of affordable housing for seniors, who were able to share their stories directly with the visitors.
On June 27, Kate Koschewa and Chris Monroe of the House of Representatives committee responsible for funding rental subsidies, toured Homecrest House, a B'nai B'rith property in Silver Spring, Md. and spent time with residents.
Evan Carmen, CSS legislative director for Aging Policy and Alayna Waldrum and Kendra Kuehn, representing the American Association of Service Coordinators' policy team, accompanied the tour.
"Homecrest is a great example of how HUD senior housing can make a big difference in the lives of older Americans who are worried about paying healthcare and grocery bills," Carmen said.
B'nai B'rith launched its first housing partnership with HUD in 1971. Today, B'nai B'rith is involved in running 37 buildings in 28 communities, making the organization the largest national Jewish sponsor of non-sectarian subsidized housing for older adults in the United States.
CSS staff members explain: "We are more than just bricks and mortar. CSS supports training and programs for the residents, building personnel and board members who make up our housing network."
B'nai B'rith Participates in AEPi Convention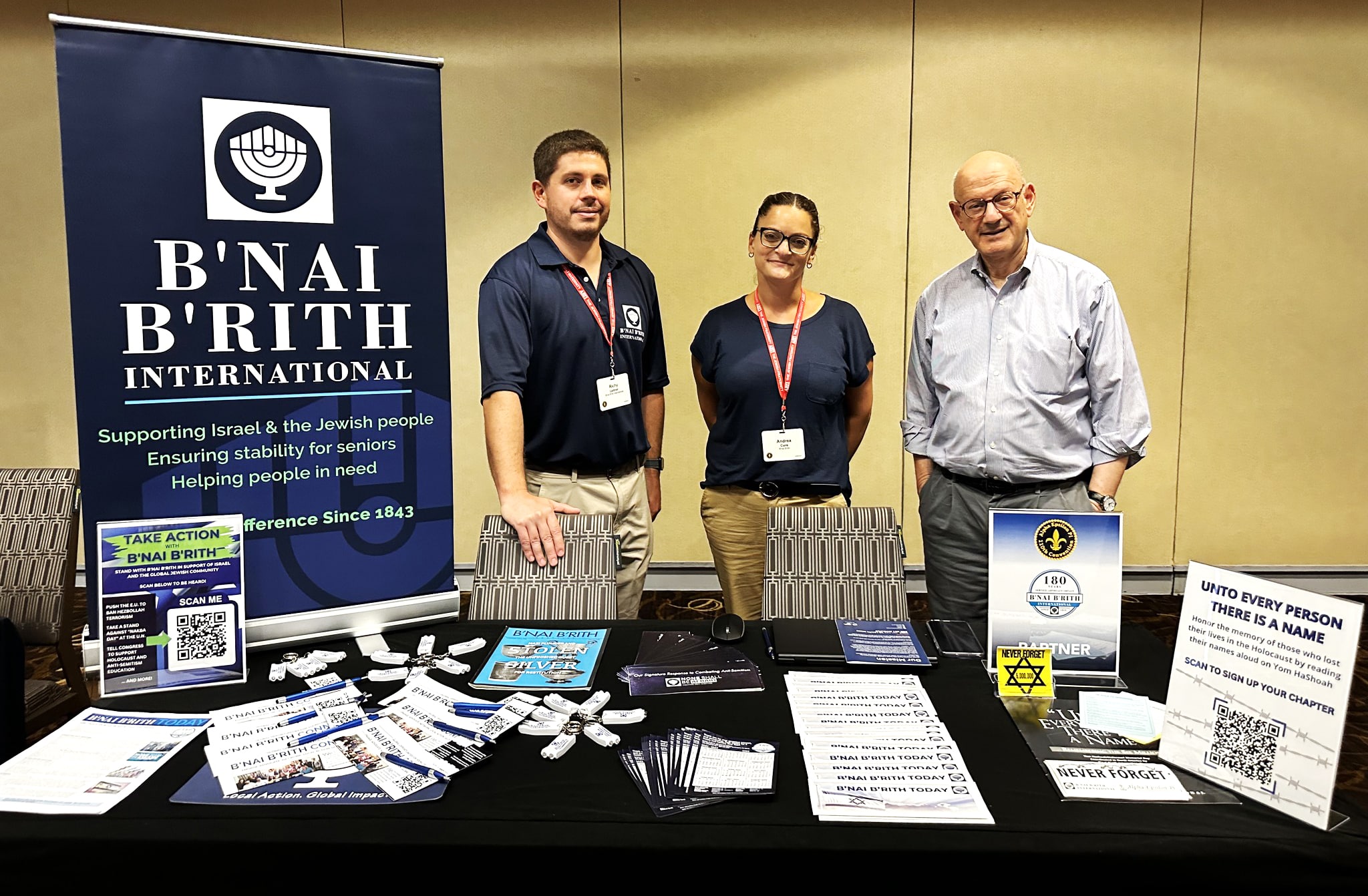 B'nai B'rith President Seth J. Riklin, CEO Daniel S. Mariaschin, Vice President of Development and Strategic Initiatives Andrea Cure and Director of Data and Development Operations Richy Leitner attended the 110th annual Alpha Epsilon Pi (AEPi) convention, held from August 9-13 in New Orleans.
Mariaschin addressed the attendees and moderated a session focusing on the importance of setting the bar for Jewish leadership. He also led a breakout session on contemporary anti-Semitism.
Founded in 1913, Alpha Epsilon Pi is a Jewish college fraternity, operating chapters on more than 150 campuses in four countries. AEPi has more than 100,000 living alumni.
Center for Senior Services Conducts In-Person Resident Leadership Retreat at Perlman Camp
For the first time since the pandemic, B'nai B'rith Center for Senior Services (CSS) staff and volunteers traveled to Perlman Camp in Lake Como, Pa., to welcome 30 older adults living in subsidized senior communities around the country to its annual Resident Leadership Retreat, held from August 2-8.
The retreat was held every other year until the COVID-19 outbreak in 2020. For two years, in 2021 and 2022 CSS produced two-day online workshop sessions for residents who would have attended the retreat. As originally planned, the in-person leadership retreat will now be scheduled bi-annually.
Leading the various sessions and workshops focusing on topics ranging from communications and advocacy to celebrating diversity were Janel Doughten, associate director of B'nai B'rith Center for Senior Services and Evan Carmen, CSS legislative director for Aging Policy. Those who attended also had time to experience interfaith get-togethers with Perlman summer campers, celebrate the rituals of Sabbath at a Friday night dinner, go for a swim or just enjoy the natural beauty of sunset over the Poconos. A highlight of the week was the talent show, which took place on the night before departure.
Doughten commented: "Our group quickly bonded and supported each other. From a programming perspective, this year's retreat was our strongest yet."
Israel Under Attack: Refuting the UNHRC Commission Of Inquiry
On June 20, the United States and 26 other countries condemned the U.N.'s Commission of Inquiry (COI) on Israel for its bias and prejudice toward Israel.
The United Nations Human Rights Council's (UNHRC) "Independent International Commission of Inquiry on the Occupied Palestinian Territory, including East Jerusalem, and Israel" (known as the COI) is discriminatory in both mandate and composition.

B'nai B'rith refuses to legitimize a COI that has no interest in fair, impartial treatment of the Palestinian-Israeli conflict. Like past UNHRC "Commissions of Inquiry" on Israel, the newest COI recycles wild condemnations built upon unfounded accusations against Israel—while paying negligible attention to Hamas and other terrorist groups heaping misery upon both Israeli and Palestinian civilians.
At Anniversary of Terror Attack, B'nai B'rith Podcast Interviews Documentary Producer
On the eve of the 29th anniversary of the worst Iranian-sponsored terrorist attack in Latin America's history, resulting in the death of 85 people and the wounding of hundreds more, the B'nai B'rith Podcast focused on the man some describe as the 86th victim—prosecutor Alberto Nisman.
Nisman, who was the AMIA case prosecutor for a decade, was murdered in 2015, the day before he was to present his findings about a murky deal that the Argentine government had signed with Iran.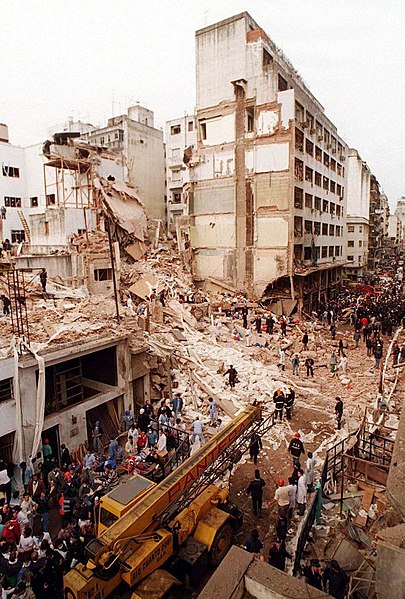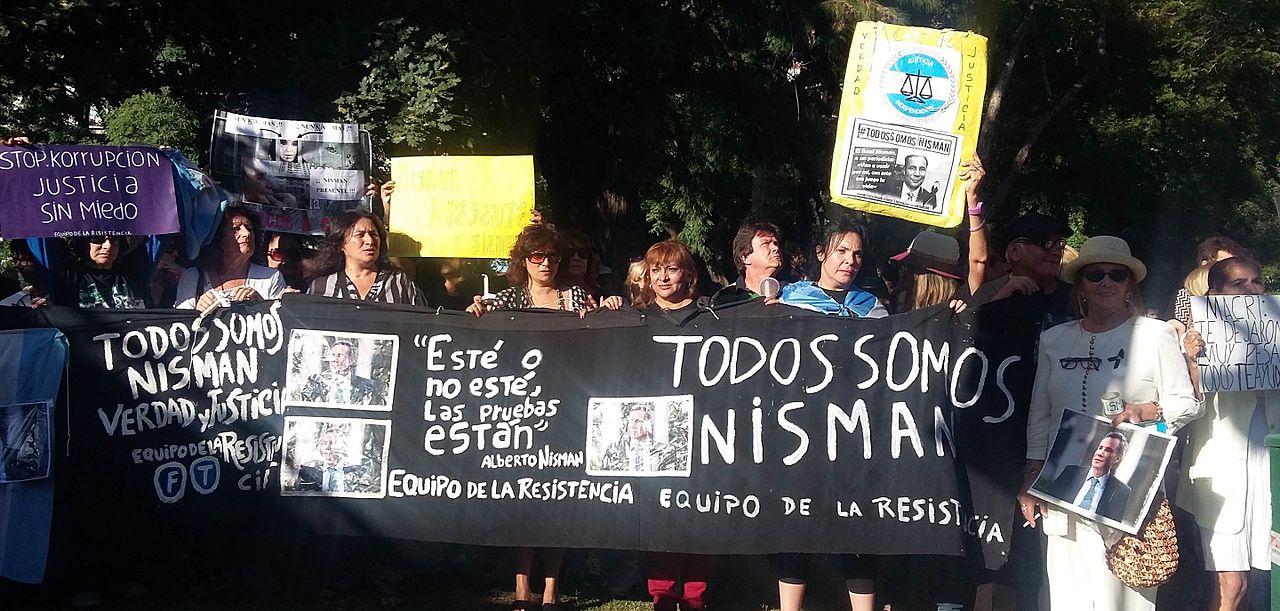 On July 18, 1994, a van loaded with explosives blew up the Argentine Israelite Mutual Association (AMIA) building in Buenos Aires, in an attack widely believed to have been conducted by Hezbollah terrorists, working at the behest of Iran. No one has ever been brought to justice.
In the podcast, Conversations with B'nai B'rith, Director of Latin American Affairs Eduardo Kohn and Special Advisor on Latin American and United Nations Affairs Adriana Camisar interview writer and journalist Delia Sisro, one of the producers of a new documentary on Nisman.
Since the bombing, B'nai B'rith has worked tirelessly, in Argentina and globally, to help bring to justice those responsible.
Uruguayan "Light and Truth" Award Recipients Travel to Israel, Fostering Cooperation in Both Countries
In late 2022, B'nai B'rith Uruguay named Andres Lizasoain Cuelho and Matias Castells Bauer, biologists at the University of the Republic in Salto as the winners of its "Light and Truth Award." For the past two decades, the award has sent the scientists and technical experts who are selected to Israel, where they engage in intensive dialogue with staff members at the Weizmann Institute, the Technicon Israel Institute of Technology, Bar-Ilan University, Tel Aviv University and at a number of teaching hospitals. Taking place June 1-June 10, the itinerary was arranged by World Center-Jerusalem Director Alan Schneider. Eduardo Kohn, B'nai B'rith director of Latin American Affairs commented: "I know this trip will be a great experience for the honorees. On their return to Uruguay, they will be able to speak out about the Israeli work in the sciences and keep the contacts they make to build a future of cooperation with their colleagues." The visit laid the foundation for future scientific cooperation between the award winners, the institutions with which they are associated and scientific facilities in Israel. Cuelho and Bauer also visited Tel Aviv, Jaffa, Caesarea, Acco, Zichron Yaacov, Jerusalem, Masada, the Dead Sea and Yad Vashem—the World Holocaust Remembrance Center—where a special tour was conducted by Holocaust historian Gideon Greif. They also met with Uruguayan Ambassador Manuel Etchevarren, Consul Ifgenia Xifre and Ana Jerozolimski, editor of the Jewish Uruguayan weekly Semanario Hebreo.
James Grover McDonald: Unsung Statesman Decried Hitler
James Grover McDonald had no doubts about Adolph Hitler's murderous obsession after meeting him in 1933. Haunted by what he learned, the 47-year-old American diplomat, broadcaster and political science professor committed his efforts to saving Jewish lives.
The B'nai B'rith Holocaust and Related Materials Collection at the Jacob Rader Marcus Center of the American Jewish Archives contains documents evidencing the challenges which McDonald faced and which are underscored by B'nai B'rith Magazine (then called The American Jewish Monthly) and its coverage of his words and actions between 1933 and 1935. The 2003 discovery of his diaries in the basement of a private residence led to their publication and their acquisition by the United States Holocaust Memorial Museum. The historic diaries constitute a day-to-day narrative of his experiences, providing a record of the ways in which the world's highest-ranking officials responded to Hitler and the Nazis.
Even before Hitler was elected chancellor in 1933, German Jews who feared the Nazis were immigrating; soon the countries which had formerly accepted them had reached their quota limits. Many factors, including widespread poverty and joblessness spurred by the worldwide depression, led to even more stringent immigration rules and restrictions. Increasing anti-Semitism was also to blame.
Germany belonged to the League of Nations, an international body formed after World War I to protect human rights in Europe. In October 1933, McDonald was selected to head "The High Commission for Refugees (Jewish and Others) Coming from Germany." Its mandate was directed at finding solutions to the refugee crisis, a task made more difficult because Germany confiscated the assets of everybody who emigrated.
Although the league had a duty to protect minorities, members feared Hitler's power and yielded to Germany's demand prohibiting the commission from mentioning, let alone blaming, the Reich's domestic policies. Yet McDonald was determined to "make an appeal to the German government for the sake of humanity…[for] modification [of this] source of unrest and perplexity in the world, a challenge to the conscience of mankind, and a menace to the legitimate interests of the [countries] affected by the immigration of refugees." Despite the league's acquiescence to Germany's demands, it pulled its membership before the High Commission met.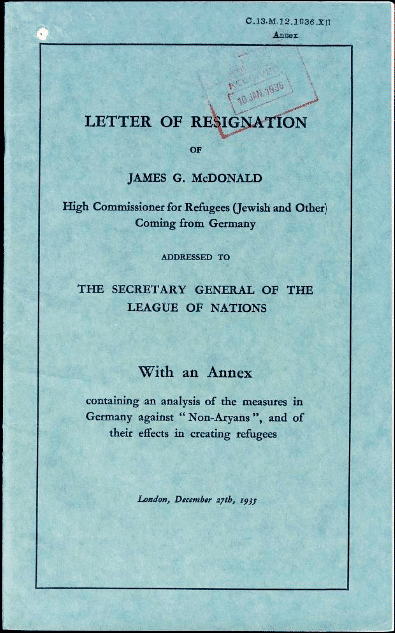 Since the league did not fund the commission, McDonald had to solicit donations from Jewish philanthropists and organizations while attempting to forge diplomatic ties and smooth out legal impediments to immigration. When the Nuremberg Laws were enacted in 1935, McDonald quit his position to sound the alarm on the Nazis' immorality: He was now able to write and speak freely. Distributed to journalists and diplomatic offices, his eight-page resignation hailed the Jews as German patriots and contributors to its culture. Rebuking the Nazis' anti-Semitic propaganda, McDonald decried Hitler and criticized the league's powerlessness. Revealing his outrage as a Christian and a human being he wrote:
"…convinced as I am that desperate suffering in the countries adjacent to Germany, and an even more terrible human calamity within the German frontiers, are inevitable unless present tendencies in the Reich are checked or reversed, I cannot remain silent…"
McDonald, who resumed his career as a law professor and a radio broadcaster, was appointed chair of President Franklin D. Roosevelt's Advisory Committee on Political Refugees, in operation from 1938 to 1945. His team, with representatives from all branches of the American military, was charged with the review and reconsideration of applications of individuals who had been refused entrance to the United States on the basis of past political activity in Europe.
As a member of the Anglo-American Committee of Inquiry on Palestine in 1945, McDonald fought for the admittance of all Holocaust survivors to pre-State Israel, and made his voice heard as an outspoken advocate for Jewish rights. A United States Special Representative to pre-State Israel, McDonald served as the first American ambassador when the country became independent. He died in 1964.
The American Jewish International Relations Institute: AJIRI-BBI Continues the Mission of Ambassador Richard Schifter​
The American Jewish International Relations Institute, which became an affiliate of B'nai B'rith (under the name AJIRI-BBI) in October 2020, works to reverse decades-long discrimination against Israel at the United Nations.
AJIRI-BBI was founded by Ambassador Richard Schifter, a Holocaust survivor, prominent attorney and former government official and diplomat, in 2005. He strongly believed that the powerful anti-Israel propaganda apparatus that the United Nations has become has hindered the prospects of a peaceful, negotiated solution to the Israeli-Palestinian conflict.
The work of AJIRI-BBI focuses on U.N. General Assembly resolutions that, year after year, renew the mandate and the funding authorization of the "Committee on the Exercise of the Inalienable Rights of the Palestinian People" (CEIRPP), the "Division for Palestinian Rights" (DPR) and the "Special Committee to Investigate Israeli Practices Affecting the Human Rights of the Palestinian People and Other Arabs of the Occupied Territories" (SCIIHRP).
These three entities promote an extremist Palestinian narrative that is counterproductive to the achievement of a peaceful solution to the Israeli-Palestinian conflict. Besides referring to Israel as an "illegitimate entity," the resolutions advocate for the so-called "right of return" of what the United Nations Relief and Works Agency (UNRWA) tallies as more than five million Palestinians, a number subject to dispute, to what is now the State of Israel, which would in practice destroy the Jewish state through demographic means.
Only 1% of these people are original refugees from Israel's 1948 War of Independence. The other 99% are the children, grandchildren and great-grandchildren of the original refugees, and their return has no precedent in international law. The Palestinians are the only people in the world whose refugee status passes from generation to generation, indefinitely, along the paternal line.
The mass migration of more than five million Palestinians to Israel is something that no Israeli government could ever accept, as it would mean the end of Israel as a majority Jewish state, and the creation of yet another Arab state, "from the river to the sea" as the anti-Israel expression goes. Therefore, the insistence on the "right of return" is in fact a weapon to destroy Israel, and the single most important obstacle to the achievement of a peaceful solution to the conflict.
As long as countries persist in voting to fund these entities, the Palestinian leadership will believe that the U.N. will help them destroy Israel and will have no incentive to enter into meaningful peace negotiations.
Through our engagement with members of Congress, Jewish leaders, diplomats and government officials around the world, AJIRI-BBI is able to deliver this important message to several capitals, and ultimately influence the way several countries vote at the United Nations, on these important resolutions.
AJIRI-BBI will continue to work to make sure this powerful anti-Israel propaganda apparatus is finally dismantled.
Joseph Wybran Memorial Scholarship Award Presentation in Israel
On May 29 at Bar-Ilan University, Tel Aviv's French-speaking Joseph Wybran Lodge paid tribute to Dr. Joseph Wybran and awarded doctoral student Tatiana Matikhaina its third annual scholarship for study in immunology. Speakers included: Jean-Luc Bodson, ambassador of Belgium to Israel; Dr. Michel Thieren, special representative of the Regional Director to Israel, World Health Organization (WHO); Dr. Cyrille Cohen, Immunology Department head, Bar-Ilan University; and B'nai B'rith World Center-Jerusalem Director Alan Schneider.
On Oct. 3, 1989, a member of the Abu Nidal terrorist organization gunned down Wybran in the parking lot of Erasmus Hospital in Brussels, where he headed the Department of Immunology and Hematology. Wybran was president of B'nai B'rith Brussels, where he also led the Coordinating Committee of Jewish Organizations in Belgium (CCOJB).
The Society on Neuroimmune Pharmacology has also instituted a Wybran Prize, its highest award for extraordinary scientific achievement.
At the memorial scholarship award program, Schneider observed:
"Dr. Wybran was an early victim of Arab terrorism in Europe. It is profoundly disappointing that Belgian authorities have failed to seek justice for him to this very day. Now that Israel and Morocco have established warm diplomatic relations, we fully expect answers about why the murderer's life sentence was commuted. This is part of our government's responsibility to the Jewish people collectively and to the late Dr. Wybran and to Emmy (Mrs. Wybran), who became an Israeli citizen.
We are gratified that the Israeli government recently decided to establish a committee that will formulate recommendations for an official commemoration of Jews who lost their lives in anti-Semitic attacks in the Diaspora. This is long overdue—for Dr. Wybran and for the many Jews targeted by Arab, Fascist or other terrorists simply because they were Jewish."
B'nai B'rith in Israel Hosts 95th Convention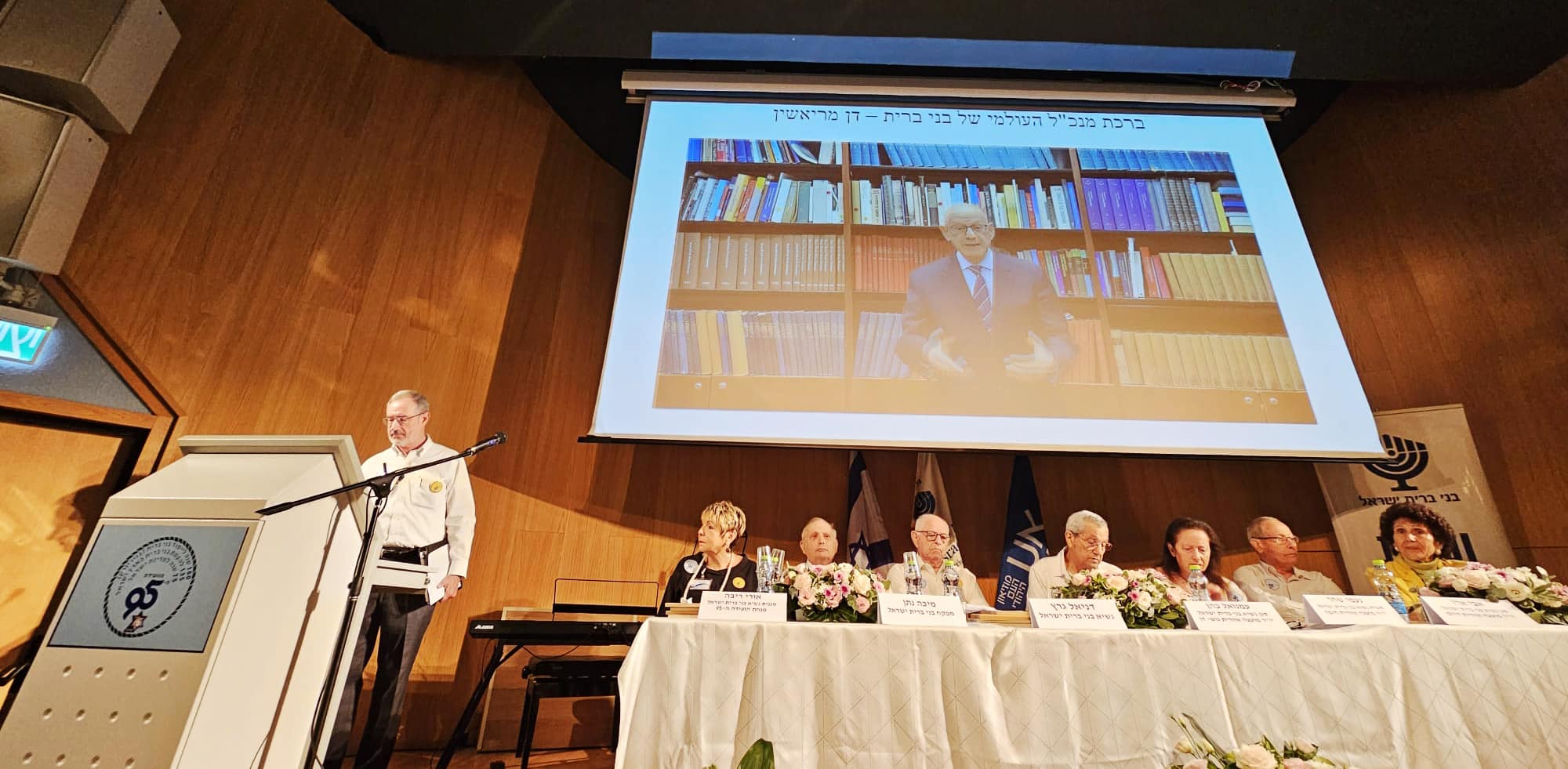 B'nai B'rith Israel held its 95th convention at the ANU Museum of the Jewish People in Tel Aviv as 300 participating delegates elected a new president, Emanuel (Mano) Cohen and a new executive board.
Founded in 1888 by German author William Hertzberg, pre-state Israel's first lodge in Jerusalem included eminent academics, journalists and linguists who were a major force in introducing secular education and bringing modern improvements to the city.
Congratulatory remarks were extended by B'nai B'rith International CEO Daniel S. Mariaschin via video and B'nai B'rith World Center Director Alan Schneider.
Outgoing President Daniel Gratz cited growth in membership and new lodges.
In a recorded message, Israel's President Isaac Herzog remarked that "B'nai B'rith brightens the land with a pleasant light. In Israel and the Jewish world, B'nai B'rith is synonymous with responsibility, leadership and solidarity…. B'nai B'rith's world stands on three pillars: justice, fraternity and unity. Especially during these days when the country is trembling under our feet, fraternity and—above all—unity are essential for us more than ever… In these days, we need the special ties and connection that you bring with you.
Your significant contribution to the State of Israel is felt in every arena, beginning with the initial establishment of the National Library—the B'nai B'rith Library—through to the concern for the poor, the aged, the orphan and the widow, the struggle for the absorption of new immigrants, the international campaign for our rights, [and] for the memorialization and preservation of Zionist and national heritage.
I am proud to continue this esteem that I feel towards your important organization."
Herzog's Hebrew message to the delegates and guests can be viewed here.
B'nai B'rith Latin America Caracas Lodge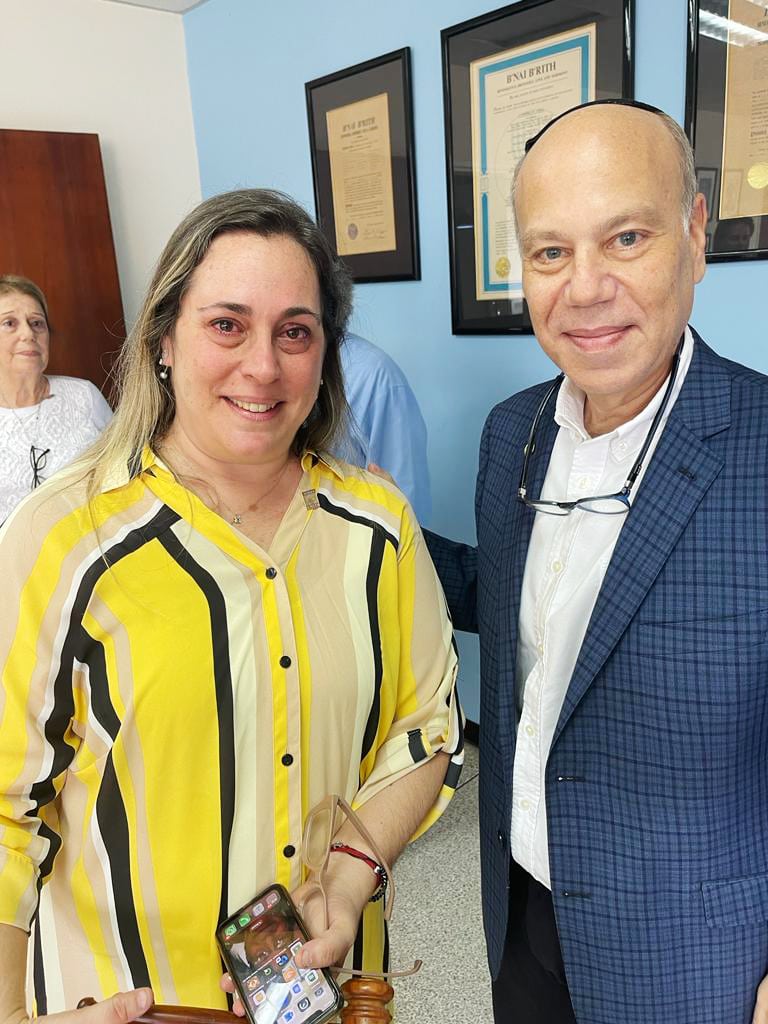 B'nai B'rith Latin America conducted ceremonies for its lodge in Caracas on May 15, when a new Board of Directors was elected and more than 100 men and women became members of the newly reconstituted lodge.
David Djemal, B'nai B'rith Latin America senior vice president and Alberto Jabiles, B'nai B'rith Latin America executive director, installed Carla Belozercovsky as the new president of B'nai B'rith Venezuela.
Belozercovsky's father was the late B'nai B'rith leader Daniel Belozercovsky, who served as both B'nai B'rith Venezuela president and District XXIII president.
B'nai B'rith NSW Announces Winners of Annual Harmony Day Poster Competition
At a June 20 ceremony streamed live from Sydney's Parliament House, B'nai B'rith NSW in Australia honored Elly Hawang and Rachel Yi as the winners of its Harmony Day Poster Competition. Hosted by the Office of Immigration, Citizenship and Multicultural Affairs and members of Parliament, the event included remarks by artist and human rights activist Wendy Sharpe, a recent recipient of the government's Order of Australia.
NSW member Ernie Friedlander, who initiated the contest in 2005 and is still involved with its administration, noted: "This year's uplifting event yielded the most powerful expressions of the concept. They were not just good works of art: The entries actually made strong statements on the topic of living in harmony. We also received excellent song entries, with ingenious lyrics, a total of over 4,000 artworks and 81 songs submitted."
Over the years, the competition, which now includes a music and song category, has continually yielded strong design statements from student artists throughout Australia, even from the most remote areas. From its beginnings, the contest reinforced the idea behind Harmony Day, a celebration of diversity which was launched at about the same time as the United Nation's Day for the Elimination of Racial Discrimination.
A 2022 edition of IMPACT highlighted the publication of B'nai B'rith NSW's handsome large-format book (B'nai B'rith Impact Winter 2020 – B'nai B'rith International bnaibrith.org) which included a compendium of the winning entries; an online version can be viewed here: B'nai B'rith Poster Competitions 2005-21.pdf (dropbox.com).
Winning designs of the 2023 B'nai B'rith NSW Harmony Day Poster Competition submitted by Australian artists Rachel Yi (A) and Elly Hawang (B).
Texas' Garsek Lodge Selects its Jewish Person of the Year
Isadore Garsek B'nai B'rith Lodge in Ft. Worth has named Sophia Nason as its 2023 Jewish Person of the Year.
Nason was feted by 150 guests at the honors event, which also included the presentation of the annual lodge scholarship awards to four outstanding college-bound students.

Our Podcast, Conversations with B'nai B'rith, is your home for quick and in-depth interviews on topics that you care about and about which you want to learn more.
Hosted by CEO Daniel S. Mariaschin, the Podcast, part of our focus on Jewish identity and culture, includes discussions with a wide range of prominent and fascinating individuals.
In our Podcast we reveal the story of Jewish participation in all areas of life in America, Israel and throughout the world.
What have we talked about recently?
Golda
Academy Award-winning director Guy Nattiv joined our Podcast to talk about his new movie, "Golda," which stars Dame Helen Mirren as former Israeli Prime Minister Golda Meir. The film focuses on the 19 critical and intense days of her country's worst military crisis, the 1973 Yom Kippur War.
Panama Hat History
Alberto Dorfzaun, president of K. Dorfzaun, the most trusted name in the Panama Hat industry, talks about the history of the K. Dorfzaun Panama toquilla straw hat's traditional weaving and how it became part of UNESCO'S Lists of Intangible Cultural Heritage of Humanity in 2012 as an important world artifact.
Alberto Nisman—the 86th Victim
On the 29th anniversary of the worst Iranian-sponsored terrorist attack in Latin America's history, which killed 85 people and wounded hundreds more, our Podcast focused on the man many consider to be the 86th victim, though he died decades after the attack–prosecutor Alberto Nisman.
Protecting older adults from fraud
Deborah Royster, assistant director of the Office for Older Americans at the Consumer Financial Protection Bureau (CFPB), has practical tips on how to safeguard older adults from fraud and financial exploitation.
Check out all of B'nai B'rith's virtual content for meaningful discussions on today's most pressing and interesting issues.
Great Lakes Region's Stephen B. Zorn Memorial Golf Outing Marks a Decade of Commitment to Education
On June 12 B'nai B'rith Great Lakes Region celebrated the 10th anniversary of the scholarship component of its Stephen B. Zorn Memorial Golf Outing at the Tam-O-Shanter County Club in a big way. The amount of the funds earmarked for each of the four high performing college-bound awardees increased from $2500 to $5000.
The golf outing has been a B'nai B'rith Great Lakes Region fundraiser for 41 years; the scholarship program was instituted in 2013.
Teeing off in beautiful weather, the 104 entrants playing the course were joined by 36 additional patrons at the evening banquet. The scholarship winners and their families were also present. MJS Packaging of Livonia, Michigan, provided sponsorship and Cadillac of Novi, Michigan, again sponsored the special Hole in One prize.
David Lubin, who co-chairs the scholarship program with Rick Sherline, noted: "We have a great group of supporters for our event, and they came through again this year to make our 41st annual B'nai B'rith Great Lakes Region Stephen B. Zorn Memorial Golf Outing one of the best ever."
B'nai B'rith Colorado Sponsors 26th Annual Leadville Jewish Cemetery Clean-Up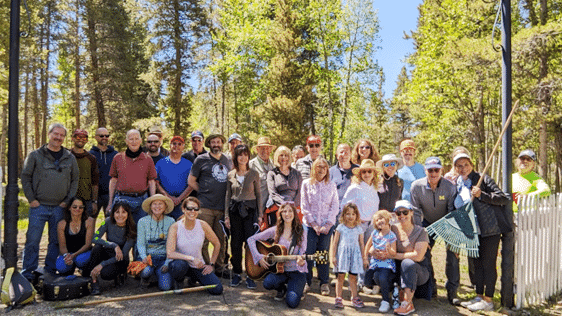 During the weekend of June 18, B'nai B'rith Colorado sponsored volunteers of all ages who traveled to the historic mining town of Leadville, about 100 miles from Denver, where they joined forces in cleaning up the 142-year-old Jewish cemetery's headstones and walkways and to weed and reseed the grounds. The team also had the opportunity to attend services at the local synagogue. B'nai B'rith Colorado Vice President of Programming Michelle Cohn Levy led the event.
Dedicated to the spirit of the town's Jewish settlers, including tradesmen, miners, teachers and journalists, the Temple Israel Foundation supports both the cemetery and the town synagogue and has established a museum which reveals Leadville's fascinating story in words and images.
Traveling by train or horse carriage, southern lodge brothers assembled in New Orleans for their B'nai B'rith district convention in January 1875. Committee members discussed, decided, appropriated and engaged in open dialogue with delegates, after which all the heavy lifting was amply rewarded by a celebratory banquet. As illustrated, the menu seems a tad heavy for modern foodies, but guests were able to wash down the offerings with liberal quantities of claret (red) and hock (white) wine.
Adopting a D.I.Y. approach, attendees supplied their own entertainment…an evening of toasts. Written and rehearsed prior to the event, they took the form of lengthy tributes to all that the members revered: their faith, their country, the joy of fraternal bonds and "the ladies." This favorite 19th century pastime included both the toast and its lengthy response. Guests signaled their approval with spontaneous and enthusiastic cheers and applause.
In between the verbal fireworks, classical standards, waltzes and marches played by the local band alternated with acapella sing-alongs of German drinking songs, glees and anthems. Prost!