In this issue: B'nai B'rith named as a Speak Out for Israel grant recipient and more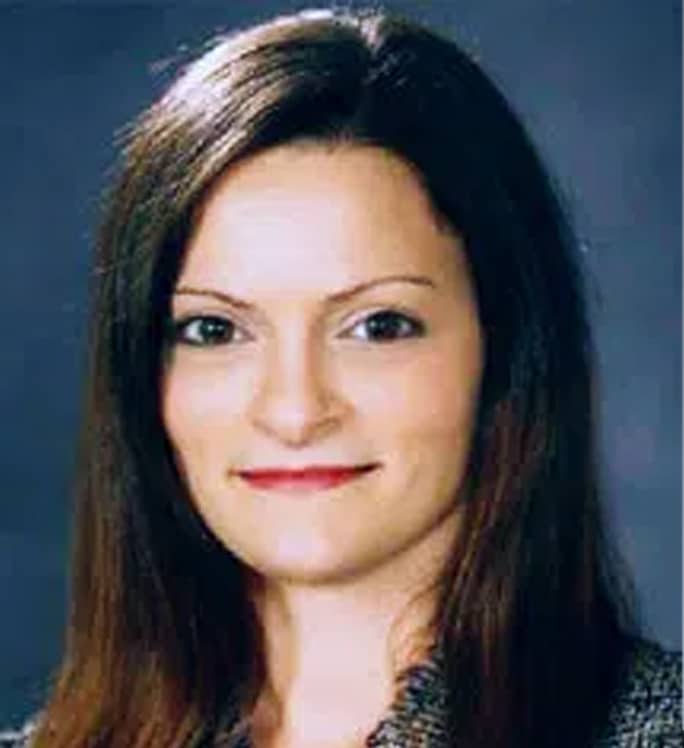 B'nai B'rith has earned a grant from Speak Out for Israel, which is awarding funding initiatives that "promote a true narrative of Israel and counteract efforts to delegitimize the Jewish State." We were honored to receive funding for our Parliamentary & Diplomatic Missions program, which brings international leaders to Israel for a 5-7-day immersive experience. Participants meet with government officials, tour communities and converse with residents. They also have the unique opportunity to learn about the country's distinct security challenges and gain a much more comprehensive understanding of the Palestinian-Israeli conflict.
"These in-person experiences are crucial to overcoming misinformation and preconceived notions. On our missions, participants get unfiltered information on issues related to Israel," B'nai B'rith CEO Daniel S. Mariaschin said.
The knowledge gained on such missions is invaluable in educating world leaders about Israel, as underscored by a past participant: "The opportunity to participate in the program has given me a unique acquaintance with Israel and the surrounding area. Above all, I have benefitted from getting to understand the country, its people and surroundings through presentations with direct relevance and connection to the situation on the ground – my understanding has been completely reshaped."
We look forward to re-launching these vital missions once pandemic-related travel restrictions lift. We are eager to once again help world leaders see and understand Israel in the way only B'nai B'rith can offer.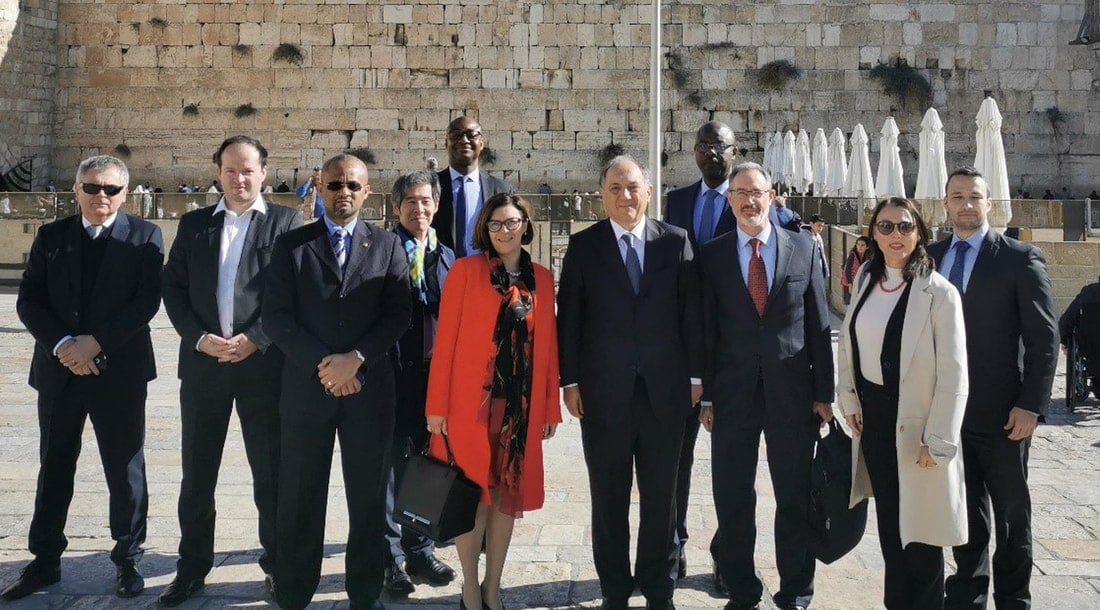 This grant is just one of the ways B'nai B'rith demonstrates its impact on our community and throughout the world. In this issue of Impact, you'll read about two major initiatives we have launched to recognize, identify and combat anti-Semitism. You'll see that despite pandemic travel and gathering restrictions, we are offering robust programming. And you'll learn about our World Center-Jerusalem's 40-year history as our eyes, ears and boots-on-the-ground in Israel. Be sure to click on our President and CEO columns, plus peek inside our Vault. Keep reading to see what your support makes possible.
A Better Future Cannot be Found in the Past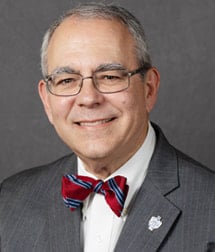 The shootings in Pittsburgh, and Poway, California, and vandalism in Brooklyn, New York, to Natchez, Mississippi — the list of cities is sadly too long — have punctuated a creeping reality that anti-Semitism from Europe and Latin America has come to America.
B'nai B'rith has always been in the forefront in fighting this epidemic, from protesting pogroms in Romania and the creation of the ADL of B'nai B'rith in 1913, to raising issues in various halls of government and with the United Nations, the U.N. Human Rights Council and UNESCO (the United Nations Educational, Scientific and Cultural Organization). Don't you wish this epidemic could be diminished by donning a mask or developing a vaccination? Perhaps there is no remedy to hate and blood libels. Yet, we persevere.
The spread of anti-Semitism accelerates these days through digital media. B'nai B'rith once again is working, in effect, to fight "fire with fire." We recently launched a digital resource with a hopeful theme, None Shall Be Afraid. We also are promoting an anti-Semitism video competition with high school and college students. Meanwhile, visit and "like" the anti-Semitism Action Group of B'nai B'rith and Never Means Never on Facebook for a virtual library of news and content.
America is witnessing a debate within the Black community about anti-Semitism. Nick Cannon, an affable actor, rapper and TV host, and others used his celebrity to spout anti-Semitic tropes. He issued something of an apology, but his words had consequences and he lost work over his indiscretion. Several other new generation entertainers and athletes have made similar missteps, invoking Hitler and Louis Farrakhan.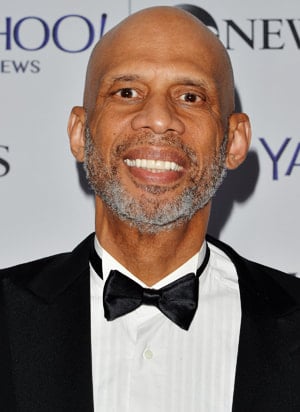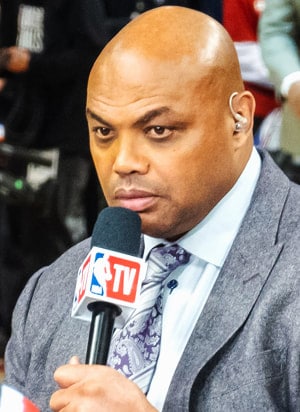 Out of this negative and prejudiced jargon has surfaced slam dunk wisdom from Kareem Abdul-Jabbar and Charles Barkley, two basketball Hall of Famers, and a professional football up-and- comer, Zach Banner. Barkley speaks his mind and is known for exhibiting streetwise common sense. Barkley asks, "What the hell are y'all doing? . . . I don't understand how insulting another group helps our cause."
The cause, as the world knows, stems from a tragic string of shocking police killings of Black people. The incidents have exposed flaws in police work and society. They've led to peaceful demonstrations by day but sometimes violent protests by night. They've exposed weaknesses and a dereliction of duty in city governance as cities burned. Meanwhile, the invisible enemy pandemic lingers.
Barkley pleads, "I'm asking you guys, I'm begging you guys, man, you guys are famous, you've got a platform. We've gotta do better, man. I want allies. I don't want to alienate anybody and to take shots at the Jewish race, the white race. I just don't like it 'cause it's not right and I had to call them on it 'cause it's really – it's really been on my heart."
Jew hatred has long been a byproduct of societal discord going back thousands of years. In its current iteration within this community, it comes from an anti-Israel, pro BDS (Boycott, Divestment, Sanctions) platform formulated by what some have characterized as anarchist organizations, one of which happens to call itself Black Lives Matter, an amalgam of such organizations with perhaps some anarchist elements, but far different from the popular, unifying anthem.
In response to the events of today, B'nai B'rith leaders and I have shared our unique perspectives on the great cooperation of Jews and Blacks. In fact, we share a common experience. While Jews have never been slaves in the United States, slavery is certainly in our past. So is being excommunicated, living in exile, being isolated in ghettos. Jews have suffered systematic persecution, starvation, experimental surgeries and extermination efforts . . . by the millions. With the perseverance of B'nai B'rith and certainly other groups, Jews have survived. We have overcome.
So when groups on the receiving end of hate or those who are suffering choose to blame others, notably Jews, their favorite scapegoat, and vandalize houses of worship and trash and loot Jewish-owned businesses, we really hate to sour an important relationship by criticizing in public. As we've learned, however, we can neither be indifferent nor silent.
B'nai B'rith has worked since 1843 to overcome adversity through advocacy, charity and service. We have always strived to serve humanity, all of humanity, long before many Jewish congregations concentrated their missions on Tikkun Olam (repair the world) or "social justice." The more than 5,000 residents in our senior housing developments represent all races, faiths and nationalities. Our history of disaster relief has helped communities regardless of their knowledge about the Jewish faith, from Oklahoma and Kobe, Japan to Haiti.
While fighting anti-Semitism and advocating for a secure and diverse Jewish State of Israel, which, let's remember, is existentially threatened every single day, we have been known to address calamities in the world — genocides in Africa by Boko Haram and other human trafficking on that continent, or the health of Syrian refugees fleeing to Israel. Why? Because we Jews have experienced such hardships for thousands of years.
Pursuing justice is in our DNA. It is why we are moved and motivated by the slogan "Never Again." We don't pledge "Never Again for Jews." We just say Never Again (for anyone). So, the Jewish community has wrestled somewhat with an extremist group that focuses on one segment of the population and a divisive mission.
The late civil rights icon Rep. John Lewis, of blessed memory, acknowledged how Black people in America have come a long way since the days of "White" and "Colored" water fountains and bathrooms, segregated schools, the denial of voting rights and other visible realities of a racial divide. Many have overcome, others have not.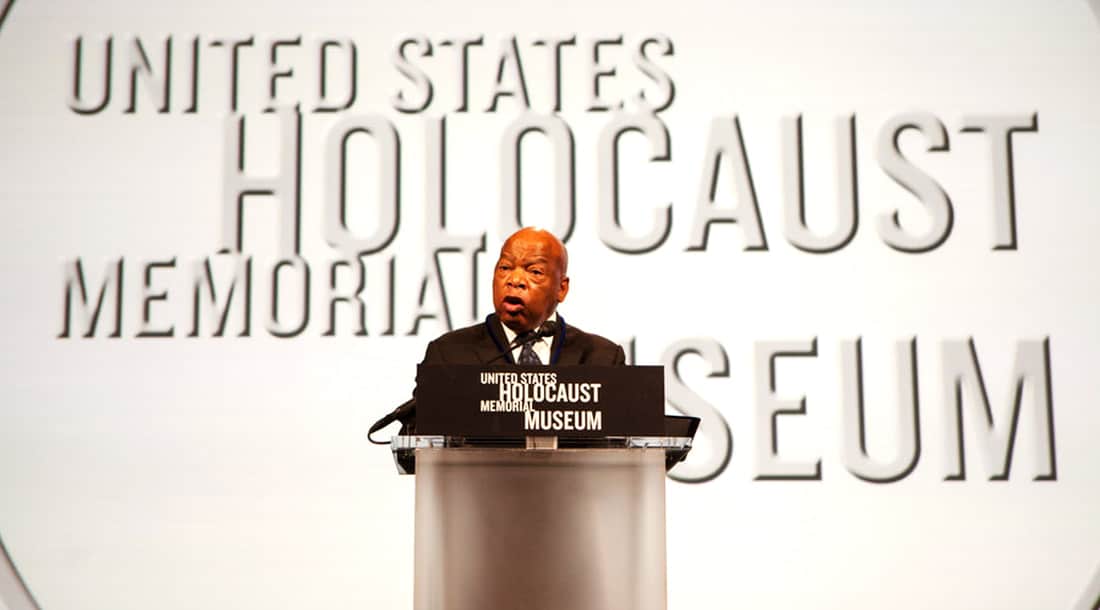 Sadly, disenfranchised minorities are learning a very different narrative about Jews in America, which is greatly a rags-to-riches story for so very many. It is a narrative based, if not on skin color, on religious beliefs, stereotypical physical characteristics and a multitude of perceptions. Thus, the script against Jews is convenient because it is rolled out in every generation.
Many anti-Semites in search of their own "pursuit of happiness" may not know Jews have overcome harshly discriminatory times — the glares, a history of being excluded from attending universities, clubs and organizations, golf courses. Congressman Lewis lived to see barriers torn down for Blacks and others. His experience with Jews and Israel is a lesson that evidently hasn't reached many millennials.
Every immigrant group, from descendants of slaves and migrant workers to asylum seekers, has strived to give their children a better education, a better life. American life can deliver the dream that Dr. Martin Luther King, Jr. discovered on his mountaintop, beginning with a good education and hard work. The dream doesn't manifest itself through punishing, abusing or hating others. It doesn't come through defacing headstones with swastikas or shooting up houses of worship. And it doesn't happen overnight.
In its 177 years, B'nai B'rith has been a catalyst for creating great organizations and centers. The world would do well to view today's very diverse Jewish community and the State of Israel as partners and beacons of light in what's possible for anyone of any stripe. These days, this is perhaps no more evident than in innovative Israel's economic development in water purification, health care and technology in the world's most undeveloped nations, many of them in Africa. The B'nai B'rith World Center-Jerusalem, too, has hosted dozens of ambassadors and other diplomats, many from Africa, to experience the real Israel. That transformative program produced by our own World Center Director Alan Schneider has opened many eyes and minds.
I wish for future generations I could promise the end of anti-Semitism, much less hatred in general. I'm afraid I can almost guarantee anti-Semitism will continue. Not even today's cancel culture can eliminate it. In fact, cancel culture will perpetuate anti-Semitism. Human harmony does not come from avenging, revising or rewriting history. The simple truth is that this messy world cannot be repaired in the future by going back in time.
B'nai B'rith Impact connects you to what B'nai B'rith is doing in your community and around the globe. Read on to see all the ways B'nai B'rith is impacting your world.
B'nai B'rith Unveils None Shall Be Afraid, Initiative to Fight anti-Semitism

B'nai B'rith launched None Shall Be Afraid in July, our signature response to anti-Semitism. The initiative's name is inspired by a passage in a letter President George Washington wrote to the congregants of Touro Synagogue in Newport, Rhode Island in 1790 expressing his vision of religious tolerance in America: "Everyone shall sit in safety under his own vine and fig tree and there shall be none to make him afraid." Washington's inclusion of this quote from the Book of Micah 4:4 emphasizes his promise that we are free to live in the fledgling nation as Jews.
"Today, Jews face threats to their safety that have not been seen in decades," B'nai B'rith CEO Daniel S. Mariaschin said. "To fight the scourge of anti-Semitism and the hatred it encompasses, we must come together in the spirit of Washington's letter. Anti-Semitism must be fought in all its forms, including challenging Holocaust denial and fighting the demonization and delegitimization of the State of Israel."
As part of None Shall Be Afraid, we have produced online resources to instruct about the different facets of anti-Semitism, including anti-Semitism on college campuses, faith-based anti-Semitism and anti-Semitism at global agencies. Click here for resources to understanding anti-Semitism in all its forms.
We all have a critical role to play opposing anti-Semitism and addressing hatred and intolerance as we see it happen. One step everyone can take right now is to sign the None Shall Be Afraid pledge. By doing so you are demonstrating a commitment to fighting intolerance and hatred; that you will not stand by and allow Israel to be demonized or the horrors of the Holocaust to be denied or minimized. "Take this pledge and do something important today. Say: 'I will not remain silent in the face of today's hate.' Take a minute to take the pledge," said B'nai B'rith International President Charles O. Kaufman. Those who take the pledge underscore their respect for equal rights and stand against all forms of stereotyping and bias. The pledge can be found here.
Since our founding nearly 177 years ago, B'nai B'rith has fought anti-Semitism in its many forms, from standing up for Israel at biased international organizations to supporting Jewish diaspora communities that face systemic discrimination. None Shall Be Afraid is our latest effort to combat the world's oldest hatred.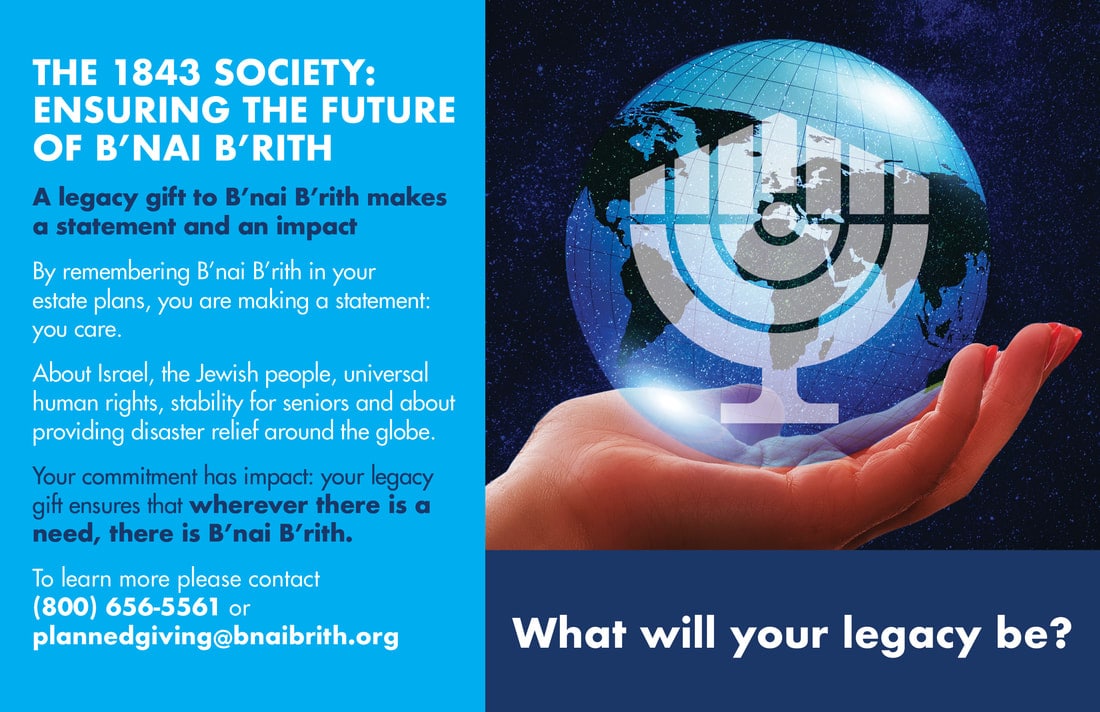 From Essex Street to the Internet: Making the World a Better Place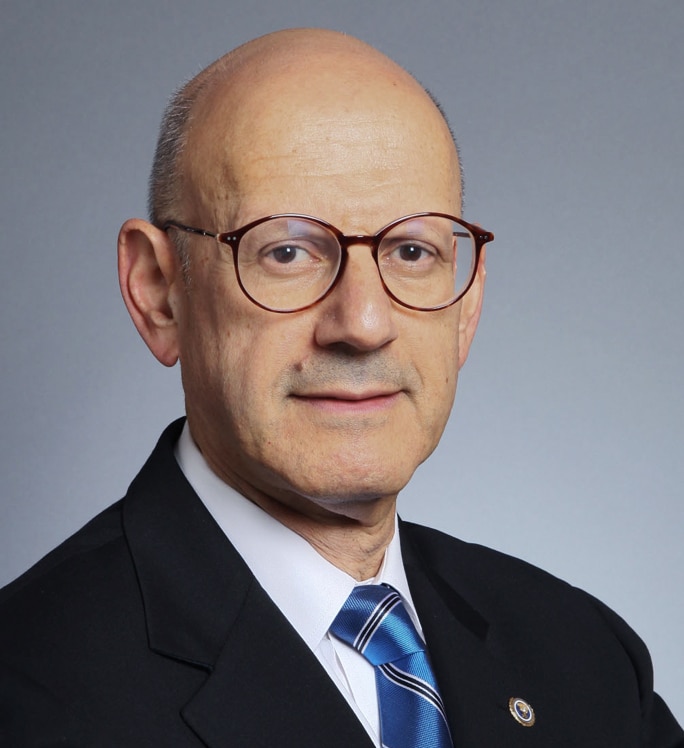 Our launch of the Essex Street Society, a new way to give to B'nai B'rith, sent me back in time to my own connection to that storied place in Jewish life.
More on the Essex Street Society a bit later.
I started visiting the Lower East Side of New York when I was a college student, traveling to the city on vacations from my native New Hampshire.
Keenly aware of the place that the less than one square mile neighborhood played in the history of Jews in America, I loved to roam the streets with all those iconic names: Second Avenue, East Broadway, Delancey, Hester, Rivington, Stanton, Eldridge and Essex.
I made sure I prepared for my visits.
As a student, I had bought and read a newly-edited edition of the journalist Hutchins Hapgood's essential The Spirit of the Ghetto, published in 1902, with its rich portraits of immigrant life on the Lower East Side. The book contains illustrations by the eminent sculptor, Jacob Epstein, then not yet 20 years old, and before he would achieve international fame.
My father, who arrived in America in 1913, often told me of going to the Yiddish theaters that were clustered on or near Second Avenue.
And my mother told me that my grandfather, before he brought the family over from Lithuania, lived for a time on Allen Street, so even though I didn't know the exact building, I would be sure to walk over, in a sort of pilgrimage, to at least make sure the street was still there, unaffected by progress.
I'd stop for lunch at Ratner's dairy restaurant or at Weitzman's Deli on Delancey and pay a visit to the Hebrew Publishing Company's (publisher of the popular Birnbaum siddur) magnificent columned building, also on Delancey Street.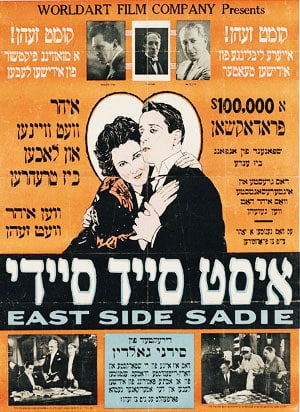 After I got married and moved to New York, we'd visit the Lower East Side every month or so, planning on a stop at Gertel's Bakery on Hester Street for its giant hamentaschen, to drop in and buy socks at one of the many clothing stores that dotted the neighborhood, or maybe snack on a knish at Yonah Schimel's on East Houston Street. There were many shops selling books or religious articles, including one where I purchased old Yiddish sheet music that I ultimately had framed. We'd always leave time to walk over to the Forward Building on East Broadway and might even have coffee and pastry at the iconic Garden Cafeteria, just up the block from the Forward.
The whole idea of these Sunday visits was to immerse ourselves in the mother lode of Jewish immigrant culture in America. More than 400,000 Jews who populated that tiny geographical area at its height were crammed into tenements with communal bathrooms and rudimentary plumbing.
Many decades before, the streets were chock-a-block with pushcarts, and old photos show a sea of humanity elbowing its way to buy herring or pickles, housewares, clothing, or what-have-you from street merchants who put in long, tiring hours in cold weather and withering heat, every day but Saturday.
The journalist Jacobs Riis, himself a non-Jewish immigrant to New York from Denmark, became a crusader for the impoverished in New York's immigrant neighborhoods. His photographs of the immigrants and their living and working conditions gave stark evidence of the abject poverty in which they lived. Riis was, in his day, the conscience of social reform during the period that brought millions of new arrivals to New York from all over the world.
Those conditions conveyed immense poverty but produced great cultural riches. The Jewish Daily Forward, edited by the legendary Abe Cahan, once boasted a circulation of nearly a quarter-million readers, but it was only the largest of a group of Yiddish-language newspapers that covered the political and ideological spectrum.
The tenement culture produced such a litany of great Americans, I'll dispense with listing most of them here, but just in the field of entertainment alone, I'll mention Irving Berlin, George Burns, Eddie Cantor, comic book artist Jack Kirby, Walter Matthau, director George Cukor, John Garfield, Estelle Getty, George and Ira Gershwin, Adolf Zukor …well, you can see that the list is virtually endless.
The Lower East Side was a cauldron of political activism. Barely out of the European shtetl, Jewish immigrants immediately took to the open, democratic atmosphere in their new homeland and joined political movements, demonstrated for fair employment practices and were active in establishing the trade union movement in America.
We often think of Eastern European Jewish immigrants when the Lower East Side is mentioned, as many American Jews have claim to some roots there. But the first Jewish immigrants who located there actually arrived long before the great period of immigration from places like Russia, Poland and Romania. In the 1840s, Jews and others began arriving from Germany and settled in many of the streets I've mentioned above. Indeed, much of the area we call the Lower East Side was referred to as "Kleindeutschland," or Little Germany.
Among them were Henry Jones and the 11 other founders of B'nai B'rith. It was at Aaron Sinsheimer's cafe — located at 60 Essex Street — on Oct. 13, 1843, that B'nai B'rith – the first American Jewish service organization – was founded to assist a distressed widow and her family. The building in which the cafe was housed is long gone, but there is a plaque, affixed during the American bicentennial, marking the place where B'nai B'rith was born.
When we discussed the creation of our new giving platform, it didn't take long for us to go back to our roots, and quickly agreed on naming it The Essex Street Society.
What transpired around a table in the cafe on that October day was something revolutionary in the still-young United States of America. It was the beginning of what today we call "civil society": An organization dedicated to, in their words, " visiting and attending the sick," and "protecting the widow and the orphan."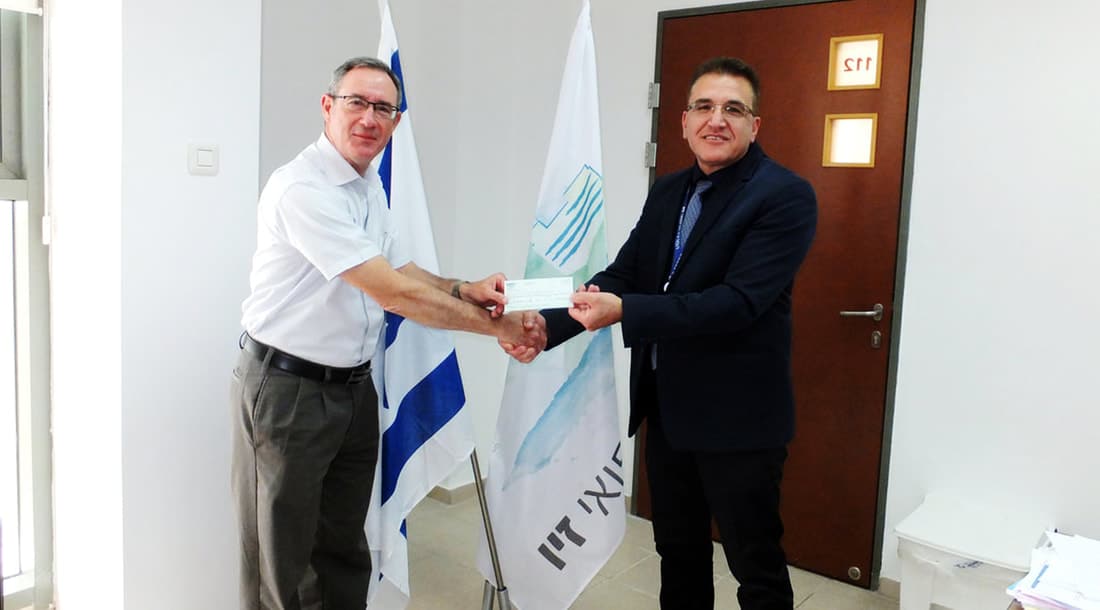 That mission statement remains as meaningful today as it was then. Our interests have broadened — we sponsor affordable housing for seniors, fight anti-Semitism, advocate for a strong and secure Israel at the United Nations and elsewhere, support efforts to assist the victims of natural disasters and to provide humanitarian relief — but the intention, and the inspiration, is the same: we care about our community, about those in need and the larger world around us.
With that in mind, won't you consider becoming a member of the Essex Street Society? The commitment is a minimum of $1800 a year, for three years — renewable at any time, of course. Your support will assist us greatly in the vital work that we do every day to help others, to house seniors, to fight the dramatic rise in global anti-Semitism, and to stand by Israel as it faces threats and challenges in its own neighborhood.
From our beginnings on Essex Street, to the incredibly-connected world of the internet, B'nai B'rith has always been there to contribute to making the world a better, more caring place.
Please join us in working to achieve that goal. To connect with The Essex Street Society, please click on the following link: https://bnaibrith.networkforgood.com/projects/102124-essex-street-society
New Contest Challenges Students to Produce Videos to Raise Anti-Semitism Awareness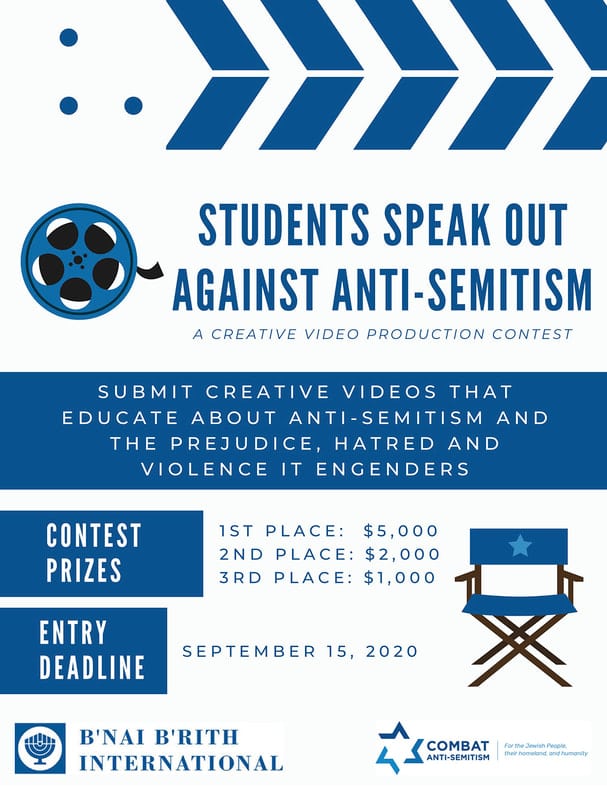 B'nai B'rith is encouraging students around the world to use their video production skills to raise awareness about anti-Semitism. A unique video contest for students, aimed at educating viewers about anti-Semitism, has begun receiving submissions.
"Students Speak Out Against Anti-Semitism. A Creative Video Production Contest" is sponsored by B'nai B'rith and the Combat Anti-Semitism Movement (CAM) and charges high school and undergraduate university students to advance the public debate surrounding anti-Semitism, hatred and intolerance.
"Illuminating the issue of anti-Semitism – one of the most pervasive, long-running and deadly dangers in the world – through inventive video production will bring the immediacy and urgency of the topic to a global audience. As anti-Semitism proliferates globally, today's high school and undergraduate university students will create messages to educate and inspire us," B'nai B'rith International President Charles O. Kaufman and CEO Daniel S. Mariaschin said.
Students were challenged to create two-to three-minute videos that promote a better understanding of anti-Semitism and mutual respect. The unique public awareness campaign is designed to harness the creativity of students in order to boost education about anti-Semitism and the prejudice, bigotry, hatred and violence it engenders.
Sacha Roytman-Dratwa, the Combat Anti-Semitism Movement director, said: "Not only is anti-Semitism increasing globally, but studies continue to show that young people don't know enough about it. They are the future, if we are to defeat anti-Semitism and hatred. This innovative contest will empower students to educate their peers in a meaningful way, speaking to them through a powerful medium. We are excited to give them a platform for their creativity and the chance to make a real impact on people across the world."
Students were challenged to create two-to three-minute videos that promote a better understanding of anti-Semitism and mutual respect. The winner and runners-up of each academic group and category will receive cash prizes, to be awarded at a virtual awards ceremony. The cash prizes in each category are: $5,000 for first place, $2,000 for second place and $1,000 for third place.
Students have submitted entries in one of these categories:
Educate the general public on the value of a universally adopted definition of anti-Semitism, specifically the International Holocaust Remembrance Alliance (IHRA) definition.
Explain how anti-Semitism impacts Jews of all racial backgrounds, and inspire young people to be more tolerant toward others by illustrating the modern manifestation of anti-Zionism as anti-Semitism.
In addition to a cash prize, the winning entries will be showcased by B'nai B'rith and CAM across a variety of media channels as part of a national public awareness campaign to strengthen the fight against anti-Semitism, hatred and discrimination.
At its launch, the contest was featured on the B'nai B'rith Podcast. https://www.podbean.com/ew/pb-ren7q-12870f5
B'nai B'rith Snapshot: Program Department Tikkun Olam in Action
As waves of Eastern European Jews arrived in the United States in the 1880s and 1890s, B'nai B'rith reached out to these new immigrants, offering opportunities to achieve success. Although these initiatives were often planned by B'nai B'rith's presidents and officers at the national level, lodge members often did the heavy lifting: Helping families to start fresh, away from crime-ridden urban ghettos, establishing and conducting education classes and supporting medical and social work clinics and new trade schools.
Today, our commitment to improving life for others is still an inherent part of B'nai B'rith's mission of Tikkun Olam, repairing the world through altruistic acts. While some programs are now national and international in scope, others continue to be structured to respond to local needs — communities where our members are stakeholders.
Through ongoing and new projects, we constantly review and improve the activities of our Program Department, which celebrates Jewish life and traditions, assists the needy and vulnerable, promotes ecumenicism, fights prejudice, supports educational pursuits and invites people of all backgrounds to participate in honoring the memory of Holocaust victims.
A B'nai B'rith member for nearly four decades, Ira Bartfield, chair of the Center for Community Action, has observed that "the work of our organization offers a unique and satisfying opportunity for hands-on involvement, and for that involvement to result in a change for the better. At its heart is the collaboration between people and groups, not only from all over the country, but throughout the world, allowing all of us to obtain new insights on problem-solving, and helping others."
Listed here are some of the many B'nai B'rith projects serving individuals and groups — all are team efforts involving leaders, staff and volunteers who plan, participate, evaluate and adapt.
2020: Building Bridges During the New Normal
Due to restrictions imposed by the Covid-19 pandemic, some of our programs have been on hiatus since March, while others have been activated or modified, as our volunteers find new solutions to achieving goals during the pandemic.
In July, B'nai B'rith Colorado donated $11,500 to the Food Bank of the Rockies, estimated to cover the cost of about 46,000 meals for individuals and families. The lodge also sent a gift of face shields to Shalom Park Nursing Home caregivers and residents in Aurora.
B'nai B'rith coordinated the transport of 27,000 face shields supplied by the Brother's Brother Foundation, our disaster relief partner, for use by health care workers and COVID-19 patients in Italy in April.
In April, B'nai B'rith in Panama joined forces with other Jewish philanthropies to donate 50 oximeters, devices which measure heart rates and oxygen levels in patients' blood, imperative to those suffering from COVID-19, to the country's Ministry of Health and 150 beds, for Panama City's Center for Migrants.
In May, B'nai B'rith's Fort Worth, Texas lodge, Isadore Garasek Lodge cheered local firefighters, when its volunteers brought dinner and extra face masks to the men and women on the front lines at the city's station #26.
Earlier that month in Plantation, FL, a crew from B'nai B'rith of South Florida assisted in handing out 600 bags of groceries from the Helping Hands Food Drive Organization Inc.
Project H.O.P.E. (Help Our People Everywhere) has been sending kosher for Passover goods to the poor and elderly since 1969. Although this activity was canceled in certain locations this year due to the pandemic, some lodges were able to arrange for donations through food distribution centers.
This year, B'nai B'rith's Bagel Brigade in California continued to deliver bakery products to the hungry at schools, homeless shelters and other facilities.
As Rhonda Love, B'nai B'rith's Vice President of Programming has noted: "I am not surprised to see our members and supporters rise to the challenge to help others. This mission to respond to those most vulnerable at a time of need has been at the core of B'nai B'rith from the beginning. While I can't thank everyone involved by name, we applaud the efforts of B'nai B'rith of the Rockies President Frank Goldman, and Margo Rocklin Goldman; South Florida President Gina Strauss; and Alex Nason of Fort Worth's Isadore Garsek Lodge for their efforts."
A new initiative launched in July 2020, None Shall Be Afraid is B'nai B'rith's interactive approach to counteracting anti-Semitism's new and dangerous rhetoric. It's the focus of a separate article which can be found in this issue of Impact.
On August 30, 2020, Atlanta's Achim Gate City hosted a virtual event with guest speaker, B'nai B'rith CEO Daniel Mariaschin, who announced the names of the local middle school students awarded prizes for their submissions to the Enlighten America Essay Contest, a program that encourages "Tolerance, Equality and Respect for All People." A jury including Achim Gate City members and community leaders selected the winners, who received certificates and a cash award contributed by the lodge and other sponsors. To read more about the contest, and to watch a video of the ceremony, click on the following link:
Achieving Measurable Results in 2019
During 2019, B'nai B'rith's social action, disaster relief and community efforts benefitted people of all faiths here and around the world.
In locations including Atlanta and New Haven, Connecticut our volunteers again honored the spirit of the holiday season by substituting for Christian hospital, fire and police station non-critical employees, allowing them to spend Christmas Eve at home. Due to the pandemic, alternate plans are being formulated for ways of helping these workers in December 2020.
In Fort Worth, B'nai B'rith held two special Seders, one for Jewish seniors and another that included an educational component designed to introduce non-Jewish families to Passover's history and traditions, and funded a number of college scholarships.
B'nai B'rith Colorado sponsored its 23rd annual cleanup of Leadville's historic 19th century Jewish cemetery in the summer of 2019. Volunteers of all ages throughout the United States traveled to the legendary mining town, where they enjoyed camping out and attending Sabbath services in addition to working together to maintain the cemetery's grounds and gravestones. After a 2020 break for the pandemic, the next session is being planned for 2021.
Along with its other activities in 2019, the Great Lakes Region unit covering Michigan, Fort Wayne, Indiana and Toledo, Ohio sponsored an annual golf tournament whose proceeds helped to fund its scholarship program.
B'nai B'rith Senior Vice President and Disaster Committee Chair Rebecca Saltzman flew in from Denver to meet Dr. Steve Smiga of Pittsburgh and other local leaders. B'nai B'rith members heard from staff and lay leadership of the Pittsburgh Jewish Family and Children's Services (JFCS) about helping the community recover after the anti-Semitic attack at the Tree of Life * Or L'Simcha Congregation. Pittsburgh Police Benevolence Fund representatives discussed the impact on first responders. B'nai B'rith contributed $25,600 to assist with these efforts.
Disaster relief assistance efforts in the last months of 2019 included support for people in the Bahamas and the southeastern United States, where Hurricane Dorian had caused much suffering. In addition, B'nai B'rith Australia raised significant funds during November and December to aid victims in the months following catastrophic bushfires there.
Internationally, a large number of attendees learned about our organization's mission and history during B'nai B'rith France's first Open House, a highly successful day of meetings and conferences held in cities including Paris and Marseille on Dec. 1.
Holocaust History: To Honor and to Educate
Since Holocaust Remembrance Day in 1989, B'nai B'rith International has been the North American sponsor of "Unto Every Person There Is a Name," conceived and produced by Israel's Yad Vashem, the Holocaust Memorial Center that each year adds new names for the ceremony, held on the 27th day of Nissan. During the pandemic, hundreds watched around the world via social media as individuals in various locations remembered the dead through the acts of reading names of those who perished.
To ensure that future generations will continue to be aware and understand the tragedy of the Shoah, B'nai B'rith Colorado successfully campaigned on behalf of a state bill, passed on July 8, 2020, making the study of Holocaust and genocide history mandatory for high school students.
B'nai B'rith and Elie Wiesel: Our Longstanding Tie to a Citizen of the World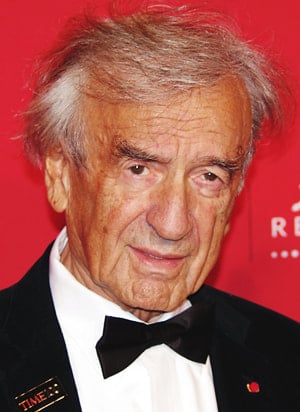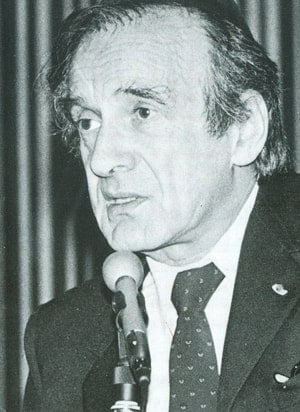 Subjected to the unspeakable tortures and emotional trauma of the Holocaust and left alone after his parents and sister were murdered, Elie Wiesel (1928-2016) survived to achieve recognition as one of the most important and respected people of his generation. The memories he shared, as well as his continuing battle against hatred and genocide, became the world's moral imperative. Throughout his life, he served as a living symbol of these horrific sufferings, and the ability to transcend them, that millions had experienced since World War II.
Among the many organizations that honored the Romanian-born philosopher, activist, academic, philanthropist and author of more than 40 books of fiction and non-fiction, B'nai B'rith maintained a special connection with him for over half a century.
In March 1966, B'nai B'rith's Commission on Adult Jewish Education presented its first $1,000 Jewish Heritage Award to Wiesel, known at that time for his works Night, (1958) a memoir about the concentration camps; Dawn, (1960) a novel about Israel; and Day (1961), in which he articulates his thoughts about survivors' struggles to maintain their belief in mankind. The prize was given to an established writer whose "authentic interpretation of Jewish life and values make a positive contribution to contemporary literature."
An effort to introduce B'nai B'rith members to Jewish culture and traditions through the reading and interactive discussion of a wide array of secular and theological texts, the activities of the multi-faceted commission had been developed over time from 1950. It was, in the words of B'nai B'rith historian Deborah Dash Moore, "an innovative program of Jewish education that was able to speak to contemporary American Jews by synthesizing American and Jewish values." In the 1970s, one of its directors, Lily Edelman, would translate Wiesel's books One Generation After and A Beggar in Jerusalem from French, making them available to new audiences. For many years, Wiesel was a member of the B'nai B'rith Lecture Bureau.
On April 2, 1987, more than 500 people gathered at Adas Israel Congregation in Washington, D.C., to celebrate Wiesel when he received B'nai B'rith's John F. Kennedy Lodge's 17th Profiles in Courage Award. Praised for his unwavering commitment to Holocaust awareness education and dedication to the Jewish people, Wiesel, who had won the Nobel Prize during the previous year, noted: "courage means being part of our community…It takes courage to be totally Jewish… to write a poem in the ghetto was as courageous as the act of taking a rifle and fighting the enemy who surrounded…it."
Overseeing a report released in 2004, Wiesel chaired a committee comprised of scholars and Jewish leaders, including B'nai B'rith CEO President Daniel S. Mariaschin, that contained findings on the Holocaust in wartime Romania and in the territory that constitutes present-day Moldova.
B'nai B'rith Recognizes Three Journalists for Excellence in Diaspora Reportage
The B'nai B'rith World Center-Jerusalem conferred its Award for Journalism Recognizing Excellence in Diaspora Reportage in the spring upon Branu Tegene and Danny Kushmaro of Channel 12 News and Dina Kraft of Haaretz.
Tegene and Kushmaro received the award in the broadcast media category for a 5-part series entitled "Mefotzalim" ("Split: The Story of the Ethiopian Jewish Community"). The series follows Jewish Ethiopians who stayed in their native country even after the Ethiopian Jewish community's mass immigration to Israel, their family members who live in Israel and their reunion in Ethiopia. The broadcast media award was given in memory of Wolf and Hilda Matsdorf. Wolf Matsdorf, a journalist in Australia and Israel, was the editor of the World Center-Jerusalem's Leadership Briefing Journal. Hilda Matsdorf was a pioneer in social work in both Australia and Israel.
Kraft received the award for print media for her articles on the American Jewish and British Jewish communities. One of her articles, "Pittsburgh Playbook: How a Community Began to Heal," focused on interfaith solidarity in Pittsburgh after the city's Tree of Life * Or L'Simcha Congregation experienced a horrific anti-Semitic attack in which 11 people were shot and killed and others were wounded. Kraft's other piece, "It's Complicated: The Status of Anti-Semitism in Contemporary America and Britain," tackles modern anti-Semitism from the left and right by examining the work of two contemporary Jewish writers, Bari Weiss and Keith Kahn-Harris. The print media award was given in memory of Luis and Trudi Schydlowsky.
"Even in the trying times when Israel and Jewish communities around the world are focused on facing the medical, social and economic fallout of the coronavirus epidemic, efforts must continue to maintain and strengthen the relationship between Israel and Diaspora communities around the world," said B'nai B'rith World Center-Jerusalem Chair Haim Katz and Director Alan Schneider. "The center remains dedicated to that mission through the Award for Journalism and other significant programs that have been adapted to fit our new reality."
The B'nai B'rith World Center Award for Journalism has recognized excellence in reporting on contemporary Diaspora Jewry since 1992. It was created to strengthen ties between Israel and the Diaspora by encouraging the media to produce high-quality journalism about the topic.
The distinguished members of the award jury included: Ya'akov Ahimeir, past editor and anchor, Israel Public Broadcasting Corporation and Lifetime Achievement Award winner for 2016; Professor Yehudith Auerbach, School of Communication, Bar Ilan University; Professor Sergio DellaPergola, The Institute of Contemporary Jewry, Hebrew University; Sallai Meridor, former Israeli ambassador to the United States and former chairman of the Zionist Executive and Jewish Agency for Israel; Professor Gabriela Shalev, Higher Academic Council, Ono Academic College and former Israeli ambassador to the United Nations; journalist Yair Sheleg; and Asher Weill, publisher and editor of Ariel: the Israel Review of Arts and Letters (1981-2003).
The awards are made possible by generous donations from B'nai B'rith World Center-Jerusalem board member Daniel Schydlowsky and the Matsdorf family.
B'nai B'rith World Center: 40 Years in the Desert
On August 20, 1980, the United Nations Security Council (UNSC) adopted a resolution condemning the unification of Jerusalem under Israeli sovereignty. Not a single UNSC member voted against the resolution; only the United States, often a solitary pro-Israel ally at the U.N., abstained. Resolution 478's passage served as an impetus for the B'nai B'rith Convention's decision to establish the B'nai B'rith World Center-Jerusalem. The center was temporarily headquartered in a library while its founders moved to establish a permanent location. Two years after the decision was made, the center was moved to its current location.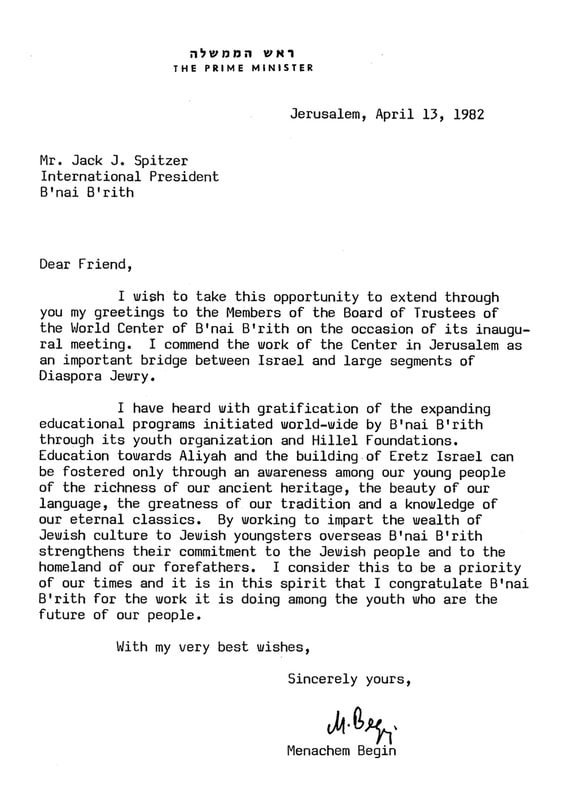 The world center is the hub of B'nai B'rith's activities in Israel and has expanded to become a connection between B'nai B'rith's worldwide membership and the State of Israel. Under the leadership of its Director Alan Schneider, the center runs a full slate of educational programs, seminars, diplomatic missions to Israel for groups ranging from U.N. diplomats to members of the European Parliament and other vital programming. The center also maintains contacts with high-level members of the Israeli government.
"The World Center serves as B'nai B'rith's permanent presence in Jerusalem and its public affairs arm in the State of Israel," says Schneider. "The World Center ensures a high level of relevance for the organization in Israel through various educational and civic programs and maintains contacts with elected and government officials, academic and research institutes and the NGO community. The World Center is also a programming and information source for BBI and B'nai B'rith affiliates around the world. In short, the World Center serves as B'nai B'rith's embassy in Jerusalem."
The center has adapted to the COVID-19 pandemic by undergoing a rapid shift to digital programming and events that comply with cautionary coronavirus measures. According to Schneider, "the pandemic was a catalyst to develop other programs that meet the restrictions." To celebrate this year's Yom Yerushalayim, or Jerusalem Day, which commemorates the reunification of Jerusalem after the Six-Day War, the center hosted an online video tour of the historic city on May 21st. Due to restrictions placed on international travel by global governments and the Israeli Ministry of Health, many would-be visitors to Jerusalem were unable to celebrate the holiday by seeing sights like the Old City and the Western Wall in person. The two-hour tour helped bridge the gap by showing the city's iconic historical sites accompanied by historical context, including interviews with soldiers who fought in the 1967 Six-Day War.
The World Zionist Organization and the B'nai B'rith World Center-Jerusalem hosted a live virtual tour of the city's most renown locations to celebrate Yom Yerushalayim (Jerusalem Day) on May 21. The tour focused on both ancient and modern history, featuring interviews with those who participated in the 1967 Six-Day War. "By way of the tour we wish to provide an opportunity for members of B'nai B'rith around the world and to our brothers and sisters in Jewish communities to experience this exciting city that the Jewish people have prayed for throughout so many generations." noted World Center Director Alan Schneider.
In June, the B'nai B'rith World Center teamed up with the Jewish National Fund for a plaque unveiling ceremony honoring Samuel (Sally) Bein, the founding principal of the first boarding school for Jewish children with special needs in Germany. The ceremony took place outdoors at the B'nai B'rith Cave at the B'nai B'rith Martyrs' Forest. Attendees wore masks to comply with coronavirus safety restrictions. The children's school was one of the charitable endeavors undertaken by B'nai B'rith lodges in pre-World War II Germany. Tragically, Bein, his wife and the 47 remaining students at the school were deported to a death camp in 1942 and the school closed. The ceremony marked the first time Bein, his family and the staff were memorialized.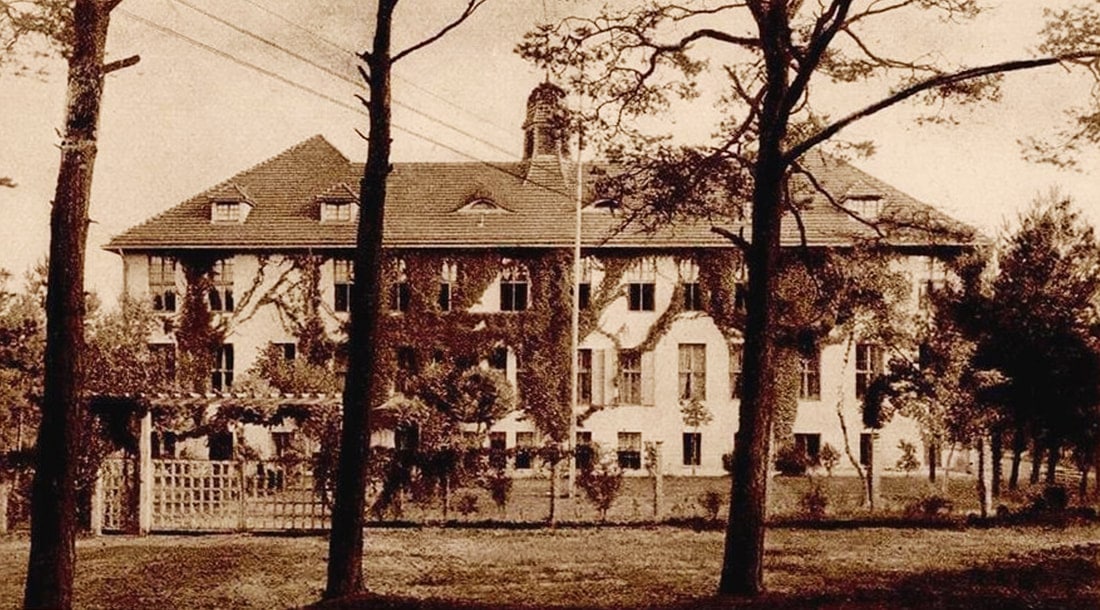 Bein is not the only victim of the Holocaust whose memory has been kept alive by the center's programming. Every year, the B'nai B'rith World Center and the Committee to Recognize the Heroism of Jews Who Rescued Fellow Jews During the Holocaust (JRJ) confers a Jewish Rescuer's Citation to recognize the heroism of Jewish individuals who put their lives in danger to save their fellow Jews. The citations challenge a misconception that Jews were passive in the face of the Holocaust and did not attempt to save their Jewish brethren. This year, the citations were given to 16 individuals, all but two posthumously. Recipients included a Greek rabbi who refused to give a list of Jews in his city to the Nazis, instead warning his community to escape; a member of the French Jewish Resistance who falsified documents for families in hiding; and more brave heroes. You can read a full list of this year's rescuers here.
As the COVID-19 crisis continues, you can expect the B'nai B'rith World Center-Jerusalem to continue expanding its offerings and adapting to meet the challenges of the pandemic. Follow us on our Facebook and Twitter pages to learn about our upcoming events and programming.
B'nai B'rith's Mexican Bureau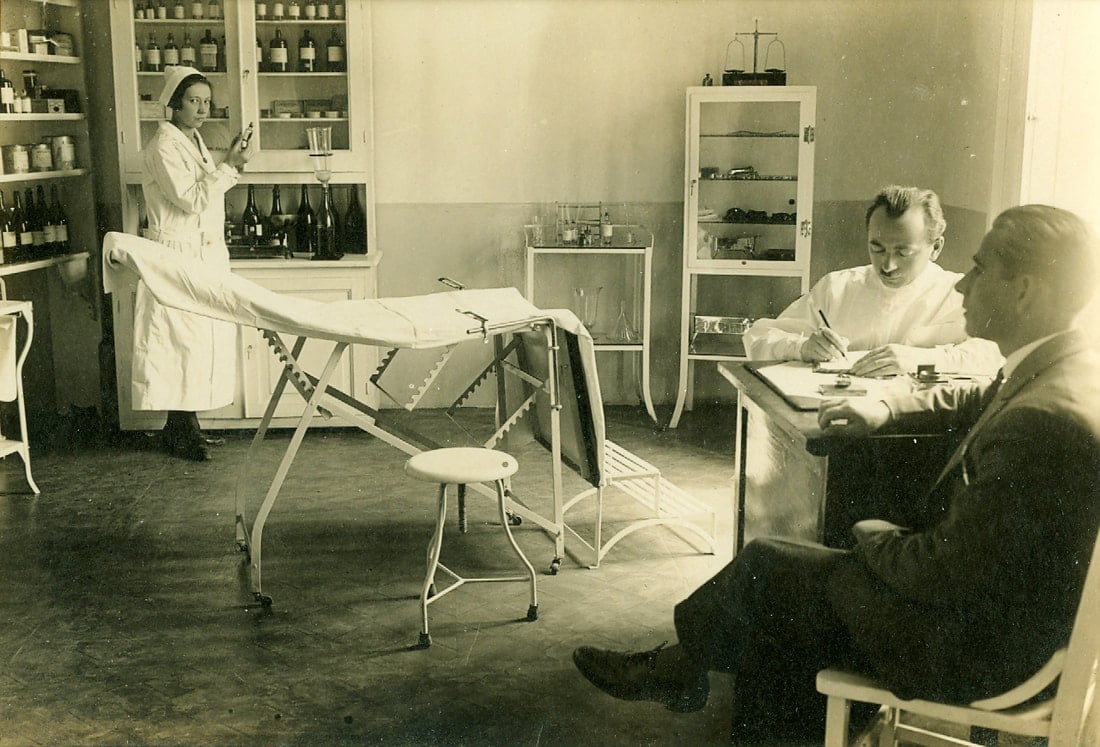 Dr. I.M. Leff and nurse M. Levnie with a patient in B'nai B'rith's medical and dental clinic at 5a Calle de Reina, Mexico City, ca. 1925. The organization set up a center to assist hundreds of Jews arriving in Mexico from Europe during World War I and afterward, when immigration restrictions prevented them from reaching their ultimate destination in America. Many remained and established successful lives there.