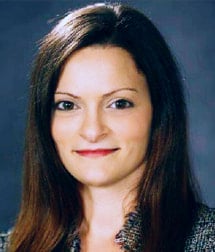 Dear Friends,

I hope this newsletter finds you well. It is hard to believe it is now December and 2021 is almost behind us—time certainly does fly!

As you read this latest edition of B'nai B'rith IMPACT you will see that B'nai B'rith continues to carry forth its mission around the globe. We ensure that Israel and the Jewish people are protected, that those recovering and rebuilding in the wake of disaster are not alone, and that thousands of seniors across the United States are able to maintain quality of life in safe, affordable housing.  

​As a supporter of B'nai B'rith International you are absolutely essential in moving such important initiatives forward, as it is only with your ongoing partnership that B'nai B'rith can meet needs as they arise.  

As the year ends, we hope you have chosen to renew your support, but if you have yet to do so, there is still time to make a gift! Please visit https://www.bnaibrith.org/partner-with-us.html to learn about the many ways to support B'nai B'rith International.
  
Thank you for your ongoing commitment. Together we can ensure wherever there is a need, there is B'nai B'rith.With all best wishes for a holiday season filled with health and happiness. 

​Kind regards,

"Afterlives," Jewish Museum Exhibit Shares the Histories of Nazi-Looted Artwork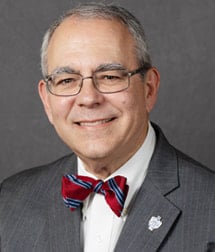 Visiting Auschwitz and other death camps is a haunting experience. Images of chimneys, showerheads and ovens are etched permanently in hearts and minds. Buildings within the infamous Arbeit Macht Frei (Work Sets You Free) entrance house mounds of suitcases, shoes of all sizes, eyeglasses of all shapes, traditional prayer shawls, piles of hair and, among other horrifying items, a transparent cylinder of ash, which even reveals bits of bones. It's virtually impossible to stomach.
Millions of stories behind these objects were lost with the millions of human lives. Countless stories survived and continue to be uncovered. Yet, there are stories within stories—artworks that were looted by Nazis, hidden, subsequently sold and maybe returned to descendent families. 
New York's Jewish Museum is presenting "Afterlives: Recovering the Lost Stories of Looted Art" through Jan. 9, 2022. I toured "Afterlives" following B'nai B'rith delegation visits with dozens of foreign ministers as part of the annual U.N. meetings days that we coordinate with a few other organizations. The museum visit capped sessions in which anti-Semitism, bias against Israel at the U.N., misdirected UNRWA (the U.N. Relief and Works Agency) funding and constant threats from Iran were among agenda topics.
B'nai B'rith has long been involved in the restitution of property once belonging to Jews of Europe. B'nai B'rith was an original member of the Conference of Material Claims Against Germany (today's Claims Conference), which forged the September 1952 agreement with West Germany for the payment of $107,000,000—part of a total $822,000,000 settlement—to compensate Israel for property seized by the Nazis from Jewish families that had no surviving members.
Today, B'nai B'rith continues to work for survivors to recover property as constituent members of both the World Jewish Restitution Organization (WJRO) and the Claims Conference. Destruction of records along with lives of more than six million Jews makes documenting ownership a slow, difficult and complicated process. In some of the restitution cases, the effort seems endless, if not futile. Yet, the effort steams ahead. 
In 2020, we joined others in submitting an amicus brief dealing with an art recovery case before the U.S. Supreme Court. More than 20 years earlier, a B'nai B'rith delegation led by CEO Dan Mariaschin visited Vilnius and worked to recover 50,000 Jewish books, newspapers, periodicals, hundreds of Torah scrolls and other sacred items that were discovered in the Lithuanian city's St. George's Church. Some of those items were returned to the local Jewish community.
The complexities of restitution are evident in this exhibition. "In war, property becomes power, and stolen art becomes an instrument of policy," the curators state. "During World War II looting from Jewish collections was widespread and included both systematic plunder and opportunistic thefts." This task was largely carried out by the Einsatzstab Reichsleiter Rosenberg (ERR)—named for its organizer, Nazi racial theorist Alfred Rosenberg— charged with stealing jewelry, furniture and especially art.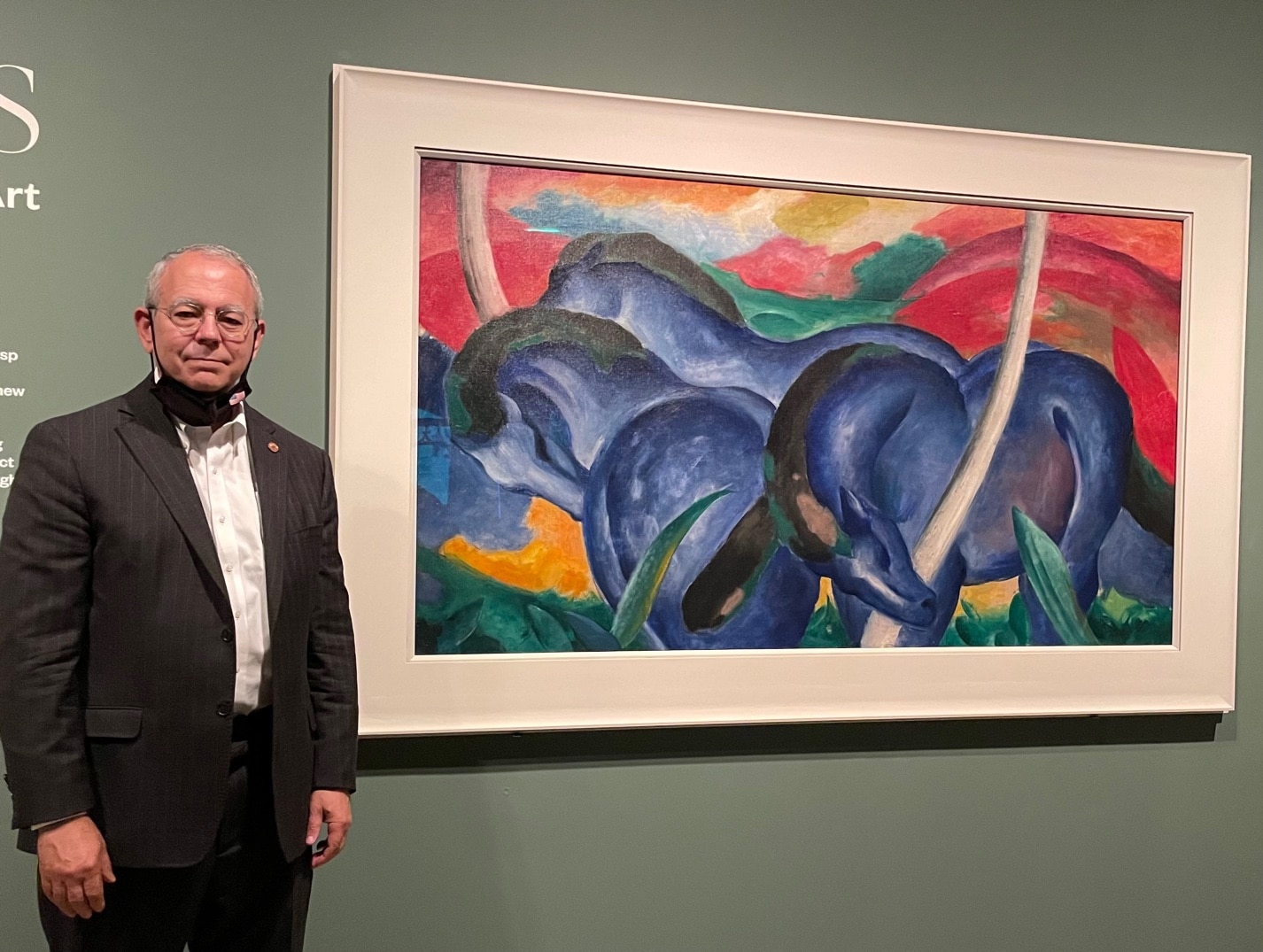 ​Many of the works were sold to generate funds to support the Nazi war machine. The work of the ERR was on display in "Afterlives," but as with the human tragedy of the Holocaust, many works, including those by André Derain and Claude Monet, would be destroyed. Visitors to "Afterlives" find a small number of visually absorbing, small but stylistically striking works by Paul Cezanne, Pablo Picasso, Fedor Lowenstein, Henri Matisse, Marc Chagall and Camille Pissarro.
Better known are the stories of art discovered at Nazi headquarters and processed by Allies at several sites, such as the Munich Central Collecting Point, where more than one million objects—drawings, paintings, sculptures—were processed. In 1949, the Jewish Cultural Reconstruction organization delivered 83 crates carrying 3,000 pieces of ritual objects and ephemera to the Jewish Museum on the Upper East Side. 
The powerful, impressive work, which introduces visitors to the show in the main floor gallery, is Franz Marc's painting, "The Large Blue Horses." Condemned as "degenerate art," the 1911 masterpiece was the property of a private collector when it was brought to America during 1941. It was sold and entered the collection of the Walker Art Center in Minneapolis the following year. 

Since we have yet to learn the definitive history of the ownership of Marc's picture during the 1930s, it's a reminder that many more paintings might have been seized by or in some way forcibly sold to the Nazis. The full extent of the Third Reich's impact on art requires much more research. 

It is an enormously challenging story and a work in progress for B'nai B'rith and its partner organizations dealing with restitution.
​The exhibit is a multi-layered cultural journey. One such story typical of those wrapped around the pieces in the show is the Pissarro painting "Minette," owned by Bruno Stahl, whose father was the head of the Berlin Jewish community in the 1930s. Stahl stored his art in a Paris bank before leaving Germany in the mid-1930s on the way to the United States. After the fall of France, the vault was looted by Nazis in 1944 and the pictures were loaded onto a train bound for a warehouse. Fortunately, the train was stopped by Free French soldiers, who took possession of artworks, including the precious portrait. The painting was recovered by the Allied authorities and returned to Stahl. It was later acquired by the Wadsworth Atheneum Museum of Art in Hartford, Connecticut.
The Abraham Accords: Fulfilling their Promise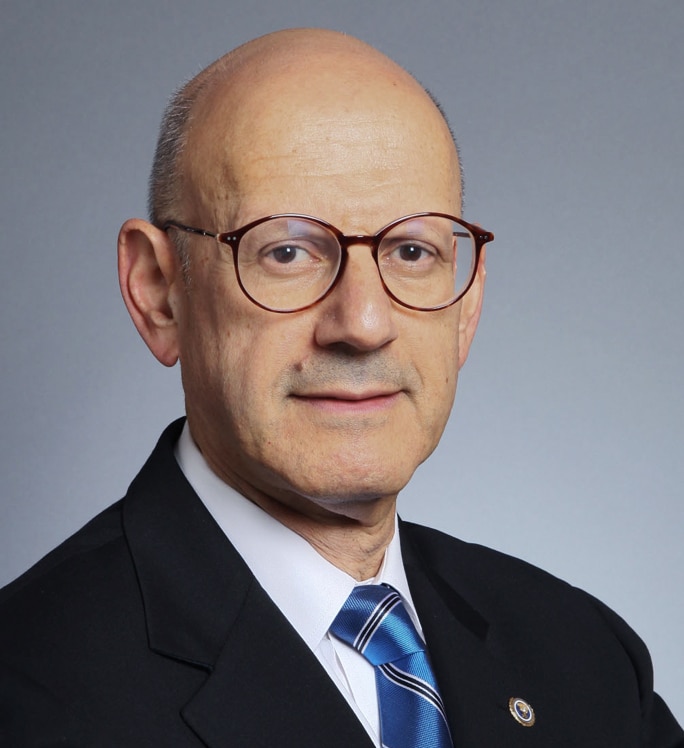 In September, we observed the first anniversary of the Abraham Accords, the groundbreaking peace initiative establishing diplomatic relations between Israel and the UAE, Bahrain and Sudan. Shortly after, relations with Morocco were announced.
 
In the past year, dozens of bilateral commercial agreements have been signed, academic exchanges have been arranged, a number of programs have been introduced to teach Jewish history and educate about anti-Semitism, and tens of thousands of Israelis have boarded both Israeli and Gulf Arab airlines for Abu Dhabi, Dubai and Manama, the capital of Bahrain. And while many Israelis, especially those of Moroccan origin, have been visiting that country for a number of years, they will now find such visits much easier to arrange with the establishment of direct airlinks between the two countries.
​Our International President Chuck Kaufman and I were among those gathered on the South Lawn of the White House to witness the signing of these normalization agreements. As one who was also present in the same spot, in September 1993, when the Oslo Accords were signed by Israel's Prime Minister Yitzhak Rabin and PLO leader Yasser Arafat, I can attest to the tremendous difference in "vibes" between the two events.
​Twenty-eight years ago, there was a certain sense of relief that the Oslo Accords had been brought to fruition, but it also came with the nagging skepticism that Arafat's terrorist hands, which signed the agreement, were being cynically used to win Western accolades and support, while he never really was interested in a peaceful settlement of the Israeli-Palestinian conflict. Rabin's reluctance to shake Arafat's hand at the invitation of President Bill Clinton (Rabin did so) only reinforced the doubts many of us in the crowd on the White House lawn were feeling at that moment. Three decades on, the "promise of Oslo" has not materialized.
Fast forward to September 2020. The participants who signed seemed eager to put pen to paper and get on not only with the business of diplomatic relations, but also to put meaning into those agreements, including the all-important people-to-people aspects of normalization that are the real glue that provides a foundation for the future.
 
Not only have embassies opened in Israel, the UAE, Bahrain and Morocco, but ties between Jewish communities in the Diaspora and diplomats from the Abraham Accords countries have created a network of support for these historic agreements.
B'nai B'rith is exceedingly proud of our longstanding presence in the Middle East, especially in Jerusalem; our first lodge was established there in 1888; lodges in other pre-state Israel locations were founded in subsequent years. But that was followed by the establishment of a network of lodges throughout the Arab world. In places like Cairo, Alexandria, Port Said and Tanta, Egypt, Algiers, Beirut, Damascus and Aleppo in Syria and Khartoum in Sudan, B'nai B'rith's presence, as in so many places elsewhere in the world, was a central part of Ashkenazi and Sephardic Jewish​ community life. 
In these cities and towns, where conditions were often rudimentary, B'nai B'rith succeeded in aiding war, fire, flood and earthquake victims, mitigating anti-Semitism, improving life for the poor, establishing modern schools and funding scholarships, public lectures, employment bureaus and credit unions. 
  
All of the Arab countries where we had a presence (most were French or British colonies at the time) had significant Jewish populations, some dating to biblical times which, in the aftermath of Israel's War for Independence in 1948, dropped to much smaller numbers. Arab governments across the region issued decrees that forced out Jews, or otherwise allowed or encouraged street mobs to engage in violence that produced the same result. Severe limits were set on what Jews could take out of these countries; properties and bank accounts in many instances were confiscated or nationalized. 
 
As a result, by the early 1960s, some 850,000 Jewish refugees from the Arab world found their safe haven elsewhere, largely in the State of Israel. 
 
Though some communities continued to exist, especially in Morocco, the remaining Jewish presence in places like Iraq (which, in 1948, had a Jewish population of 150,000), Syria, Tunisia and Algeria dwindled over the years, always under the harsh glare of their anti-Israel rulers. Until the early 1990s the Hafez al-Assad regime in Syria virtually held its small Jewish community of 3,000 hostage in Damascus and Aleppo.  
 
Much credit for the vibrancy of current communities is due to our colleagues at the American Sephardi Federation, which has produced numerous programs on the history and customs of those populations, especially, but not only, the Moroccan Jewish community. Universities are adding lectures on the history of Jews in the Arab world. Documentaries on the subject are being produced and shown at film festivals. I was honored to be asked to write the entry on B'nai B'rith for the Encyclopedia of Jews in the Islamic World, published by Brill. ​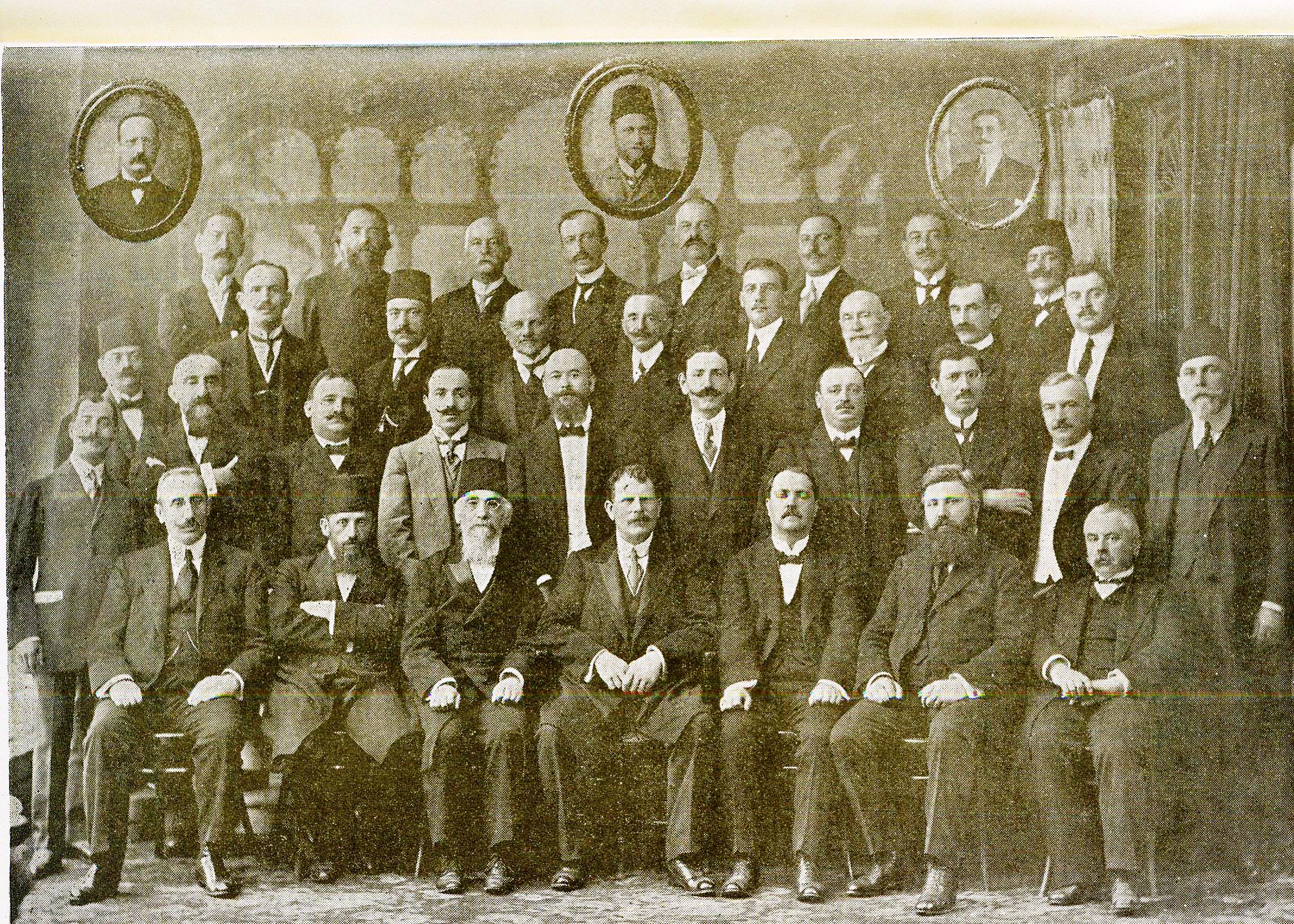 The Abraham Accords have also spotlighted two communities that hitherto had little publicity: the small community in Bahrain, which some date from the period of late antiquity, and the fast-growing community in the UAE, primarily in Dubai. In the latter, a synagogue and kosher restaurants are open to locals and visitors alike. 
 
When I visited Abu Dhabi and Dubai in 2019, one could sense the interest on the part of all those senior officials we met in building people-to-people ties. That interest is being reciprocated by Israelis and all of us who have worked over the decades to turn the Arab-Israeli conflict into a new world of cooperation, mutual respect and prosperity. 
 
In October, I was invited to an event at the Embassy of the UAE in Washington, D.C., in honor of a new documentary, "Amen-Amen-Amen," which focuses on the Jewish community in the UAE and its integration in the multi-cultural and multi-religious life of a majority Muslim country. 
 
This being the Middle East, nothing is ever cast in stone. We've become conditioned to being wary about raising expectations. Intense hostility to Israel remains in the Arab and much of the Islamic world. Between Israel's transformational peace treaties with Egypt and Jordan and the signing of the Abraham Accords, decades passed.
 
But the past year has taught us that it is possible, if the good will is there, to turn a page on the past, and to begin writing new chapters that are forward-looking. I'm thinking here of young Israelis, Emiratis, Bahrainis and Moroccans—and those from the Jewish Diaspora—who can seize on the moment the Abraham Accords have provided, to make a history of their own; one that respects both our differences and celebrates all that we share in common.
Highlights from CEO Daniel Mariaschin's Important 2021 Speeches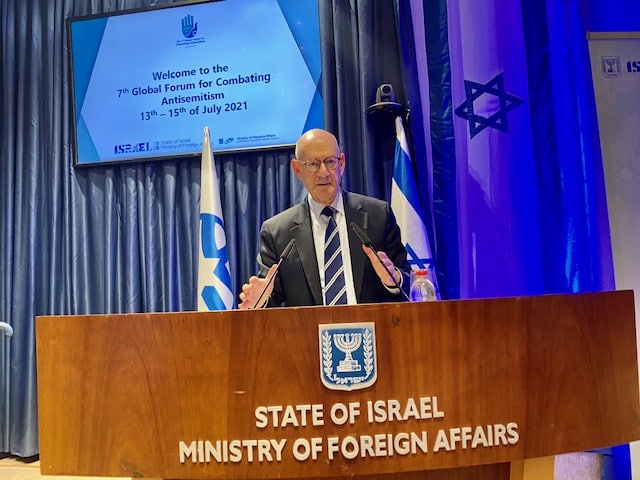 The following excerpts from those speeches offer a sampling of his insights on the topics he addressed.

​On Feb. 1, Mariaschin spoke virtually to an international audience during B'nai B'rith Office of EU Affairs' Holocaust Remembrance Day symposium, which featured panelists from important government agencies. Describing the Shoah's tragic and indelible resonance, he observed: "What began subtly ended catastrophically. The indifference of fellow neighbors and fellow nations became all too apparent. The inaction of the international community before the war and the formation of the United Nations after the war are two sides of the same coin. Its founding was a response to the tragedy that produced the ashes of the Holocaust. The guiding principle of "Never Again" was not merely a sentiment, but a pillar on which the organization was established."
​Mariaschin's contribution to the March 15 United Nations Alliance of Civilizations Conference (UNAOC), "Exploring Holistic Approaches to Combating Anti-Semitism," underscored the world body's pervasive anti-Semitic culture:
​"The effort by Israel's relentless critics to demonize and delegitimize the Jewish state is a daily reminder that anti-Semitism continues to thrive 76 years after the Holocaust, often animating the discussion about the Middle East at the United Nations, on university campuses and on editorial pages. We must therefore strongly reinforce the crucial principle declared at the 2004 OSCE [Organization for Security and Cooperation in Europe, a U.N. partner] Berlin Conference on Anti-Semitism—​that no political position, cause or grievance can ever justify anti-Semitism—and make clear that the demonization and delegitimization of the Jewish state is often none other than a pretext for the hatred of Jews themselves."

As keynote speaker for the May 4 virtual Jewish American Heritage Month celebration produced by Isador Garsek Lodge in Fort Worth, Texas, Mariaschin praised the Jewish contribution to life in this country.

"Where Jews settled and wound up as immigrants across America shaped our nation. When our families arrived—during the waves of immigration between the late 1800s and early 1900s or as B'nai B'rith founders in the mid-1800s—impacted the American Jewish experience. Many arrived as refugees after the Holocaust, or if they were lucky, had been able to escape the Nazi terror that took over Europe in the 1930s. Each of these groups had one wish in common: to be good Americans.

Jews have continued to excel in America, bringing their support to every part of American life. Jews have been part of society as inventors, doctors, educators, judges, bankers, entertainers, statesmen, business and sports legends.
​Mariaschin synthesized centuries of history for those who heard his speech during the July Global Forum for Combating Anti-Semitism (GFCA), held in Jerusalem by the Israel Ministry of Foreign Affairs and Ministry of Diaspora Affairs. During his presentation, "Placing Contemporary Anti-Semitism in Context," he recognized an American leader, now of blessed memory, who spoke out against anti-Semitism, and the individuals and hate groups that foment violence and bigotry under the guise of politics.

"In 2004 U.S. Secretary of State Colin Powell stood before the landmark OSCE Berlin Conference on Anti-Semitism and declared, 'Political disagreements do not justify physical assaults against Jews in our streets, the destruction of Jewish schools or the desecration of synagogues and cemeteries. There is no justification for anti-Semitism.' He continued, 'It is not anti-Semitic to criticize the state of Israel. But the line is crossed when Israel or its leaders are demonized or vilified, for example by the use of Nazi symbols and racist caricatures.'
We must commit ourselves to the resolute defiance against hatred that animated the Berlin Conference that year. As Powell said, 'Let tolerance be our legacy. May future generations of schoolchildren read that in the early decades of the 21st century, humankind finally consigned anti-Semitism to history, never to darken the world again.'"
Meetings with Dozens of World Leaders During 76th U.N. General Assembly Session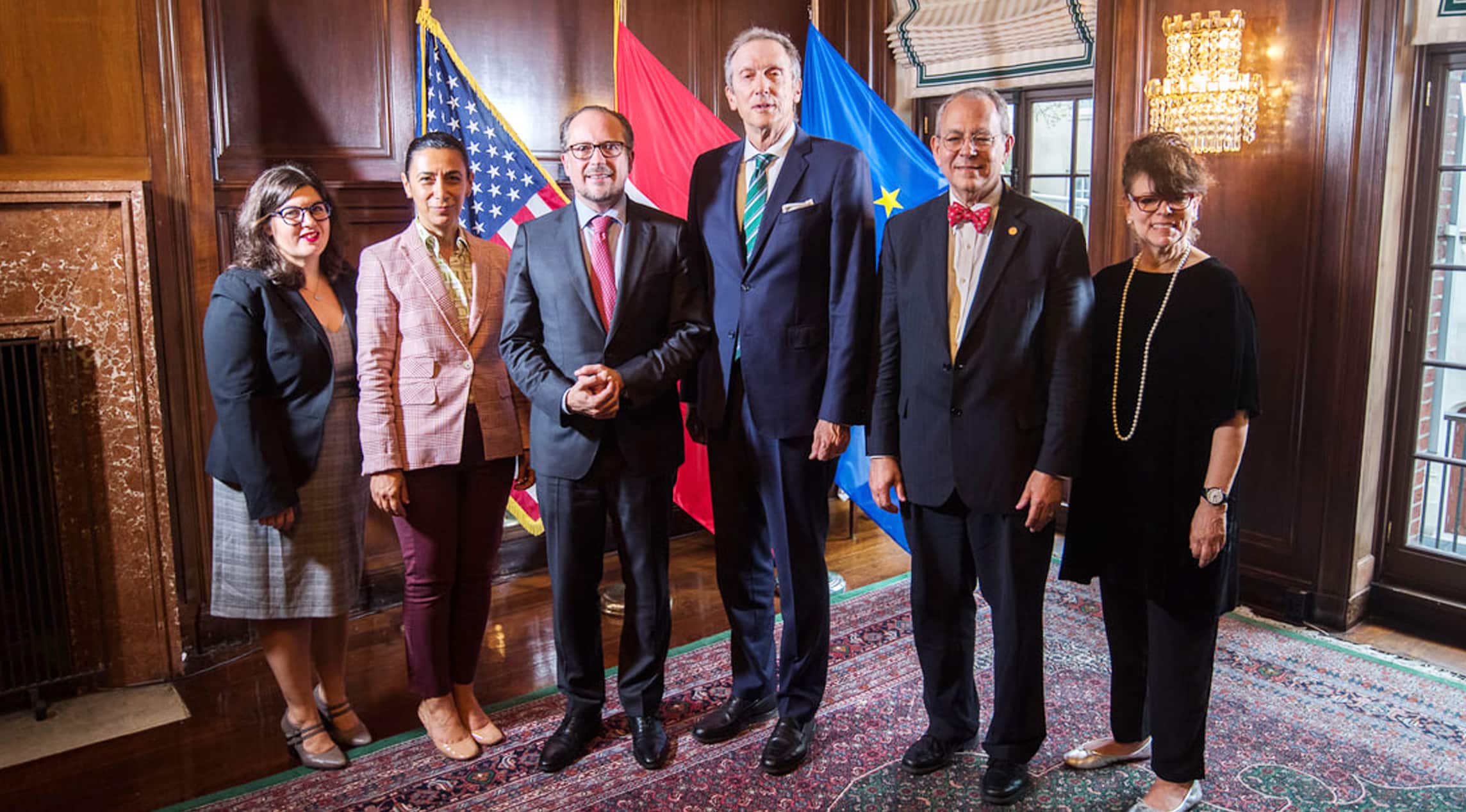 In conjunction with the 76th session of the United Nations General Assembly, B'nai B'rith representatives met with dozens of world leaders between Sept. 21 and Sept. 27. Led by B'nai B'rith President Charles O. Kaufman and CEO Daniel S. Mariaschin, representatives discussed matters of concern to B'nai B'rith and the global Jewish community.

​Despite the ongoing COVID-19 pandemic, B'nai B'rith leaders were able to host and attend meetings in person, arranged by David Michaels, director of U.N. and Intercommunal Affairs, and Oren Drori, program officer for U.N. Affairs. Over the duration of the U.N. General Assembly (UNGA) session, B'nai B'rith representatives met with heads of state and government, foreign ministers and other senior officials from countries including Greece, Bahrain, Azerbaijan, Jordan, Russia, Sweden, the UAE, Uruguay, Latvia, the Czech Republic, Croatia, Austria, Colombia, Italy, Spain and Romania, among many others.
"As always, these meetings were an important opportunity to raise priority issues on our agenda," Mariaschin said. "This year, many of the meetings were in-person, adding to the value of these discussions. There is no substitute for bringing our concerns directly to those who make policy decisions on matters of abiding concern to us."

​Topics discussed included Israel's treatment at the U.N., Israel-Arab relations, Iran's destabilizing policies, the rise in global anti-Semitism and more. Kaufman said B'nai B'rith also viewed the meetings as an opportunity to thank countries that have supported the International Holocaust Remembrance Alliance (IHRA) definition of anti-Semitism, which specifies that anti-Zionism can be a form of anti-Semitism and encouraged others to follow their example. 
"Among the most heartening revelations from these meetings are exchanges about great cooperation between major countries and Israel, developments that are too often ignored by the media and unknown to too many people in the world," Kaufman said.
B'nai B'rith representatives also urged countries to decline participation in Durban IV, the U.N.'s commemoration of the 20th anniversary of the notorious Durban conference on racism, which devolved into shocking demonstrations of anti-Israel and anti-Semitic hate. Countries that had already declined participation were commended for doing so. Throughout the year leading up to the commemoration—held on Sept. 22—B'nai B'rith raised awareness of the original conference's toxic legacy with published op-eds, meetings with officials and the televised series "Durban Revisited." 

In the end, 38 countries chose to boycott Durban IV, a clear sign that B'nai B'rith's efforts in these meetings make a difference, Kaufman said. 

B'nai B'rith has led Jewish communal engagement with the U.N. since its founding conference in 1945. With full-time, on-the-ground representation at U.N. agencies around the world, B'nai B'rith continues to advocate for Israel and the Jewish people at the world body.
Jewish Heritage Europe Sponsors 2021 European Days of Jewish Culture
An exhibit of works by Marc Chagall, Sephardic and Ashkenazi cooking demonstrations and architectural tours of historic Slovenian and Hungarian synagogues were among the virtual and in-person highlights of the 2021 European Days of Jewish Culture, devoted to the myriad aspects of "Dialogue"—exchanges among Jews and with interfaith groups. ​

​Eve Swabe and Valerie Bello, B'nai B'rith UK co-coordinators for the European Days of Jewish Culture and Heritage commented: "We believe that heritage plays an increasingly significant role in our national life, strengthening people's connection with their locality and making them conscious of their history and identity, which forges bonds between individuals and their communities. We know that there have also been non-Jewish visitors to some of the online events and we're always delighted when this potential for interfaith understanding is achieved, while providing a rare opportunity for our own community to explore our heritage."
This year's "European Days" was again presented under the auspices of the European Association for the Preservation and Promotion of Jewish Culture and Heritage (AEPJ), the Council of Europe and the National Library of Israel, in addition to a new partner, the Networks Overcoming Anti-Semitism (NOA) project, an organization which combats hate through arts appreciation and education. Events took place in 36 countries, some of which scheduled activities prior to the official Sept. 1 opening of the festival, continuing until the end of the year. 
​​​Similar to the 2020 event, restrictions imposed as a result of the pandemic were evident. The online presentations enabled the programs to be offered to an ever-widening audience.
Publisher of "Jewish Heritage Days," a guide which lists the seminars, walking tours, films, concerts and exhibits occurring throughout Britain, B'nai B'rith UK organized and sponsored an Oct. 24 online panel, "The History of Interfaith Dialogue," and more than a dozen other virtual and in-person talks delivered by experts on a range of historical topics and current issues including: "The Jewish Country House;" "The Jews of Bletchley Park;" "Working Together: Jewish-Muslim Relations in Action;" and "Jewish Jesus: Art and Faith in the Shadow of World War II." ​​
"European Days" was founded 22 years ago in Strasbourg, France by Claude Bloch, a B'nai B'rith leader and Jewish cultural historian who currently serves as honorary president of AEPJ, a consortium of tourism, government and philanthropic groups that provides support for these innovative programs. Bloch is the widow of Georges Bloch, remembered as the chairman of B'nai B'rith's International Council. ​
​Jewish and non-Jewish heritage groups are annually invited to submit proposals for activities for inclusion in the festival calendar.
​AEPJ also implements "European Routes of Jewish Heritage," offered as a series of handsomely designed pages included on its website. With topics organized by theme and location, they include maps and beautiful photographs that introduce travelers and others to the rich cultural history inherent in Jewish architecture and art of all eras and styles: classical and contemporary monuments and memorials, former private residences, synagogues, cemeteries and folklife museums. Located throughout the continent and the United Kingdom, many of these sites offer the visitor the opportunity to view a treasure trove of artifacts and documents, as well as books, scrolls, decorative arts objects and other items.​
A Significant Find: B'nai B'rith Leader Isidor Bush's 1880 Letter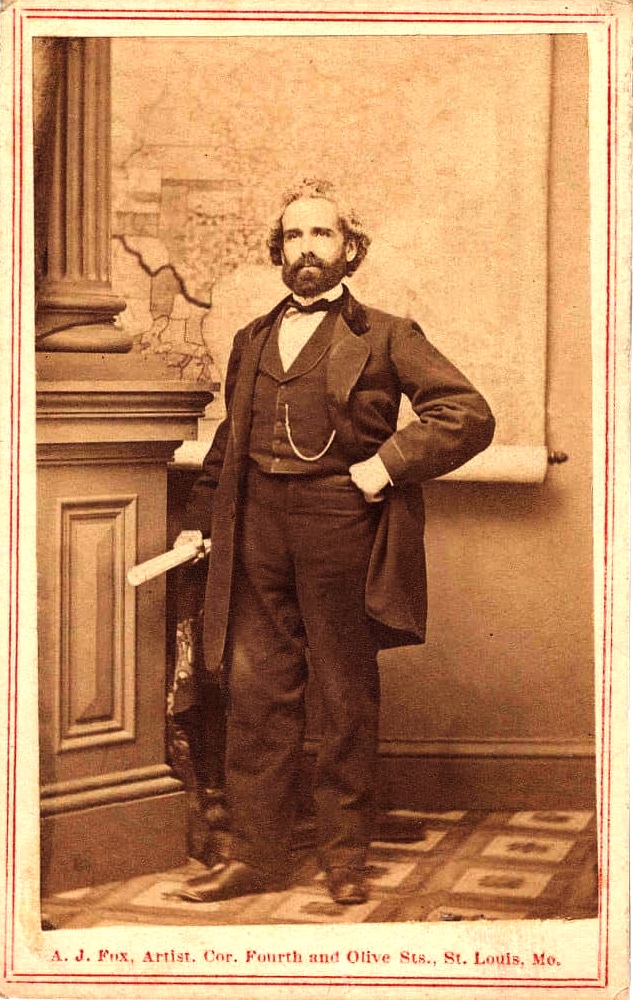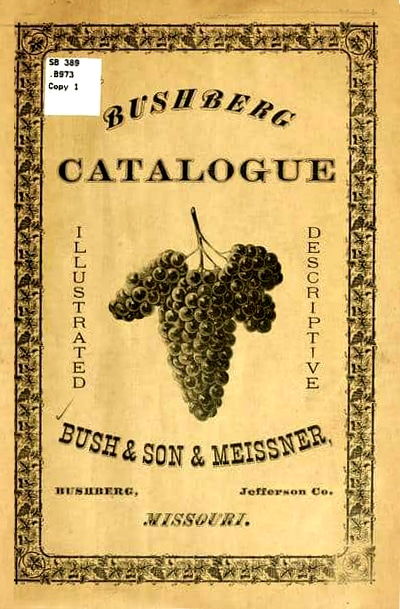 Behind the Scenes Expertise Produces Well-Rounded Living Experiences at B'nai B'rith Senior Housing Properties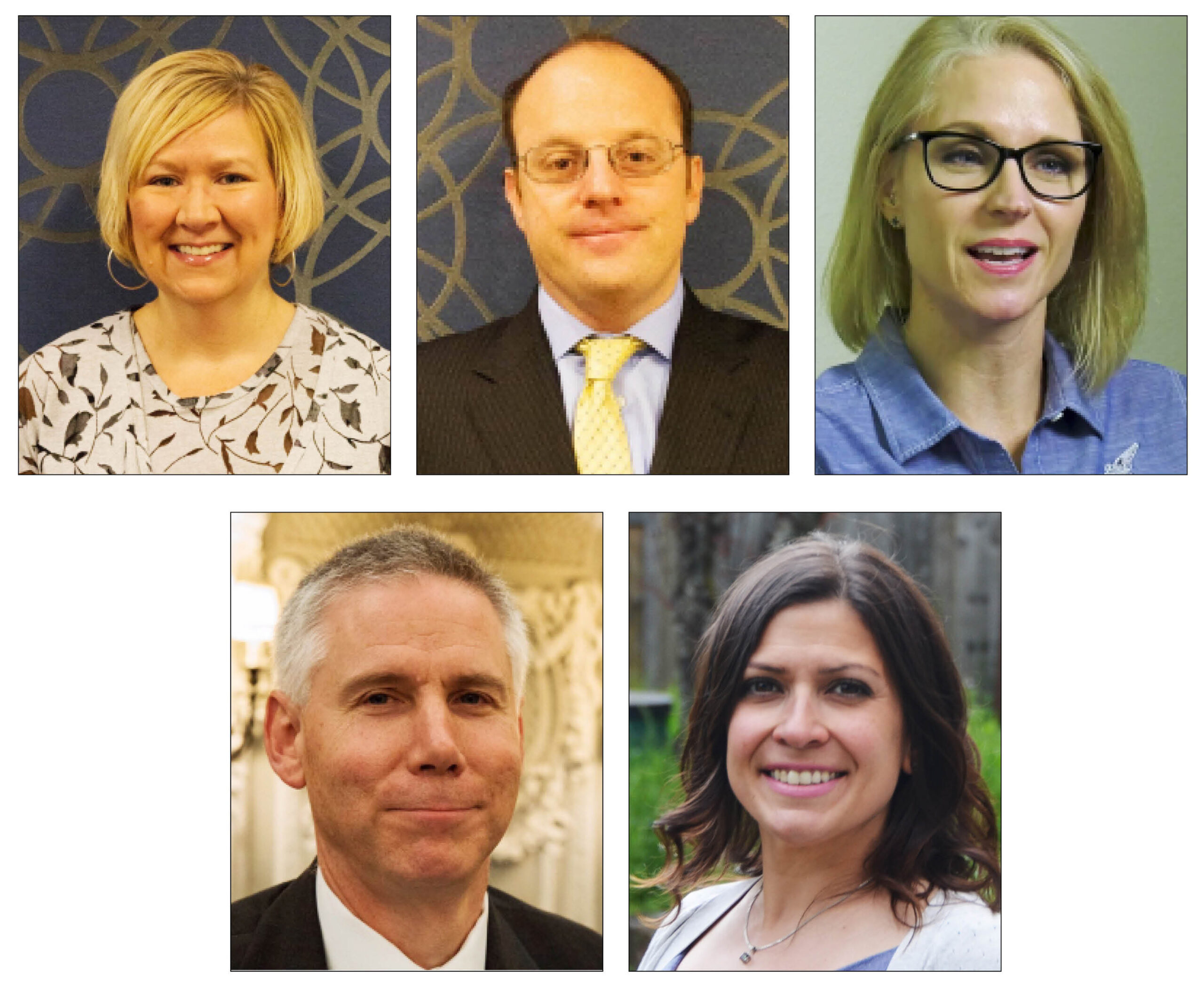 The B'nai B'rith Center for Senior Services (CSS) held its annual Conference on Senior Housing from Oct. 17 to Oct. 19, bringing together volunteer boards of directors and staff of the CSS Housing Network, who learn from experts in the field and share best practices. Due to the ongoing COVID-19 pandemic, the conference was held virtually again this year.

All of the CSS Housing Network buildings are funded through a partnership with the U.S. Department of Housing and Urban Development (HUD). The CSS Housing Network launched in 1971, with the opening of the first building in Wilkes-Barre, Pennsylvania. Over the next 50 years, the network has grown to include 38 buildings, making B'nai B'rith the largest national Jewish sponsor of HUD subsidized senior housing in the United States. Dennis Rice, co-chair of the Senior Housing Committee and board president of the B'nai B'rith Apartments of Deerfield Beach in Florida commented: "Holding the annual conference virtually had the benefit of allowing more board members and staff to participate. Practically all of the board members and staff from the B'nai B'rith Apartments of Deerfield Beach were able to attend and glean information pertinent to their positions. In the future, when we are able to go back to holding in-person conferences, I am very happy that CSS has added an additional annual conference that will continue to be held virtually."  

An important component of this partnership is the three annual training conferences that CSS organizes to ensure the buildings are able to provide additional services for the residents. Each conference includes a discussion of HUD regulations and board governance training, while emphasizing quality-of-life issues for residents. Building staff are more equipped to interact with senior residents to better provide life enhancing activities, which enable the residents to continue living independently for as long as possible.

Day one of this year's B'nai B'rith Conference on Senior Housing included a meeting of the B'nai B'rith Senior Housing Committee, comprised of all the board presidents and B'nai B'rith members who serve on the boards. Participants learned about updates on federal policy issues from CSS staff members, Associate Director Janel Doughten and Assistant Director for Aging Policy Evan Carmen. These policy issues cover directives from Congress, HUD and other Federal agencies. A session, Board Training and Governance, led by Amanda Atkins, president of Atkins Consulting Professionals, was followed by reports on each of the buildings.

During the next two days, participants heard from CSS experts and outside specialists who addressed a variety of issues including the impact of the ongoing Coronavirus pandemic on residents and staff, emergency preparedness and techniques for enhancing communication. Jaime Cobb, CAEd, vice president of Dementia & Caregiver Education at the James L. West Center for Dementia Care in Fort Worth, Texas, spoke about the support needed for isolated seniors at increased risk of dementia. Doughten led two sessions that explored this topic further. Carmen joined Doughten for a workshop focused on improving relationships among the board of directors, staff, residents, HUD and CSS. 

Day three began with a panel on emergency preparedness, when building staff and others shared best practices learned during recent disasters. Participants included Jack Alger, senior property manager, First Hartford Realty Corporation and Marco Claudio, maintenance supervisor, B'nai B'rith of Queens. It was followed by a presentation by Robert Iber, senior advisor in the HUD Office of Multifamily Housing Programs, that included both technical updates and an overview of HUD's disaster preparedness plans and guidance. The meetings concluded with a discussion devoted to working with Adult Protective Services during the pandemic and updates from the American Association of Service Coordinators.

For more information on the Center for Senior Services and the services we provide to the Senior Housing Network, please check out the website: https://www.bnaibrith.org/seniors.html

Policy experts, diplomats, historians, authors, chefs, actors, athletes, tech experts, scholars, musicians and more—Who will we talk with next?! 

Find out!  

Check out B'nai B'rith Extra! for meaningful discussions on today's most pressing and interesting issues.
​2021 Leadership Forum – Virtual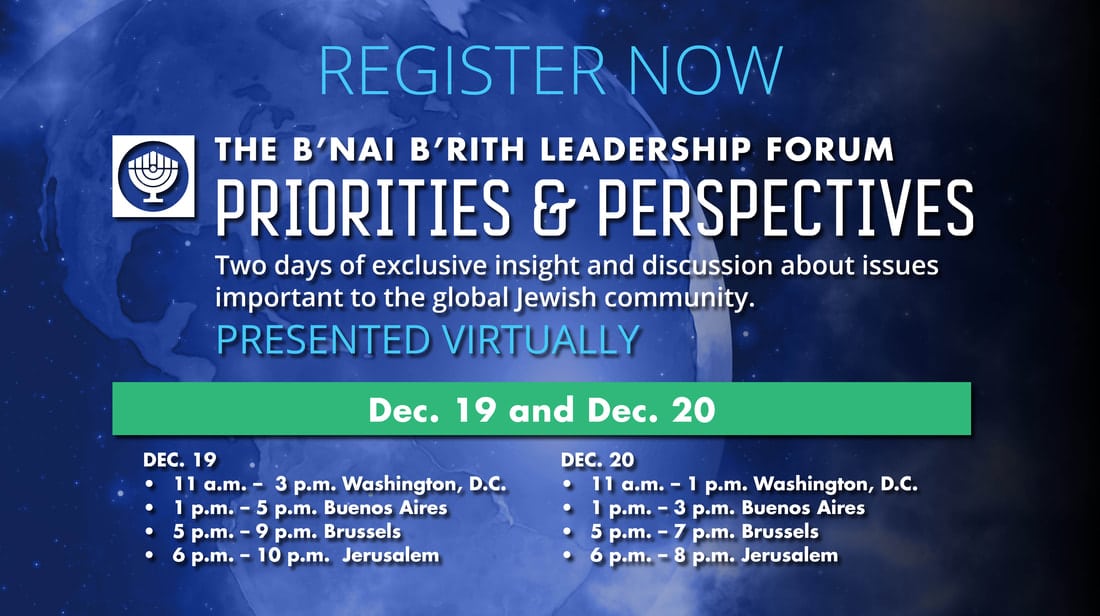 *CONFIRMED SO FAR*

SUNDAY, DECEMBER 19TH
12 p.m. Washington, D.C. | 2 p.m. Buenos Aires | 6 p.m. Brussels | 7 p.m. Jerusalem
Covering the World Through a Jewish Lens
A Conversation with Ron Kampeas, Washington Bureau Chief of JTA and Jonathan Tobin, Editor-in-Chief of JNS

2 p.m. Washington, D.C. | 4 p.m. Buenos Aires | 8 p.m. Brussels | 9 p.m. Jerusalem
COVID-19: What's Next?
Dr. Peter Hotez, Dean of the National School of Tropical Medicine at Baylor College of Medicine, joins us to talk about the state of the pandemic. Watch our interview with Dr. Hotez earlier in the pandemic.

MONDAY, DECEMBER 20TH
11 a.m. Washington, D.C. | 1 p.m. London | 5 p.m. Brussels | 6 p.m. Jerusalem
B'nai B'rith on Capitol Hill: A Conversation with U.S. Congressman Tom Suozzi (NY-3)
B'nai B'rith Senior Housing at 50, and Beyond
By Mark D. Olshan
Associate Executive Vice President, B'nai B'rith International
Fifty years of B'nai B'rith senior housing! When you say it out loud, it's hard to believe we opened our first sponsored building a half-century ago in Wilkes-Barre, Pennsylvania. Fast forward and we have sponsored an additional 37 buildings that provide about 5,000 seniors with affordable housing, making us the largest national Jewish sponsor of low-income, nonsectarian senior housing in the United States.
But our housing program is much more than a collection of buildings. Over the years, we have focused on creating a senior housing network family. We have organized annual training sessions for board members, management professionals, staff and service coordinators. Additionally, our week-long Resident Leadership Retreat, held every other summer at the B'nai B'rith Perlman Camp in the Pocono Mountains in Pennsylvania, provides leadership training for the residents.
In celebration of our anniversary, we have produced programming highlighting our buildings' history by interviewing the very people who have and who continue to provide affordable housing in the community. You may have noticed video interviews, social media and blog posts on our website highlighting our properties around the country.
Memorable moments

This work has certainly brought back memories. I remember June 1, 1983, my first day at B'nai B'rith. The housing program had been operational for 10 years, but I was hired as the first full-time director. Rabbi Joel Myers, the program's associate executive vice president, and my immediate supervisor showed me my office, where I found boxes full of files. Rabbi Myers said to me, "Mark, it's all yours. Have at it." Well, I jumped in and created enduring memories.

I recall my first ribbon cutting ceremony at Amos Towers in Scranton, Pennsylvania, and giving a speech to mark the building's opening and working with Burnis Cohen and Al Kulakoff on the application for our Mollie and Max Barnett Apartments in Fort Worth, Texas. This was the first building I supervised, from initial meetings with local volunteers and submission of the application for U.S. Department of Housing and Urban Development (HUD) funding to getting the funds, cutting a ribbon and opening the building to residents in 1986.
In 1987, I started the Resident Leadership Retreat to acknowledge members of the resident councils that were beginning to operate throughout the network. The goal was to provide them with guidance on strengthening their councils and offer them a vacation experience in an overnight camp setting. As time passed, my colleague, Janel Doughten, the associate director of B'nai B'rith's Center for Senior Services (CSS), expanded the retreat from four to seven days, providing significantly more programming. 

More recently, in the 1990s and early 2000s, we received grants to build two Tucson, Arizona projects, B'nai B'rith Covenant House and the Gerd & Inge Strauss B'nai B'rith Manor on Pantano. I was happy to be there when we put shovels in the ground. I was the guy with a beard in a gray suit.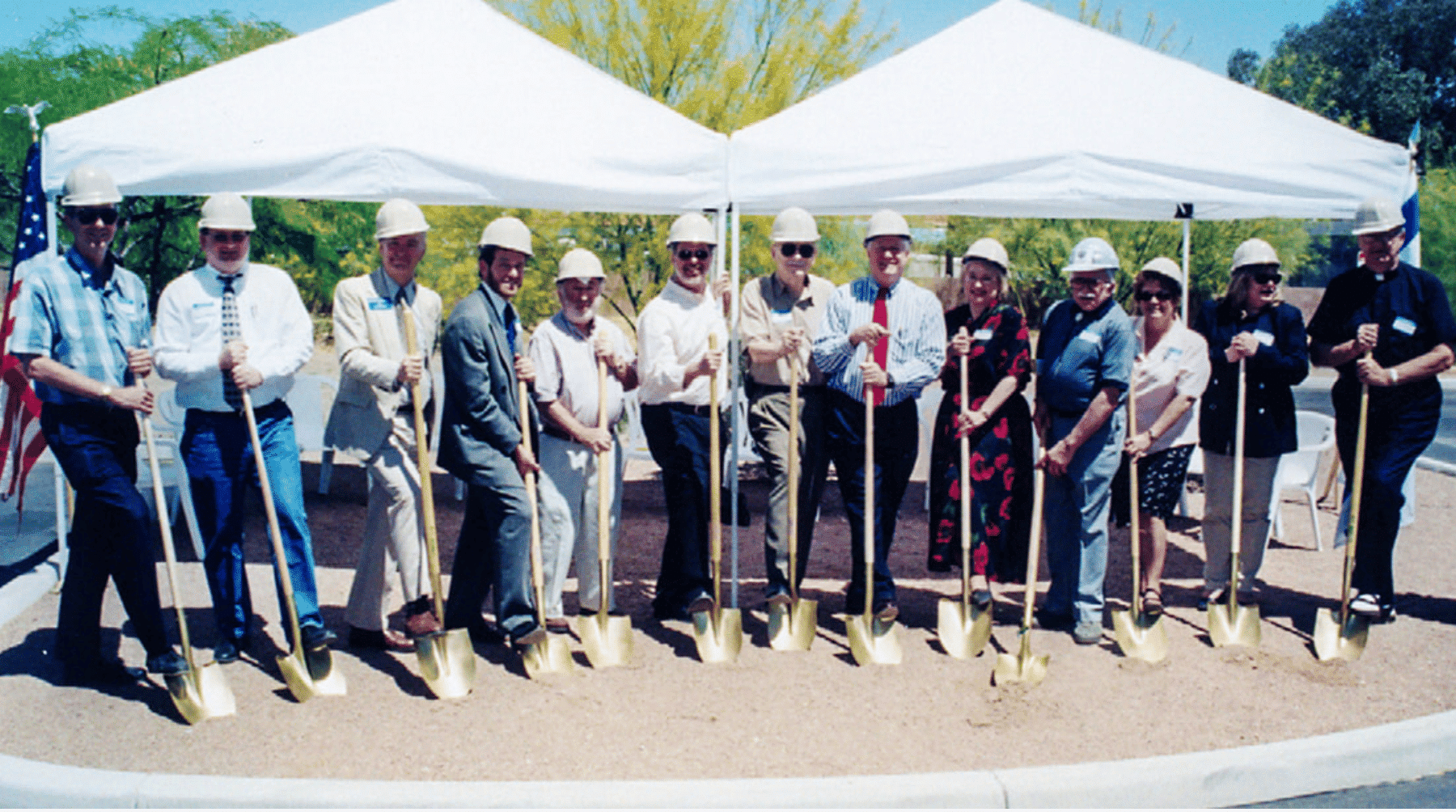 While working closely with the B'nai B'rith Senior Housing Committee, I spent many hours in housing industry working groups to strengthen and grow the senior housing programs. We worked on Capitol Hill with like-minded organizations advocating for, and eventually implementing, the program for resident service coordinators. These are property staff members who connect residents with an array of available community services, thus allowing seniors to "age in place," precluding a premature move to a more institutional setting.  

But given everything we accomplished, what makes our network truly special is the genuine partnership between B'nai B'rith CSS staff and local leadership. 

Looking back, and ahead

The past 50 years would not have been possible without volunteers in the community. I look back to Abe Cramer, the first chairman of the Senior Housing Committee, and our visit with Phil Abrams, who was undersecretary at HUD. Over time, we continued strengthening our relationships at HUD, meeting with numerous housing secretaries like Samuel Pierce, Jack Kemp, Henry Cisneros and Andrew Cuomo.

Equal in importance to honoring the past is charting a path forward for the next 50 years, ensuring our sponsored buildings will remain open for the next generation of residents. Working with the local board at the Adelstein Family-Project H.O.P.E. B'nai B'rith House in the Bronx, New York, we used tax credits to rehabilitate the property, providing a more modern living experience.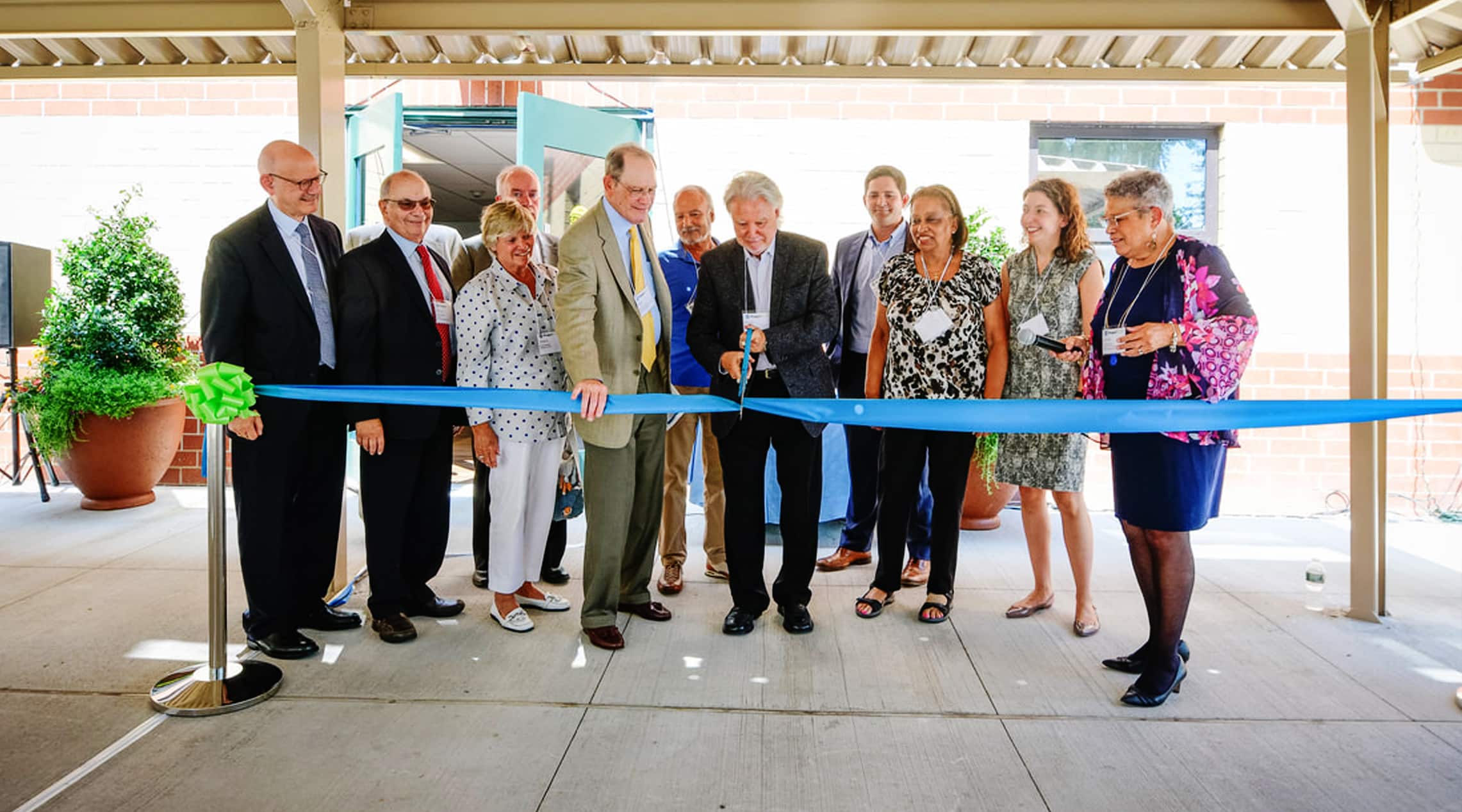 Currently, we are working with other sponsored buildings to achieve similar results, making sure the successes of the past 50 years remain permanent. In our current political climate, obtaining monies for new construction can be difficult; consequently, we focus on preserving our properties for future generations. 

But the future is focused not just on the bricks and mortar, but also on a continuing sense of community. This year, we launched the first virtual B'nai B'rith Senior Housing training. This will now be annual, conducted over Zoom, allowing for maximum participation. Given the pandemic, our training will heavily underscore emergency preparedness.     

It has been a privilege to celebrate our senior housing's golden anniversary. Watching our portfolio grow from 10 to 38 properties, alongside our expanding programs, is a source of great pride. Most importantly, the B'nai B'rith Senior Housing Network is looking to the future, and I can proudly report the future looks bright.​
B'nai B'rith would like to recognize and thank the Ruby Diamond Foundation for its recent generous contribution.
President and CEO of MedStar Health Honored with B'nai B'rith National Healthcare Award
Kenneth A. Samet, CEO and president of MedStar Health, was awarded the B'nai B'rith International 2021 Charles S. Lauer National Healthcare Award and honored in a virtual presentation on Nov. 1. Samet was named this year's recipient for his commitment to excellence in the health care community, his philanthropic leadership and his dedication to community service. 
The virtual presentation also honored heroes on the health care front lines in the fight against COVID-19. ​
"I accept this recognition from B'nai B'rith on behalf of 30,000 heroic colleagues across MedStar Health who show me every day what makes health care so special, who show me every day that, despite the headlines, there are so many good people trying to make a positive impact for our communities, who are proud to serve and do so willingly, day after day, despite the challenges," Samet said.  ​
​The B'nai B'rith National Healthcare Award was established 39 years ago to highlight the outstanding work of individuals and corporations that set the standards for health and education initiatives that better the lives of people throughout their communities and around the world.
B'nai B'rith CEO Daniel S. Mariaschin addressed the audience, describing B'nai B'rith's relief efforts throughout the COVID-19 pandemic and thanking Samet for his work and that of MedStar Health. "He serves as a shining example of leadership in this crisis and beyond and we pay tribute to him—all of us at B'nai B'rith, all of our members worldwide—to him, to his staff and to those who work tirelessly every day to help keep us safe." 
Charles O. Kaufman, president of B'nai B'rith, said during the presentation that a quote from the Talmud captured Samet and his work: "He who saves one life is considered to have saved the entire world." 

Samet, who has worked in health care administration for more than 35 years, received his master's degree in health services administration from the University of Michigan. He has held leadership positions on the boards of the American Hospital Association (AHA), District of Columbia Hospital Association (DCHA) and Maryland Hospital Association (MHA) and served on the board of visitors for the University of Maryland School of Nursing. Samet was named the 1996 national Young Healthcare Administrator of the Year by the American College of Healthcare Executives.   

Samet currently oversees and manages MedStar Health—the largest health care provider in the Maryland and Washington, D.C. region. MedStar Health is a $6.5 billion not-for-profit health care system that is comprised of 10 hospitals and 4,200 affiliated physicians and serves more than half-a-million patients each year. 

Samet thanked B'nai B'rith for honoring him with the award and said it was especially meaningful because of his personal connection with Kaufman and his father, Bob Samet, who was a B'nai B'rith chapter president in Virginia. He also said it was meaningful because he, MedStar Health and the Samet family share the ideals and values of B'nai B'rith.
Virtual "Kakehashi Project" Enables Cultural Exchange with Japan
2021 Online Event Temporarily Replaces In-Person Cultural Exchange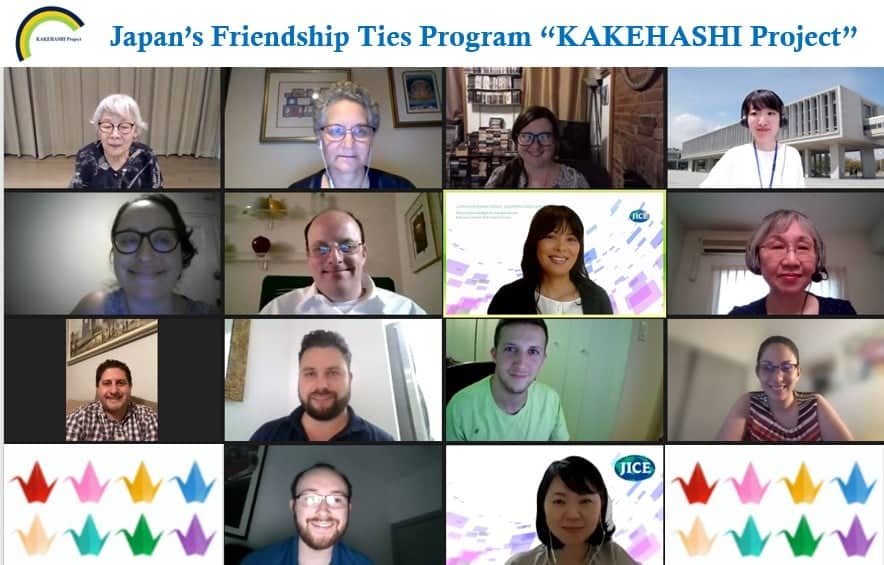 Members of B'nai B'rith Connect—previously the Young Leadership Network—and other B'nai B'rith representatives participated in a virtual version of the Kakehashi Project—Japan's Friendship Ties—a program in which B'nai B'rith has participated since 2016.

In previous years, Kakehashi Project attendees would travel to Japan for in-person programs on Japanese culture and traditions. 

Tyler Baram, (pictured in the Zoom photo, second row from bottom, second from left) who traveled to Japan as part of the 2019 Kakehashi Project, participated in the virtual meeting as an alumnus of the program. He said that the virtual version provided a feeling of "being back" for a cultural exchange that he has valued and missed. "The virtual cultural exchange was meaningful, interactive and while we were all interacting from literally across the world… I felt like I was in the same room as the guests," Baram said.​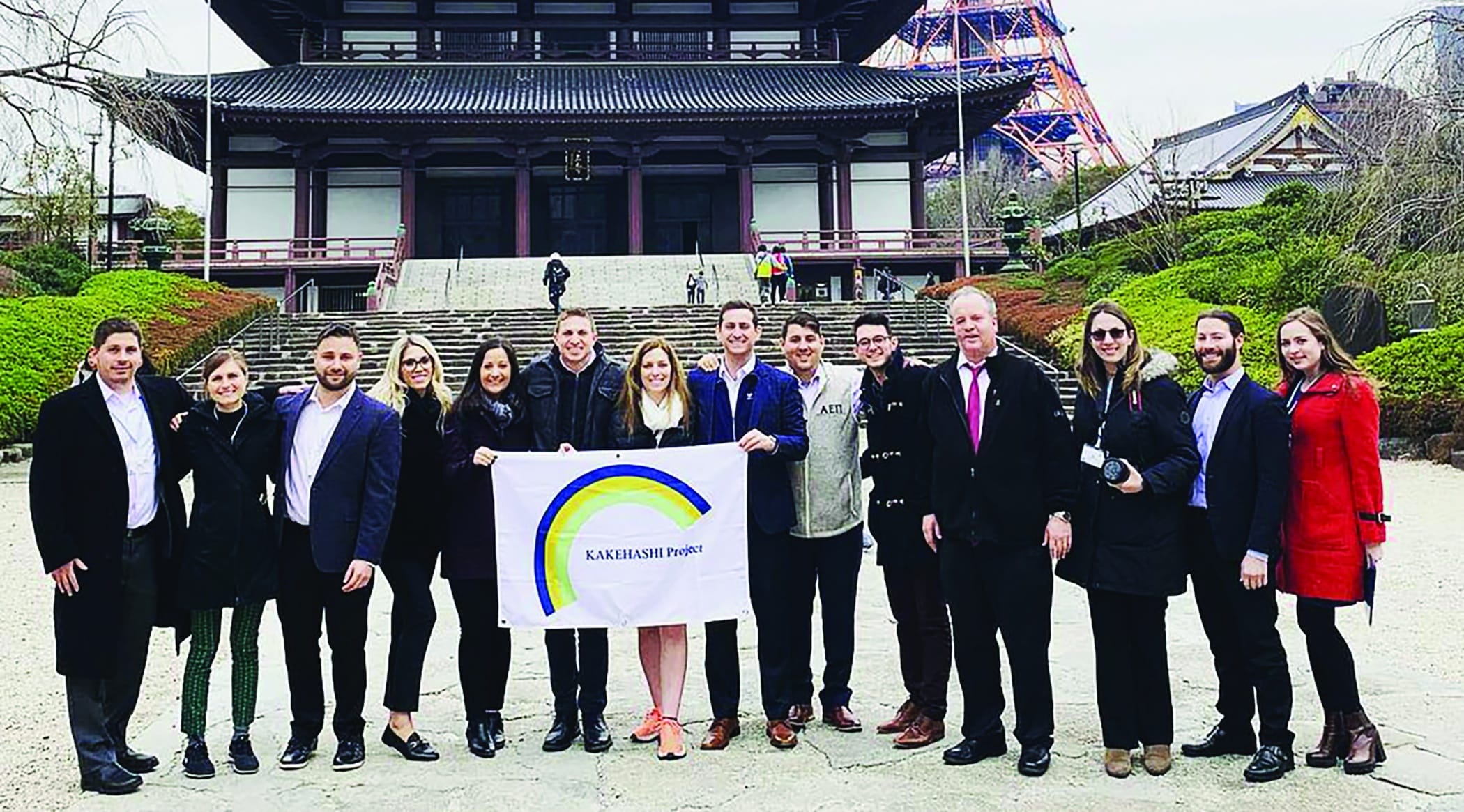 The August 2021 online program included a talk by Kondo Yasuko, a survivor of the atomic bombing of Hiroshima—known in Japanese as a hibakusha. She recalled the bombing and its long-lasting effects on the survivors. The talk was arranged by the Hiroshima Peace Memorial Museum. 

There was also a lecture and virtual visit to a Japanese home to share the Obon holiday, a traditional Buddhist festival to honor the sprits of ancestors. Participants learned about altars set up in the home, food offerings and vegetables used in the ceremony. 

Rhonda Love, B'nai B'rith vice president of programming, who traveled on the inaugural Kakehashi Project trip in 2016, offered remarks on behalf of B'nai B'rith during the virtual program. Love said that, although the program couldn't be resumed in person this year, participants were still able to feel a close connection through the virtual gathering. 
​
"So much of what was shared was so personal and very meaningful," Love said. 

The COVID-19 pandemic forced the cancellation of the Kakehashi Project trip in 2020. The same was almost true for 2021, but the Japan International Cooperation Center (JICE) and B'nai B'rith Connect were able to arrange this virtual version. The program was organized by JICE and Rebecca Rose, B'nai B'rith associate director of development and special projects. Attendees included those who were slated to participate in the 2020 Kakehashi Project and alumni of past trips. The program, created by JICE and sponsored by the Japanese Ministry of Foreign Affairs, is meant to strengthen ties between the United States and Japan and facilitate an exchange of culture. B'nai B'rith's participation presented an opportunity for a connection between American Jews and Japanese culture.

Love said B'nai B'rith wants to continue these cultural exchanges—hopefully in person again soon. Past trips included visits to Buddhist and Shinto shrines, a demonstration of the traditional Japanese tea ceremonies and a meeting with the Israeli ambassador to Japan. 
Relief Assistance: Helping Around the World
Through donations, disaster relief campaigns and community programs, here's how B'nai B'rith has provided assistance to those in need in the second half of 2021.

Raising Funds for Victims of Hurricane Ida and Haiti Earthquake

B'nai B'rith responded to two devastating natural disasters by opening its Disaster and Emergency Relief Fund this summer. A 7.2 magnitude earthquake devastated Haiti on August 14. Hurricane Ida, a Category 4 hurricane that made landfall in southeastern Louisiana, struck on August 29 and brought flooding across Alabama and Mississippi. 

The B'nai B'rith Disaster and Emergency Relief Committee, which oversees the fund, pledged to match donations made up to $15,000. Five thousand dollars from the existing fund was allocated for Hurricane Ida relief. 

"Helping others in need and Tikkun Olam—repairing the world—are integral pillars of our organizations' efforts in the past, present and further," said Rebecca Saltzman, B'nai B'rith senior vice president and chair of the Disaster and Emergency Relief Committee. "So naturally, as Ida caused significant flooding and power outages in some of the U.S. gulf states and the earthquake in Haiti left more than 1,400 dead and 6,000 injured, we were quick to respond as we always have."

B'nai B'rith will donate funds to organizations working in areas affected by both natural disasters.

"The goal is to meet unmet needs and really offer what we can in the recovery and rebuilding process," said Rhonda Love, B'nai B'rith vice president of programming. 

In addition to opening special campaigns following a particular emergency, the Disaster and Emergency Relief Fund is always open for general disaster relief support. Love emphasized the importance of this general fund, which is available for additional allocations—such as the one made for Hurricane Ida—and for matching donations.

Humanitarian Visit to Ashdod and Lod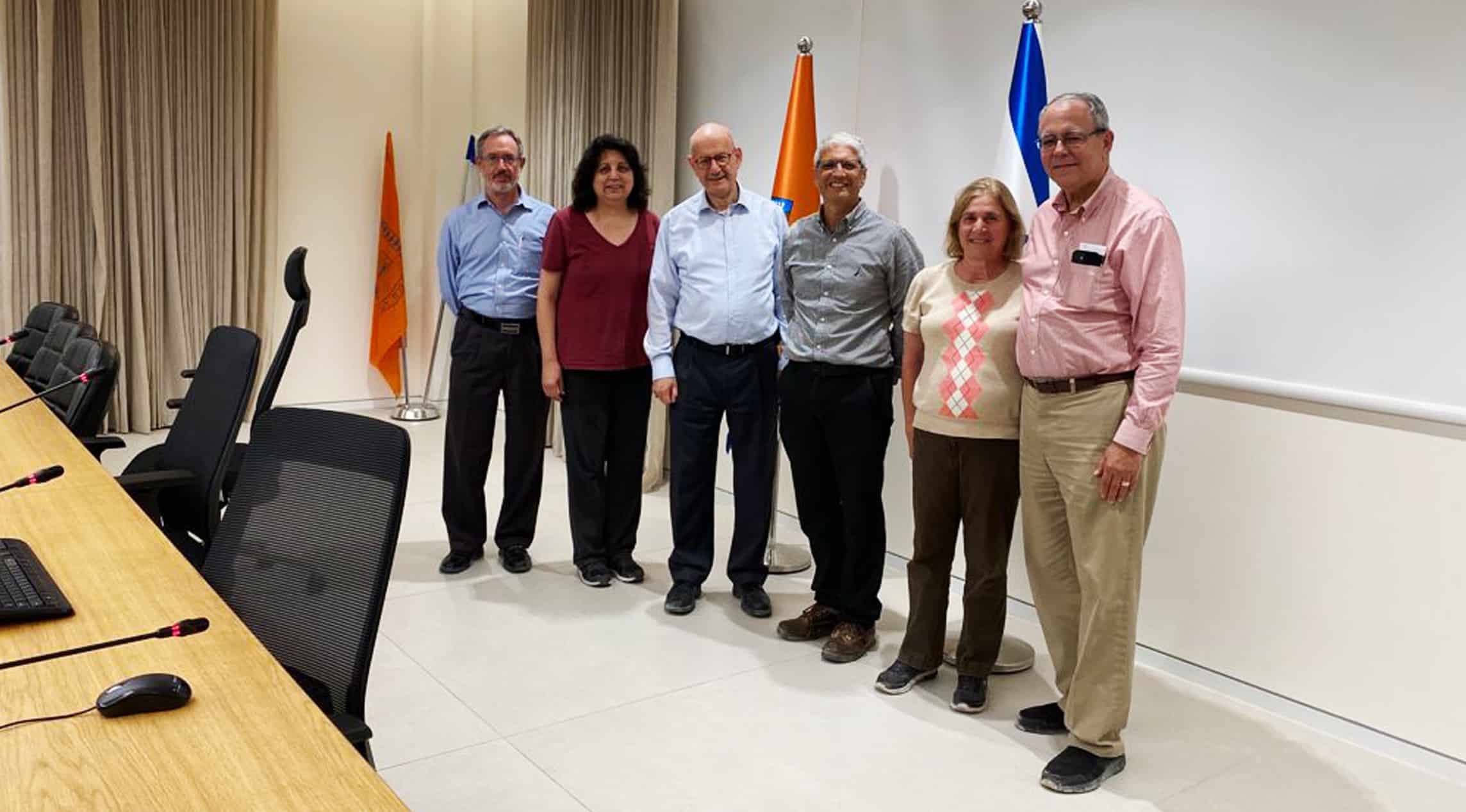 In August, B'nai B'rith President Charles O. Kaufman, CEO Daniel S. Mariaschin and World Center-Jerusalem Director Alan Schneider visited Ashdod and Lod, Israel.

In a solidarity visit to Lod, the delegation met with municipal CEO Aharon Attias and focused on the unprecedented violence directed against Jews and Jewish targets by many Arab residents of the city in a show of support for Hamas during Operation Guardian of the Walls in May.  

The delegation then visited Ashdod, where it delivered financial assistance to five families whose homes suffered major damage from incoming rocket fire during Operation Guardian of the Wall. 

Speaking to representatives of the families, Kaufman and Mariaschin stressed that the B'nai B'rith gift—facilitated in part by the B'nai B'rith Frankfurt Lodge in Germany—was a show of solidarity and unity with the residents of Ashdod.

Stuffed Animals Donated to Local Police Department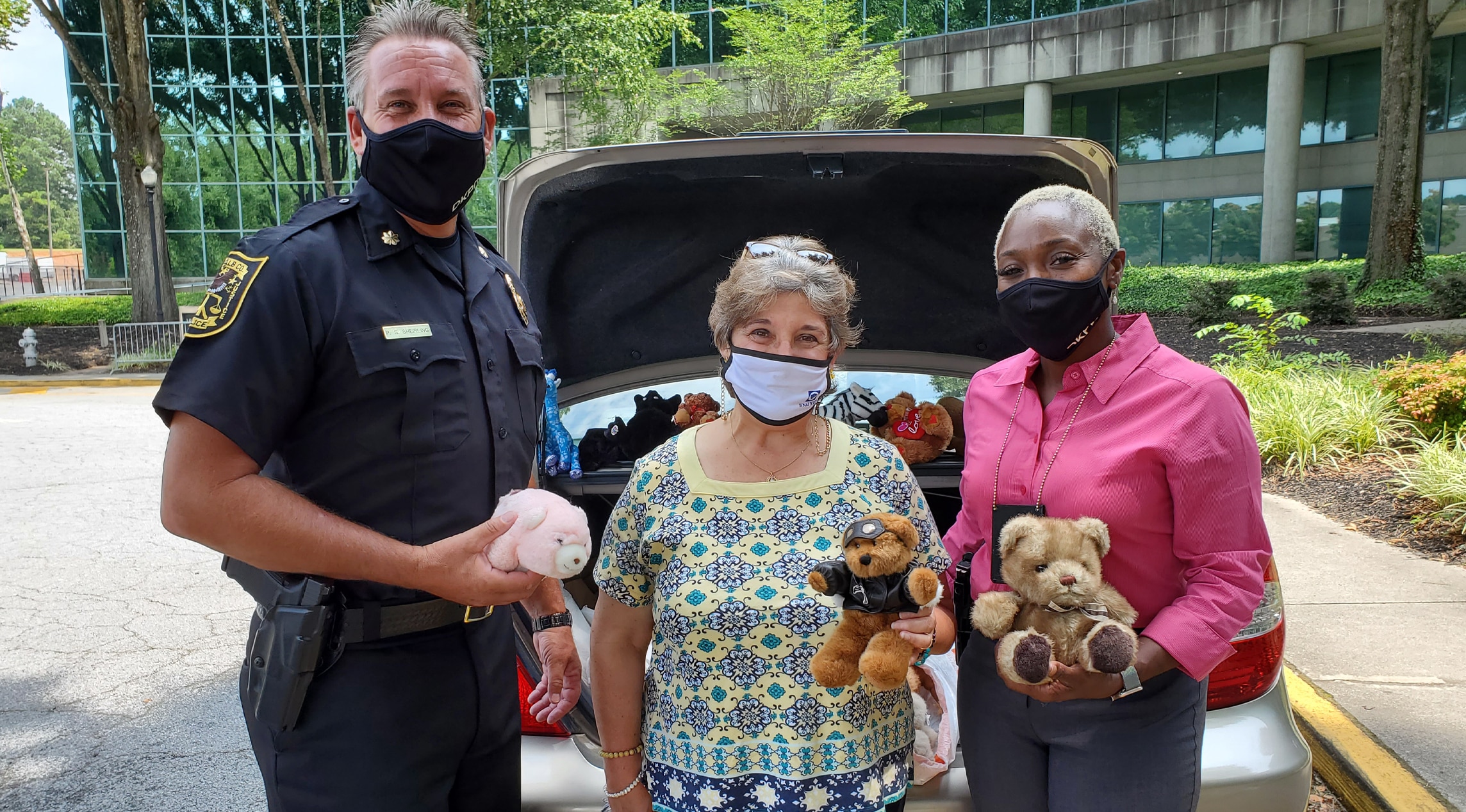 The B'nai B'rith Achim/Gate City Lodge in Atlanta donated more than 200 stuffed animals collected from the community to the DeKalb County Police Department through the B'nai B'rith Cares for Kids program. 

Police officers will carry the stuffed animals in their trunks to give to children they encounter when responding to difficult or dangerous situations. Al Fowler, public education specialist of the DeKalb County Police Department, thanked B'nai B'rith for the donation, saying the department goes through the stuffed animals quickly. 

"The word is already out to the officers that we have animals again, and trunks are getting furry friends again," Fowler said. 

Achim/Gate City Lodge President Helen Scherrer-Diamond gave the stuffed animals to the police department in a presentation made possible by the assistance of community member Jen Powell-Elgin and lodge member Cindy Sedran. The program has been a part of the lodge's community service agenda since 1997 under the chair of Lois and Jerry Kravitz. 

B'nai B'rith Cares for Kids is a community service project that has brought tens of thousands of teddy bears and other stuffed animals to children who are facing difficult health and family situations.

Refugee Assistance

Spearheaded by members and contributors Barbara and Josh Ribakove, B'nai B'rith Austin launched an endeavor that supported the work of Refugee Services of Texas (RST). The lodge's donations enabled the Austin branch office of the immigrant advocacy group to purchase  Walmart gift cards for families from Afghanistan who have been resettled in the city.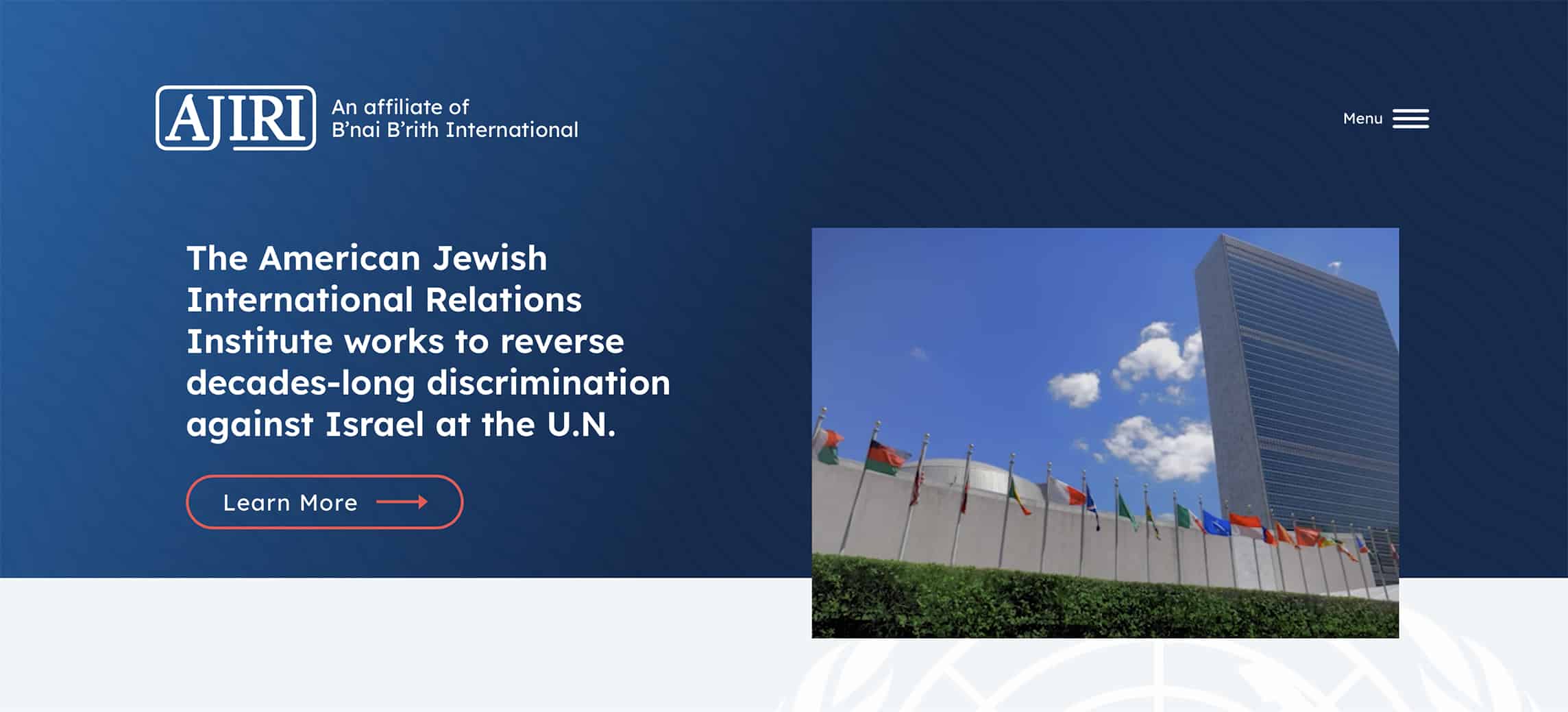 The American Jewish International Relations Institute, which became an affiliate of B'nai B'rith (under the name of AJIRI-BBI) in October 2020, works to reverse decades-long discrimination against Israel at the United Nations. In the fall of 2021, AJIRI-BBI launched a new website (www.ajiri.us), added new members to its Board of Directors and Advisory Board and streamlined its collaboration with B'nai B'rith. 
B'nai B'rith Convention Memorabilia Dates from the 19th Century
Unique, colorful and ornate, B'nai B'rith lodge ribbon badges often incorporated photos or pictures—encased in celluloid disks, as in the artifacts displayed on the right and left—and sometimes included elements whose meanings may have been understood by fellow members only. Hanging from the center ribbon is a representation of a key, which might reference membership itself, while the metal arrow to which it is conjoined may allude to friendship, or more succinctly, brotherly love.​