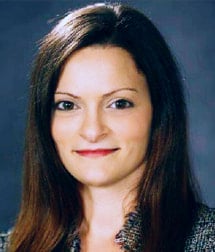 Dear Friends,
We hope this edition of B'nai B'rith IMPACT finds you and yours well. With spring on the horizon, we look forward to a time, hopefully soon, where we can once again come together in person for programs, meetings, travel opportunities and more. We were able to skillfully pivot early in the pandemic and take our efforts online, and since then there has been no shortage of programming, high-level encounters with international leaders and more, as you will read about in this edition of IMPACT.
I would like to acknowledge all our supporters around the globe who believe in our mission, and who have supported our achievements over the past year. It is only with such partnership that B'nai B'rith can stand in defense of Israel and the Jewish people, advocate tirelessly on behalf of senior citizens and ensure those impacted by disasters are cared for.
Thank you to all our members and supporters. None of this IMPACT would be possible without you.
B'nai B'rith Raises Funds to Assist Those Impacted by the Texas Winter Storm Crisis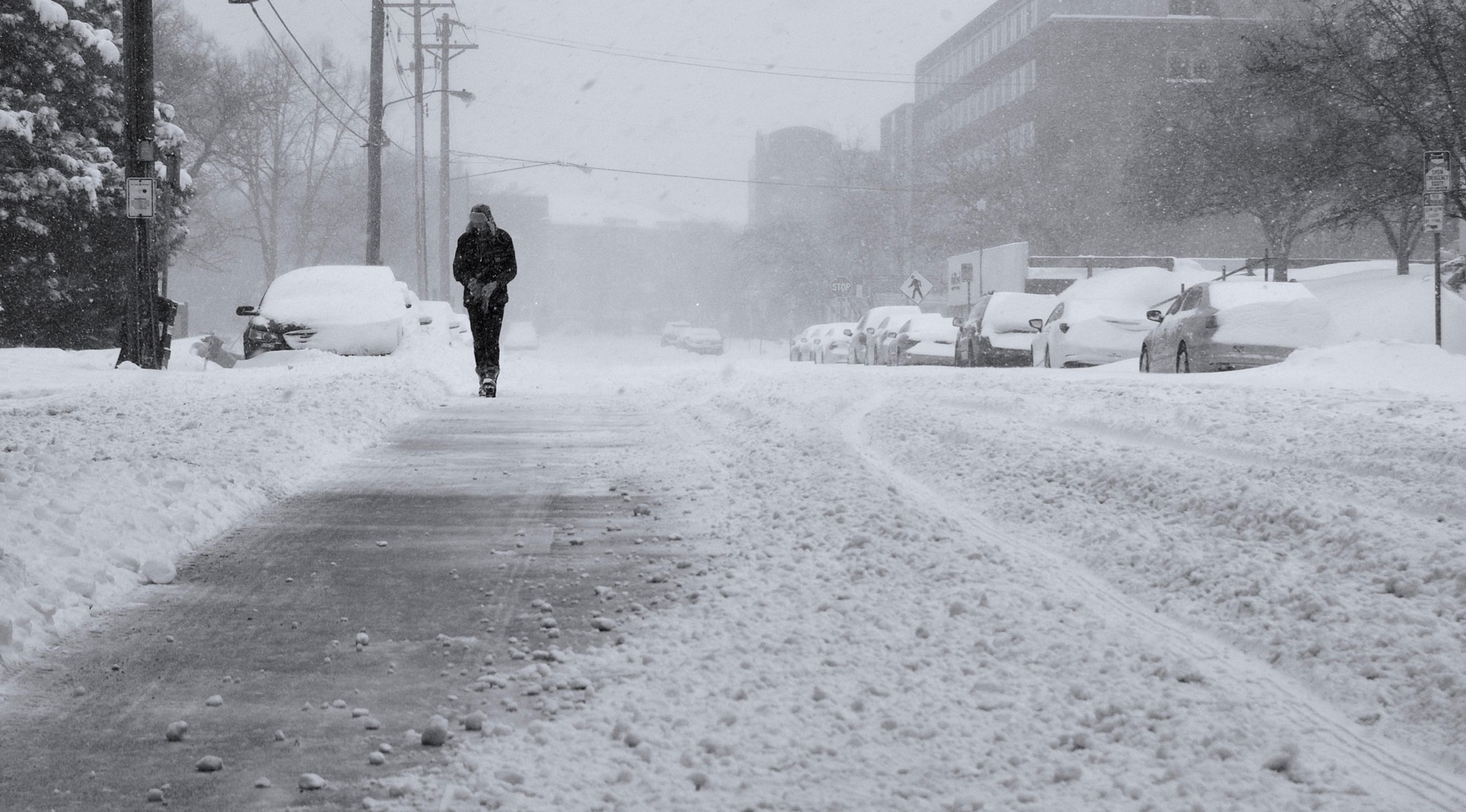 Following the devastating winter storm in Texas in February, B'nai B'rith International opened its Disaster and Emergency Relief Fund to assist those affected by the crisis. B'nai B'rith accepted donations and pledged to match contributions up to $10,000 to help the millions of victims of the storm who were left without access to electricity or gas for days in freezing conditions. Even as power was slowly restored, millions were still left without access to clean water. Already vulnerable low-income populations were severely impacted. President Joe Biden declared that a major disaster existed in 77 Texas counties.

In Fort Worth, B'nai B'rith was able to ensure assistance for residents of the Mollie & Max Barnett Apartments and Tarrant County B'nai B'rith Apartments by connecting with World Central Kitchen (WCK), a food relief organization that provided 110 meals for residents. B'nai B'rith and WCK have had a strong partnership since 2017, when B'nai B'rith assisted WCK with its relief efforts in Puerto Rico after Hurricane Maria. B'nai B'rith is working with partners on the ground in Texas to assess the needs of communities impacted by the storm crisis and determine solutions.
If you would like to donate, you can visit our Disaster and Emergency Relief Donation page here.
Donors can also call 800-573-9057 to make a credit card contribution over the phone. Or, you can send a check payable to the B'nai B'rith Disaster and Emergency Relief Fund to:
B'nai B'rith International Disaster and Emergency Relief Fund
1120 20th Street NW, Suite 300N
Washington, D.C. 20036
These Books Speak Volumes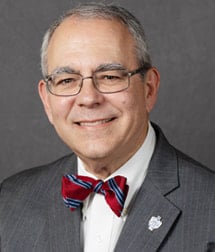 When an organization is 177 years old, history is a very big deal. At B'nai B'rith International, history is lived and sometimes made every week. Since 1843, B'nai B'rith has marked time to parallel events around the world, from epidemics and wars that warranted assistance to widows and orphans, to the creation of the State of Israel and peace treaties between the Jewish state and her adversaries.
When B'nai B'rith ventured outside the United States in the early 1880s, it returned to the country from which the founders came—Germany. Between 1885 and 1933, B'nai B'rith created more than 100 lodges in that country. By 1937, those 100-plus lodges had been ordered to close by the Nazis, and many chapters of Jewish history closed with them. (That half-century span represents only a slice of 1,700 years of Jewish life in Germany.)
When evidence of Jewish life surfaced at an October 2020 auction in the form of B'nai B'rith lodge booklets from Berlin, Frankfurt and Gorlitz, I couldn't resist the joy of acquiring these artifacts. At one time forgotten, the five items are now saved from being destroyed or lost. Printed in German, these five booklets include a written record of history, financials, a directory of names long gone and rules of governance. They are snapshots of time representing the International Order of B'nai B'rith in a span of more than two decades, from 1888, 1911 and 1918—from years from before the First Zionist Congress to the end of World War I.
Lodges in those early years were engaged in many bold programs, from the German Jewish Academy—a library and research facility—and schools and kindergartens, to health foundations, the "Hospital Train of the German B'nai B'rith" for World War I soldiers, nursing schools, employment bureaus, and cultural centers that offered free monthly lectures and concerts. B'nai B'rith's impact was immense and makes these booklets mirrors of greatness.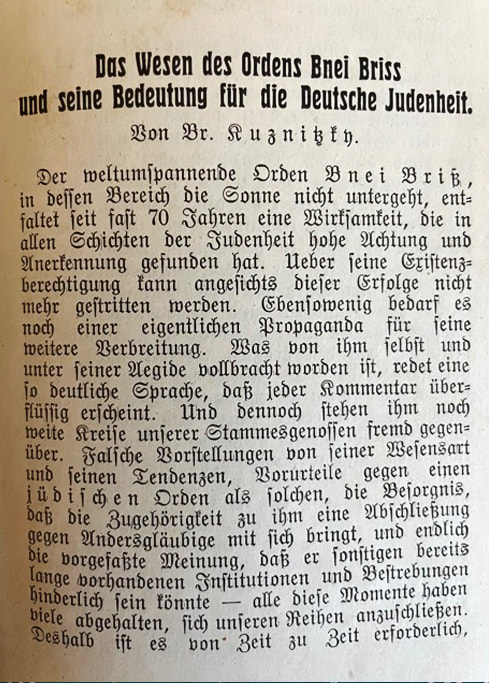 Such a discovery is exhilarating. History is inescapable, irreversible. It can't be canceled, though it is possible simply to turn the page from its insidious past. Germany lives every day to overcome its legacy of Nazi evil. Genocide doesn't begin to describe the horror of the work and death camps. One third of the world's Jews were destroyed in Eastern Europe. When evidence of life survives from the deaths of more than six million Jews, it is nothing short of precious.
Scholars of Jewish life and this evil era agree with this assessment. Experts of the Leo Baeck Institute, a rich resource on German Jewish history, were particularly enthusiastic to learn about the books. Dr. Cornelia Wilhelm of Munich, author of "The Independent Orders of B'nai B'rith and True Sisters: Pioneers of a New Jewish Identity, 1843-1914," has reviewed numerous reports, histories, constitutions and yearbooks of B'nai B'rith groups in the United States, but she called the materials from German lodges "extremely rare and (as other such items) have either been destroyed by the Nazis or were captured by the Red Army and taken to Moscow, where they resurfaced after 1990." These particular items came from Israel.
Wilhelm said a colleague was planning to write a history of the German lodges, but the project was never completed. Perhaps other privately held documents still exist. The history of B'nai B'rith in Germany is considered important for many reasons. Wilhelm said B'nai B'rith's German District was not only "essential" for Jewish life in Europe but was "the partner of the American lodges in all international and transatlantic Jewish matters. What you have found are a number of books with laws and data, and the constitution of the Berlin lodges. This is great and very rare material."
Naturally, such material prompts many questions and stimulates interest in yet other materials. The pleasure of such a find comes from connecting with individuals who are as enthusiastic about the discovery as you are. Such curiosity prompts a flourish of questions. Scholars want to know if B'nai B'rith holds other such materials from Germany: "Are there letters from the German lodges? How are materials preserved?" And so forth.
Frank Mecklenburg is the director of research and chief archivist at the Leo Baeck Institute in New York. "These items tell a lot more than their plain contents, and in total these books tell the story of how broad and powerful the lodge and its chapters used to be in Germany." For many scholars, life in Germany before and after Kristallnacht—the November 1938 pogroms—has attracted much focus in terms of understanding the Jewish community in Germany.
They one day will fill a significant void in a museum archive. Hopefully, they will be viewed publicly, at least online. They help tell our 177-year history in that Germans were fundamentally at the core of the original source that influenced fraternal and organizational life in the United States and back in Germany. Of course, Rabbi Leo Baeck was one of B'nai B'rith's legendary leaders. If these booklets could talk, perhaps they could shed light on experiences of emigration or even escape. That they surfaced to coincide with Germany celebrating 1,700 years of Jewish life there is a source of great personal and organizational pride.
If you had family members who escaped from Germany or elsewhere in Europe, perhaps you have access to or knowledge of other lodge records, letters or other accounts that tell the history of B'nai B'rith in Germany or elsewhere in Europe. Please notify me at president@bnaibrith.org.
B'nai B'rith IMPACT connects you to what B'nai B'rith is doing in your community and around the globe. Read on to see all the ways B'nai B'rith is impacting your world.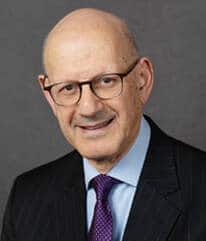 This year will mark the 32nd year since the fall of communism in Central and Eastern Europe, and the 30th since the fall of the Soviet Union.
Between the Russian Revolution in 1917 and 1991, and between the Communist takeover of Eastern Europe in 1945 and 1989, the ability to contact remaining families or to trace one's family history was difficult and onerous, at best. Phone calls were tough to make, and bureaucracies at embassies or local jurisdictions were, well, simply bureaucratic.
"Medor Ledor"—From Generation to Generation—sums up, in two words, the entire question of Jewish continuity. Discovering, and learning from our roots is not only a matter of one's personal family history. It's the story of a people, carrying on for millennia, often through great tragedies and enduring incessant discrimination and anti-Semitism, but also achieving tremendous accomplishments in spite of that along the way, our peoplehood remained intact.
Here's my "generation to generation."
My first visit to my mother's shtetl in Lithuania took place while the USSR still existed. I had planned a three-day visit, the first two would be spent in Lithuania's capital, Vilnius (Vilna); the third would be an excursion to her birthplace. On the evening of the second day, we were unceremoniously informed by Intourist, the Soviet tourism agency, that our flight had been moved to early the next morning, which wiped out my long-anticipated trip to the village, Musninkai (Musnik).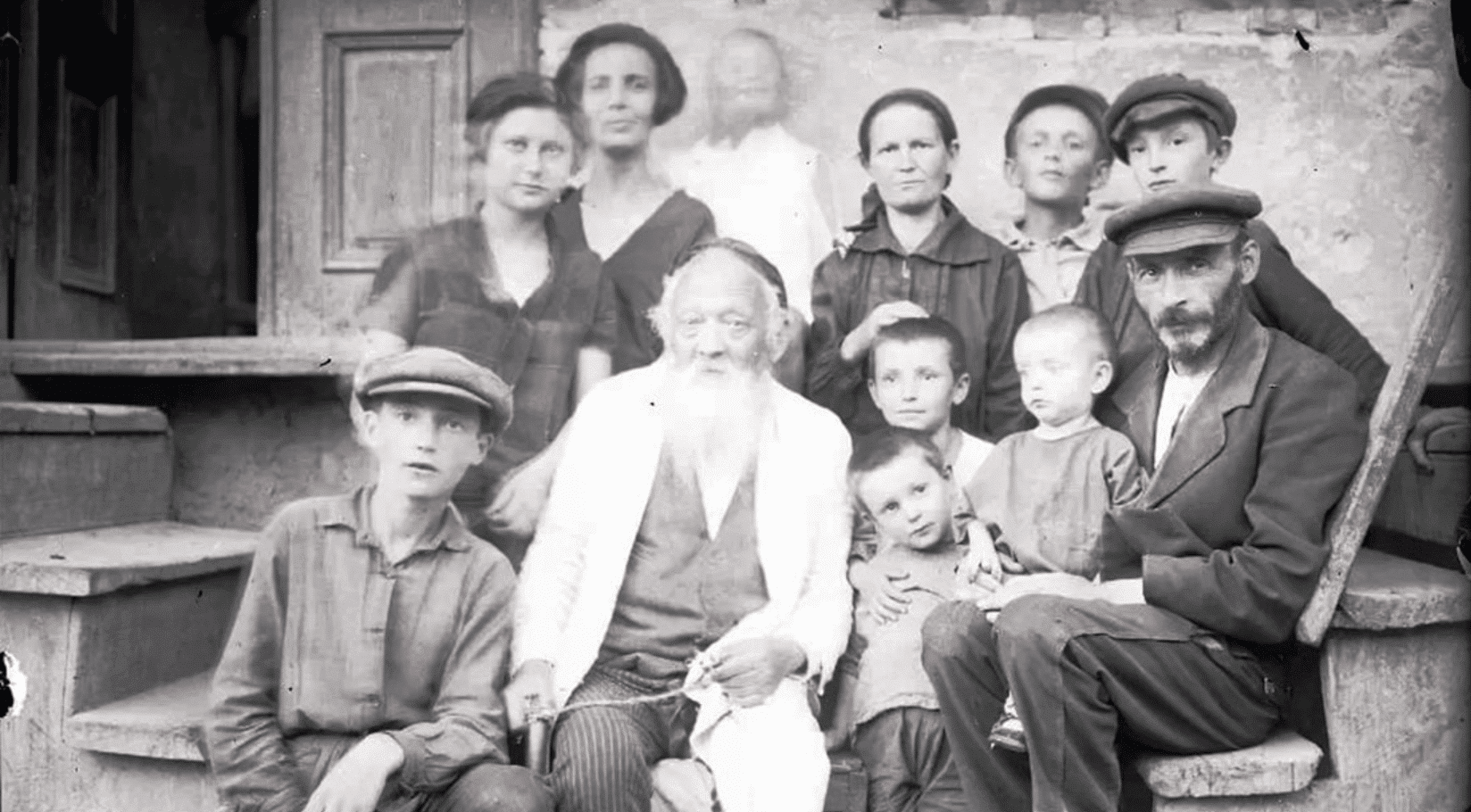 When communism fell, it became increasingly easier to navigate such roots expeditions. Indeed, in those years, a number of travel agencies offered "roots trips" to Poland, Russia, the Baltics and other countries from where most American Jewish families originated.
Two years after my first attempt, I was driven by a Jewish couple from Vilna to my mother's shtetl, about 45 minutes from the capital. I was able to speak to some local residents and learn a bit about the Jewish community of 50 families that once existed there. (Another 50 families were non-Jewish Lithuanian.)
There was one discordant note on that visit: a woman who worked for the town arrived as we were speaking with some townspeople and wanted to know if we had come back "to claim property." Still, the visit provided a wealth of information that we might not have found in any other way.
We were shown what was formerly the synagogue, the Jewish bakery and the place where the Jewish blacksmith lived in the community, which existed until local police and the Nazi units force marched or trucked the residents (including my great aunt and great uncle) to Pivonija Forest outside Ukmerge (Wilkomir), where they were shot along with more than 12,000 other Jews, most likely in August 1941. I subsequently made another visit, which included a stop in my grandfather's shtetl, Boguslaviskis, which was not far from Musnik.
My assumption had always been that records of Jewish communities in many small towns were simply nonexistent, destroyed during the Holocaust or thrown out under Communist rule. I was pleasantly surprised that the couple who arranged my visit was also able to find important family records in the state archives, including information about my grandparents' marriage, and the birth of two of my mother's siblings.
My father hailed from a similarly small town, Zakharino, in what was Belarus during Czarist rule in Russia but would today be situated in the Russian Federation. My father had always told me that the shtetl, including about 50 Jewish families as well as a small group of Russians, was located in "Mogilev Gubernia," a territorial unit or province, and that was an important clue. Through the assistance of two Russian Jewish scholars, one an eminent ethnographer, I was able to establish exactly where the village stood.
In the early 1990s through a contact at the Jewish University of St. Petersburg, a staffer was sent to find my father's birthplace. The jarring news was that it no longer existed, the original dwellings having collapsed sometime in the 1960s. Photos taken on that visit showed cows grazing amidst the few headstones which remained in the small Jewish cemetery.
The good news was that this ethnographic expedition had turned up a survivor of the shtetl, who lived nearby. In an interview, he recounted the Nazi round-up of the Jews in the village, most likely in 1941, who were marched to the edge of town and shot by mobile killing squads. The survivor described the town as he remembered it, and a map was drawn based on his recollections. Even though my father had been brought to America in 1914, some 27 years before the mass executions, the map and its buildings, with a nearby river and forest, was an exact representation of what my father had described to me on many occasions.
I consider myself to be among the very fortunate folks in our community who know from where my family originated. Being interested as a young boy in hearing my father's own boyhood stories, and about my mother's connection to the storied Jews of Lithuania, at least gave me place names from which to work.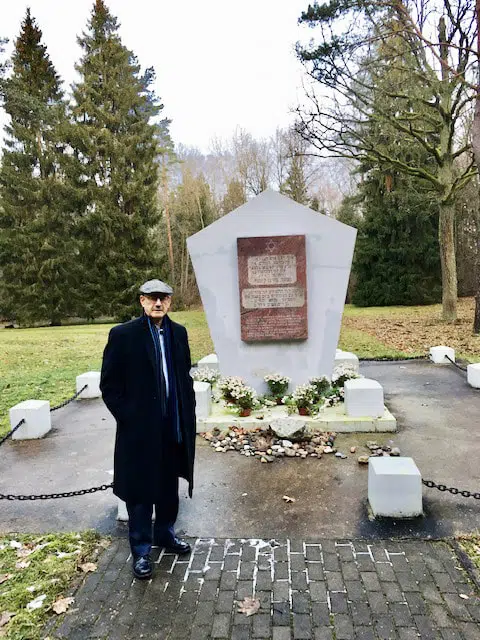 Many descendants of those who arrived at Ellis Island don't have even that to work with, knowing perhaps that their families were from Poland or Latvia, but not having much more to go on. After arriving in the United States, immigrants had their names changed and, in the pre-internet and digitalization era, roadblocks to ferreting out important information popped up frequently.
Fortunately, this has changed, and every day it has become easier to trace one's roots. Genealogical websites like JewishGen.org and Ancestry.com abound. Detailed histories of the Holocaust, shtetl by shtetl, are now available online. From the Ellis Island database, I was able to find the ship manifest of the S.S. Pennsylvania, which carried my grandmother, my mother and my Uncle Jack to America in 1903. The ship arrived in New York Harbor from Hamburg (what a journey they must have had from the shtetl to one of Europe's busiest ports in those days!). From the manifest we learned that my grandmother was carrying $3 in her pocket and would be met by my grandfather.
Ease of travel (pre-pandemic) has made it much easier to visit places in Europe that three decades ago would have been daunting endeavors. While one might not find the exact house in which one's forbears lived, in the smaller villages one can certainly get a sense of what life may have looked like 80 years ago.
There is still more work to be done to bring closure to the European chapters of our history. I have yet to visit Zakharino, to go to the river where my father and his friends would go swimming, or to see where, exactly, the two small shtibelach (synagogues) stood and to see the location where its Jews were shot.
There are some elements of these stories we'll most likely never know. My father told me about his last day in Russia (he and his best friend pledged "to meet again one day, in Palestine") before the family made its way to America aboard the S.S. Noordam, which he told me, sailed out of Rotterdam and stopped in Liverpool to refuel. This was the first time, he said, that he saw an orange. But we'll most likely not be able to learn—I just never thought of asking in those days—about why his father, a tailor, decided to leave for the United States. We remain grateful he did.
I share my family story because it is the story of so many: ancestors leaving the only home they knew to build a new life in a far-off land, free, they hoped, of poverty and anti-Semitism, and filled with opportunity. My ancestors, and likely yours, came to America as the very immigrants B'nai B'rith was founded to help, and I, the grandson of those escaping persecution, came to lead B'nai B'rith International, an organization committed to preserving Jewish continuity around the globe, committed to standing in defense of Israel and the Jewish people, the land my father promised to meet his best friend in one day.
It is remarkable how, from generation to generation, things change but the common thread, just like B'nai B'rith, remains.
If you haven't already, visit the genealogy websites to start your own journey of discovery. Though the search may at times be frustrating, you'll find that looking at the past and filling in the blanks can be a personally rewarding endeavor, strengthening our Jewish present and our future at the same time.
Atlanta's Achim/Gate City Lodge Offers Gift of Talent during the 2020 Holiday Season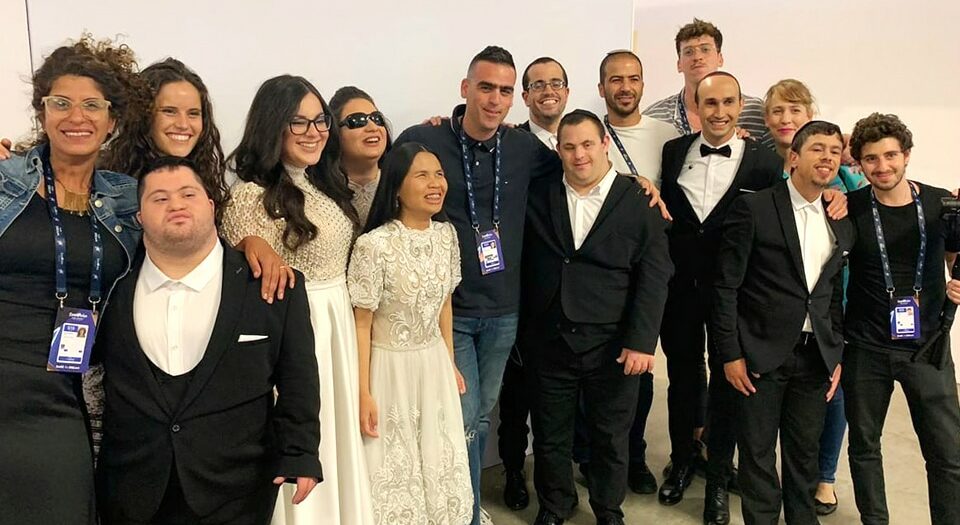 Since 1980, hundreds of volunteers involved in B'nai B'rith Achim/Gate City Lodge's Pinch Hitter Program have filled in for Atlanta's Christian non-medical personnel in medical facilities, fire houses and police stations during Christmas, making it possible for these workers to take time off with their loved ones during the holiday.
Although pandemic restrictions halted this community service activity in December 2020, B'nai B'rith still brought the Christmas spirit to Atlanta's valued employees, and this year extended the celebration to others—hospital and long-term care patients, residents of assisted living facilities and apartment dwellers at B'nai B'rith's low-income independent living senior housing locations—via its festive video offering, the B'nai B'rith Pinch Hitters Talent Extravaganza.
Helen Scherrer-Diamond, president of the Achim/Gate City Lodge, whose Pinch Hitters Program was selected by President George H. W. Bush as a 1990 Point of Light Award recipient, recognized the dedication and sacrifices made by those who are served by the project: "Christmas…is a day of worship, goodwill and celebrations. The business of caring for the sick and injured and responding to victims of unfortunate situations is a daily task with no regard for a holiday schedule."
Those who watched the video in Atlanta; at the Veterans' Administration Hospital in North Haven, Connecticut and at B'nai B'rith's senior housing properties nationwide were introduced to the two-hour variety show (available for viewing below) by B'nai B'rith CEO Daniel S. Mariaschin. His acknowledgements were followed by the entertainment, as amateur and professional performers played guitar, piano and brass, crooned holiday favorites, danced to their own choreography, acted in comedy skits and even demonstrated intricate military drill maneuvers.
The Gift of Talent included a wide array of musical repertory presented by noted artists including the choir from the U.S. Naval Academy Glee Club, members of Israel's famed Shalva Band and the Atlanta-based duo, The Baal Shem Tones. Lauren Alexander's sweet, clear soprano was most effective in her number from the musical "Wicked," while singer-pianist Richard Siegel delivered the classic "Somewhere Over the Rainbow" with great sensitivity. Composer and musician Dan Harrison performed his own song "Can't Take You Anywhere" with vivacity. As an undergraduate, Harrison was a member of AEPi, the national Jewish fraternity that partners with B'nai B'rith for disaster relief and other projects.
The Gift of Talent seemed to have fit the bill for patients and staff alike. As Dr. Anthony Cooper, chief of the voluntary service department for the Atlanta Veteran Administration Health Care System in Decatur, Georgia observed: "Our nurses wanted to do something different for our patients, and it was even more important this year since they could not have visitors. They were excited to have some entertainment for them on Christmas Day."
Alison D. Maddox, The Cohen Home's life enrichment & activities director in Johns Creek, Georgia, expressed her appreciation: "I panicked when I thought Pinch Hitters would not be a part of our program as they had been in the past. The Gift of Talent performances were amazing and kept the residents entertained. I had a big sigh of relief finding out they would still be a part of the community without being there. I could not thank everyone enough for the time and efforts put into making everyone happy."
B'nai B'rith Hosts Numerous Programs for International Holocaust Remembrance Day
B'nai B'rith around the globe hosted a week-long series of virtual programs in conjunction with the observance of this year's International Holocaust Remembrance Day, the anniversary of the liberation of Auschwitz concentration camp on Jan. 27, 1945. B'nai B'rith was key in establishing the annual ceremony at the United Nations, first held in 2006.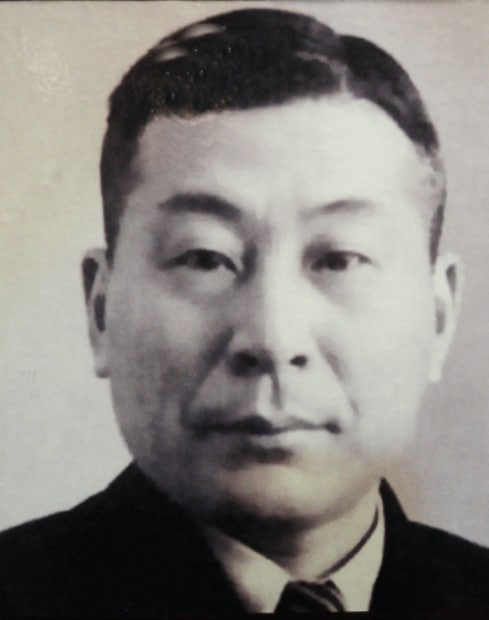 On Jan. 25, B'nai B'rith and the Combat Anti-Semitism Movement (CAM) hosted an online tribute: "The Japanese Schindler: A Lesson in Bravery for the Struggle Against Anti-Semitism." It honored Chiune Sugihara, the Japanese consul in Lithuania in 1940, who defied his government's orders and issued thousands of exit visas enabling Jews to escape the Nazis. His courage was recognized by the event's moderator, B'nai B'rith Connect Chair Laura Hemlock, and CEO Daniel S. Mariaschin, who noted that "he dared to do what was right to save lives. He stood up when the world was largely silent."
"What we learned today is that it is possible to stand up," CAM Director Sacha Roytman-Dratwa remarked. "The heroes of the past must teach us how to be better people."
Participants included honorary president of the American Association of Jewish Lawyers and Jurists, Nathan Lewin, who was saved by Sugihara, and Ambassador Kanji Yamanouchi, consul general of New York, who observed in his keynote speech: "By the grace of Sugihara's pen, thousands of lives were saved. We must remember the Holocaust to honor those who perished and to achieve a better society."
Panelists sharing their views on Sugihara's legacy included: president and general counsel of the Louis D. Brandeis Center for Human Rights Under Law, Alyza Lewin; Hudson Institute immediate past president and CEO, Kenneth R. Weinstein, a former U.S. Ambassador-designate to Japan; and University of Jerusalem Japanese History professor emeritus, Ben-Ami Shilony.
Japanese American artist JURRI presented a mural depicting Sugihara.
B'nai B'rith's Jan. 27 U.N. commemoration event, "Lessons of the Holocaust – A U.N. Perspective on Global Anti-Semitism," featured High Representative for the U.N. Alliance of Civilizations Miguel Ángel Moratinos, who was named in February 2020 as the first official assigned to monitor and respond to anti-Semitism at all branches of the world body.
In his remarks, Moratinos noted the U.N.'s passage of resolutions condemning Holocaust denial and racism and stressed the importance of education in fighting anti-Semitism, whose resurgence is "a stark reminder that the hate manifested during the Holocaust is still present in our communities today."
B'nai B'rith Chair for U.N. Affairs Millie Magid opened the program, which was moderated by Mariaschin. A question-and-answer panel was led by Director of U.N. and Intercommunal Affairs David Michaels.
View the ceremony below.
B'nai B'rith hosted other events in Latin America, Europe and Israel.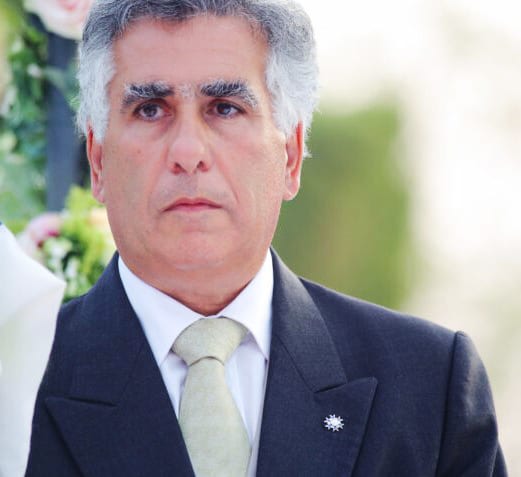 B'nai B'rith Uruguay President Franklin Rosenfeld and other Jewish leaders met with Minister of Culture Pablo Da Silveira, whose speech decrying anti-Semitism was broadcast nationwide on radio and television on Jan. 27. At Chile's Foreign Ministry, an event organized by B'nai B'rith and the Chile Jewish community featured Minister Andres Allamand as the keynote speaker. Undersecretary of Foreign Affairs Carolina Valdivia was also in attendance.
B'nai B'rith Europe's online Holocaust Remembrance Day ceremony with speakers including B'nai B'rith Europe President Serge Dahan and Rabbi Bent Melchior, B'nai B'rith Europe honorary president, also included a screening of "The Starfish," a documentary by Tyler Gilden about the emigration of his father's family from Nazi Germany to the United States.
The B'nai B'rith World Center-Jerusalem also hosted a Holocaust Remembrance Day commemoration that included Director Alan Schneider presenting Jewish Rescuers Citation awards to men and women who acted to save fellow Jews during the Shoah.
The video of the ceremony can be seen below.
On Feb. 1, dignitaries from the European Commission, the United Nations Educational, Scientific and Cultural Organization (UNESCO), the Council of Europe, the OSCE Office for Democratic Institutions and Human Rights (ODIHR) and the International Holocaust Remembrance Alliance (IHRA) joined forces with B'nai B'rith's Office of European Affairs for "International Holocaust Remembrance Day: Renewed Commitment Through Innovation and Collaboration," organized and moderated by Director of European Affairs Alina Bricman.
Mariaschin set the stage by describing B'nai B'rith's attempts to intercede in Washington to help persecuted Jews during the 1930s: "The inaction of the international community before the war and its indispensable allied action after the war are the two sides of the same coin—a coin that shows us the importance of common purpose and common cause."
He thanked the officials whose videotaped messages expressed their agencies' commitment to never forget the tragedy of the Shoah and to preserve and protect Jewish life today. UNESCO Director-General Audrey Azoulay declared that her office and the U.N. "…will build on the ashes of the Holocaust to prevent this tragedy from ever being repeated."
Government and nonprofit cultural and human rights leaders including Katharina von Schnurbein, European Commission coordinator on combatting anti-Semitism, spoke about the evolving national, collaborative, legislative and educational policies and partnerships for raising Holocaust awareness, as well as initiatives for counteracting anti-Semitic threats, including hate speech, violent threats and Holocaust denial and distortion on social media, which is increasingly prevalent since the pandemic began.
As von Schnurbein remarked: "We want to support Jewish communities in all their diversity and allow a normalcy of Jewish life, without them having to think about security issues."
A discussion about the challenges confronting Holocaust and genocide historians and educators featured academics and directors of philanthropies who talked about new resources for research, and innovative approaches to teaching younger people who are largely unfamiliar with the events of World War II.
Click on the image below to watch the event.
Looking ahead, B'nai B'rith will sponsor "Unto Every Person There Is a Name," one of the worldwide Yom HaShoah activities, on April 8.
B'nai B'rith Helps U.S. Communities Keep Safe with Donations of COVID-19 Relief Kits
B'nai B'rith is providing 3,000 COVID-19 relief kits to vulnerable communities around the country to help them keep safe during the pandemic.
Senior-care facilities, affordable housing locations, community programs, schools, veteran services and health care organizations were just some of many organizations to receive kits.
"Every community in America is facing the challenge of responding to the needs of vulnerable populations. We want to be part of the solution and help make sure everyone stays safe," said Rebecca Saltzman, senior vice president and chair of the B'nai B'rith Disaster and Emergency Relief Committee.
In December, as transmission levels soared in the United States, the first donations of the kits containing a cloth face mask and travel-sized hand sanitizer—both imprinted with the B'nai B'rith logo—were made in Pennsylvania, Colorado and Texas.
In the Philadelphia area, 150 residents of low-income Jewish Federation housing—the Arthur and Estelle Sidewater House in Philadelphia and Florence E. Green House in Trevose—received kits. B'nai B'rith Center for Community Action Coordinator Samuel Domsky made the presentation to Rabbi Sandy Berliner, chaplain and service coordinator for the housing locations.
"The kits were a nice Chanukah present from B'nai B'rith to the residents and staff here," Domsky said.
In Fort Worth, Texas, donations were made to three community organizations.
The Tarrant County Molly and Max Barnett B'nai B'rith Apartments—one of many B'nai B'rith-sponsored apartment buildings for low-income seniors—received a donation. Kits were distributed to all 95 residents.
Jewish Family Services of Tarrant County, which provides transportation, activities and meals for seniors in the area, also received 25 kits.
Strengthening After-School Programs through Advocacy, Resources and Collaboration (SPARC), a program that advocates for the funding and development of after-school programs for all school districts in Tarrant County, held an event to distribute the kits to those most in need. More than 100 kits were provided for the event.
The Fort Worth-area donations were spearheaded by Alex Nason, president of the Isadore Garsek Lodge of B'nai B'rith in Fort Worth.
"Seeing the appreciation from the kit recipients who are familiar with B'nai B'rith International was very nice," Nason said. "And hearing how surprised and appreciative people who didn't know about B'nai B'rith International and its disaster relief doings was priceless. It made me very proud to be a part of B'nai B'rith."
In Colorado Saltzman also served as B'nai B'rith's community coordinator and allocated COVID-19 relief kits to two Denver organizations.
One donation was made to Morgridge Academy, a school on the campus of National Jewish Health for students, kindergarten through eighth grade, who have been diagnosed with a chronic illness. Another was made to Kavod Senior Life, which provides housing and services to seniors while reflecting the values of Jewish tradition.
Donations continued into the new year, helping Jewish, senior and low-income communities in Tennessee, Georgia, New York, California and Washington, D.C., as well as in Houston.
In Memphis, Tennessee, more than 100 people in the Memphis Jewish community received kits. Four members of the B'nai B'rith Sam Schloss Lodge #35 delivered kits to the Memphis Jewish Community Center (MJCC) and Plough Towers.
Participants in programs at MJCC, as well as seniors who are part of MJCC's Wendy and Avron B. Fogelman Jewish Family Service's (FJFS) home-delivered kosher meals program and who ride FJFS's Shalom Shuttle, were given kits.
Plough Towers, an affordable senior housing facility in east Memphis, also received more than 100 kits for its residents.
In the Atlanta area, donations were made by Helen Scherrer-Diamond, president of the B'nai B'rith Achim/Gate City (Atlanta) Lodge, which is often active in community service. As a B'nai B'rith community coordinator for the relief kits project, Scherrer-Diamond presented kits to Orchard Senior Living; Veterans Empowerment Organization; The Crossings at Webb Bridge Road, a senior living community; and Visiting Nurse Health Center.
Scherrer-Diamond said the kits were well-received and appreciated, and that it was a privilege to deliver them on behalf of B'nai B'rith.
Over Martin Luther King Jr. Day weekend, Freeport Memorial Library in Freeport, New York, received a donation of kits to distribute to those in need in the community.
Tyler Baram, a Long Island native and member of B'nai B'rith Connect-N.Y., made the donation as a community coordinator. Those in need of the kits could go to the library to pick them up.
"I truly appreciate the opportunities I am given by B'nai B'rith to support my community and the world at large, especially in times of crisis like today's COVID-19 pandemic," Baram said. "Helping my local community on Long Island by providing safety kits to the Freeport Memorial Library, and on the weekend leading up to Martin Luther King Jr. Day—it truly captures the essence of B'nai B'rith's values and the purpose of this federal holiday; service to the community and continuing the work of Martin Luther King in bringing people together."
Community coordinator and co-chair of B'nai B'rith Connect-D.C. Trey Meehan oversaw the donations in the nation's capital. The kits were donated to So Others Might Eat (SOME), a community-based, interfaith nonprofit that provides services to those experiencing homelessness and extreme poverty.
In California, donations to two major organizations were coordinated by leadership of the B'nai B'rith Bagel Brigade—a project of the Greater San Fernando Valley Lodge of B'nai B'rith that addresses food insecurity in the area.
The Family Rescue Center in Canoga Park, which is a nonprofit that serves hungry and low-income families and people in the community experiencing homelessness, received kits.
SOVA Valley Food Bank of Jewish Family Service in Van Nuys also received kits. SOVA provides groceries for families, delivers meals to seniors and homebound people and connects with other service organizations in the community.
Residents of the Goldberg B'nai B'rith Towers in Houston, Texas received kits as part of their Valentine's Day gifts. Goldberg Towers is part of B'nai B'rith's 38 subsidized, nonsectarian housing locations for low-income seniors in the United States.
Seth Riklin, chair of the Executive Board of B'nai B'rith, served as Houston community coordinator. Riklin is also a former president of the Goldberg B'nai B'rith Towers.
Through the project, 13 regions will receive B'nai B'rith COVID-19 relief kits to help protect their vulnerable populations.
"The B'nai B'rith Disaster and Emergency Relief Fund helped make this response to the coronavirus possible. We could not have done this project without the support from donors and the volunteers who served as community coordinators to facilitate the distribution," said Rhonda Love, vice president of programming for B'nai B'rith International. "We are grateful to our partners in the community at the agencies and organizations who accepted our COVID kits on behalf of their residents and clients."
After the COVID crisis hit the U.S., B'nai B'rith quickly launched a fund to assist in relief efforts and focused specifically on projects assisting communities. Since the beginning of quarantine, the Disaster and Emergency Relief Fund has supported projects around the world. As communities deal with the effects of the pandemic, B'nai B'rith will continue to support those in need.
Students Fight Global Anti-Semitism through a Unique Video Production Contest
Students from around the world submitted videos to a contest aimed at educating about anti-Semitism and the prejudice, bigotry, hatred and violence it engenders.
"Students Speak Out Against Anti-Semitism. A Creative Video Production Contest" was launched in June 2020 as a joint effort between B'nai B'rith International and the Combat Anti-Semitism Movement (CAM), with the goal of creating a unique public awareness campaign to educate about anti-Semitism and anti-Zionism, promote the adoption of the official International Holocaust Remembrance Alliance (IHRA) definition of anti-Semitism and communicate messages of equality. Three winners were announced, and their films were premiered, in February 2021, through a virtual awards ceremony on Zoom.
High school and undergraduate university students were challenged to submit two-to-three-minute videos in one of two categories: 1) Educate the general public on the IHRA definition of anti-Semitism and the value of a universal definition. 2) Educate about anti-Semitism and show the impact it has on Jews of all racial backgrounds and inspire tolerance through their video.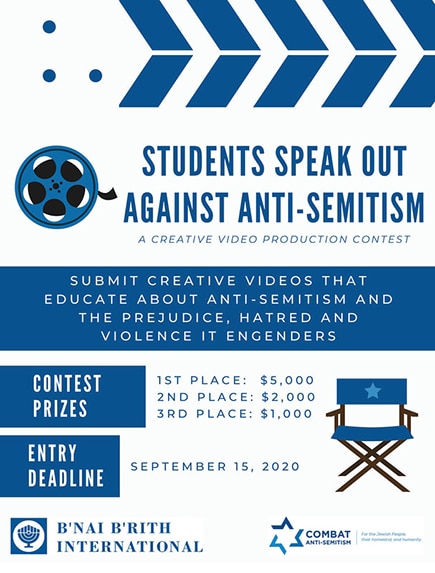 As the world has seen a surge of anti-Semitic incidents, especially on college campuses, B'nai B'rith and CAM wanted a way to address this phenomenon and educate people.
"We think that students really have their fingers on the pulse of what this scourge is on campuses for the next generation and really are the best people and most adept to address it," said Sienna Girgenti, program director for strategic engagement for B'nai B'rith, in a podcast conversation with CEO Daniel S. Mariaschin on the launch of the contest. "We want to lift up students who are going to be the future of this fight and empower people to take this fight into their own hands and make it their own."
Katharina von Schnurbein, European Commission coordinator on combatting anti-Semitism, opened the Students Speak Out awards ceremony with a video tribute in which she praised B'nai B'rith and CAM for coming together to hold the contest.
"Both organizations are not only at the forefront when it comes to speaking out against anti-Semitism and to hatred; with this initiative you've also taken concrete action against it," von Schnurbein said. "From words to action is what we need at all levels."
Each winner addressed the topics in their own unique, engaging and impactful way.
Madeleine Stern, a student at Broadneck High School in Annapolis, Maryland and member of the B'nai B'rith Youth Organization (BBYO), compiled clips of 30 young Jewish people from all over the world sharing their experiences with anti-Semitism in her video, "Anti-Semitism is Everywhere: Stop Hate."
"As someone who experienced anti-Semitism, I wanted to show other people who experience this hate that they are not alone. My video illustrates how anti-Semitism reaches across the globe, but it can be fought across the globe as well," Stern said following the premiere of her video.  
Stern said she hopes her video and the powerful message it conveys will spread far and wide and help make positive changes in the world.  
In "Peace Will Thrive," Diego Israel Rivera Berumen of Colegio Libre de Estudio Superiores (CLEU) in Guadalajara, Mexico used his own illustrations to share his personal experience with anti-Semitism.  
"The only way to combat ignorance is through education. We need to make society understand the struggle our community faces," Rivera Berumen said in his video.  
Rivera Berumen stressed the importance of a universal definition of anti-Semitism, which would allow people to understand the root causes of anti-Semitism and more easily identify it.  
Porter Christensen of Brigham Young University in Provo, Utah created a presentation-style video educating on anti-Semitism, how we see it manifest in the world today and how the adoption of the IHRA's definition can help address it. His video was titled "Universal Acceptance."
"We are a world that has promised to unify and move past the immoral actions of our history, yet it seems like we have shifted into reverse," Christensen said in his video. "Educating others about anti-Semitism and the corruption that it advocates should be a priority."  

B'nai B'rith President Charles O. Kaufman spoke at the virtual ceremony, expressing his gratitude and admiration for the winners and all students who submitted videos. 
"I know these students can and will fight back. They understand the meaning of Never Again. And never means never. They are not afraid, and I pray their work will influence many others," Kaufman said.  
Brig. Gen. (Ret.) Sima Vaknin-Gill, senior advisor to CAM, offered closing remarks.
She spoke on the importance of CAM's mission to fight anti-Semitism globally and praised the winners for their work and their bravery, stressing that they are the future of this mission.
"I just hope that it will be just one of many initiatives you young generation will lead," Vaknin-Gill said.
Going forward, B'nai B'rith hopes to use the videos in all channels where it pursues the fight against anti-Semitism, such as at the United Nations and with partner organizations, and to engage the younger generation and show them how they can get involved in this vital fight.  
In addition, Girgenti said the videos can be used to carry B'nai B'rith's message of fighting global anti-Semitism into new spheres and amplify it across all platforms.
"I think the sky's the limit," she said. 
IRA Charitable Rollover: Support B'nai B'rith International While Saving on Taxes!
With taxes likely on your mind at this time of year, we are highlighting the ability to make a Qualified Charitable Distribution (QCD) direct to B'nai B'rith International. This unique opportunity is available to individuals who are 70.5 or older and who have a traditional IRA account.
As you may know, you are required to withdraw a portion of your IRA each year based upon your age. You may pay income tax on the portion withdrawn or reach a higher tax bracket, and if you do not withdraw, you may face stiff penalties. Rolling over part of your IRA's "required minimum distribution" or "RMD" directly to a charity like ours can help reduce your tax bill while supporting our cause.
HERE'S HOW IT WORKS:
Call your IRA administrator.
Tell them you want to make an IRA charitable rollover gift to support our mission.
Direct the distribution to our nonprofit organization (B'nai B'rith International, 1120 20th Street NW, Ste. 300 N, Washington, D.C. 20036 Federal Tax ID: 53-0179971)
You can distribute up to $100,000 to charity from your IRA each year to meet your RMD.
In fact, longtime B'nai B'rith supporters and Executive Board members Dr. Sandra Horowitz and Dr. Steven Horowitz made a QCD in the fall and were thrilled with how simple it was to do so. Committed members since the early 1980s, Sandra and Steven have traveled around the globe with B'nai B'rith and are passionate about the organization's wide-ranging community service and impact.
As generous supporters of B'nai B'rith International, the Horowitzes knew that making an IRA rollover gift allowed them to meet both their philanthropic and financial goals. When asked if they found the process to be complex the Horowitzes responded, "Not at all! The process was very easy."
Please contact us if you would like to learn more: plannedgiving@bnaibrith.org
This is not intended as tax, legal or financial advice. Gift results may vary. Consult your personal financial advisor for information specific to your situation.
B'nai B'rith Grants Prestigious Journalism Awards for Diaspora Reporting
The B'nai B'rith World Center-Jerusalem honored the winners of the Award for Journalism Recognizing Excellence in Diaspora Reportage at the Menachem Begin Heritage Center in Jerusalem, with Minister of Aliyah and Integration Pnina Tameno Shete serving as keynote speaker at the ceremony.
Due to COVID-19 regulations the Nov. 25, 2020 ceremony was held with limited in-person participation and streamed live on various social media platforms. Watch the ceremony below.
The award, established in 1992, recognizes excellence in Diaspora-related reporting appearing in the Israeli print, broadcast and web-based media. It was established in recognition of the important contribution the media can make toward strengthening the relationship between Israel and world Jewry—so essential for the survival of both—by encouraging quality reporting on Diaspora communities and Israel-Diaspora relations. The award is widely recognized as the most prestigious prize in the Israeli media industry for Diaspora reportage.
Winners for 2020 are Branu Tegene and Danny Kushmaro of Channel 12 News and former Haaretz correspondent Dina Kraft.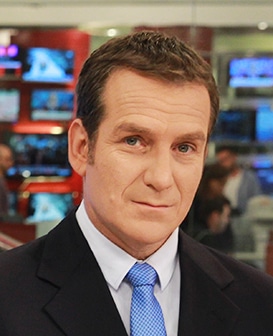 Tegene, a correspondent, and Kushmaro, a news anchor, received the award in the broadcast media category for a five-part series entitled "Mefotzalim" (Split Up: The Story of the Ethiopian Jewish Community) that follows the lives of Jewish Ethiopians left behind after the community's mass immigration to Israel, members of their family in Israel and their reunion in Ethiopia. Kraft received the award for print media for articles on Jewish communities in the United States and Great Britain.
In her keynote address, Tameno Shete stressed how important it is that the story of the Jewish people and the Jewish communities around the world be told and have a presence in Israeli society. "The vision as I see it is to know that there is a covenant between us as a Jewish people, and this is not dependent on where we live and where we are. As it says, 'All of Israel are responsible for one another.'" Tameno Shete added, "For the Jewish story to be complete it must be told more in the press, in the school system and beyond. We have the obligation and the responsibility to place this at the front of the stage, exactly like this award by B'nai B'rith—an organization that does holy work in strengthening the connection between the Jewish of Israel and the Diaspora."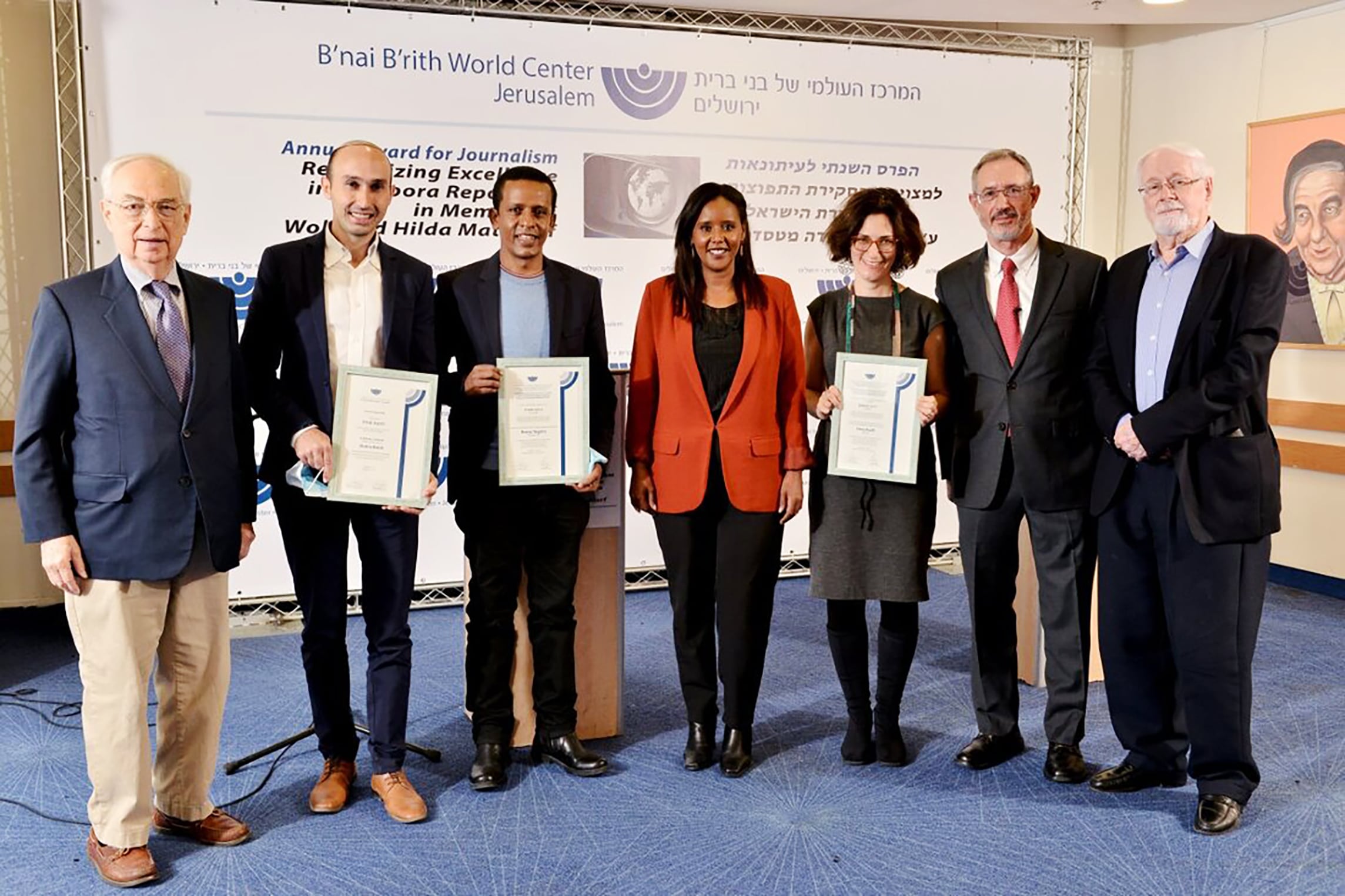 B'nai B'rith International CEO Daniel S. Mariaschin and B'nai B'rith World Center Chairman Haim Katz delivered recorded greetings on the importance of the Journalism Award—presented for the 28th year—in strengthening the connection between Israel and Diaspora Jewry. Alan Schneider, director of the B'nai B'rith World Center, initiated and moderated the event.
A special citation for Fostering Israel-Diaspora Relations through the Arts was also presented at the November ceremony to Shalva Band, which rose to fame after entering the finals on the Israeli TV show, "Rising Star." The program determines the act that will represent Israel in the Eurovision song competition. The band's inspiring guest performance at the Eurovision semi-finals in 2019 brought the band international acclaim and invitations to perform around the world and in Jewish communities. The citation was established in 2014. Former winners are singers and songwriters Nurit Hirsh, David D'Or, Idan Raichel, David Broza and Yehoram Gaon.
The 2020 jury panel includes Ya'akov Ahimeir, past editor and anchor, Israel Public Broadcasting Corporation and Lifetime Achievement Award winner for 2016; Professor Yehudith Auerbach, School of Communication, Bar Ilan University; Professor Sergio DellaPergola, The Institute of Contemporary Jewry, Hebrew University; Sallai Meridor, former Israeli ambassador to the United States and former chairman of the Zionist Executive and Jewish Agency for Israel; Professor Gabriela Shalev, Higher Academic Council, Ono Academic College and former Israeli ambassador to the United Nations; journalist Yair Sheleg; Asher Weill, publisher and editor of Ariel: The Israel Review of Arts and Letters (1981-2003).
The awards are presented in memory of the late Wolf Matsdorf, editor of the World Center-Jerusalem's journal "Leadership Briefing" and a journalist in Israel and Australia, and his wife, Hilda, a pioneer in social work in both Australia and Israel, and in memory of Luis and Trudi Schydlowsky. The award is made possible through donations from the Matsdorf family and B'nai B'rith World Center-Jerusalem board member Daniel Schydlowsky.
Shanghai's Second B'nai B'rith Lodge was Formed by Wartime Refugees
During the 1930s the financiers, physicians, architects and attorneys active in B'nai B'rith's Shanghai Lodge in China cared for the destitute and supported projects in pre-state Palestine. Its clinic and hospital were open to people of all faiths. After World War II, a second lodge in the city was initiated, the Renaissance Lodge, whose 130 members had entered Shanghai as impoverished victims of Nazi persecution.
In 1937, the Japanese seized Shanghai and declared it an open city, permitting entry to those without funds, or official documents like a visa or a passport. From 1939, it became a haven for thousands of German and Austrian Jews fleeing Hitler, including men who were members of B'nai B'rith lodges. There, the refugees' search for work was hampered by their inability to speak English, Shanghai's business language.
German B'nai B'rith leader Hugo Kantorowsky organized the "Association of Former European B'nai B'rith," which one member recalled, "gave … brotherly love and courage in those very hard days." Through the association, members learned English and procured employment. Their collective economic struggles and refugee status, however, prevented the association's merger with the city's affluent Shanghai Lodge.
The Japanese packed the refugees into an area of less than one square mile, where they were housed in overcrowded barracks. Jewish charities donated food to supplement spare rations, but disease and malnutrition were rampant. After the United States entered World War II in December 1941, the Japanese made the association members' lives harder, subjecting some to imprisonment. The association was banned.
After the war ended in 1945, the association regrouped but the future remained uncertain as Shanghai's Jews waited for Israel to accept them or to immigrate to the United States. In 1946, B'nai B'rith in Washington granted the association a charter to become the Renaissance Lodge.
With limited resources, members achieved miraculous results. They raised money for Israel, helped German Jews to settle in America and, with a partial donation from Shanghai businessman Sir Victor Sassoon, awarded $10,000 in scholarships—the equivalent of more than $133,000 today—to four students from Shanghai attending American colleges. One hundred twelve women joined the lodge auxiliary.
At the end of 1948, less than a year before the Communist takeover of China, Israel granted visas to 5,000 Shanghai Jews and sent ships to get them out of the country. By early 1949, the majority of Renaissance Lodge and Shanghai Lodge members were gone from the city.
Before the Shanghai Lodge president boarded a plane to the United States, he transferred the treasury funds to an American bank and liquidated the lodge's real estate holdings. Proceeds were donated to city charities. He took with him the lodge charter, now housed at Cincinnati's American Jewish Archives.
Center for Senior Services and Our Fight for Affordable Housing
At the B'nai B'rith Center for Senior Services (CSS), advocating to Congress on behalf of federally assisted senior housing properties is a core tenet of our work. Our advocacy stems from our sponsorship of Housing and Urban Development (HUD) senior housing across the country, with 38 buildings that serve more than 5,000 people. We are proud to say that B'nai B'rith is the largest national Jewish sponsor of low-income, nonsectarian housing for seniors in the country.
This fall our congressional outreach saw us tout the critical role affordable housing plays in the lives of seniors. We explained how these buildings are not just bricks and mortar, but a community for seniors to age in place. In addition, CSS continued our partnership with the American Association of Service Coordinators (AASC). Service coordinators play a critical role in HUD senior housing, connecting residents with resources in the community including transportation and health benefits, allowing them to age in place and not move to more costly facilities.
Ultimately, the goal of our congressional meetings is to convince members of Congress to fund existing housing programs, and appropriate resources for additional senior housing units and service coordinators. Given the partisan gridlock in Congress and the belt tightening, it is not an easy task.
In addition, COVID-19 has impacted senior housing, as it has most aspects of society. While we appreciated the funds that Congress appropriated for senior housing through the CARES Act, these resources are simply insufficient to meet the challenges of the day. Consequently, we touted our support to congressional offices for the HEROES Act, which passed the House of Representatives in May 2020. Sadly, this legislation never received a vote in the Senate. The HEROES Act would have appropriated millions of dollars to senior housing to help pay for additional service coordinators, staff, personal protective equipment and expanded Wi-Fi that would have allowed seniors to better connect with their families, building staff and doctors. In short, this legislation would have provided the affordable senior housing community with vital dollars to battle the impact of the pandemic.
Through fits and starts, at the end of December, Congress finally reached a bi-partisan compromise to fund the government throughout Fiscal Year 2021 and provide for additional COVID-19 stimulus.
The results of this legislation for the senior housing community were a mixed bag.
First the good news. B'nai B'rith was pleased that Congress appropriated financial resources to fund senior housing in Fiscal Year 2021. This allocation will fund operating and service coordinator expenses for the program across the country. In addition, we welcome Congress' allocation of $52 million for the creation of additional senior housing units. There is a severe dearth of affordable housing in the country and these funds are a good start to fill that gap. We are also encouraged by Congress allocating $30 million for additional service coordinators.
Now to the bad news. We were disappointed that there were no provisions made for low-income senior housing in response to the pandemic. We would have appreciated funds for more supplies, staffing, service coordinators and Wi-Fi accessibility for subsidized housing for seniors.
We hope Congress will continue to provide support for families impacted by the pandemic and that future legislation will include relief for affordable senior housing. Rest assured that our advocacy efforts are continuing as we passionately make the case for the maximum funding possible for affordable housing for seniors.

Our robust virtual offerings continue under our B'nai B'rith Extra banner.
In just the last months, we have spoken with diplomats, authors and experts at the top of their fields. We've talked about the COVID-19 vaccine, Israel's commitment to global humanitarian aid and Jews of India. We marked International Holocaust Remembrance Day with four distinct programs. Read more about those special Holocaust-related events here.
Stay connected. Stay informed. When you have Extra, you have access to the world.
Backstory: B'nai B'rith's 19th Century New York Home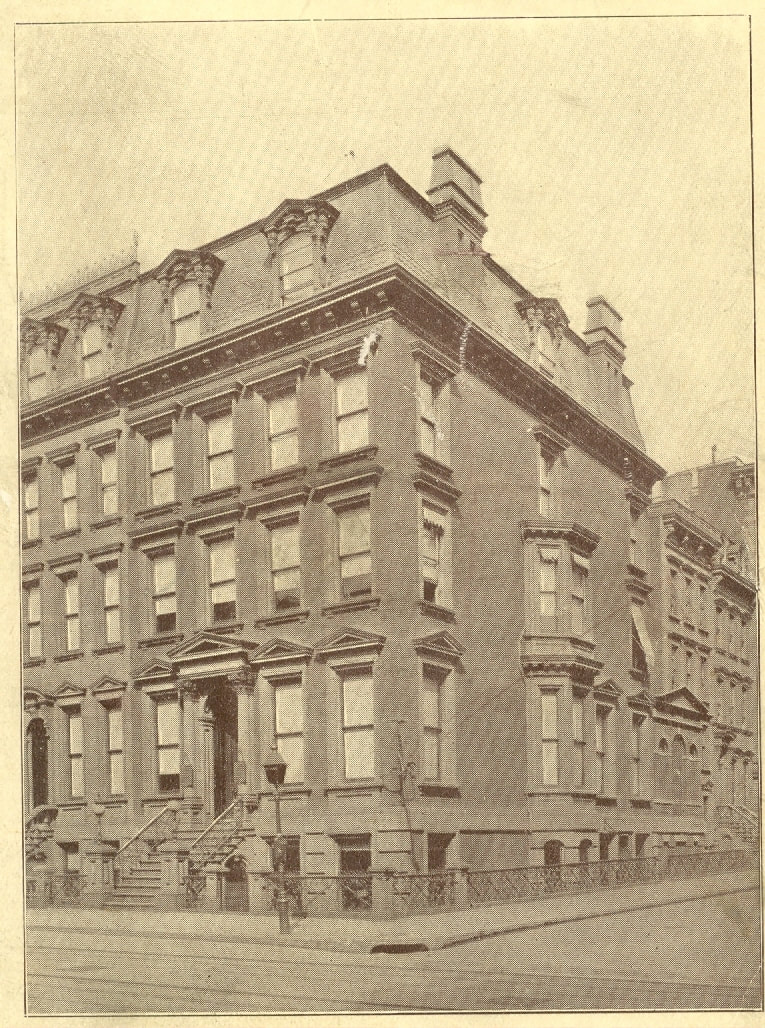 In 1897, B'nai B'rith moved from its Third Avenue and 55th Street location into new headquarters, the entire premises at 734 Lexington Avenue and 58th Street. Amenities included lecture rooms, a concert hall and possibly a restaurant, where young men belonging to the "B'nai B'rith Social Club" gathered on Sunday evenings. Starting in 1902, President Leo Levi divided his time between B'nai B'rith's East Side home and its second branch on Forsyth Street.
The exact year that B'nai B'rith moved from Lexington Avenue is not known, but it was well before 1916, when B'nai B'rith was operating on Manhattan's West Side.