Two weeks after Yom HaShoah v'Hagvura (Israel's Holocaust Martyrs and Heroes Remembrance Day), the many speeches and events held on that solemn day across Israel still echo, even as the country quickly returned to its everyday security, diplomatic, political, social and economic challenges.
As in the past 19 years, the B'nai B'rith World Center organized together with the Jewish National Fund (KKL) their central commemorative event at the B'nai B'rith Martyrs Forest. Since its inception, this event has focused, uniquely, on the heroism of Jewish rescuers during the Holocaust. Well over 1,000 people were present—most of them youngsters, including the musical troupe.
One of the 13 Jewish rescuers who posthumously received the Jewish Rescuers Citation—a joint program of the B'nai B'rith World Center and the Committee to Recognize the Heroism of Jewish Rescuers During the Holocaust—was Anna van Dam-Drukker, a Dutch convert to Judaism and a student of medicine. With the advice of her rabbi she obtained a falsified baptism certificate and was registered as a Christian so that she could assist other persecuted Jews. At the beginning of 1943 she was active with the students' underground movement in Amsterdam (ASG) headed by Righteous Among the Nations Piet Meerburg, which hid 350 Jewish children in Christian homes, saving their lives. Van Dam-Drukker herself smuggled children from Amsterdam—also from the De Creche—to remote villages. She was arrested on Nov. 22, 1943 after she heroically extricated a child from a hidden location after it became known that the girl was to be handed over to the Germans the next day. Van Dam-Drukker was imprisoned in seven concentration camps, including Auschwitz where she served as a physician. After the war she helped to find the children she hid; some of whom the Dutch government petitioned the court against their return to their Jewish birth family.
In tribute to van Dam-Drukker and the other Jewish rescuers, Dutch ambassador Hans Docter delivered a moving address at our ceremony that is worth reading in full as it touches both on the tragedies and triumphs of Dutch Jewry during the Holocaust. It is one of speeches that still echo.
"It is a great honor to be with you today on this special day. In a morning like this, when the weather is beautiful and nature is beautiful, the Holocaust seems far away. We think it is forgotten, but actually it is not. Survivors are still among us and the ugly head of anti-Semitism is raising its head again. We have to stand shoulder to shoulder to combat this, for the future of all beautiful young people who also gave us beautiful music today. We have to work together—Jews and non-Jews alike—to combat this and ensure a safer future for all. [Although] the atrocities currently perpetrated by Russia in the Ukraine … are of an entirely different order, [these are] also the kind of atrocities that we have to work together to stop and it reminds us that the human capacity for evil is still great.
Yom HaShoah, Holocaust Remembrance Day, began yesterday at sundown. This was my third Yom HaShoah in Israel, and with every year that passes I find it more moving. By law all the bars and restaurants are closed, which, for a moment, makes public life come to a standstill. The normally busy streets are hit with silence, and Israelis turn their attention to remember the six million Jews who were murdered in the Shoah by Nazi Germany and their collaborators. The victims of the Shoah were members of our communities, our families, our friends and our neighbors, and the absence of each and every person is felt to this day.
Here, at the Forest of the Martyrs, six million trees were planted in memory of the innocent Jewish lives that were cut short. It is our responsibility to keep these six million memories alive and to say today, and every day, Never Again. In Israel and all around the world, there are fewer and fewer survivors living amongst us, fewer people who can share personal memories of the Shoah with the generations born after them. It is our responsibility to carry their memories forward and ensure that humanity does not repeat its gravest crimes.
The Shoah was an especially dark time in the history of the Netherlands. About 75% of the Dutch-Jewish population was murdered in the Shoah—the highest percentage in occupied western Europe. There are a number of factors which explain this unusual high percentage, one being that too many Dutch civil servants carried out the orders of the Nazi occupiers and failed to protect their Jewish compatriots. The Dutch civil administration also bears responsibility, since they had organized records that indicated the numbers of Jews in the Netherlands, together with information on where they lived. These are painful facts, but we must face them and acknowledge responsibility. Acknowledging the aspects in which we failed also gives us the opportunity to remember and honor those who stood up against the Nazis with greater pride.
In 1963, Yad Vashem created a program that honors non-Jews who courageously rescued Jews during the Shoah. The Netherlands has close to 6,000 Righteous Among the Nations, the second-highest number after Poland. Until 2011 Jewish rescuers never received recognition like their non-Jewish counterparts. That's why I'm honored to attend today the only annual event dedicated to commemorating the heroism of Jews who rescued fellow Jews during the Shoah. We often overlook the fact that Jews were active in key underground resistance movements. The Jewish underground not only rescued Jews and other persecuted minorities, but also collaborated with Allied Forces to fight Nazi Germany. These brave resistance fighters secretly slipped in and out of ghettos, smuggled arms and falsified ID papers, all of which resulted in saving precious lives.
Indeed, the full name of today—Yom HaZikaron laShoah ve-la G'vurah— includes the word gvurah, heroism. Today, we do not only preserve the memory of the victims of the Shoah, but also honor the heroism—g'vurah—of those who risked everything to save even just one life.
One of the 2021 recipients of the Jewish Rescuers Citation was Henriëtte Pimentel. She saved hundreds of Jewish children as the head of a crèche in Amsterdam.  On April 19 a bridge was named after her in recognition of her brave actions. The bridge was officially revealed by the mayor of Amsterdam, Femke Halsema.
The crèche, which was situated opposite of the Hollandsche Schouwburg theatre in Amsterdam where Jewish families awaited transport to concentration camps. Many Jewish parents made the heart-wrenching decision of seeking safety for their children by handing over their children to the creche without knowing if they will ever see them again.  Some 500 to 800 children were smuggled out and brought to safety by Pimentel.
The next speaker of today's ceremony is Avi Drukker, son of Anna Rosa Van Dam. Anna helped tens of Jewish children and adults finding a place to hide. She was arrested in 1943 by the Nazis and was transported to multiple concentration camps. She was a third-year medical student and was placed serving in the camp's medical corps, which helped her surviving the Shoah.
The two brave women I've just mentioned had something in common—they did everything to protect Jewish children by hiding them, knowing that if they would be caught, they will almost certainly face death. Many underground resistance movements were mixed collaborations of Jews and non-Jews. Let us follow their example and take a firm stance together, Jews and non-Jews alike, against today's anti-Semitism. By joining forces and supporting each other, we can work to fight it. This we owe to the victims and to future generations."
---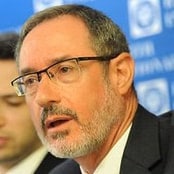 Alan Schneider is the director of B'nai B'rith World Center in Jerusalem, which serves as the hub of B'nai B'rith International activities in Israel. The World Center is the key link between Israel and B'nai B'rith members and supporters around the world. To view some of his additional content, click here.