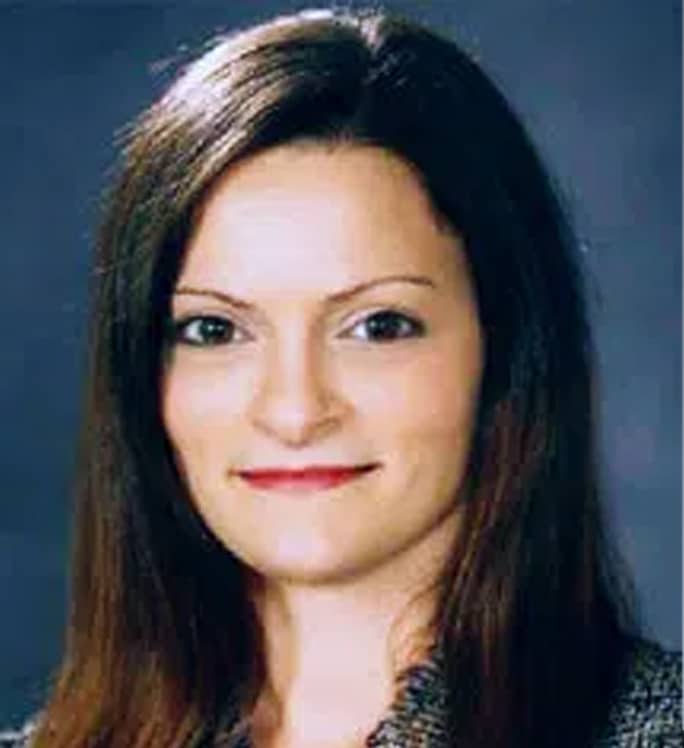 Welcome to our newest edition of B'nai B'rith IMPACT. I am sure you will enjoy reading through the rich content featured, which is only made possible by our members and supporters who believe in the vital work of B'nai B'rith International.
I want to remind our IMPACT readers that we have an abundant amount of estate planning information on our bbilegacy.org website designed specifically to help navigate wills, including donations and legacies, which can often seem complex. This specialized site offers ample information related to estate planning and charitable giving, free downloadable guides and more.
People often shy away from making wills and other estate plans; it is often viewed as an uncomfortable topic. However, the peace of mind you will have in knowing your wishes are outlined and that your family and loved ones are protected is priceless.
Visit bbilegacy.org or send us an email at plannedgiving@bnaibrith.org to get started. We are here to help.
Thank you for your ongoing support and partnership.

Pandora's Box Has Been Opened…Again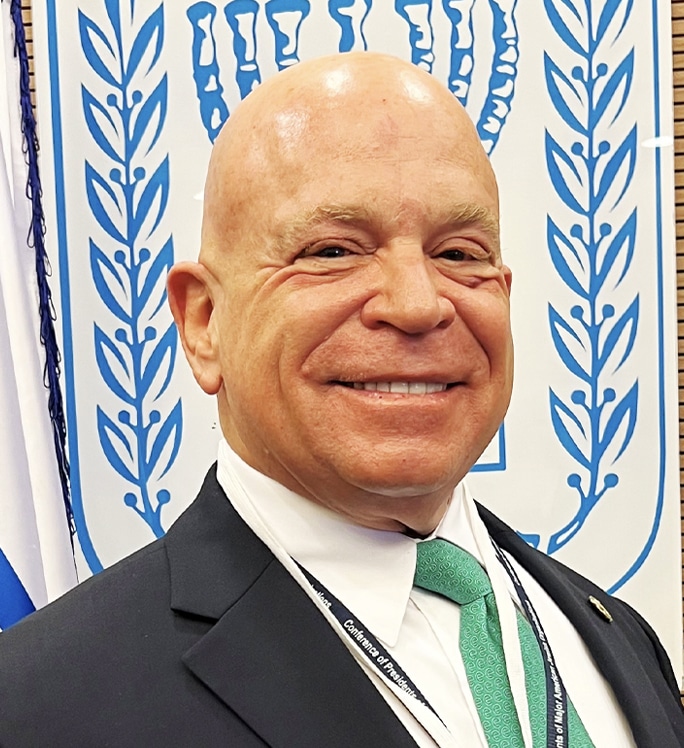 "May you live in interesting times" is a phrase that has long been ascribed as a Chinese curse, though, according to historians, there is no definitive record of its use in Chinese culture. It has more recently been attributed to Sir Joseph Austen Chamberlain, former secretary of state for Foreign, Commonwealth and Development Affairs of the United Kingdom, in a 1936 address referring to Germany. History has an interesting way of repeating itself, as we are now again facing a rise of nationalism on a worldwide scale.
Some politicians have rediscovered the value of using political division and fear to stoke their followers' anxiety and get them to the polls. The United States has long been a beacon of democracy, yet our own recent political landscape shines a light on the rise of calls for authoritarianism in countries across the globe. The unending quest for power and money is yet again the driver.
As hard as it is to believe, some politicians in the United States have actually aligned themselves with Russian President Vladimir Putin, the world's most powerful authoritarian, as he openly pursues the conquest of Ukraine. Putin's initial claim was that he wanted to "denazify" Ukraine, ignoring the fact that its president and many of its leaders are Jewish. The New York Times wrote about Putin's goal of retaking the port city of Odessa, a city with a centuries-old Jewish community that has also been the victim of some of the worst tsarist Russian pogroms.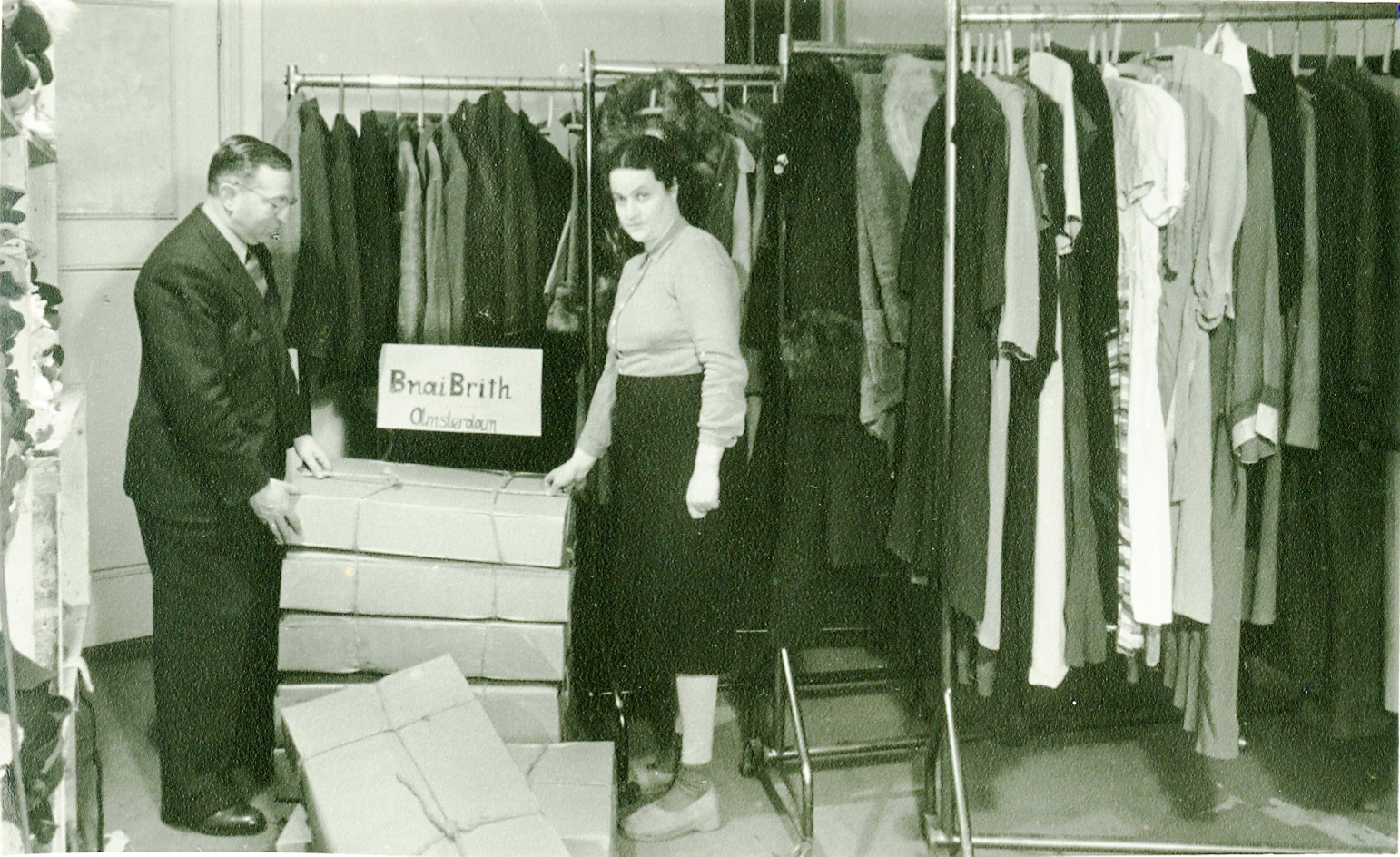 The war has continued for many months and unleashed unprecedented and often indiscriminate destruction in Ukraine. However, most of the free world has been united in opposing Putin, and much needed support has been delivered to the people of Ukraine, including from B'nai B'rith International.
We can all be proud of the assistance provided by B'nai B'rith worldwide, with the help of our brothers and sisters in Poland, Germany, Italy, Romania and other European neighbors, who have felt motivated to help the Ukrainian people with aid.
Unfortunately, we are familiar with the other end of the spectrum, when 6 million Jews in Europe were killed by the Nazis while much of the world turned a blind eye. We are all our brothers' keepers and we have been mindful of people in distress, in Ukraine or anyplace else, given our own history. The Martin Niemöller speech, and its subsequent poetic treatment of 1946 in the aftermath of the Holocaust, is the chilling embodiment of the consequences of doing nothing in the face of evil: "First they came for the socialists, and I did not speak out—because I was not a socialist. Then they came for the trade unionists, and I did not speak out—because I was not a trade unionist. Then they came for the Jews, and I did not speak out—because I was not a Jew. Then they came for me—and there was no one left to speak for me."
"We must never forget!" is more than a way to remember the Shoah: It's a call to arms to fight today's anti-Semitism in all virulent forms. With the politics of division evident in political races on every level, we must be unafraid to call out the purveyors of hate in all forms. Whether the haters are attacking Israel, Jews, people of color, members of the LBGTQ+ community or women, we cannot forget that when they come for any minority, they will come for all of us.
In the United States, these purveyors of hate live on both sides of the political spectrum and hide behind their freedom to speak their hate while cloaked in a flag of claimed constitutional protection. The Left typically attacks Israel, conflating Zionism and Judaism. The Right has been more direct, speaking in clear terms of anti-Semitism and utilizing worn tropes of world domination. Many have used new channels of social media, like Gab, to amplify their message of hate. Sadly, too many politicians are turning a blind eye to their fellow party members' attacks on minorities.
This is not just a U.S. problem but worldwide. We have watched recent elections in France, Great Britain and across Latin America in which the politics of division have been applied.
As members of B'nai B'rith, we must be united in our efforts to fight back against this hate whenever its purveyors make themselves evident. In too many places around the world, people are living in fear of unscrupulous regimes. Together we can exert international pressure to stop the hate, and to pursue goals of common decency and love of our fellow humans.
The hate merchants often invoke anti-Semitic tropes, from both ends of the political spectrum. For many of them, Israel is a stand-in for the larger slander against all Jews. Yet our historic connection to Israel cannot be denied and must not be misused. Never again, whether in Ukraine or elsewhere, must killing and wanton, indiscriminate destruction become the norm. Through Holocaust education and by confronting ignorance, we can live our commitment as Jews to ensure that our children—and all children—and their children never again face a Nazi death machine or its 21st century equivalent.
Thank you for your continued support of B'nai B'rith International and of your local lodges. Forward together.
The Emerging Israel-Africa Relationship: B'nai B'rith Holds Webinar with Guest Experts

Highlighting the burgeoning Israel-Africa relationship, B'nai B'rith CEO Daniel S. Mariaschin hosted a webinar—"The Emerging Israel-Africa Relationship: Innovation, Diplomacy and Security"—to explore the topic with six distinguished guests:
• 
Ambassador Sharon Bar-li, deputy director general and head of the African Affairs Division at the Israel Ministry of Foreign Affairs 
•
 Ambassador J. Peter Pham, distinguished fellow at the Atlantic Council and former U.S. special envoy for the Sahel Region
•
 Togo Foreign Minister Robert Dussey
•
 Sivan Ya'ari, founder and CEO of Innovation: Africa
•
 Yosef Abramowitz, president and co-founder of Energiya Global
•
 Former U.S. Ambassador Herman J. Cohen
Watch the full program here:
Why Jewish Ukraine Matters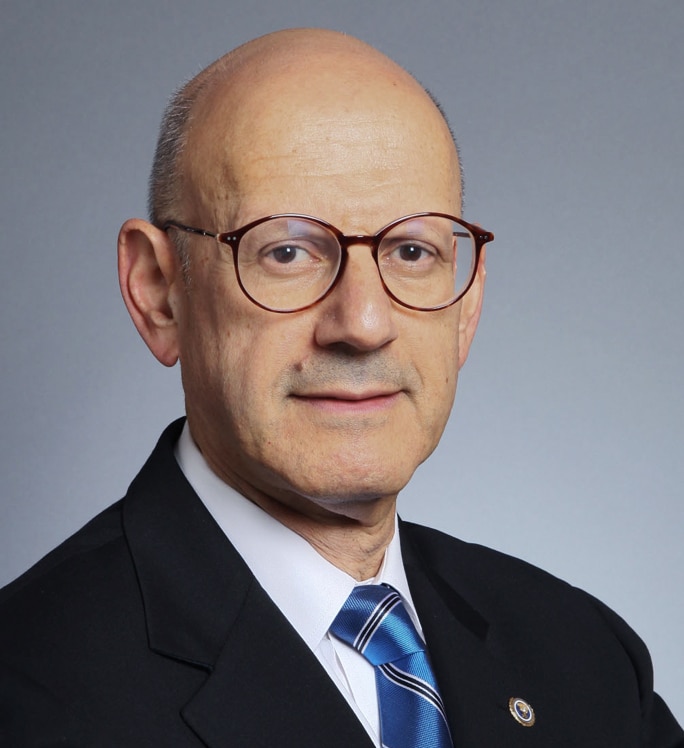 My first connection to Ukraine, part of Czarist and Soviet Russia until gaining independence in 1991, came via my father, who told me that he had an uncle who lived in the historic city of Poltava. Over the years I asked him many questions about his shtetl boyhood—he came to America at the age of 13—but he never talked much about that uncle, what brought him there and when, whether he had a family or his livelihood. I was 25 when my father died, and I guess I will never find the answers.
My mother had a first cousin, Rachel, from Kharkov, in northeastern Ukraine. She corresponded with Rachel until the late 1940s, when Rachel wrote asking her to stop. It was too dangerous: The Cold War was on, and Soviet leader Joseph Stalin was beginning a massive campaign of anti-Semitism. It was too risky to receive mail from the United States.
Fast forward to February 2022, the Russian invasion of Ukraine, and the utter devastation that affects that country. Daily reporting from cities large and small showing videos of destroyed apartment blocks and industrial enterprises, infrastructure and even farmland, together with millions of refugees and internally displaced Ukrainians, has kept us riveted for months. As I write this, the war is ongoing with an uncertain outcome, but the destruction, much of it indiscriminate, continues.
Historians document the earliest Ukrainian Jewish communities from 1,000 years ago. The history of the Jewish people is indelibly marked by its centuries-long presence there. It's a story of great achievements in religious life, industry and commerce, culture and in many other fields, for the benefit of modern civilization.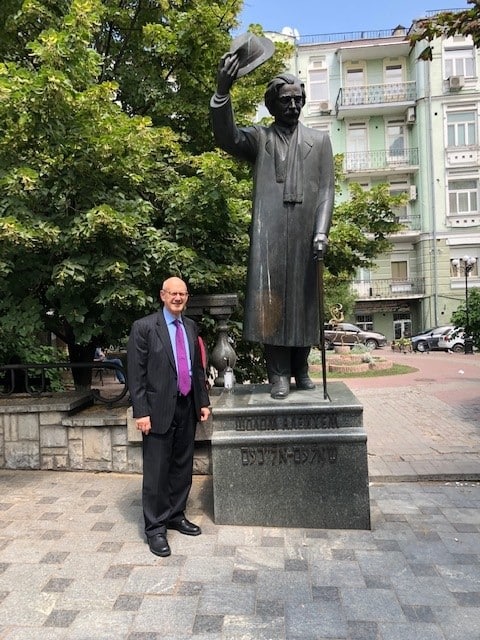 The number of important Jewish Ukrainians is a Who's Who of its own. The list is pages long. It includes Israel's second president Yitzhak Ben Zvi; former Israeli prime ministers Golda Meir and Levi Eshkol; Israeli activist and leader Natan Sharansky; rabbis The Baal Shem Tov and Menachem Mendel Schneerson, Rebbe of the Chabad movement; Yiddish authors Sholom Aleichem and Sholom Abramovitz; poet Chaim Nachman Bialik; Zionist leader Vladimir Jabotinsky; violin virtuosos Mischa Elman, Nathan Milstein, David Oistrakh and Isaac Stern; pianist Vladimir Horowitz; Cantor Yossele Rosenblatt; writers Vasily Grossman and Isaac Babel; electrochemist Veniamin Levich; Nobel prize-winning biochemist Selman Waksman; stage designer Boris Aronson; actor Jacob Adler; founder of the Yiddish theater, Avram Goldfaden; director Otto Preminger; actress Mila Kunis; and 24 world-class chess players.
Throughout, anti-Semitism has been a part of Ukrainian Jewish history. Seventeenth century pogroms (1648-1649) led by the Cossack chieftain Bogdan Chmielnicki murdered as many as 100,000 Jews and destroyed hundreds of communities.
In the wake of the Russian Revolution, a short-lived Ukrainian state headed by Simon Petliura saw another wave of pogroms (1918-1921) killing up to 100,000 Jews. Petliura was assassinated in exile by the Russian-Jewish poet Samuel Schwartzbard, who is said to have lost 15 family members in the pogroms.
On the eve of World War II, the Jewish population of Ukraine, one of then 15 Soviet republics, was counted as over 1.5 million, of which some 500,000 were Holocaust victims, following the German invasion in 1941. In Kyiv alone, Jews numbered nearly 250,000. At a ravine at Babyn Yar (also called Babi Yar) on the outskirts of Kyiv, in September 1941, 33,771 Jews were shot by the Nazis and their Ukrainian collaborators in a two-day massacre. In recent years, led by the indefatigable efforts of the French priest Father Patrick Desbois, many mass graves of Jewish victims have been identified and marked.
A 1959 Soviet census recorded more than 800,000 Jews living in Ukraine.
Which brings us to the present. Since the late 1980s, hundreds of thousands of Ukrainian Jews have immigrated to Israel, the United States and other destinations. But the remaining community, estimated between 200,000 and 400,000 before the Russian invasion, has been highly organized. Jews still live in many of the iconic cities of our past, including Odessa, Kharkiv (Kharkov), Chernivtsi (Czernowitz), Lviv (Lvov), Mariupol, Zhytomyr (Zhitomir) and Vinnitsa.
International Jewish organizations have been active in Ukraine, including the Joint Distribution Committee (JDC) and the Claims Conference, which have assisted poor members of the Jewish community, including the aged, among them thousands of Holocaust survivors.
Jewish religious life has enjoyed a renaissance, and Jews have played prominent roles in leading the nation. President Volodymyr Zelensky is the best known, but other Jews have occupied the posts of prime minister, cabinet officers and advisors to senior political leaders.
Since the 1991 collapse of the Soviet Union, Ukraine has led an independent existence and early on established diplomatic relations with Israel. For years, airlines in each country have flown popular routes. American Jewish organizations have met with senior Ukrainian political figures and often sponsored leadership missions to Kyiv and other cities.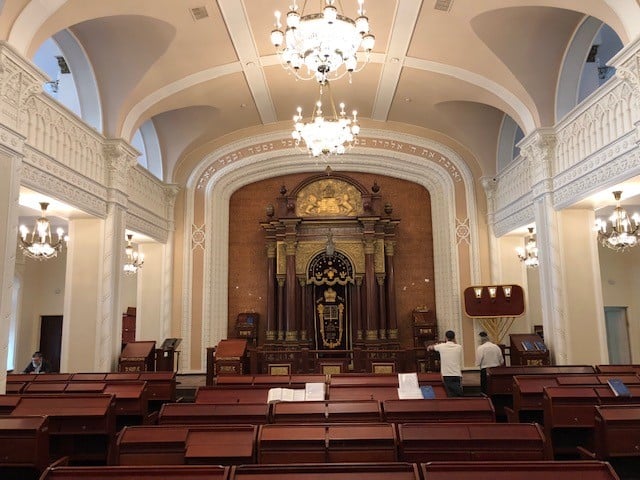 Three B'nai B'rith lodges have been established over the years: one by the late B'nai B'rith Europe leader Joseph Domberger, a Munich resident who re-established the lodge in Lviv in memory of his father, (a member in Lvov, then part of Poland), and others in Kyiv and Chernivtsi. All three lodges played a role in our efforts to assist refugees in recent months.
On behalf of B'nai B'rith, I've visited Kyiv, most recently four years ago, as a guest of a Jewish organization devoted to remembrance and to advancing Ukrainian-Jewish relations, and as part of a Kyiv think tank. We met with government officials and visited Babyn Yar.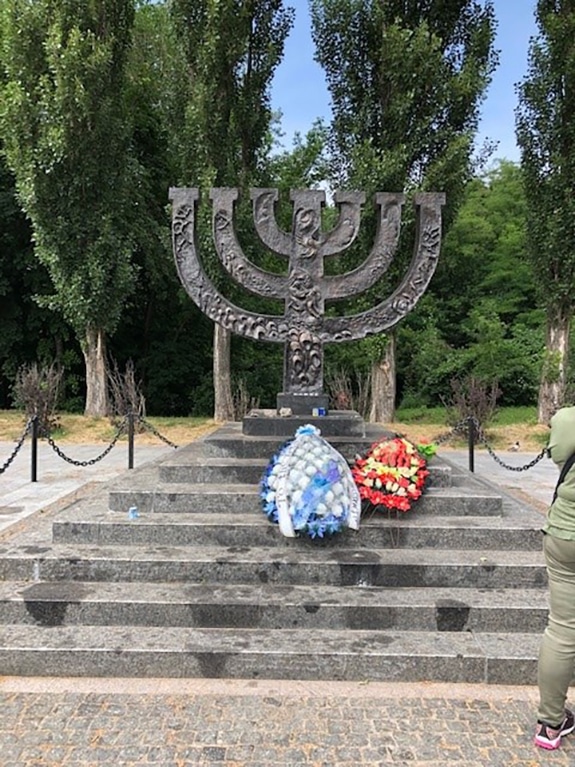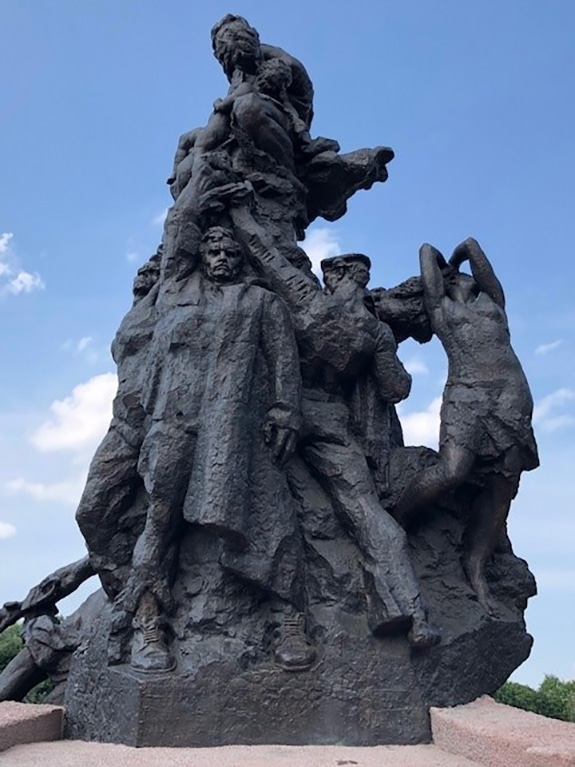 As of this writing, there have been a few reports of recent wartime damage to Jewish religious and communal buildings. Most, along with the many cemeteries in Ukraine, seem to have survived the shelling and rocket attacks. That said, the numbers of Jewish refugees and internally displaced persons have been estimated in the tens of thousands. Many have left for Israel, joining more than 1 million Jews from the former Soviet Union who emigrated in the past three-plus decades. During lulls in the fighting, reports have spread that some who left are returning to their homes (if still standing), hoping for a turnaround and stability.
Whatever the outcome, living in the age of the internet, satellite TV and real-time battlefield coverage makes us wince twice; over the destruction and loss of life suffered by Ukraine and its people, and over the uncertainty of Jewish communal life in places that are very much a part of our historical DNA.
The great Sholom Aleichem wrote of shtetl life in Ukraine, where he grew up and lived. He wrote with grace, and with humor, but running through his Tevye stories and so much else was the daily precariousness of Jewish life. As we wait and watch Ukraine, we pray for a better day for all at the end of this storm.
Israel-Hellenic Forum Reconvenes in Athens for First Time Since COVID-19 Outbreak
For the first time since its inaugural November 2019 meeting, the Israel-Hellenic Forum reconvened in Athens from June 27–June 29, 2022. The B'nai B'rith World Center established the forum to further relations between academics, public intellectuals, journalists and leaders in Greece, Cyprus and Israel. The inaugural meeting was held in Jerusalem. 
"Israel, Greece and Cyprus—which until some 12 years ago did not enjoy close trilateral relations—have made major strides cooperating on the political, governmental and military levels," said Alan Schneider, director of the B'nai B'rith World Center-Jerusalem, who initiated the forum. "Through the forum we hope to foster closer relationships among its members and through them to impact on society at large. The three liberal democracies in the eastern Mediterranean must form bonds that will help weather the threats posed by other bad players in the region."
This year's forum, titled "Athens Discourse: A World in Transition," was held in cooperation with the Institute of International Relations (IDIS) at Panteion University in Athens and with partial funding from the Greek Ministry of Foreign Affairs.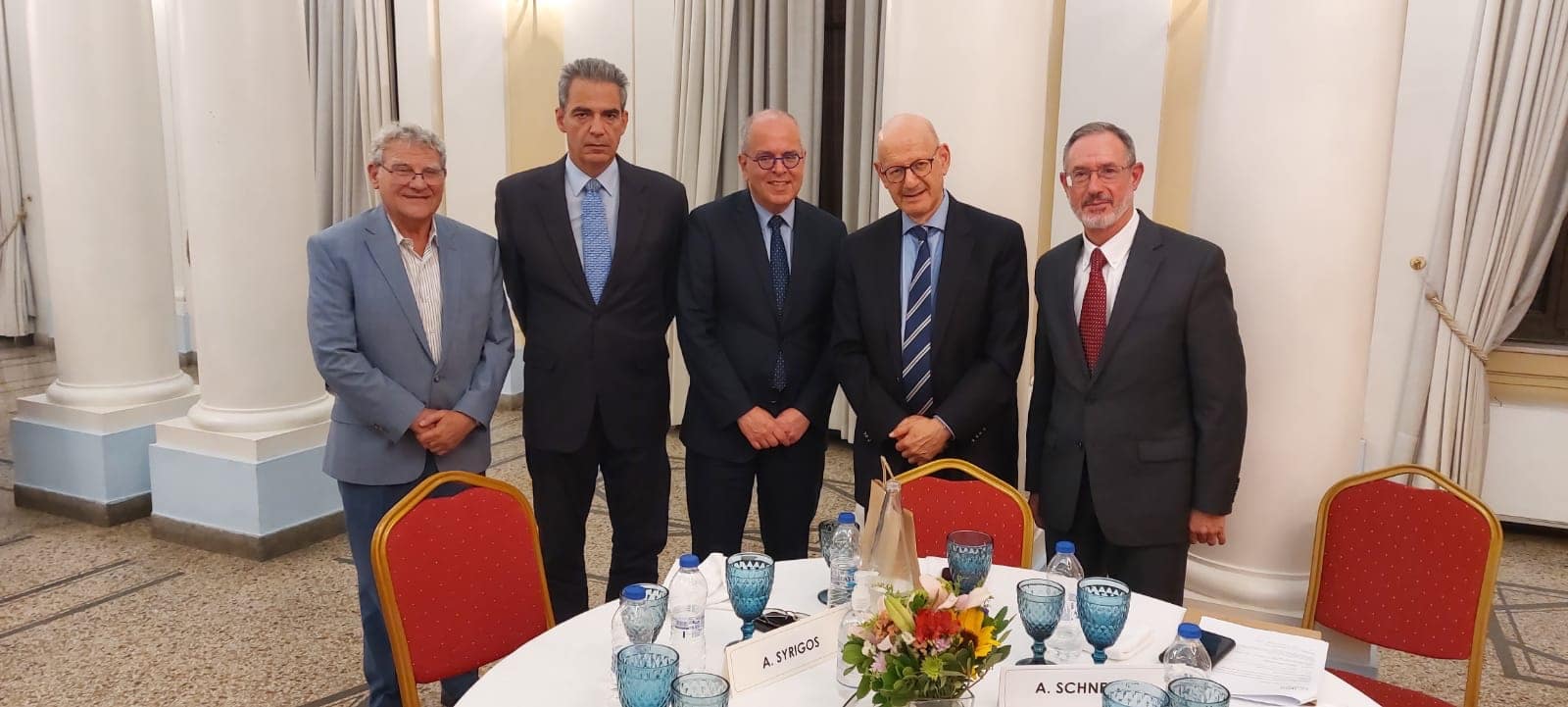 More than 40 leading academics, politicians and community leaders from Israel, Greece and Cyprus met for the three-day forum to discuss the tripartite relationship between the countries, the effect of the conflict in Ukraine on the region, regional political developments and threats to security.
Participants included Greek Minister of Foreign Affairs Nikolaos "Nikos" Dendias; Member of Hellenic Parliament Professor Dimitris Keridis, the Greece-Israel Parliamentary Friendship Group chairman; Nikos Christodoulides, former Minister of Foreign Affairs of the Republic of Cyprus; Israel Ambassador to Greece Yosef Amrani; B'nai B'rith CEO Daniel S. Mariaschin; Professor Kostas Ifantis, Scientific Director of the Centre for Foreign Policy Planning at the Greek Ministry of Foreign Affairs; Maj. Gen. (ret.) Yaakov Amidror, former Israeli National Security Advisor and Senior Fellow at the Jerusalem Institute for Strategy and Security.
"Our partnerships with major academic institutions, think tanks, publications and government offices are testimony to the high regard in which the forum is held," Schneider said. Major programs have spun-off from the forum, such as the first course on diplomatic relations between the countries, now taught at Ben Gurion University of the Negev in Be'er Sheva, Panteion University and the University of Cyprus in Nicosia.
Schneider said the plans for a third meeting are already being made, to be held in Nicosia following the country's elections early next year.
B'nai B'rith's Reimagined, Redesigned and Restructured Website
B'nai B'rith launched a new website in June 2022. The site is a significant update from our old site (which launched in 2012). The new site includes a modern look, streamlined content organization, faster page load times and the ability to better engage with web visitors via easier navigation. On the "back end" the site is on a more robust management platform and allows for better internet searches.
This new site is a wonderful showcase for B'nai B'rith's global work.
Check it out here: www.bnaibrith.org
Recalling Greece's Salonika Lodge 1912-1937
The city of Salonika (called Thessaloniki today), a rich enclave of Jewish culture and tradition and home to nearly 80,000 Jews at the beginning of the 20th century, had been part of the Ottoman Empire for 500 years when it was annexed to Greece during the First Balkan War in 1912.
In that year, 43 community leaders established the Salonika Lodge of B'nai B'rith. Among them were future Greek parliamentarian and senator, Zionist David Matalon, the young Jewish activist Richard Juda and other prominent educators and linguists, clergy and businessmen.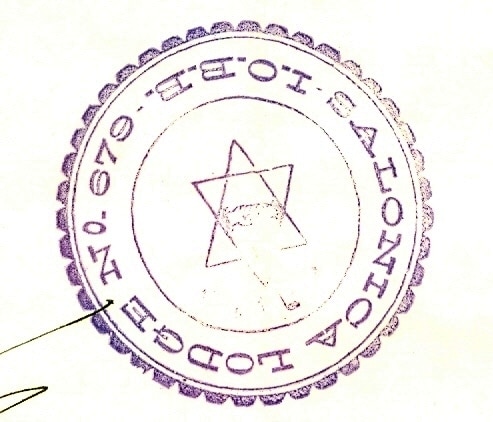 The lodge's primary objectives were to help the Jewish community acclimate to the city's new Hellenic culture and to improve the quality of primary and secondary Jewish public schools. This would be accomplished by the introduction of secular subjects like science and biology into the curriculum, as well as Greek and Hebrew. The lodge also awarded scholarships to young men who studied at universities and medical schools in Athens. By 1916, membership had increased to 150.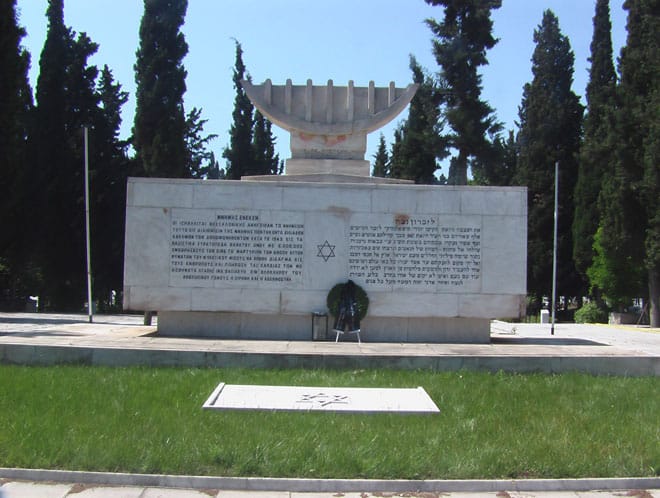 The cataclysmic events of World War I impeded the Salonika Lodge's goals, particularly after August 1917, when a devastating fire swept through the city's Jewish section. The water source that would have extinguished the blaze had been diverted to a nearby military base, resulting in the loss of about 50,000 homes. Those unable to emigrate suffered in overcrowded dwellings, creating a situation worsened by thousands of war refugees and soldiers encamped in and near the city. Inadequate sanitation and malnutrition fomented the rampant spread of Tuberculosis.
With financial assistance from the American B'nai B'rith and the Joint Distribution Committee, lodge members provided aid, including medical care for fire victims, while implementing Hebrew, French and Greek school classes. The lodge also funded an academy attended by poor Jewish and Greek Orthodox pupils and operated a music high school for Jewish boys and girls.
Members organized programs on topics ranging from the development of Jewish traditions to an analysis of books and plays by Israel Zangwill. A symposium explored manifestations of "The Jewish Spirit and the Greek Spirit." In addition to supporting a Greek Jewish newspaper, The Independent, the Salonika Lodge published an anthology devoted to the works of important Greek-Jewish poet Joseph Eliya.
During the worldwide depression in the 1930s, Salonika experienced widespread poverty. Few of the lodge's 136 members were able to continue their charitable efforts. Nevertheless, those who could afford it supported education, including the funding of private tutoring and scholarships, the improvement of the school curriculum intended to facilitate assimilation into Greek society and the forging of interfaith relationships with the city's non-Jewish residents. From the late 1920s, the Salonika women's lodge "Benoth Israel" operated workshops in embroidery, sewing and dressmaking, enabling hundreds of girls to become professional seamstresses and designers.
In October 1937, the Athens and Salonika lodges sent word that all B'nai B'rith communication cease, perhaps out of concern for the members' safety in the face of growing Fascist elements: Germany occupied Greece in 1941. The memoirs of attorney Yomtov Yakoel, the Salonika Lodge president who attempted to save lives while acting as the liaison between the city's Jews and the Nazis, provide the basis of historical information about this time. As the names inscribed on the monument to the Shoah in Paris reveal, almost all of those who belonged to the Salonika Lodge were murdered during the Holocaust.
World Center-Jerusalem Celebrates the Best in Diaspora Coverage
An audience of distinguished guests filled the Konrad Adenauer Center on July 6, when B'nai B'rith World Center-Jerusalem honored the recipient of its Award for Journalism Recognizing Excellence in Diaspora Reportage, and other outstanding individuals who worked to further connections between Israel and the global Jewish community.
The Award, first presented in 1992, is regarded as one of the Israeli media industry's most prestigious prizes. World Center-Jerusalem Director Alan Schneider, who oversees the selection process, noted: "The B'nai B'rith World Center is proud to have made a major contribution to Israel-Diaspora relations through this program, for 30 years."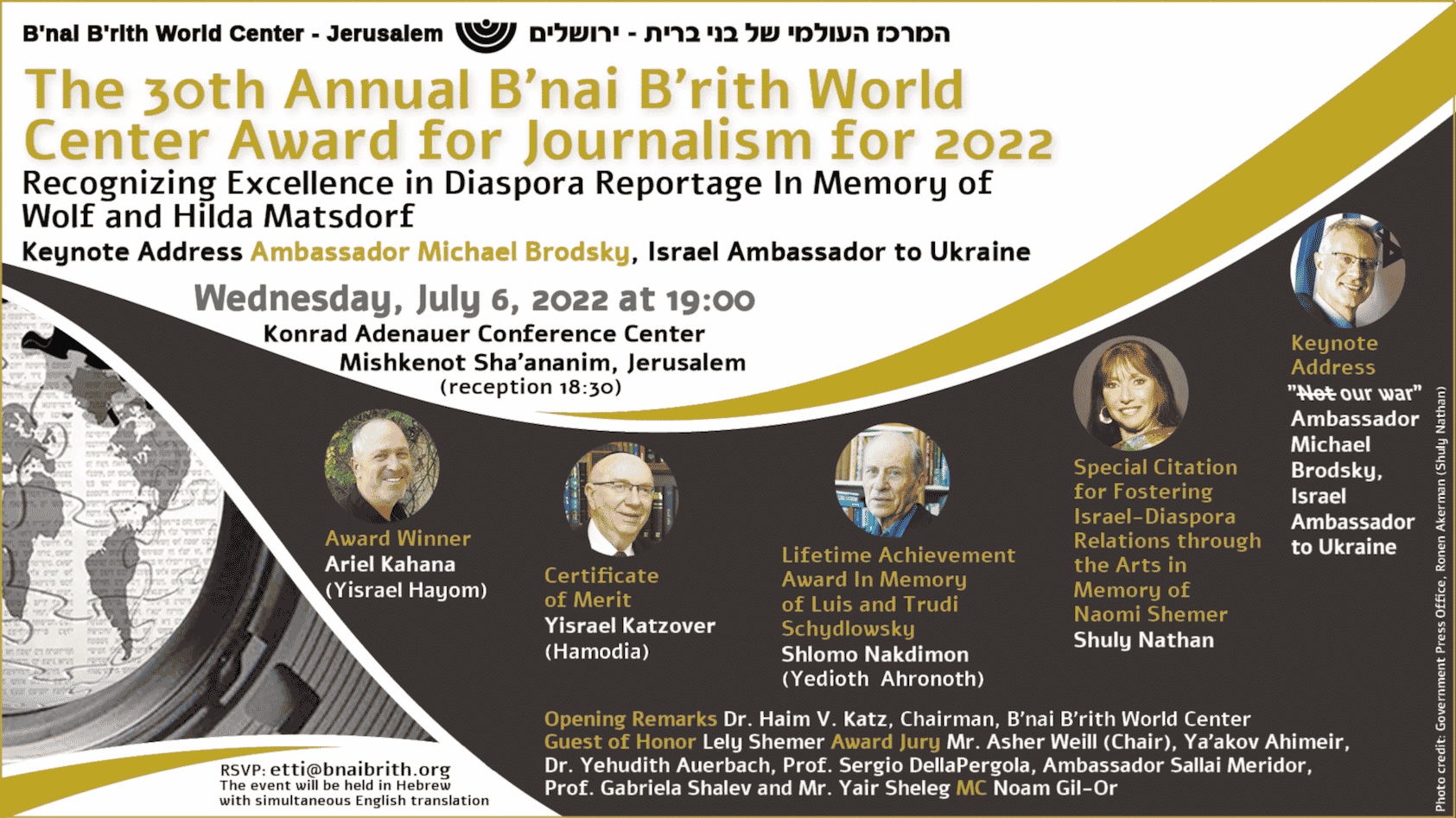 Israel's Ambassador to Ukraine Michael Brodsky's keynote speech, "Not our war" outlined the close ties between Ukraine and Israel and delineated the urgent consequences, including significant food shortages, which have resulted from Russia's war on Ukraine. Regarding the future, Brodsky warned: "This is indeed Israel's war, although so far it has been exposed only to the tip of the iceberg; the most significant implications lie ahead."
Political correspondent Ariel Kahana received this year's award for his writings on the growth of anti-Semitism and Israel-United States relations during COVID-19.
Hamodia reporter and commentator Yisrael Katzover received a Certificate of Merit for his coverage of Jewish communities in Arab countries.
Lifetime Achievement Award recipient, Yedioth Ahronoth journalist Shlomo Nakdimon, has dedicated his 60-year career to publishing books and articles about Israel and its impact on world history and events.
A special citation established in 2014 for Fostering Israel-Diaspora Relations through the Arts in Memory of Naomi Shemer was awarded to renowned Jewish song specialist, composer and performer Shuli Natan.
The awards jury includes: Ya'akov Ahimeir, former editor and anchor, Israel Public Broadcasting Corporation, and 2016 Lifetime Achievement Award winner; Yehudith Auerbach, former head of the Department of Journalism and Communication Studies, Bar-Ilan University; Professor Emeritus Sergio DellaPergola, the Institute of Contemporary Jewry, Hebrew University; Sallai Meridor, former Israeli ambassador to the United States and former chairman of the Zionist Executive and Jewish Agency for Israel; Professor Gabriela Shalev, former Israeli ambassador to the United Nations; journalist Yair Sheleg; and Asher Weill, publisher and editor of Ariel: the Israel Review of Arts and Letters (1981-2003).
The award was established in memory of the late journalist Wolf Matsdorf, editor of the World Center-Jerusalem's journal, Leadership Briefing, and his wife, social worker Hilda Matsdorf, who both worked in Australia and Israel. The Lifetime Achievement Award is presented in memory of Luis and Trudi Schydlowsky, lifelong Zionists, leaders of the Peruvian Jewish community and publishers of the Jewish Telegraphic Agency's daily news bulletin in Peru for 30 years.
The Award is funded by the Matsdorf family and B'nai B'rith World Center-Jerusalem board member Professor Daniel Schydlowsky.
Senior Housing Network Holds First In-Person Managers and Service Coordinators Training Since 2019
The B'nai B'rith Senior Housing Network held its first in-person Managers and Service Coordinators Training since May 2019 in June in New Orleans. From June 22 to June 24, on-site building personnel gathered to learn from B'nai B'rith Center for Senior Services (CSS) staff and other experts in the affordable senior housing industry.
"I heard from a lot of the attendees about how much they needed this meeting," said Janel Doughten, associate director of CSS. "After two very long years working during the pandemic with a vulnerable population, it helped bring a sense of normalcy to their lives. Everyone talked about how other people don't understand the sacrifices they made, but this group gets it. These are their peers more than anything."
To kick off the meeting, participants held a Day of Service, working along with B'nai B'rith disaster relief partners, the Program of All-Inclusive Care for the Elderly in the Greater New Orleans area (PACE Center) and SBP, an organization helping homeowners to rebuild their residences. Participants in the training sessions assembled and distributed emergency preparedness kits for the PACE Center, assisted with serving lunch, played bingo with participants and helped make pillows. At the SBP construction site in the Lower 9th Ward, 11 volunteers helped install subflooring for a house that will be made available for a low-income family.
The Managers and Service Coordinators Training was created for building administrators to learn about and discuss issues that impact day-to-day activities of staff and residents of B'nai B'rith affordable housing buildings. Training sessions this year included panelists from the U.S. Department of Housing and Urban Development (HUD), the Social Security Administration and the New Orleans affiliate of the National Alliance on Mental Illness. Doughten and Evan Carmen, CSS legislative director for Aging Policy, also hosted sessions. Topics covered in these training sessions included Social Security, emergency preparedness, mental health, leadership training, Congressional updates, HUD updates and more.
Highlights from the June 22 Day of Service, an integral component of the annual B'nai B'rith Managers and Service Coordinators Training meetings, held this year in New Orleans. Attendees and B'nai B'rith staff, in tandem with volunteers from the disaster relief SBP Program (formerly the St. Bernard Project) and the All-Inclusive Care for the Elderly in the Greater New Orleans area (PACE Greater New Orleans), helped out at an affordable housing site and made emergency preparedness kits for the PACE headquarters.
125th Anniversary of First Zionist Congress Events Features Large B'nai B'rith Delegation
B'nai B'rith CEO Daniel S. Mariaschin and former President Charles O. Kaufman, who represents B'nai B'rith on the WZO Executive, led a 20-person delegation to a conference in Basel, Switzerland, in August commemorating the 125th anniversary of first Zionist Congress, convened by Theodor Herzl in 1897. Inspired by his message, the 208 congress members who attended at that time founded the Zionist Organization (today named the World Zionist Organization or WZO) and initiated plans for the establishment of a Jewish homeland.
Mariaschin observed: "The 125th anniversary gathering in Basel linked the history of our people with the present and future, in which we can all play a meaningful role. That means working assiduously to support a strong and vibrant Jewish State, the very same objectives Herzl laid out when he and Jewish leaders gathered in that congress hall in August 1897."
The WZO today works with philanthropies and agencies like B'nai B'rith, a member since 1989. B'nai B'rith assists in fulfilling the mission of WZO, which partners with B'nai B'rith on projects in Israel and elsewhere.
"The WZO's historic 125th anniversary meeting validates the many layers of Theodor Herzl's dream. Israel is not only the legal homeland of the Jewish people, it is an innovative, modern country that's working tirelessly to improve the world. New chapters in the Zionism story are being written every day. It is a story without end. And we must teach the world the true meaning of the word. We must not let our adversaries weaponize 'Zionism' in promoting Jewish hatred," Kaufman said. "Equally important, we must educate the Diaspora that Zionism means ensuring that the homeland serves to build an advanced, productive and enterprising nation that solves human problems—among them health, hunger, poverty—throughout the world."
World Center-Jerusalem Director Alan Schneider coordinated the B'nai B'rith International delegation, which included World Center Executive Member Nachliel Dison, who also represents B'nai B'rith on the WZO Executive. Other B'nai B'rith delegates included: Dr. Sandra Horowitz and Dr. Steven Horowitz, Elham Yaghouban, Ira Bartfield, Millie and Larry Magid, Paolo Foa', Richard and Phyllis Heideman, Sheila and Alan Mostyn, Simone and Ralph Hofmann and Stéphane Teicher.
The Conference's 1,100 participants attended meeting sessions at the Stadtcasino, where the First Congress was held. Focusing on Zionism's impact worldwide, the Herzl Leadership Conference presented panels with top ranking Israeli leaders, philanthropists and others. The Herzl Social Impact Entrepreneurship Summit surveyed Israeli advancements in fields including medicine, technology and popular culture. Networking events, concerts and a gala reception were programmed for the evenings.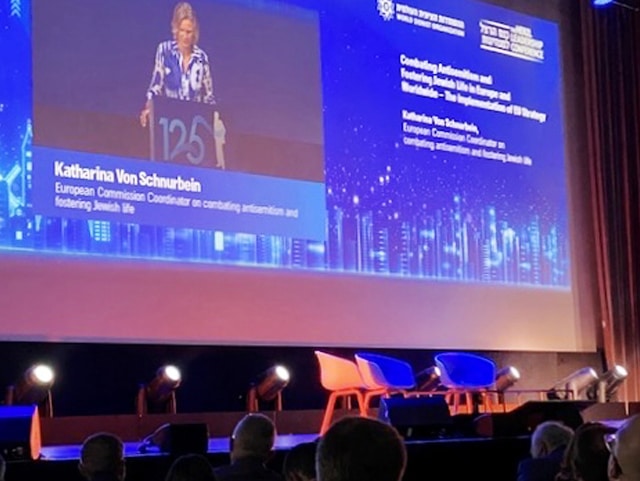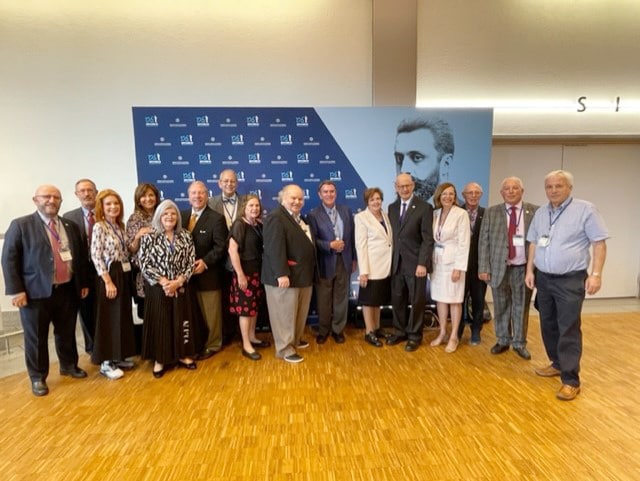 The list of speakers included, among others, Guest of Honor Israeli President Isaac Herzog; the president of the government of the Canton of Basel, Beat Jans; visionary architect Daniel Liebeskind; Katharina von Schnurbein, European Union coordinator on Combatting Anti-Semitism and Fostering Jewish Life; and WZO Chairman Yaakov Hagoel.
Hagoel has noted: "Looking forward to the future of our children, grandchildren and great-grandchildren, we will continue to strive for an exemplary society through extensive Zionist activity, strength, shared destiny and unity."
Second Annual Central America Israel Forum Aims to Strengthen Ties Between Jews and Christians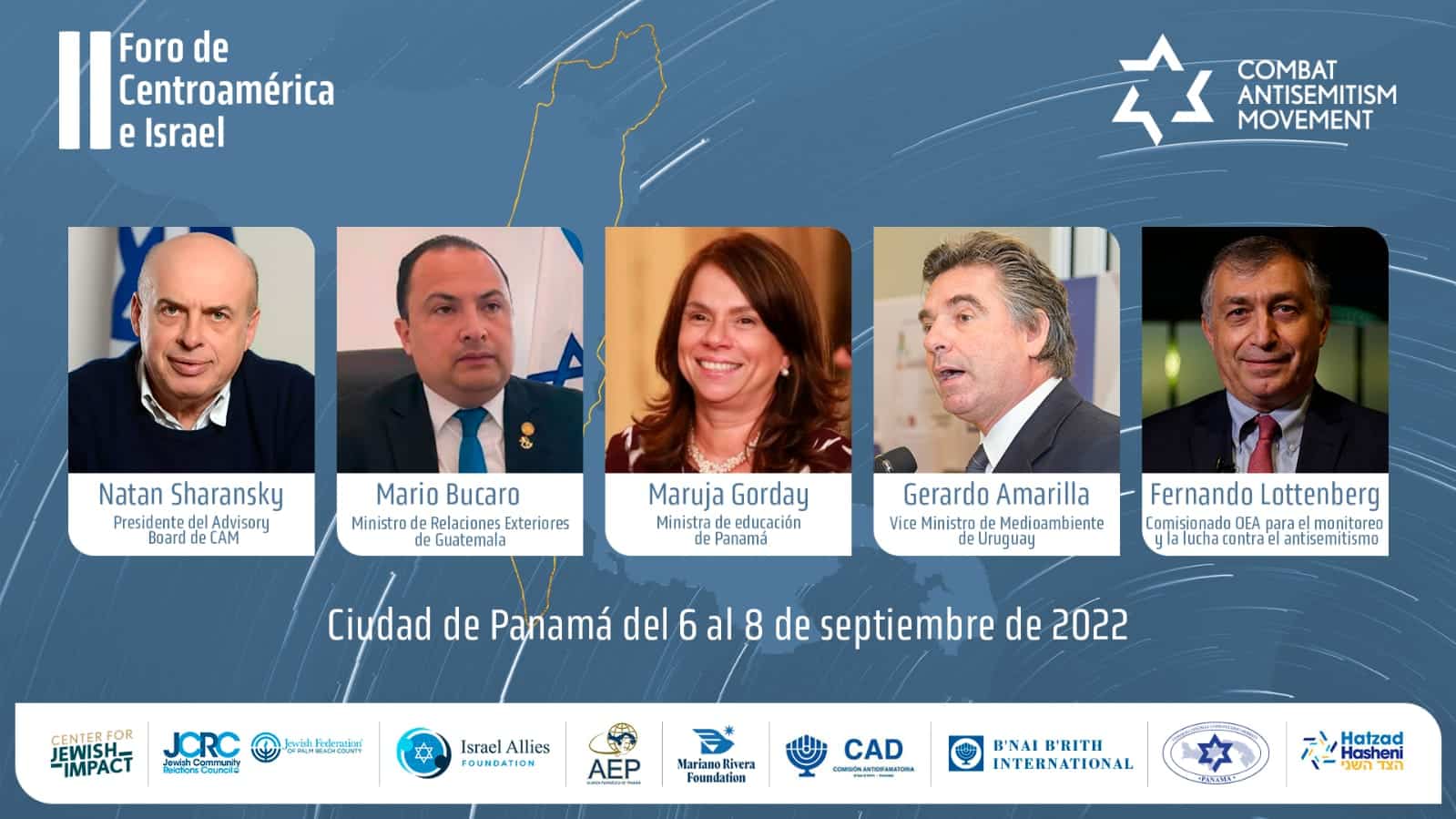 The Second Annual Central America Israel Forum, held in early September in Panama City, Panama, brought together Latin American Jewish leaders, dignitaries and Evangelical representatives to strengthen ties and shared values between Christians and Jews, and to discuss relations between Israel and countries in the region, as well as challenges and opportunities in combating anti-Semitism globally.
B'nai B'rith International was a co-sponsor of the forum, which was organized by the Combat Antisemitism Movement (CAM), the Center for Jewish Impact and the Panama-Israel Inter-parliamentary Friendship Group.
"The gathering of the Jewish and Christian communities is a very important step forward in the fight against discrimination and anti-Semitism," said Eduardo Kohn, B'nai B'rith director of Latin American Affairs. "This second forum shows that this work is getting stronger. B'nai B'rith is an important partner of CAM and its mission in this regard."
Kohn was featured on a panel moderated by Rev. Carlos Duran, president of the National Hispanic Pastors Alliance. Kohn urged democracies to take the rise of anti-Semitism seriously and to work together to fight Holocaust denial and anti-Jewish hatred.
B'nai B'rith CEO Daniel S. Mariaschin delivered a virtual message to the forum, thanking organizers and participants for their efforts in fighting anti-Semitism and strengthening ties between Israel and Central American countries. 
Mariaschin also thanked Evangelical and non-Jewish leaders present at the forum. "It is very important that you know how much we value your friendship and support. It is comforting to know that we are not alone in the fight against anti-Semitism, and in the sometimes-uphill battle against those who seek to delegitimize and demonize the State of Israel, the only true democracy in the Middle East," he said. 
David Djemal, B'nai B'rith senior vice president for Latin America, closed the forum's opening session, emphasizing the shared fight against anti-Semitism for Jews and Christians alike. He also noted the importance of B'nai B'rith's alliance with CAM and underlined B'nai B'rith's historic role in defending the Jewish people and the State of Israel and in combating anti-Semitism for 179 years.
In total, 14 countries in the region took part in the forum, which was supported by the government of Panama and attended by congress members, as well as Latin American and U.S. religious leaders. Distinguished guests included Natan Sharansky, former Soviet prisoner of conscience and chair of the Institute for the Study of Global Antisemitism and Policy; Mario Bucaro, foreign minister of Guatemala; Maruja Gorday, Panamanian minister of education; Gerardo Amarilla, vice minister of environment in Uruguay; and Fernando Lottenberg, Organization of American States commissioner to monitor and combat anti-Semitism.
In addition to the forum, a special meeting was held between the Jewish Community of Panama and participants attending from outside of the country. 
Following the forum, a joint statement from the organizers and sponsors of the forum, including B'nai B'rith, marked the importance of:
The ongoing support of the forum attended by Christian and Jewish leaders to the State of Israel
The support of direct negotiations between Palestinians and Israelis to find real peace
Support of the Abraham Accords and encouraging other Arab states to join these peace agreements
Encouraging all countries to adopt the International Holocaust Remembrance Alliance definition of anti-Semitism in order to have a strong tool to combat anti-Jewish hatred
Full support of Israel in its decision to reject the Iran nuclear deal and making every effort in the forum's power to prevent Iran from obtaining nuclear weapons.
Kohn said the third forum is scheduled for the second half of 2023 in Uruguay and will be a larger one, titled the Latin American-Israel Forum for Combatting Antisemitism. 
B'nai B'rith New South Wales Book Marks 16 Years of "Harmony"
In 2005 the Australian government launched the country's first Harmony Day, a celebration of racial and ethnic diversity that coincided with the United Nation's Day for the Elimination of Racial Discrimination. At that time B'nai B'rith NSW (New South Wales) took the lead in inspiring the region's schoolchildren to participate in this important observance.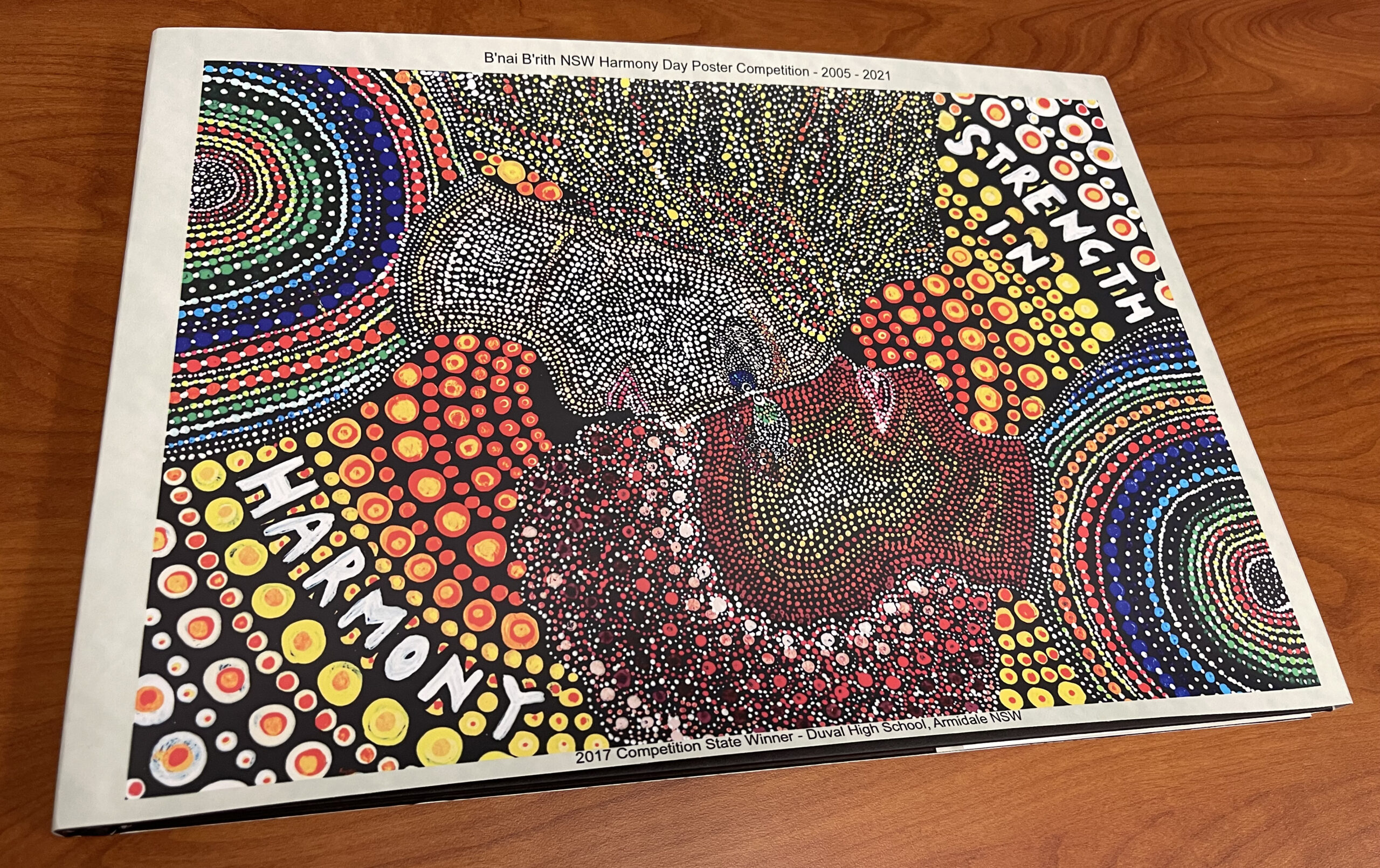 In the ensuing 16 years, primary and middle school students attending public, private and religious schools would submit more than 50,000 dynamic and colorful works of art to B'nai B'rith's Harmony Day Poster Competition. This year, B'nai B'rith NSW has published a handsome large-format book about the contest, edited and curated by James Altman, a 2008 recipient of the Order of Australia (OAM), who currently leads the Australian relief committee and serves as one of B'nai B'rith International's senior vice presidents.
Altman commented: "I'm overwhelmed by the extraordinary range of talent, artistry and awareness of social justice among the contributors to the poster competition. It has been an eye-opening and deeply rewarding experience to collect over 500 images, representing the best of the entries over the past 17 years, and compile them into a book as a permanent record of this amazing project…
B'nai B'rith is proud to be associated with this community-wide program celebrating the diversity of our society and encouraging and promoting harmony and respect for difference. We warmly commend Ernie Friedlander and his team for their commitment and dedication to this important initiative over many years."
B'nai B'rith member Friedlander, who leads Moving Forward Together (MFT), the committee that promotes education about the racial and national origins of Australia's residents, originally conceived of and developed the poster competition and a subsequent song contest. An Austrian Holocaust survivor, in 1950 he settled in his adopted country, where he received the Order of Australia (OAM) in 2006 for his services to the nation. Friedlander has written: "I am grateful for the 'fair go' that Australia has offered. I now dedicate myself to show appreciation by being involved in projects that curtail racism or prevent damage to Australia."
Officials supporting B'nai B'rith and the talented student-artists include Gladys Berejiklian, former premier of New South Wales, 2017-2021, who hosted the annual awards' ceremony at the NSW Parliament House.
Natalie Ward, 2021 keynote speaker, Australian Parliament member and minister for Sport, Multiculturalism, Seniors and Veterans said: "I congratulate B'nai B'rith's Moving Forward Together for your initiative and for running these wonderful competitions. It's through our youth, embracing, accepting and understanding differences of culture, religion and appearance that we will maintain our harmonious Australia. This is a brilliant way for young Australians to express their heartfelt ideas with color and flair in their posters, lyrics and music."
B'nai B'rith France Outreach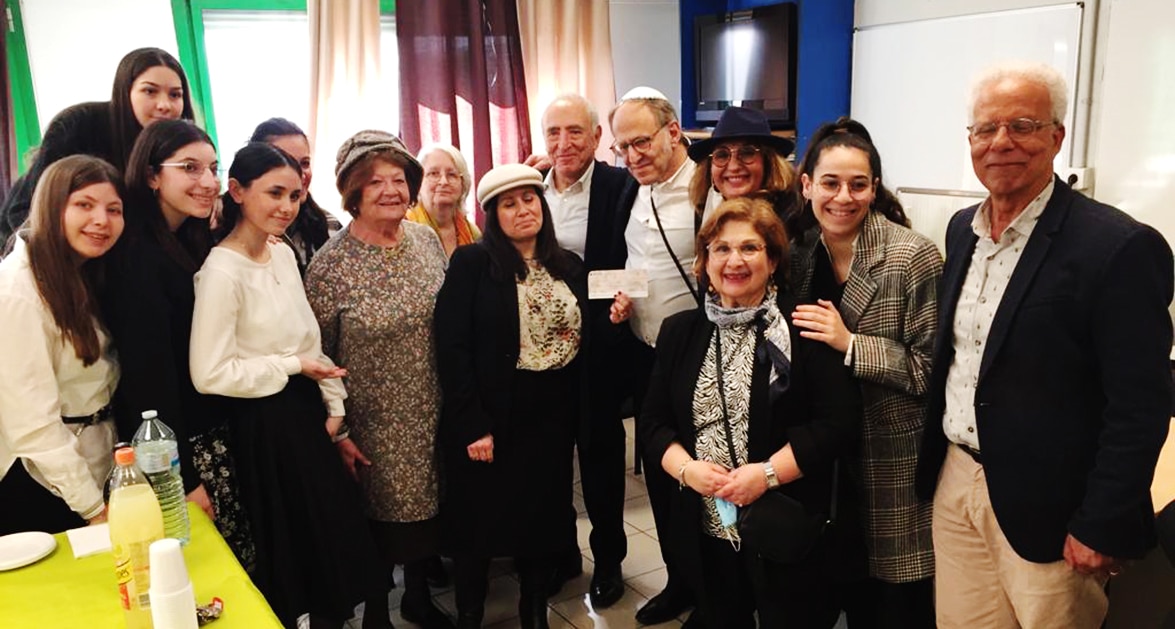 Since its founding in 2019, the 20 members of B'nai B'rith France's National Commission of Solidarity have met to fund worthy projects in all regions of the country.
Helping Jewish children is the commission's primary aim. Fearing the rise in anti-Semitic violence, many French Jewish families have made the decision to ensure the safety of their sons and daughters by enrolling them in private academies and yeshivas. Income-challenged students apply for various grants and scholarships through these schools' social service departments to cover additional school fees, including the costs of kosher meals served in the school cafeteria.
Holding fundraising events and seeking contributions from individual B'nai B'rith France members, the commission supports these students by funding their meals. The school applies to the commission to obtain the grant of about $1,000 (USD) and, according to the rules, places the grant monies in a special account. Care is taken by the social service departments to make sure the names of the recipients are not revealed.
To date, yeshivas and religious academies in Strasbourg, Marseilles, the Parisian suburb of Sarcelles, Toulouse and Lyon have applied for and received grants. Private Jewish schools in regions throughout France are eligible to receive them.
Members of B'nai B'rith France have also taken the first steps in initiating a program for senior citizens. It has begun with weekly Shabbat "check in" phone calls, with hopes for its expansion.
Policy experts, diplomats, historians, authors, chefs, actors, athletes, tech experts, scholars, musicians and more—what have we talked about recently?
Yaky Yanay, CEO of pioneering Israeli biotechnology company Pluri, spoke about next-generation cell-based products Pluri is creating to improve human well-being, increase sustainability and advance solutions to humanity's greatest challenges.
Borsht Beat, a radio program launched by a Vassar College alumnus featuring Jewish music, old and new.
AMIA: Another Anniversary Without Justice. July marked 28 years since the 1994 bombing of the AMIA Jewish community center in Buenos Aires, which killed 85 people and injured hundreds. B'nai B'rith commemorated this painful but important anniversary and urged the Argentine Congress to adopt the "trial in absentia" procedure so those accused of this heinous crime can be brought to justice.
The Apartheid Slander Against Israel. Renowned international law experts Eugene Kontorovich and Thane Rosenbaum responded to dangerous and false accusations that Israel is an "apartheid state." Both contributed significantly to B'nai B'rith's groundbreaking report on the topic.
The Emerging Israel-Africa Relationship: Innovation, Diplomacy and Security. B'nai B'rith explored the burgeoning Israel-Africa relationship with six distinguished guests, each bringing their own unique set of experiences and expertise to our discussion.
We also launched Lens on Latin America / Con El Lente En Latinomerica, an interview series in Spanish with English subtitles focusing on pressing issues across Latin America. Watch it here.
Students Advocate for Respect in Words and Actions in Atlanta Lodge's Enlighten America Essays
In June 2022, B'nai B'rith Atlanta's Achim/Gate City Lodge announced the names of the talented middle schoolers from the city and its environs who submitted the winning entries to its annual Enlighten America essay contest, this year promoting equal rights and respect for all individuals, regardless of origin, disability, faith or sexual orientation.
Lodge President Helen Scherrer-Diamond commented: I am very proud of our essay contest winners. Their compassion and words show the true meaning of tolerance and understanding for others. They show true caring and sharing by their words. Now I challenge their generation to 'say what they mean and mean what they say' with KINDNESS.
This year's competition, which directed entrants to address the subject of human rights as they were perceived by the Founding Fathers, was chaired and coordinated by Marcus Brodzki, who acknowledged: "Achim/Gate City Lodge executive committee and our Enlighten America sponsors for their support. We also congratulate this year's winners on their essays focusing on respect and inclusion in our society. Respecting another person's differences is a cornerstone of civil society. The hyper-polarization among adults we are seeing today is frightening and these students' essays reflect a breath of fresh air and illustrate the need for continued efforts with our youth."
Judges included: Mimi Anapolle, Rabbi Jeff Feinstein, RuthE Levy and Margie Simonoff.
$350 First-Place Winners:
$250 Second-Place Winners:
$100 Third-Place Winners:
Tooting Our Own Horn: Rockower Wins for 2021 issue of B'nai B'rith Magazine
We won THREE American Jewish Press Association Rockower Awards for journalistic excellence for stories published in 2021. These wins are just the latest in a long line of professional recognition for the unique, well-reported stories you expect from us.
We earned a First Place Award for Excellence in Writing About Food and Wine for our story "In search of kreplach: more than just Jewish ravioli" by Kenneth D. Ackerman and Alice Chezar. The Judges noted: "This wonderfully written piece has it all: Jewish history and tradition, a broader sense of the place of comfort foods in all cuisines, and a personal adventure: the arduous task of fine tuning the recipe and mastering the techniques of making kreplach. All told with humor and tremendous warmth."
Our story "Israel's Golden Age of TV" by Dina Kraft was doubly recognized, winning a 2nd place Award for Excellence in Feature Writing AND a 2nd place Award for Excellence in News and Features — Reporting.
Take a few minutes to go back to read these award-winners as well as the rest of the can't-put-it-down B'nai B'rith Magazine Winter 2021 issue.
Denver B'nai B'rith Celebrates its 25th Annual Leadville Cemetery Cleanup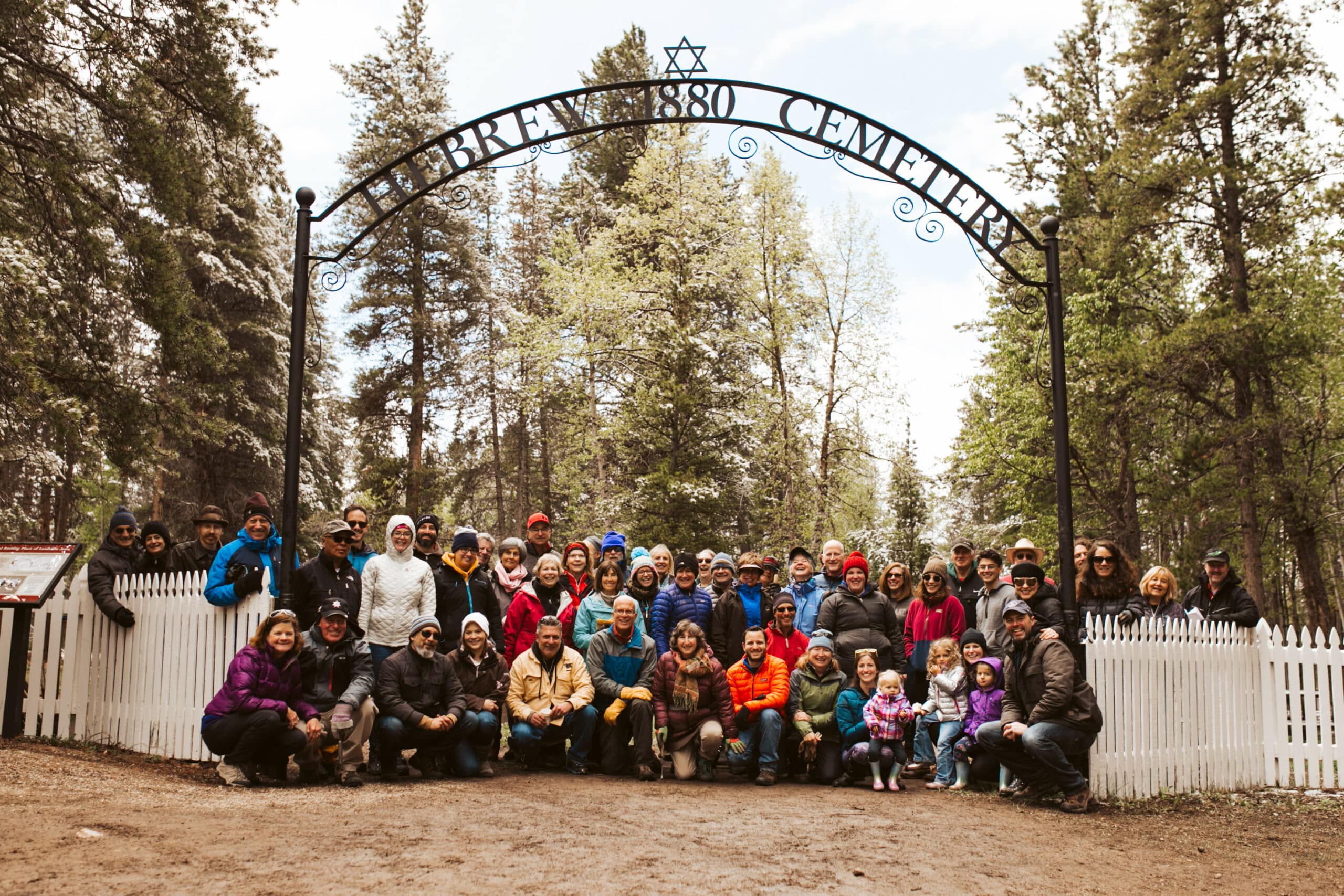 Now in its 150th year, B'nai B'rith Colorado held its 25th Annual Leadville Cemetery Cleanup during the weekend of June 17-19. Volunteers of all ages traveled to Leadville, an historic silver mining town about 100 miles from Denver, where they worked together to clean the 141-year-old Jewish cemetery's headstones and walkways, weed, trim and cultivate the grounds, and discard trash. The team also had the opportunity to attend the Friday night Shabbat observance at B'nai Vail synagogue and enjoy Saturday morning services and lunch at Leadville's Temple Israel.
B'nai B'rith Colorado President Frank Goldman, who took part in the Leadville experience, observed: "This important 25th annual mitzvah project of preserving the memories of those who have come before us takes on added meaning during B'nai B'rith Colorado's 150th anniversary. It is a unique and extraordinary opportunity to perform meaningful acts of service while socializing with members of the Jewish community."
Dedicated to the spirit of the Jewish tradesmen, miners, teachers, journalists and other community members who pioneered Leadville's settlement, the Temple Israel Foundation supports both the cemetery and the town synagogue and has established a museum where visitors can view documents and artifacts related to Jewish life there.
Great Lakes Region Hits the Links to Raise Funds for Annual Scholarship Event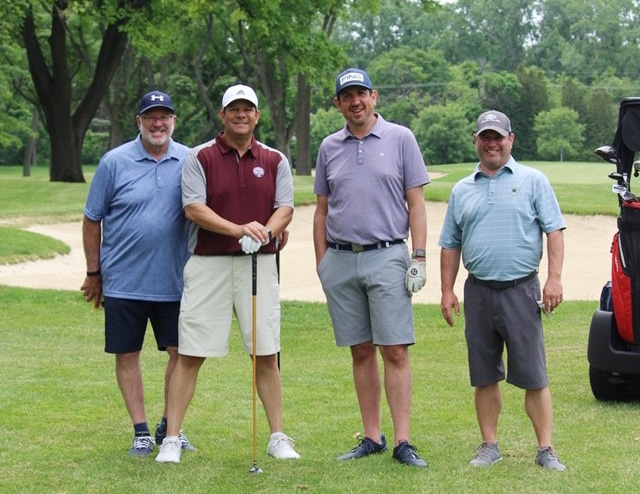 Enjoying a day of gourmet dining and golfing on the course at the Tam-O-Shanter Country Club in West Bloomfield, Michigan, on June 6, 135 people took part in the B'nai B'rith Great Lakes Region's 40th annual Stephen B. Zorn Memorial Golf Outing, supporting Great Lakes endeavors serving young people including its college scholarship fund and its Temple Israel Camp scholarship fund.
This year, 36 individuals and corporations also participated as event underwriters and sponsors.
A Hole-in-One competition, a putting green contest and silent and live auctions were highlights of the day.
The Outing was organized through the efforts of a committee headed by David Lubin and Jeffrey Tackel.
Female Jewish Graduate Student in New York Awarded the 2022 Sally and George Schneider Scholarship
Grace Ohayon, a New York resident and first-year master's student at Bellevue University in Bellevue, Nebraska, was the recipient of the 2022 B'nai B'rith Sally and George Schneider Scholarship.
Ohayon, who received her Bachelor of Science degree in psychology from Excelsior College in Albany, New York, is currently enrolled in Bellevue's online Master of Science in the clinical mental health counseling program and plans to graduate in the fall of 2024. After graduating Ohayon intends to enroll in a doctoral program and go on to be a licensed counselor who is able to work with a diverse range of clients. Ohayon said she is particularly interested in understanding mental health issues within the Jewish community, including why eating disorders are on the rise, and the possibility of replicating Israeli policies in the U.S. regarding a "get" (divorce decree for Orthodox women). Some Israeli policies assist agunot women (women who are denied a "get" by their husbands), who often grapple with financial hardship and are the sole caregiver for their children. When not studying, Ohayon devotes some of her free time to assisting agunot women in her community.
Ohayon would also like to gain experience lecturing on mental health at Jewish higher education institutions, particularly on childhood mental health.
"I have many people to thank for my academic achievements and financial assistance. This scholarship has made it easier for me to continue to pursue my academic goals. By awarding me this scholarship, my financial burdens have been eased, which has allowed me to focus more on my studies instead of working all the time," Ohayon said. "I have also been afforded the opportunity to give back to my community."
The Sally and George Schneider Scholarship is awarded each year to a female Jewish graduate student in the metropolitan New York area attending a graduate program in a field benefiting humankind.
Sally Schneider, born in Brooklyn in 1919, was a voracious reader and a passionate supporter of Israel who felt strongly that women should be independent and educated. She and her husband, George, were longtime B'nai B'rith members. In 1998, after Sally's death, the family set up an endowment fund in their honor.
Garsek Lodge Summer Activities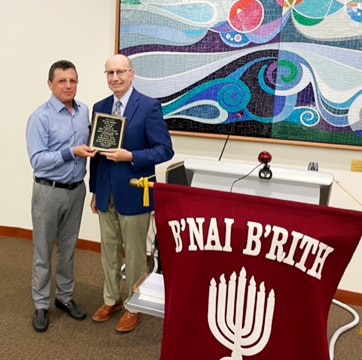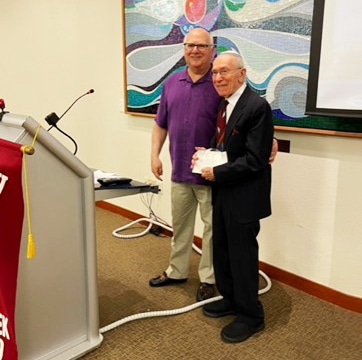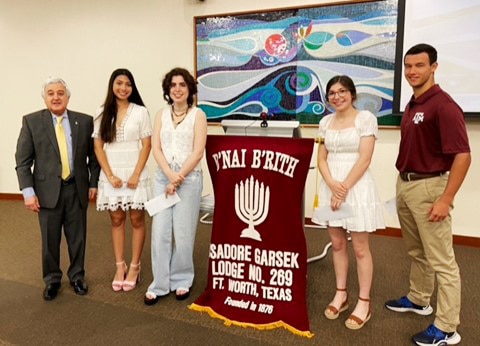 On June 12, 2022, Fort Worth's 143-year-old Isadore Garsek Lodge celebrated a tradition that began in 1951, when it honored board member Jim Stanton with its Garsek Jewish Person of the Year Award. Friends and family from all over the country were there to join in the celebration.
Rabbi Sidney Zimelman also received a Lifetime Community Service Award.

During the event, scholarships were presented to high school seniors including Gianna Razack, Maya Kiselstein and Lia Bloom, who are enrolled at The University of Texas at Austin, and Dylan Mandel, who attends Texas A&M University.
Backstory: Cleveland's Jewish Orphan Asylum Through the Years
High mortality rates for young mothers and fathers in the United States in the 19th century were not the only reason B'nai B'rith recognized a need to establish Jewish orphanages as far back as the 1850s: Those that existed were run by Christian charities, where Jewish children were usually converted. In addition, the number of children living in these crowded institutions had increased further, as more of them were left or abandoned by parents who could not support them. After the start of the Civil War in 1861, deaths of mothers and fathers resulting from this long conflict, or from disease or starvation added urgency to what had already been a crisis.
Established by B'nai B'rith's District 2 in 1868, Cleveland's Jewish Orphan Asylum boasted the latest advancements in child development and a curriculum that far surpassed those in similar institutions. While the older of the 80 Civil War orphans who lived there attended community public schools, younger children were educated on the premises, learning not only reading, writing and arithmetic, but also religion, German and Hebrew; the boys were taught industrial skills. The need for such places did not diminish; numbers reached 400 by 1900.
After several moves to other locations in and near the city, a new campus planned on the cottage system—a switch from large dormitories to "family style" housing in cottages—opened in 1929, with a new name: Bellefaire.
Two years after Bellefaire merged with the Jewish Children's Bureau in 1941, the orphanage closed its doors. At that time, known as Bellefaire-JCB, it transitioned into a residential treatment clinic, daycare facility and a foster home placement office. It continued to change its mission as time passed. Today, the agency provides educational and counseling services for students with emotional and behavioral problems, many of whom attend a special school, which is also located on the grounds.